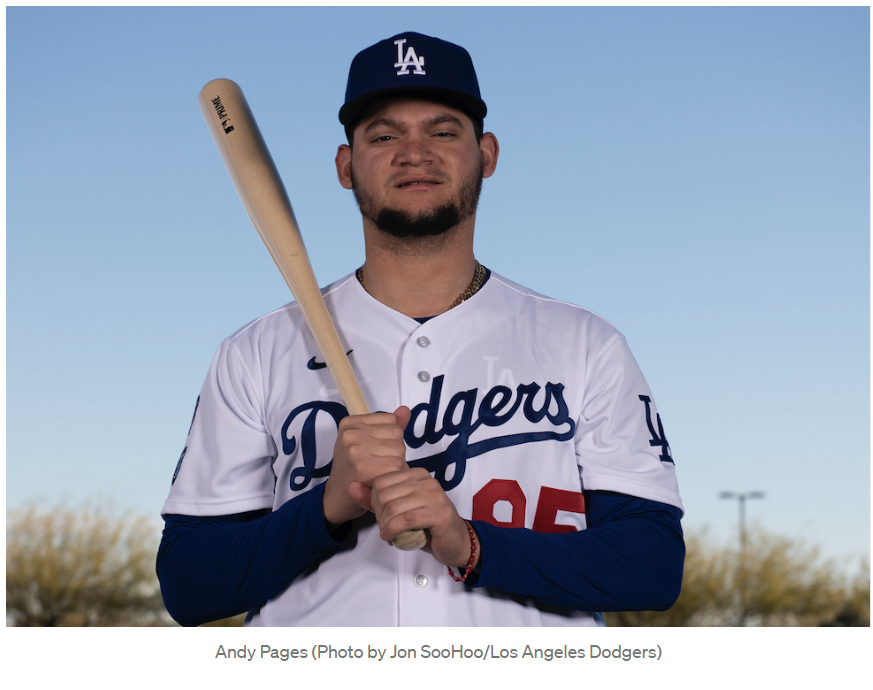 OKC Dodgers 10 vs Sacramento River Cats 4 (Giants)
I originally planned on attending this game, but due to poor planning on my part, I did not get my tickets in time.  I do plan on getting to the River Cats Stadium later in the week.  Oh well, it is on TV.
Andre Jackson gets the call to start this night.  The Dodgers got on the board in the top half of the 1st with lead off singles by Zach McKinstry and Miguel Vargas.  After Jake Lamb hit into a DP, Eddy Alvarez stroked a run scoring single into LF.  The Dodgers scored a second run in the third with a 2-out HR (2) off the bat of Eddy Alvarez.  Ryan Noda doubled (3) but was left stranded.
Meanwhile Andre Jackson was breezing through 4.0.  He allowed 1 hits and 3 walks to go along with 3 strikeouts.   But as expected, after 60 pitches, Jackson is pulled and Tommy Kahnle was summoned to face the River Cats in the 5th.  He got a K, issued a walk, got a force out, and he was jettisoned to the showers.  Jose Adames come in to relieve Kahnle and served up a 2-run HR.  Why was Kahnle limited to 17 pitches.  He wasn't struggling.  The way this organization limits pitch counts, I wonder if the pitchers will get their pitch counts up to 80 by August (okay partial hyperbole).
The Dodgers answered back with 2 of their own in the 6th.  With one out, Zach McKinstry singles for his 2nd hit of the night.  That was followed by a walk to Miguel Vargas.  Jake Lamb stroked a single that scored McKinstry, and when the ball was mishandled, Vargas came all the way around, and a 4-2.
In the 8th, on McKinstry's third hit, a double by Vargas, and a sac fly by Jake Lamb, the Quakes added another run.  After Vargas moved up on a throwing error by an errant pickoff attempt by the catcher, he scored on a Kevin Pillar single.  But the Dodgers were not done, and the flood gates opened.  After Pillar singled, Eddy Alvarez got his 3rd hit of the night, and Ryan Noda walked to load the bases.  A Jason Martin single and a Tony Wolters doubled scored 4 more, and the route was officially on.
Carson Fulmer went 1.2 scoreless innings, allowing one hit, one walk, but three strikeouts.  He was replaced by Yency Almonte, who promptly serves up a HR (2) to Jaylin Davis, but gets out of the inning without any further damage.
Daniel Zamora relieved Almonte and surrendered a meaningless HR, but retired the side for a 10-4 win.
The Dodgers had 18 hits on the night, and every Dodger got at least one hit.  McKinstry and Alvarez each had 3 hits, while Miguel Vargas, Lamb, Noda, Tony Wolters, and Drew Avans had 2 each.
The Dodgers move to 9-4 on the season.
Tulsa Drillers 4 – Springfield Cardinals 2
Well if you wanted to see prospects, this was the game to watch.  But if you blinked, you would miss LAD #2 prospect, RHP Bobby Miller.  Miller did not get out of the 1st inning.  Apparently again being overly careful, Miller was yanked after delivering 31 pitches/17 strikes.  Miller offered 14 pitches and dispatched the first two hitters of the inning.  But he walked the Cardinals #1 prospect, Jordan Walker (3B).  That walk was followed by a pair of singles, the second scoring Walker.  That was it for Miller.  Justin Hagenman came on in relief and got the third out.
In the third, the Drillers got the tying run home with a leadoff single by Kody Hoese, and a pair of 2 out singles by Michael Busch (LAD #3 prospect) and Andy Pages (#4 prospect and pictured).  Pages was the key AB in the 5th. Kody Hoese led off with a double, and scored on a Devin Mann single.  After James Outman was called out on strikes, Michael Busch walked to put runners on 1st and 2nd.  Edgar Escobar relieved starter Garrett Williams and was greeted with a 2-run double by Andy Pages.
Escobar would go on to shut down the Drillers for the remainder of the night, including striking out the side in the 9th; James Outman, Michael Busch, and Andy Pages.
Zach Plunkett came in to relieve Hagenman and gave up the Cardinals second run.  The Cardinals own Pages (Pedro) doubled home a run in the 6th making the score 4-2, where it would stay.
Different strategies with pitch counts.  Miller is pulled after 31, while Garrett Williams threw 79 (48 strikes) and Escobar threw 76 pitches (47 strikes).  Williams struck out 7 Drillers while Escobar struck out 6.
Kody Hoese and Andy Pages had three hits for the Drillers.  The only time Hoese was out was due to a batter pitch clock violation. This was the first time I ever witnessed such a call.  Apparently there is a 9 second clock requiring the batter to be ready to hit.  Hoese was not ready to hit in that 9 seconds, and a strike was called.  That was the 3rd strike and Hoese officially was called out on strikes.
The Drillers move to 7-3.
Great Lakes Loons 3 vs. Lake County Captains (Cleveland) 1
There was not a lot of excitement in this game, but the Loons scored 3 unearned runs in the 2nd inning that held up.   With 2 outs Imanol Vargas doubled (1).  Kekai Rios grounded back to the pitcher who misfired to 1B for the error and Vargas came around to score.  That would have been the third out of the inning, but instead it brought up Aldrich De Jongh with a runner on, and De Jongh slugged his 1st HR of the season, a 2-run shot, making the score 3-0 (all unearned).  Edwin Mateo followed the HR with a double, but he was left stranded.
After 3.0 scoreless IP by Kyle Hurt, Aldry Acosta came in to relieve.  Acosta started the inning with some wildness as he allowed a walk, single, and HBP, Acosta induced a DP, but the tying run scored.
That was scoring in the evening.  Jacob Cantleberry relieved Acosta in the 5th and allowed a single and walk, but no runs.
Cantleberry was followed by a couple of 2021 drafted RHP, Ryan Sublette and Jordan Leasure.  Both righties pitched a scoreless 2 innings without a hit.  Sublette walked 1 and struck out 2, while Leasure walked 2 and struck out 5.
Eddys Leonard is showing some signs of getting out of his funk with his third double of the season, with Jorbit Vivas getting his second double of the season. Edwin Mateo had two hits on the night.
The Loons record moves to 4-6.
Rancho Cucamonga Quakes 3 vs. Modesto Nuts 8 (Mariners)
Jerming Rosario started for the Quakes, and had his second straight rough outing. He surrendered 4 runs off 5 hits (1 HR), 3 walks, and 4Ks in 2.2 IP.  Orlando Ortiz-Mayr was not a whole lot better.  In the 4th, Ortiz-Mayr walked the leadoff batter, surrendered a single, and a HBP loaded the bases with nobody out.  Two wild pitches cleared the bases and three more runs scored.
Down 7-0, the Quakes scored a run on a wild pitch themselves in the 5th.   After a Yunior Garcia single, Jose Ramos doubled (1) him to third, where he scored on the WP.
Ortiz-Mayr continued to struggle in the 6th with a HBP, a single, and 2 walks to score another run.
The Quakes tallied for two more runs in the 7th on a single and a 2-run HR (4) to Luis Yanel Diaz.  But that was the extent to the offense.  The Quakes registered 7 hits: 2 by Yeiner Fernandez and 2 by Luis Yanel Diaz.  Octavio Becerra and Yamil Castillo finished the final 3.1 IP in scoreless fashion.
Yeiner Fernandez got his 3rd start at 2B to go along with his 4 starts at catcher.
The loss brings the Quakes record to 5-5.