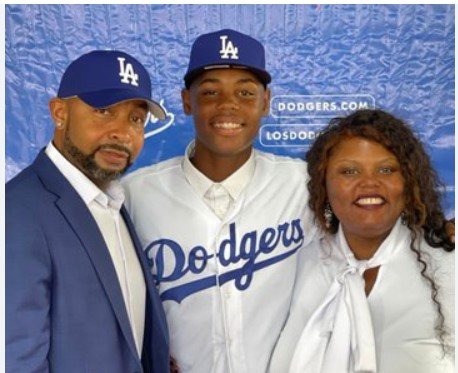 The Milwaukee Brewers are full of legit OF in their system.  Four of their top five prospects are OF, with three being top 100.  The other top five prospect is a 2B/OF.  Two of the five are projected to be starters for the Brewers in 2023, while a third is knocking on the door.
Jackson Chourio – #1 (#8 overall)
Sal Frelick – #2 (#30 overall) (Will be on the roster early on in 2023)
Joey Weimer – #3 (#90 overall) (Should make MLB debut in 2023)
Brice Turang – #4 (2B/OF – Projected starting 2B)
Garrett Mitchell – #5 (Projected CF)
Why is this important to me?  The prize of that group (and someone favorably compared to Ronald Acuña Jr.) is Jackson Chourio.  In 2021, as a 17 year old in the DSL, in 189 PA, Chourio batted .296/.386/.447/.833. He had 28 strikeouts vs 23 walks.  As an 18 year old, Chourio bypassed the Complex Rookie League and moved straight to A ball.  He owned A Ball and moved quickly to A+ where he also shined enough to be moved to AA for an end of season promotion.  Depending on his 2023 start, he has an outside chance to make his MLB debut as a 19 year old this year, but will definitely be a MLB player in 2024 as a 20 year old.
Why am I writing about the Brewers future potential phenom Jackson Chourio?  Because the Dodgers also have that potential in 17 year old Josue De Paula.  Last year as a younger 17 year old in the DSL, in 223 PA, De Paula stroked .350/.448/.522/.970, with 32 walks against 31 strikeouts. He had 20 extra base hits in 53 games.   For good measure he stole 16 bases while getting caught in 6.  Those are good numbers in any League.
De Paula was born in Brooklyn and moved to the DR at 14.  De Paula is a cousin to NY basketball royalties Stephon Marbury and Sebastian Telfair with athleticism that matches the bloodline.  He was signed out of El Niche Academy in the DR for $500K.  After his 2022 DSL season, he is considered one of the fastest prospect risers.  In a recent Baseball America Prospect Hot Sheet, the following was written for De Paula.
While the Dominican Summer League ended weeks ago, the buzz around the Dodgers' 6-foot-3 outfield prospect is substantial. Not only was De Paula one of the top performers in the DSL, there's projection within his game, particularly with his power. De Paula hit .349/.448/.522 with 20 extra-base hits in 53 games, with more walks than strikeouts this summer. The tall outfielder shows an advanced approach and feel to hit, and it's backed up by the data, with an 85% contact rate, 91% zone contact rate and 20% chase rate in his pro debut. De Paula hits from the left side with an open stance and a heavily hands-driven swing. He displays plus bat speed and adjustability in his hands, which allows him to cover the plate fairly well. The power is still coming as De Paula has a level swing and rarely gets into his raw juice. It's easy to see De Paula's power projection, however, with a strong and physical frame at 17. 
DSL Dodger Josue De Paula, going deep off a pitch that's a good six inches off the plate in. Take DSL stats with a grain of salt, but coming into today, he had a wRC+ of 160, with a higher walk rate (15.3%) than strikeout rate (13.3%) 👀 pic.twitter.com/fn5294dKqO

— Josh Thomas (@jokeylocomotive) August 14, 2022
But my concern is that the Dodgers will slow roll him to the ACL this year (June 6 start) with a potential late season promotion to Rancho.  I would hope that the Dodgers would push him to start the season at Rancho and see how far he can go and still productively compete.  Similar to what Jackson Chourio did for the Brewers.  Chourio came out of nowhere to be a #8 overall prospect (#3 Baseball America) as a 19 year old.  The down side to my theory is that I have no idea about his psychological makeup.  Can he handle failure?
But for now, although he's only 17, De Paula's ceiling – a middle-of-the-order advanced hitter who hits for both average and power –  seems very real right now. He already measures in at 6'3″ and 200 lbs. He owns the left side of the plate and his swing is effortlessly beautiful, yet inordinately powerful all the same. Imagine that this kid still has another 25 lbs of muscle (at least) and (perhaps) another inch or two before he hits twenty.
After his 2022 season, he was rated as the 2nd best Under 18 prospect in the DSL.
Josue De Paula, CF, Dodgers – 6'3 185 L/L
Signed for $500,000 out of El Niche Academy in the DR, De Paula is a cousin to NY basketball royalties Stephon Marbury and Sebastian Telfair with athleticism that matches the bloodline. Built like an NBA guard, De Paula blends natural athleticism with frame projection and an athletic swing with barrel manipulation that belies his natural length. While athletic, De Paula projects to a corner outfield role at maturity. With his approach, athletic and adjustable swing, and strength projection, De Paula figures to hit plenty enough for the position. This is the kind of player who could skyrocket in a dev situation like Los Angeles. He makes this list for pure performance, but he is every bit the prospect as well.
Below is a YouTube video produced by FanGraphs.  One thing that becomes clear is how quick his hands are.  He also shows tremendous pitch recognition and plate discipline for a 17 year old.  During his swing, he seems to be able to adjust to find the ball with his bat when he needs to.
Josue de Paula (LAD), how do you say, catches my eye… https://t.co/IPhTrIFYLA pic.twitter.com/93ROKWe5wn

— Dylan White (@The__Arrival) October 31, 2022
It is extremely hard not to get excited about Josue De Paula.