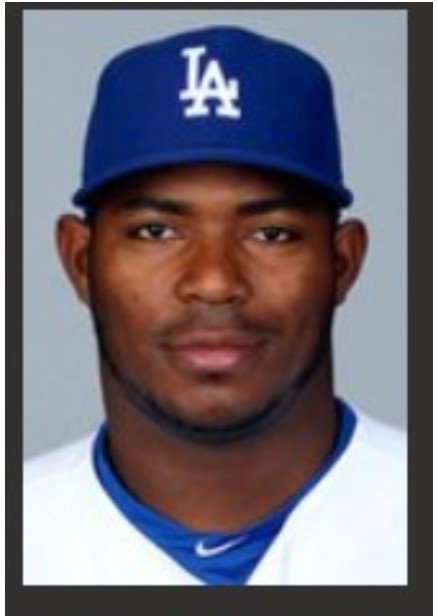 Some players are born with special skills. Some take a few years to develop. Others leap to the majors in a very short time. There have been spectacular flameouts, players coming from no-where to stardom, and others who just settle into a utility or backup role and have long careers.
Puig came out of nowhere. I doubt many Dodger fans even knew the kid existed when he first popped up on the roster.
Even after he had a great spring training with the Dodgers in 2013, not one person would think he would be on the roster when the team broke camp, and he wasn't. He had to that point never played above A-ball.
Born in Cuba in December of 1990, he was the oldest of two children born to Omar Puig and Maritza Valdés. His father was an engineer in a sugar cane plant. He began playing baseball when he was nine.
By the time he was 17, he was playing for the Cuban National team and was a member when they won the World Junior Baseball Championship.
The next year he was playing for Cienfuegos team in the Cuban National Series. He hit .276 with 5 home runs in that debut season.
The next year he had a breakout season. He hit .330 with 17 homers, 47 RBI's and 78 runs scored in 89 games. Puig also played for the Cuban National team in 2011 at the World Port Tournament. He tried to defect with teammate, Gerardo Concepcion.  Concepcion was successful, Puig was not. He was punished by being banned from playing for the 2011-12 seasons.
Beginning in 2009, Puig attempted to defect to Mexico 13 times so he could become a resident and pursue a major league baseball career.
The first time, the police pulled Puig's car over. The second, the boat failed to arrive. The third time, the police raided their safe house. On his fourth try, the US Coast Guard cutter, Vigilant, intercepted their boat near Haiti.
Finally he was taken to Mexico by Los Zetas, a murderous Mexican drug cartel. Yunior Despaigne, a boxer from the Cuban national team who had known Puig for years said:
" I do not know if you could call it kidnapping because he went there voluntarily. But he was not free to leave. If they did not receive the money, they were saying that at any moment they would give him a machetazo, a whack with a machete. Cutting off an arm or a finger, whatever and he would never play baseball again for anybody."
Floridian, Raul Pacheco, the president of a Miami based T&P Metal and PY Recycling, allegedly paid smugglers 250,000 dollars to get Puig out of Cuba. In return,  Pacheco would receive 20% of Puig's future earnings once he signed a major league contract.
Pacheco had been arrested in 2009 for attempted burglary and in 2010 for using a fake Bank of America credit card to buy $150,000 worth of beer and for having in his possession four other fraudulent credit cards and a fake ID card. He was sentenced to two years probation.
Puig had also been offered to Los Angeles based agent, Gus Dominguez, starting at 150,000. He was also offered to New York based agent, Joe Keohoske, starting at 250,000. Nobody was going to go to Cuba, bring out a guy like Puig and handing him over out of the goodness of his heart.
A month later, the captain of the smuggling boat, Yandys Leon, was found dead in Cancun. Leon was called one of the most important capos in the Cuban American mafia by UPI. Boxer Miguel Daudinot was sentenced to seven years after Puig allegedly testified against him to Cuban officials.
In 2013 his lawyers filed a federal lawsuit against Puig in Miami claiming he delivered false testimony which led to imprisonment under inhumane conditions for their client and in doing so, violated the Torture Victim Protection Act. The suit seeks 12 million in damages.
According to records, Puig to date has paid almost $2.5 million to Pacheco, agents and people who work for Pacheco. He also paid an undisclosed amount of money to Gilbert Suarez, the founder of a startup company called Miami Sport Management.
On June 28, 2012, the Dodgers signed Puig to a seven-year contract for $42 million . Eddie Oropesa and Tim Bravo, a special education teacher from New Mexico, helped Puig adjust to life in the US his first year.
He was placed on the 40-man roster and assigned to their rookie league team in Arizona. In 9 games, he hit .400 with four homers. In August he was promoted to Rancho and hit .327 with 1 homer and 4 RBIs.
After the Quakes season was over, he was scheduled to play in the Arizona fall league. But he got a staph infection and was sidelined for several months. After the infection healed, he opted to play in Puerto Rico to continue his development. He played in 20 games and hit .232.
He played very well in spring training with the big club in 2013. But they felt he needed some more seasoning and they sent him to Chattanooga in the Class-AA Southern League.
In 40 games with the Lookouts, he hit .313 with 8 homers and 37 RBIs. The Dodgers called him up to the big club on June 2nd. He made his first start in RF the next day against the Padres. His first hit was a single off of Eric Stults. He had two hits that day and showed off his cannon arm when he got an assist on a double-play to end the game.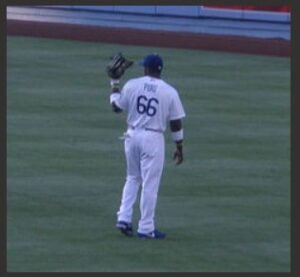 In his second game he had 2 homers, a double and drove in five runs. He became the first Dodger ever to have a multi-homer game in his first two games. In his fourth, he hit a grand slam off of Cory Gearrin of the Atlanta Braves.
He was named NL Player of the Week for June 3-9. How many rookies on any team have ever done that in their first week in the majors?
Puig's first month in the majors was nothing short of spectacular. He set the Dodger record for the most hits by a rookie in a month with 44, passing Steve Sax. He became the first player in major league history with at least 34 hits and 7 homers in their first 20 games.
His hit record was second only to Joe DiMaggio, who had 48 hits in a month. Overall, for June, he batted .436 with a .467 OBP and .713 SLG Pct. He won the NL Rookie of the Month award and the NL Player of the Month award. The first time a player won both in his first month in the majors.
None expected him to keep up that torrid pace. But he was pretty consistent through July and August, hitting right around .303 over that span with 6 long balls. It wasn't until September that he had a batting average below .250 when he hit .214. He still managed to hit six homers over that span.
Overall, he hit .319/19/42. He hit .360 with 9 homers at Dodger Stadium. His OPS was .925 and his OPS+ was 158. Not bad for a guy who just turned 22. He was on the write in ballot and made the final vote. He got 15.5 million votes, second to Freddie Freeman who got 19.7.
He was 9-17 in the NLDS against the Braves, but was only 5-22 against St. Louis in the NLCS with a triple. He finished second in the ROY voting behind fellow Cuban, Jose Fernandez.
He had been christened, " The Wild Horse" by legendary Dodger broadcaster, Vin Scully. As much for his running abandon on the basepaths and his hair on fire type of play. He headed into his second season with expectations of himself and the team being very high.
Juan Uribe, the Dodgers third baseman, took the kid under his wing. He would counsel him on living in the United States, what was expected of him as a Latin player, and how to prepare for games. During Uribe's time with Puig, there were virtually no real issues with his behavior.
His main troubles were with his penchant for speeding. He got more than a few tickets. First in Tennessee, and then in Florida, but community service was used for both.
In May of 2014, Puig hit extra base hits and drove in runs in 8 consecutive games. He passed Duke Snider, and Pedro Guerrero and Howie Schultz. He hit .398 with 8 homers and 25 RBIs for the month. He again won Player of the Month.
He was elected to the All-Star game. Youngest Dodger to start an All-Star game since Steve Sax. He participated in the Home Run Derby at the festivities. On June 25th, he went 4-5 with a career high four extra-base hits. Three of those were triples. Matt Kemp and Dee Gordon hit triples as well tying the team record of five set in 1902 and 1921.
For the year he was .296/16/69. He started 2015 with hamstring troubles and was on the DL twice. He also lost his mentor in May when Uribe was traded to the Braves. This would prove to be a problem as time went on. He would make mental mistakes on the field that drove fans and coaches nuts.
He basically had a lost season as he appeared in only 79 games. He had 11 homers and 38 RBI's. He was 3-12 in the playoff loss to the Cardinals with a run driven in.
2016 was not any better. Hammy issues again. He was told on August 1st, not to join the team on the road as he would either be sent down or traded.
He was sent to OKC the next day. The demotion was as much a punishment as it was a wakeup call for him to get his stuff together. In 19 games at OKC he hit .358 with 4 homers. He was recalled to the majors. He was 3-19 in the two-playoff series with a run scored.
One thing the Dodgers had done prior to the 2016 season was bring in a new hitting coach. Turner Ward came over from Arizona.
For some reason, he and Puig connected in 2017. After almost every at-bat, Puig could be seen in the dugout standing next to Ward and getting as much knowledge and coaching as he could.
It worked. Yasiel had a resurgent season. For the year he hit .263/28/74. Carrer highs for HR's and RBIs. He hit well in both the NLDS and NLCS. But he did not do so well in the World Series against the Astros hitting only .148. But two of his 4 hits were homers and he drove in 4 runs.
2018 would be his last as a Dodger. The on and off field antics were wearing on management. Considering he played in only 125 games; his production was pretty good. .267 avg, 23 homers and 63 RBI's. He stole 15 bases for the second year in a row and struck out only 87 times.
But it had been announced at the beginning of 2018 that his representative group, Wasserman Media Group, had terminated their professional relationship with Puig. He was without representation until he signed with April when he signed with the Beverly Hills Sports Council.
In August, he hit career homer # 100 off of Kyle Freeland of the Rockies. He got into an altercation with Cubs catcher, Nick Hundley in August. After fouling off a pitch, he threw his bat in the air in frustration feeling like he had a good pitch to hit. Hundley took exception to his actions and the two had words.
Puig then pushed Hundley and a bench clearing brawl ensued. Both were ejected from the game. In 2018 he had the lowest fielding percentage in the major leagues among all right fielders, not something you would expect from Puig.
He went 10-30 in the first two playoff series. His 3-run homer extended the Dodger lead to 5-1 in the NLCS 's game seven.
In game 4 of the World Series, his 3 run shot off of Eduardo Rodriguez to extend the Dodgers lead to 4-0. They lost the game and the series a day later.
That pretty much did it for the Dodger brass. Many thought he was a distraction in the clubhouse and on the field. Turner Ward left to become the batting coach of the Reds.
In December of 2018, the Dodgers sent Puig, Kemp, Farmer and Wood to the Reds for Homer Bailey, cash and two prospects in what was primarily a salary dump. Bailey was almost immediately released. The prospects, Gray and Downs would both later be used in trades.
Downs went to the Red Sox when they got Mookie Betts, and Gray was part of the deal for Scherzer and Turner.
Puig had a tumultuous time in Cincinnati. He was involved in two bench clearing brawls with the Pirates during Reds losses. The first came in April. He was suspended 2 games for extending hostilities. The second came in July in the top of the 9th, just moments after it had been announced he was traded to Cleveland.
He was hitting .252 with 22 homers when the deal was announced. He would only hit 2 more the rest of the year. It was a four-team trade and the Reds got Trevor Bauer from the Indians.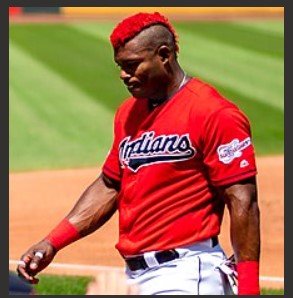 Puig did probably not realize at the time that his MLB career was basically over. He was released by the Indians after the season.
In 2020, he was set to sign with the Atlanta Braves when he contracted Covid and that was cancelled. He played 5 games in an independent league in 2020. He then signed with Vera Cruz in the Mexican League.
He played 62 games for them hitting .312 with 10 homers, then he played with the Toros for 11 games. He was named defensive player of the year after the season.
In 2021 he signed with the Kiwoom Heroes of the KBL. He hit .277 in 126 games with 21 homers and 73 RBIs.
To date, that is his last professional action. He has been in some legal trouble of late and that is well documented. Those problems could end up with him serving prison time.
For all his antics and bad behavior, there is a side to Puig that few have seen. He started the Wild Horse Foundation in 2016. The foundation's aim is to inspire children and families in underserved areas by promoting healthier lifestyles and better-quality lives through sports, education, community development and health and wellness programs.
In 2018, the foundation announced a collaboration with the City of San Bernadino to renovate Pioneer Park and refurbish a dilapidated house that had been boarded up for 10 years.
At a game in New York in May of 19, he met a young fan about to have his 40th surgery for a condition he had. The next month, Puig flew the fan and his family to a Reds game in Cincinnati.
On probably one of the more emotional days of his life, Puig had an off day between two series in New York, one with the Mets, and the other with the Yankees.
He paid for a helicopter trip to Camp Simcha, and Orthodox Jewish day camp for children with cancer. He spent four hours with children there and found it hard to leave. In a tweet later he said it was one of the best days of his life and told the kids, they were his inspiration.
Puig is an enigma. He was one of the most exciting ballplayers to watch I have ever seen. He was blessed with a great natural talent. He was a genuine 5-tool player.
Had he listened to coaches and been more mature than he was, I think and believe, he would still be a Dodger. Instead, much like Strawberry and Howe, who had drug addictions, his temper and lack of self-control derailed what could have been a great career.
He once was quoted as saying he wanted to be remembered as one of the best. As it stands now, he will be remembered for what might have been.