There are multiple recent articles on whether the Dodgers should extend catcher Will Smith.  He will turn 28 on March 28 with 3.090 years of service, and recently signed a 1 year contract for $5.25MM in his first year eligible for arbitration.  He has two arbitration years remaining, and can become a FA for his age 31 season.
There are two distinct and disparate methods in how certain clubs handle pre-FA extensions. The Dodgers under AF are not very likely to make any long term extensions for pre- FA players.
Max Muncy – 3 year extension for all three arbitration years with a club option.  He was 29 with 3.027 service time years when he signed a 3 year $26MM.
Walker Buehler – 2 year extension for years 1 and 2 of his arbitration eligibility for $8MM.  He was 26 with a 2.168 service time years when he signed the 2 year deal.  He signed a 1 year contract for 2023 and has 1 year of arbitration remaining.
Austin Barnes – 2 year arbitration extension for his last two years of arbitration eligibility.  It was 2 years for $4.3MM.  He was 31 with 4.098 service years.
Austin Barnes – 2 year extension for his first two FA years.  He was 33 with 6.098 service years when he signed a 2 year $7MM deal, with a club option for 2025 for $3.5MM with no buyout.
Tony Gonsolin – 2 year extension for his first two years of arbitration.  He was 29 with 2.152 years of service time when he signed the two year deal for $6.65MM.
The longest contract extension was 3 years to Muncy, and the only extension that bought out FA years was the two years for Austin Barnes. The total guarantee for the five contracts is a massive $51.95MM, and covers a combined 11 years.
Compare the Dodgers foray into pre-FA extensions with those of the Atlanta Braves.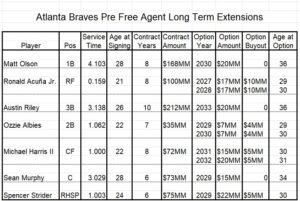 That is seven contracts with a guaranteed commitment of $759MM for a combined 53 years of coverage.  All of the Braves extensions were for players younger than all my Walker Buehler of the Dodgers.  All of the Braves extended will be out of arbitration years, while Walker Buehler has one arbitration year and Tony Gonsolin has two arbitration years remaining.
Julio Urías should be considered for an extension before he actually reaches free agency after 2023.  However, Urías' agent is Scott Boras, and he always wants his clients to actually go through the free agent process.  On very few occasions, his clients have extended, but Urías will go through the free agent process.  Players retain Scott Boras to get them as much as possible.  Urías figures to be the top free agent pitcher in next year's class, and will get paid more than handsomely.  At 27, Julio figures to get perhaps a longer term contract than AF will feel comfortable with, but somebody is going to give him 7-10 years.
Walker Buehler should be considered for an extension, but AF is going to wait until he at least pitches competitively before he commits.
Tony Gonsolin and Dustin May are potential extension candidates.
However the one LAD player that should be at the top of the extension list is catcher Will Smith.
Atlanta's Sean Murphy who was extended this past Winter, is the same age as Will Smith and at the same service time as Will.  Murphy has a guaranteed commitment of $73MM for 6 years with an option that will increase the contract amount to $88MM.
Fabian Ardaya and The Athletic comprised a chart of Fangraphs fWAR for the three years prior to an extension or free agent contracts. They used a formula used by The Athletic's Tim Britton in projecting extension deals.  Will Smith's fWAR for the last three year's is 13.2 (with 2020 projected for a full season).  Other 3-year fWAR for catcher's leading up to their arbitration extensions are as follows:
Joe Maurer – 18.1
Buster Posey – 15.9
Sean Murphy – 12.8
Smith even compares favorably to those catchers with their 3 year's fWAR leading up to their free agent contract.
T. Realmuto – 15.7
Russell Martin – 15.4
Yasmani Grandal – 14.0
Brian McCann – 14.6
Yadi Molina (2nd FA) – 16.0 (3 year fWAR leading to arbitration extension was 2.2)
Smith figures to be in a position to get a monster an excellent extension or make a bundle in his next two years of arbitration.  Smith's contract in his first year of arbitration eligibility was $5.25MM.  That is the 2nd highest 1st year arbitration contract for a catcher.  Only Matt Wieters' $5.5MM contract exceeded Smith's.  Sean Murphy's is $4MM.
The top contract amount for the full three arbitration years are as follows:
Sean Murphy – $28MM (includes $9MM and $15MM for the 2nd an 3rd year of his actual contract).
Willson Contreras – $20.775
Joe Maurer – $20.5MM
T. Realmuto – $18.8MM
Even if Smith goes through three years of arbitration, he should exceed those identified above.
Fabian Ardaya has extrapolated all of that information and projected an extension as follows:
Over six years (with an option), that could look something like this: 

2023:$5.25 million
2024:$9.25 million
2025:$15.25 million
2026:$17.25 million
2027:$18.5 million
2028:$18.5 million
2029:$17.25 million club option ($2 million buyout) 

That's $84 million over those six years with an option to make seven years, $101.25 million. Factoring in the $2 million buyout, that's $86 million — $13 million more guaranteed than Murphy got in his deal. 

The new money in the deal, factoring in his agreed-upon 2023 salary, is five years, $78.75 million with a club option to make it six years, $96 million. And in his would-be free agency years, he'd make $54.25 million over three years (an AAV of $18.1 million, which is higher than Contreras' $17.5 million) with a club option to make it four years, $71.5 million, with $56.25 million guaranteed. 
If the option is exercised, that would take Smith through his age 34 season.  Depending on how is body holds up, he could be in line for another FA contract.
I believe what Fabian has projected is fair.  It is not overly aggressive and does not shortchange Smith as many believe Keibert Ruiz was.
IMO, it behooves the Dodgers tie up Smith as Ardaya outlined.  The reason that AF may choose to not look to extend Smith is because of Diego Cartaya and whether he may be ready when Smith would be eligible to hit FA.  For me, Smith is an All Star catcher at 28 (at least he should be), and he is a known asset.  Cartaya has great potential, but that is just what it is…potential until he actually does it.
The Dodgers have multiple other potential catchers that will follow Cartaya.  They are also unknowns.  None of those are expected to start the year above High A (Dalton Rushing).
How do you feel about a Will Smith extension?  What other players would you like for AF to consider?