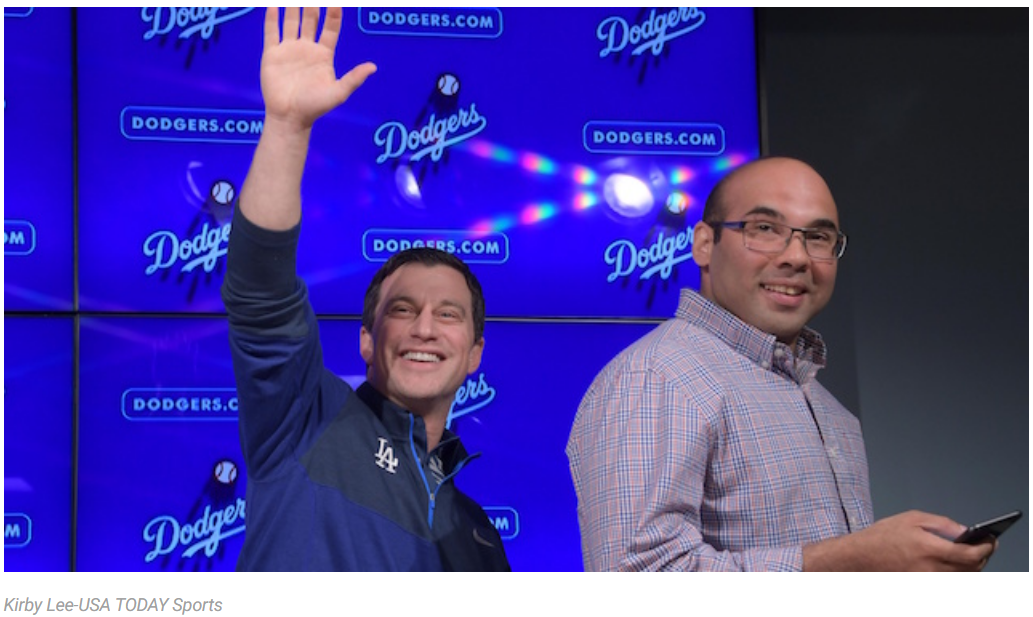 First of all, let me be clear that I believe that both Andrew Friedman and Farhan Zaidi are the top two genius baseball executives in all of MLB.  However, IMO, AF was getting the lion's share of the credit while they were teamed together from 2015 through 2018.  We continually read about how Friedman excels at finding gems from the scrap heaps.  JT does not count as he was signed during the Ned Colletti regime.  The three that come to mind during the Andrew Friedman regime are CT3, Max Muncy, and Andrew Toles.  Including JT, the Dodgers have been very fortunate with finding such gems.  But who should get the credit?
Farhan Zaidi orchestrated the CT3 for Zach Lee trade (although I am sure AF approved it).  Muncy was with Zaidi in Oakland, and Farhan was very familiar with him.  Gabe Kapler was the chief reason behind the signing of Toles, and AF has properly credited Gabe.  Again, AF is the President of Baseball Operations, so he does get credit.  However, he was not the driving force behind any of those three.
Now look at what Zaidi has done since he arrived in SF.  He traded for Mike Yastrzemski.  Signed Donovan Solano.  Signed Darin Ruf.  Signed Kevin Gausman.  Signed Alex Wood.  Traded for LaMonte Wade Jr.  Signed Anthony DeSclafani.  Signed Wilmer Flores.  Traded for Alex Dickerson (who had a very good 2019 and 2020 stint with SF).  None of those players were considered front line regulars, and three were previously in the Dodgers organization.  Zaidi put together an aging rag tag team that won 107 games in 2021.  While AF put together a star-studded roster, with a $285MM payroll, that won 106 games.  They were the top two teams in MLB in terms of WL, but they were world's apart from how their respective teams were built.
Contrarily since 2019, AF has acquired; Tyler White, Jedd Gyorko, Kristopher Negron, Terrance Gore, Billy McKinney, Sheldon Neuse, Steven Souza Jr., Yoshi Tsutsugo, Andy Burns…certainly not the depth we were led to believe in the LAD organization.  And not one of them put up numbers comparable to Alex Dickerson, much less Yaz, Solano, Ruf, Wade, or Flores.  However, Andrew should get credit for signing Albert Pujols.  The best bench bat LAD acquired in the last several years was David Freese, also traded for by Zaidi in 2018.  Where AF did excel was recognizing he needed an elite player in the field, orchestrated the Mookie Betts trade, and signed him to a 12 year $365MM extension.  IMO he also gets credit for the Max Scherzer/Trea Turner trade.  Some did not like the trade.  I thought it was brilliant.  Without Scherzer and Turner, the Dodgers do not go on that 43-13 post trade run.  Without Scherzer do they beat St. Louis in the Wild Card game?  The idea is to win when you have the chance.  Now will AF be able to extend Trea as he did Mookie?  That will go a long way to determine if the trade turns out well or not for LAD.  TT should cost at least as much as Corey Seager.  Not what Seager was offered by AF, but what Texas paid for him.
AF also signed what could turn out to be one of the worst decisions he could have made by signing Trevor Bauer.  Bauer had a career half year in 2020, and still had a career ERA north of 4.00.  On July 28, 2019, Bauer arrogantly showed up his manager and teammates in a game vs. KC. When Terry Francona came to pull Bauer, Bauer turned to face CF and threw the ball into the stands.  He was traded to Cincinnati the next day.   Bauer is a narcissistic egotist that leveraged eleven 2020 starts into a three year $102MM contract.  IMO, this was an AF overreach reaction to what NYM and SD Padres were doing.
With respect to his current Administrative Leave, I heartily acknowledge that per the LA District Attorney, Bauer did nothing criminal, and that at the very least his sexual exploits started out consensual.  I may very well be in the minority of Dodger fans (and that is okay), however, IMO, he is not worthy of wearing the vaunted LAD jersey, one of the most prestigious jerseys in all of sports.  I also believe he will be in the rotation for the Dodgers at some point this season.  Check the YouTube video below, and ask yourself if this is a person who holds himself above the team.
Back to Andrew.  AF did get Max and TT at the trade deadline, but ignored the bench.  Atlanta had struggled most of the year due to their own serious injuries to major players: Mike Soroka, Ronald Acuña Jr, and Marcell Ozuna.  The Braves did have a breakout year from one of their own, 24-year-old 3B Austin Riley.  But their season turned when Alex Anthopoulos orchestrated trades for Joc Pederson, Adam Duvall, Eddie Rosario, and Jorge Soler.  None of whom cost the Braves much at all in terms of prospect capital.  Rosario became the MVP in the NLCS, and Soler was the WS MVP.  AF chose to go with the LAD AAAA talent, and paid the price.
This year, AF signed Andrew Heaney.  Heaney has a career 4.72 ERA.  He was basically given away by the uber pitcher talented LAA 🤦‍♂️ (sarcasm alert) to a NYY team starving for starting pitching.  Why did AF sign him?  We are led to believe that the Dodgers have this tremendous developmental staff that can turn a suspect pitcher into a CY candidate.  Really?!?!  Name the last pitcher LAD has signed FA, or picked up off of waivers, that was "fixed" by this miracle developmental team?  Brett Anderson? Brandon McCarthy? Scott Kazmir?  I can argue for Brandon Morrow.  However, Brandon was yet another failed starting pitcher who was outstanding coming out of the bullpen. He looked great in relief in 2016 with the Pads, and I was ecstatic the Dodgers signed him.  I was a lonely voice pushing for LAD to bring him up before June 1, 2017 the drop-dead date of recalling him or losing him.
So Andrew Heaney will be different?  Maybe yes.  I sure hope so, but the Dodgers DO NOT have a good track record of "fixing" this type of starting pitcher.  The Giants did far better with Gausman and DeSclafani.  The Blue Jays did better with Robbie Ray and Steven Matz.
The Dodger development "fix it" staff will have a great chance to prove themselves as the season progresses.  Besides Heaney, the group will get a chance to "fix", fellow starting pitchers, Tyler Anderson, and MiLB pitchers Jon Duplantier and Robbie Erlin, as well as MiLB relievers Carson Fulmer and Sam Gaviglio.  Or the 15 pitchers signed from the 2021 draft. Or how about simply resurrecting David Price?  If they can get a good year out of one of the starters and one of the relievers they signed to a MiLB contract, the development staff would prove to be outstanding.
While Zaidi is building his current team as he apparently did with the Dodgers, with the signing of Freddie Freeman, Andrew is proving to be an outstanding BIG MARKET baseball executive.  According to Cots Contracts, the Dodgers incurred a $32,649,965 tax bill on a $285,599,944 2021 payroll.  For 2022, they currently sit at $298,870,834.   Just how sustainable is that payroll level?
In summary, both Friedman and Zaidi are brilliant at what they do.  None better.  They have different tools to work with, but both are adept at creating a great 40-man roster for the regular season.  Now let's see if AF can bring home a second WS Championship before Zaidi wins his first.
Finally, how will the promotion of Brandon Gomes to Dodgers GM impact Andrew Friedman?  It will be interesting to see how Gomes approaches roster construction.  Will he be like Farhan Zaidi or the current Big Market Andrew Friedman?