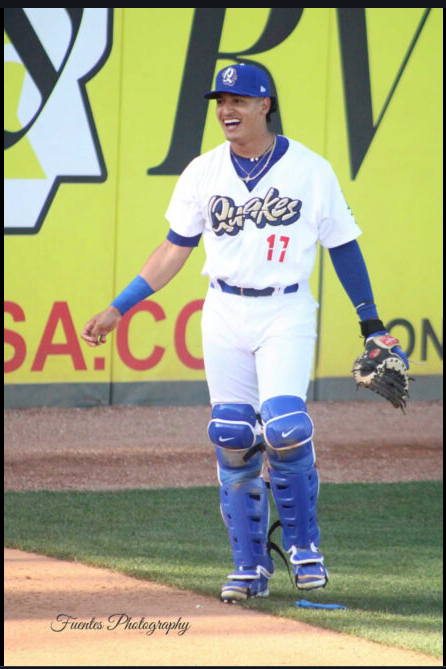 OKC Dodgers 11 – El Paso Chihuahuas (Padres) 13
The El Paso Chihuahuas roughed up Mike Wright Jr. and Robbie Erlin to score 9 runs on 13 hits and 4 walks, in the first three innings, including 7 in the third; all 7 credited to Erlin.
The Dodgers fought back with a run in the 2nd on a Zach McKinstry HR (1), and 6 in the 4th.  With one out, Eddy Alvarez walked.  Ryan Noda reached base on a fielding error from Eguy Rosario (2B) and was followed by walks to Omar Estevez and Tony Wolters for the first run in the inning.  The bases remained loaded with Kevin Pillar doubling in two, and Miguel Vargas tripling in two more.  Jake Lamb followed with a single scoring Vargas.
The Dodgers got closer in the 6th with a Kevin Pillar triple and a Miguel Vargas single.  Vargas also stole 2B and advanced to 3rd on a throwing error, but Andy Burns could not score Vargas.
In the 8th, the Dodgers finally climbed all the way back with a Jake Lamb HR (3).  Yency Almonte relieved Jon Duplantier in the 8th and was torched for 4 runs.  Almonte hit the first batter he faced (Luis Campusano).  After a strike out, Almonte gave up singles to C. J. Hinojosa and Nomar Mazara to score Campusano.  Brent Rooker followed with a 3-run HR for a 4-run 8th, and a 13-9 lead going into the 9th.
The Dodgers fought back again getting 2 with a Zach McKinstry walk and a Ryan Noda HR (3).  But that is as close as they got as both Jason Martin and Tony Wolters struck out to end the game.
Kevin Pillar and Miguel Vargas each collected three hits on the night.  Pillar had a double and triple while Vargas had a triple. Jake Lamb and Ryan Noda notched two hits apiece including each with a HR.
Of the four pitchers, only Jon Duplantier had positive results.  He went 1.2 innings allowing no baserunners and two strikeouts.
The Dodgers fell to 5-2 for the season.
I know it is only 7 games into the season, but the Dodgers have four hitters with better than 1.000 OPS and three others with better than .900 OPS.
Ryan Noda (.421 BA and 1.488 OPS) and Zach McKinstry (.429 BA and 1.342 OPS lead the way.
Amarillo Sod Poodles (Arizona) 4 – Tulsa Drillers 3
In his inaugural start of the 2022 season, Bobby Miller was brilliant for the Drillers.  He allowed a leadoff single, and then retired 12 in a row.  He had 6 strikeouts and issued zero walks on the night.  In his 4.0 innings of work, he threw 58 pitches (41 strikes), and got to a 3-ball count on only 2 of the 13 batters he faced.   Just an outstanding performance for the RHSP.
The Drillers scored first.  In the third, James Outman cracked a one-out double and moved to third on a Michael Busch single.  With 2 outs, Justin Yurchak plated Outman with a single and a 1-0 lead.
The Sod Poodles answered with 2 in the 5th against RHRP Nick Robertson.  A Dominic Fletcher single, a stolen base, and a T'Quan Forbes walk put runners on 1st and 2nd.  A pair of sacrifice bunts score a run, and a Jancarlos Cintron single scored the second.
The Drillers answered in their half of the 5th.. James Outman walked and Michael Busch singled.  Outman came all the way around to score on a throwing error of the RF, Dominic Fletcher.
In the home half of the 6th, Hunter Feduccia and Carson Taylor started the inning with a pair of singles. After Ryan Ward flew out to CF.  Feduccia came around to score on a fielding error by SS Cintron.
Austin Drury relieved Robertson and gave up a single to the first batter he faced, and then set the Sod Poodles down without any damage in the 6th, and retired the side in order in the 7th.
With Drury still on the mound to open the 8th, Corbin Carroll gets a nub infield single to open the inning.  Justin Hagenman relieves Drury.  After a pop out, Dominic Canzone singled, moving Carroll to 2nd.  A ground ball back to the pitcher, Hagenman records the out at 1B, and 2 runners are in scoring position.  Dominic Fletcher promptly singles both runners home, and the Sod Poodles take a 4-3 lead in the 8th.
The Drillers go down in order in their half of the 8th.  The Drillers also go quietly in the 9th with only a Jacob Amaya single.
After a tremendous start from Bobby Miller, the relief pitching let the Drillers down, as well as the lack of timely hitting.  The Drillers were 2 for 9 with RISP.
Great Lakes Loons 15  – Peoria Chiefs (Cardinals) 2
Jorbit Vivas got his first hit of the season, a double to LF.  Vivas scored on an  Ismael Alcantara single. For the 1-0 lead.
After a single and a pair of one-out walks, Jonny DeLuca struck again.  DeLuca hit his 4th HR in his 4th game, this time a grand slam, giving the Drillers a quick 5-0 lead in the 2nd.
Starting for the Loons was Gavin Stone, the 2020 #5 draft pick.  After a good second half of his 2021 season at Great Lakes, Stone was returning to GL to start the 2022 season.  He got the Chiefs out 1-2-3 in the 1st.  After getting the first two batters with strikeouts in the 2nd, Gavin surrendered a single, a walk, a run scoring single, and his night was over.
LHRP Lael Lockhart relieved Stone, and struck out Francisco Hernandez on three pitches to end the 2nd.
The Loons utilized a pair of singles, a sacrifice fly, and a 2-run Ryan January HR for another 3 in the 3rd, and this game is quickly getting out of hand.
Lockhart got through a scoreless 3rd and 4th, allowing only a pair of walks to go with 4 K's.  But the Loon bats were not done.  They put up another 4 in the 4th, including a Leonel Valera 3-run HR.  In the 5th, DeLuca got his second hit of the game that was followed by a couple of HBP and a Ismael Alcantara single for one.  Jorbit Vivas grounded in to a force out, and a second run of the inning scored, making the score 14-1 after 5.
RHRP Michael Hobbs relieved Lockhart in the 5th and pitched a scoreless 2.0 innings.  Hobbs was followed by RHRP Carlos Alejo for the 7th and LHRP Andrew Shaps in the 8th.  Alejo struck out two and Shaps struck out 3 while allowing a hit.
The Loons scored yet another run on a Leonel Valera HR (his 2nd of the season).  Shaps started the 9th with a pair of Ks, and then followed with a pair of 4 pitch walks.  Shaps then allowed a run scoring single on a 3-2 count, and his night was done.  RHRP Adolfo Ramirez replaced Shaps and gets the final out of the inning and game.  Shaps got 5 K's in his 1.2 IP.
The Loons had 4 HRs on the night.  Jonny DeLuca (4 RBIs), Ismael Alcantara (3 RBIs), and Leonel Valera (5 RBIs) had three hits apiece in a 15-run and 13-hit attack.
The Loons evened their record to 2-2 after the win.
Inland Empire 66ers (LAA) 6 at RC Quakes 8
Tommy Kahnle is getting closer to that LA call as he started his second game, pitching one inning.  Three up and three down on 11 pitches (8 strikes).
The Quakes jumped out to an 8-0 lead after 4 innings.  In the second, Damon Keith singled.  Keith scored all the way from 1st on a Luis Yanel Diaz strike out and wild pitch. Diaz steals 2nd and scores on an Austin Gauthier single.  The score is 2-0 after 2 innings.
The Quakes scored a run in the third on a double (1) by Yeiner Fernandez and an Jose Ramos triple (1).
19-year-old RHP, Edgardo Henriquez, from Cumana, Venezuela, pitched a scoreless 2.2 innings.  He allowed 2 hits, and struck out 4.  22 year old Dominican RHRP, Kelvin Bautista finished off the 4th with the 3-0 lead intact.
In the bottom of the 4th, the Quakes broke it open.After a Damon Keith walk, Jake Vogel singled.  Luis Yanel Diaz grounded into a DP, and then two walks and a HBP scored a run.  But the AB many of us have been waiting for, uber prospect Diego Cartaya hit a grand slam for his first HR of the year.  That put the Quakes up 8-0.
But that was the offense.  In the next four innings, RC received four free passes and one single, but no runs.  Bautista allowed a solo run in the 5th, and on two walks, a HBP, and a ground out, Braydon Fisher allowed the second 66er run.  Fisher pitched 1.2 innings surrendering the one run on no hits, two walks, one HBP, and four strikeouts.
RHRP Yamil Castillo inherited 2 runners on in the seventh with one out.  He allowed one of those runs to score after a walk and a ground out.  He pitched a scoreless 8th.
LHRP, Ben Harris, came in to pitch the ninth and found himself in all kinds of trouble.  After he struck out the first batter he faced, he issued a walk, gave up a single, and issued another walk to load the bases.  On a 2-1 pitch, DH Werner Blakely slugged a grand slam, and on a night that looked like it was going to be a blow out, the 66er grand slam made a game out of it.  Harris stayed in and retired the next batter on a K.  Jo Valdez came in to close it out, and did so as he retired D'Shawn Knowles to end the game, to record his first save of the season.
The Quakes improved to 2-2 on the season.