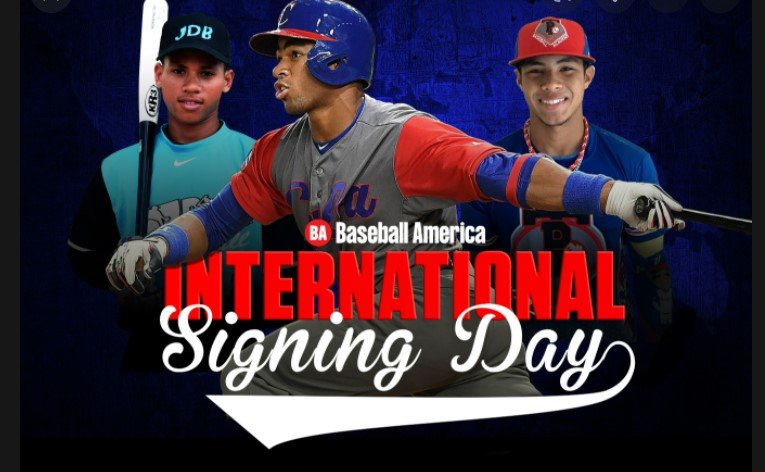 Most Dodger fans look at the ill-fated 2015-2016 International Free Agent Draft as an inimitable disaster, and they are undoubtedly correct.  Ned Colletti had mixed results in the International Free Agent market.  Of course, Cuban OF Yasiel Puig, who signed a 7-year $42MM deal with the Dodgers was a significant hit. But there were others that did not have equally positive results.
Alex Guerrero, a Cuban SS who signed a 4-year $28MM deal in 2013 and was released in 2016.
Erisbel Arruebarrena, a Cuban SS who signed a 5-year $25MM deal in 2014.  He was released and is now back playing in Cuba.
Besides Puig, Julio Urías (8-17-2012), Victor Gonzalez (07-02-2012), and Keibert Ruiz (07-02-2014 for $140K) have to be considered major success signings during the Ned Colletti era.
Andrew Friedman wanted to make a splash in the International Free Agent market and signed yet another Cuban infielder, Hector Olivera, for 6 years and $62.5MM contract.  But that was just the beginning of the signing largesse made by AF and the Dodgers.  For the 2015-2016 International Free Agent signing period.
| | | | |
| --- | --- | --- | --- |
| Yadier Alvarez | RHP | Cuba |     16,000,000 |
| Yusniel Diaz | OF | Cuba |     15,500,000 |
| Omar Estevez | 2B | Cuba |       6,000,000 |
| Starling Heredia | OF | DR |       2,600,000 |
| Yordan Alvarez | 1B | Cuba |       2,000,000 |
| Ronny Brito | INF | DR |       2,000,000 |
| Oneil Cruz | INF | DR |          950,000 |
| Christopher Arias | OF | DR |          500,000 |
| Carlos Rincon | OF | DR |          350,000 |
| Damaso Marte Jr. | SS | DR |          300,000 |
| Luis Rodriguez | SS | Venezuela |            62,500 |
| Ramon Rasso | RHP | DR |            62,000 |
| Aldo Espinoza | 2B | Nicaragua |            50,000 |
| | | | |
| | | |     46,374,500 |
| Less Bonus Pool | | |         (700,000) |
| Overage 100% Tax | | |     45,674,500 |
| Total Cost | | |     92,049,000 |
From the list above:
Yadier Álvarez – Assigned to Tulsa (AA), but once again is on the restricted list.
Yusniel Diaz – Traded to Baltimore in the Manny Machado trade (2018).  He is in AAA.
Omar Estévez – AAA with the Dodgers.  Is not considered a viable prospect with LAD.
Starling Heredia – Out of Baseball
Yordan Álvarez – Traded to Houston for Josh Fields. On the Houston ML roster.  Won AL ROY 2019.
Ronny Brito – Currently not assigned to any ML affiliate.
Oneil Cruz – Traded to Pittsburgh in the Tony Watson trade.  In AAA.
Christopher Arias – Out of Baseball
Carlos Rincón – Signed by NYM as a FA.  In AAA with NYM.
Damaso Marte Jr. – Out of Baseball
Luis Rodriguez – The first Luis Rodriguez is out of baseball.
Ramon Rasso – Released by LAD 07-15-16.  Signed with Philadelphia (2016-2021).  Signed with Detroit (2022).  In AAA with Detroit.
Aldo Espinoza – Out of Baseball
I know that the hind-sight armchair GMs continually harp about the bust of a trade Yordan Álvarez for Josh Fields was.  Yet, nobody complained about it at the time.  NOBODY!!  Yordan was a late 2015-2016 signee (06-15-2016), and was a LAD for all of 45 days.  So the fans who never saw the Cuban 1B play, he never played in the LAD organization, can say what a horrible trade that was.  Really?  Hindsight is always 100%.  GMs do not get that luxury.  The Dodgers needed a reliever and Josh Fields was available.  I know I am in the minority, but I liked Fields.  In his 2+ years with the Dodgers, he pitched 117.1 IP with a 2.61 ERA, 1.040 WHIP, ERA+ of 155, and S/W ratio of 3.38.  He did have a very bad habit of giving up HRs at the wrong time (as have many others before and after).
In two postseasons with the Dodgers:
2016 – 4 G, 2.1 IP, 0 runs, 1 hit, 1 BB, 4 K
2017 (Before Disastrous Game 2 WS) – 3 G, 1.0 IP, 0 runs, 1 hit, 0 BB, and 1 K.
Yes his Game 2 WS was an absolute disaster, as was Brandon Morrow, KJ, and Brandon McCarthy.  KJ was 5th in CY voting that year, and yet he bottomed out in Game 2.  So was Clayton Kershaw in Game 5.
That 2015-2016 period not only cost the Dodgers $92+MM AND NOTHING TO SHOW FOR IT, but it also limited what they could do with 2016-2017 and 2017-2018.  They were limited to maximum signing bonuses of $300K.
The Dodgers also signed in 2016, RHP, Yaisel Sierra for $30MM for 6 years,  He was released after 5.
In 2016-2017, the Dodgers signed Dominican SS Alberto Suarez for a bonus of $300,000.  They later signed former Top 30 prospect LHP Robinson Ortiz in that same period.
The team's bonus pool for the 2016-2017 period was $2,118,900. Rather than sign a bevy of questionable international free agents, these bonus slots could be traded, which the Dodgers did, and received pitchers Caleb Dirks and Chase De Jong, outfielder Jordan Paroubeck and infielder Tim Locastro in trades with Atlanta and Toronto.
In 2017-2018, the same bonus limitations existed, but the Dodgers kept their slots.  This international free agent signing period could go down as a steal for the Dodgers.  Despite the limitations, they were still able to sign Andy Pages (LAD Prospect #4), Miguel Vargas (LAD Prospect #5), Eddys Leonard (LAD Prospect #8), and Jorbit Vivas (LAD Prospect #9),.  This was a great haul even without considering the bonus limitations.  These are four of the top ten prospects in what is considered a top farm system.  They also signed LAD Prospect #16, RHP Carlos Duran.
The Dodgers returned with zero limitation for the 2018-2019 international free agent signing period.  They started out with who is now the LAD #1 prospect, Venezuelan catcher Diego Cartaya.  That was followed by current #14 prospect, Jose Ramos, #20 prospect SS/3B Alex De Jesus, and #28 RHP Hyun-il Choi.  All four prospects are currently assigned to Rancho Cucamonga (A).  Also in that class is  RHPs Jerming Rosario (RC), Edgardo Henriquez (RC),  Heisell Baro (ACL).
The 2019-2020 international free agent class was highlighted by Venezuelan LHH OF Luis Rodriguez.  In a year when NYY OF prospect Jasson Dominguez was the overwhelming clear star, the Dodgers signing was considered an elite prospect on his own.  That has not translated into success on the baseball diamond, but he is still only 19, and is playing full-season A ball at Rancho.  It is extremely difficult to select teenagers to play at an elite level in the ML.  Rodriguez's star is falling as fast as Jeren Kendall's.  He is now considered the LAD #25 prospect.
Also selected in this signing period is Venezuelan catcher Yeiner Fernandez, he is not yet in the top 30 LAD prospects, but I do think he belongs.  He is 19 years old and is playing at full-season A Ball at Rancho.  Typically with the Dodgers, he is now playing some back at his original position; 2B.  It seemed to work for Craig Biggio.  Who knows?  Yeiner is a favorite of mine that I will be following closely.
Two others who figure to be playing in the US this year (ACL Rookie League) are Dominican SS Darol Garcia and Venezuelan OF Victor Sosa.
Many expect the 2020-2021 international signing period to approach 2017/2018 and 2018/2019.  This group includes three top 30 prospects who all should get their initial exposure in the US this year.
SS Wilman Diaz (LAD Prospect #10)
C Jesus Galiz (LAD Prospect #26)
And my personal favorite:
SS Rayne Doncon (LAD Prospect #22)
Remember the name Rayne Doncon.  He is still a teenager (18), but outplayed his higher-hyped fellow SS, Wilman Diaz.  Below is a scouting report by MLB Pipeline:
Overshadowed by Wilman Diaz and Jesus Galiz in the Dodgers' 2020-21 international class, Doncon outperformed them both in the Rookie-level Dominican Summer League during their debuts last summer. Signed for $497,500 out of the Dominican Republic, he batted .283/.387/.455 in the DSL and also showed well in instructional league. 

One of the most advanced young bats in the system, Doncon could be a plus hitter with 20 or more homers per season if he reaches his ceiling. He repeats his simple right-handed swing with ease, has a knack for barreling balls and possesses plenty of bat speed and projectable strength. He already shows the ability to drive balls in the air, though he can get overly pull-conscious.  

While the Dodgers believe Doncon has the actions and solid arm strength to possibly remain at shortstop, he's an average runner who might lose some quickness as he matures physically. He's still learning to play under control in the field and likely will wind up at second or third base, with more than enough offense to profile at either spot. Club officials praise his makeup as well.
Baseball America Scouting Report:
Doncon is a long, lean 6-foot-2 with a high waist and lots of physical projection to dream on. He has fast bat speed, excellent natural timing in the batter's box and consistently barrels fastballs. He has a flat swing plane that results in a lot of low line drives, but he has a chance to grow into average or better power as he gets stronger and fills out physically. Doncon remains lean and is a capable shortstop with good actions and a plus arm. He is a tick below average runner who projects to slow down as he continues to fill out, so he may eventually have to move to third base.
In Summary, International Free Agents in the LAD Top 30 prospects.
| | | | | |
| --- | --- | --- | --- | --- |
| Prospect # | Player | Position | Signed | Team |
| | | | | |
| #1 | Diego Cartaya | C | 2018-19 | Rancho |
| #4 | Andy Pages | OF | 2017-18 | Tulsa |
| #5 | Miguel Vargas | 3B/1B | 2017-18 | OKC |
| #8 | Eddys Leonard | INF | 2017-18 | Rancho |
| #9 | Jorbit Vivas | 2B/3B | 2017-18 | Rancho |
| #10 | Wilman Diaz | SS | 2020-21 | ACL |
| #14 | Jose Ramos | OF | 2018-19 | Rancho |
| #16 | Carlos Duran | RHP | 2017-18 | Great Lakes |
| #20 | Alex De Jesus | SS/3B | 2018-19 | Rancho |
| #22 | Rayne Doncon | SS | 2020-21 | ACL |
| #25 | Luis Rodriguez | OF | 2019-20 | Rancho |
| #26 | Jesus Galiz | C | 2020-21 | ACL |
| #28 | Hyun-il Choi | RHP | 2018-19 | Great Lakes |
Interestingly, of the top 10 prospects, 6 are international free agents.
Top 15 – 7
Top 20 – 9
Top 30 – 13
By international free agent signing class:
2017-2018 – 4
2018-2019 – 5
2019-2020 – 1
2020-2021 – 3
I chose to ignore the 2021-2022 international free agent signing period, as a) the Dodgers did not have any real elite signings, and b) I want to wait until I see what they can do in the DSL.  There were three bonus pools, and the Dodgers were in the pool with the least dollars.  That was going to have some impact.  They should be in a worse position for the next signing period.
Why is it that an organization that spends so much in scouting, has almost as many international teenage free agents in their top 30, as Rule 4 amateur draft picks, and more than half of the top ten?  A lot of that has to do with where the Dodgers have been drafting. Now with fewer dollars available in the international free agent market, and with fewer Rule 4 draft picks and lower picks, the Dodgers will undoubtedly take risks, seemingly like the 2021 Rule 4 draft.  I will address the upcoming Rule 4 amateur draft in a later blog.