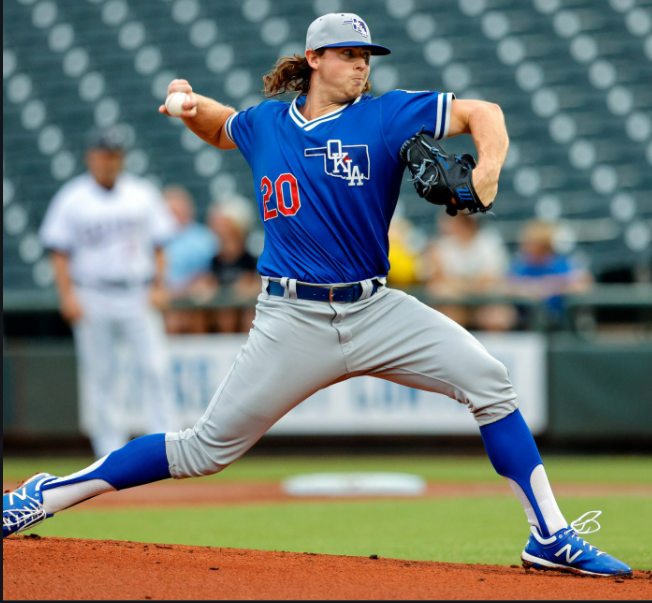 OKC Dodgers 1 vs Sacramento River Cats (Giants) 0
Let's discuss the 04-22-2022 MiLB summary. The Dodgers got outstanding pitching and made a 1st inning run stand up.  In the top of the 1st, Miguel Vargas singled and came home on an Andy Burns double (5).  And that was the offense on the night.
Ryan Pepiot (pictured) started his fourth game of 2022.
April 5 – 4.0 IP, 49 pitches
April 10 – 3.2 IP, 57 pitches
April 16 – 3.0 IP, 63 pitches
So his innings were getting less, while the pitch counts were rising.  But on this night, Pepiot went a full 5.0 IP, 0 runs, 3 hits, 3 BB, 8 K.
Yency Almonte, Carson Fulmer, and Reyes Moronta finished the game.  They combined for 4.0 scoreless  IP, allowing 2 hits, 1 BB, and 6 K. Pepiot gets the first win of the season, and Moronta got his 1st to save. I am on Carson Fulmer's watch.  Fulmer got his 4th hold.  In his 6 games, he has had 1 bad outing.  In his last three games, Fulmer has pitched 4.1 innings, allowing 1 hit, 3 BB, and 5 K.
Ryan Noda and Drew Avans got the other 2 OKC hits (both singles).
Tulsa Drillers 10 vs Springfield Cardinals 7
A game of big innings in this one and the Drillers big inning was bigger.  The Drillers started out well when James Outman led off the game with a single.  That was followed by a Michael Busch walk.  Cardinals pitcher, Kyle Leahy, had thoughts of getting out of the inning with back-to-back Ks.  But Ryan Ward would have none of that as he slugged a 3 run HR to give the Drillers the early lead.
Clayton Beeter was the Drillers starting pitcher.  He walked the first batter he faced, Chase Pinder.  After a K, Pinder moved to 3rd on a single by Jordan Walker and scored on a Moises Gomez sac fly.
The Cardinals' big inning was the third.  With Beeter still pitching, Chase Pinder hit a solo HR (3).  Matt Koperniak followed that with a double, and after 47 pitches, Beeter was headed for the showers.  Zack Plunkett relieved Beeter and got a fly-out.  Moises Gomez stepped up and deliver a 2-run HR (8).  Pedro Pages walked, and Chandler Redmond followed with another 2-run HR.  After out #2, Delvin Perez walked and stole 2nd.  He scored the 6th run in the inning on an Irving Lopez single.
As the Drillers came to bat in the top of the 4th, they find themselves down 7-3.  The inning started with 4 straight singles from Jacob Amaya, Kody Hoese, Jeren Kendall, and James Outman, and the Drillers inched closer with 2 runs.  After a strikeout, Andy Pages crushes a 3-run HR into CF and an 8-7 lead.  But the Drillers were not done.  Justin Yurchak singled and Ryan Ward hit his 2nd HR (5) of the game.
After 3 ½ innings, the Drillers were leading 10-7 and this game had all the makings of a slugfest.  But the pitchers took over for both teams.
Mark Washington relieved Zack Plunkett – 3.0 IP, 0 runs, 0 hits, 1 BB, 3 K
Austin Drury – 2.0 IP, 0 runs, 2 hits, 3 BB, 1 K
Aaron Ochsenbein – 1.0 IP, 0 runs, 0 hits, 0 BB, 1 K.
Washington got the win (2-0) and Ochsenbein got the save (2).  Tulsa moved to 9-4.
Driller hitting stars were Ryan Ward with 3 hits including 2 HRs and 5 RBIs, Jacob Amaya with 3 hits including his 2nd double, and Jeren Kendall with 3 hits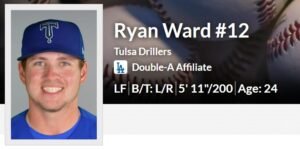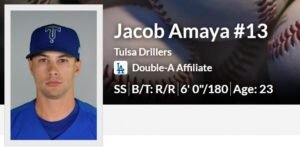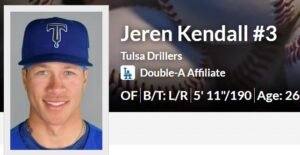 Great Lakes Loons vs Lake County Captains (Cleveland) – Postponed due to inclement weather – Doubleheader on Saturday
Rancho Cucamonga Quakes 11 vs. Modesto Nuts (Seattle) 8
Maddux Bruns was the starting pitcher for the Quakes.  After he struck out the leadoff hitter, Freddie Bautista singled.  After a second strikeout, Bautista stole second but came around to score on an errant throw from catcher Yeiner Fernandez. 
Bruns finished 2.0 IP.  His pitching line was 0 runs, 4 hits, 0 BB, 4 K – 34 pitches (24 strikes).
The 1-0 lead lasted until the top of the 4th.  Alex De Jesus tripled to lead off the 4th.  De Jesus was still at 3rd with 2 outs but scored on a WP, and the score was tied.
With Robbie Peto on the mound, with one out, Walking Cabrera singles. After Cabrera steals 2nd, Brett Rodriguez walked. Colin Davis hit a ground ball to 3rd base, and instead of a DP, a fielding error loaded the bases.  Cabrera scored and the other runners moved up on a Peto balk.  Rodriguez scores on a sac fly.
The Nuts got another unearned run in the 5th on a Robert Perez single and fielding error by Damon Keith.  Randy Bednar hit a run-scoring single but was out trying to go to second on the throw to the plate.
Gabe Emmett relieved Peto in the bottom of the 6th.  We will just leave it that Emmett allowed 4 runs on 1 hit, 4 walks, and 2 HBP before Joan Valdez mercifully relieved him.  The Nuts took back the lead at 8-6.
Both teams went scoreless in the 8th.  In the 9th, Diego Cartaya, Damon Keith, and Luis Rodriguez led off with three straight singles to load the bases.  Jake Vogel pinch runs for Rodriguez.  Cartaya scores on a WP before Luis Yanel Diaz struck out for out #1.  Austin Gauthier singles to score Keith and Vogel and the Quakes take the lead.  Julio Carrion singles to RF and Gauthier comes all the way around to score and Carrion takes 3rd on the fielding error.  Carrion scores on a ground out, and the Quakes score 5 in the 9th for an 11-8 lead.
21-year-old LHRP, Octavio Becerra, got out of a jamb in the 8th but set the Nuts down in order in the 9th to preserve his win.
Hitting stars – Austin Gauthier 2 hits and 4 RBIs.  Luis Rodriguez 3 hits, including a double, concluding the 04-22-2022 MiLB summary.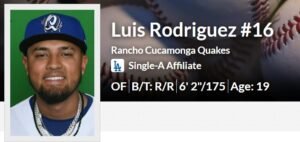 A little bonus about another side of Andy Pages
https://youtu.be/adDb0xktXR0