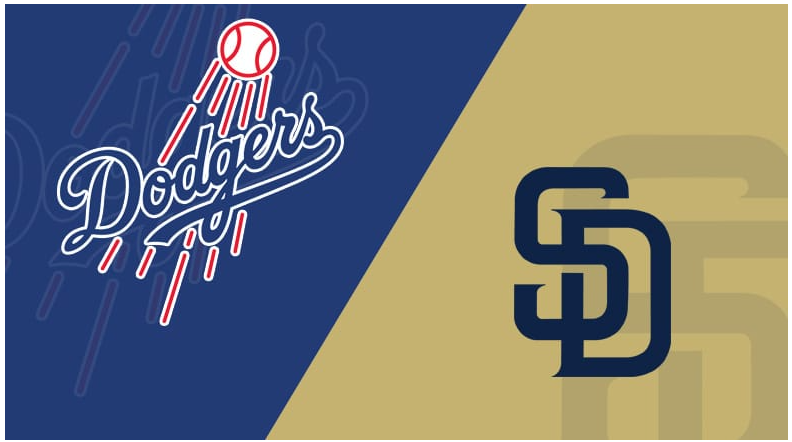 As I am writing this, the Dodgers vs Padres are scheduled to meet in this evening's first of a three-game series in San Diego.  By the time it is published the first game will be in the books.
The pitching matchups are as follows:
Friday – Julio Urias (L) vs. Nick Martinez (R)
Saturday – Tyler Anderson (L) vs. Yu Darvish (R)
Sunday – Clayton Kershaw (L) vs Sean Manaea (L)
Nick Martinez is a 31-year-old RHP who was an 18th-round pick of the Texas Rangers in 2011.  He spent parts of 4 years in MLB with Texas, with mediocre at best results.  As many borderline players do, Nick then went to Japan to see if he could reinvent himself. A little like Miles Mikolas.  He spent 4 years in Japan and was better than average.  He signed a 4-year contract for a guaranteed $25.5MM to pitch for the Padres.
He drew the Giants in his 2022 debut, and battled but pitched well in SF.  In 5.0 IP, he allowed 1 run on 5 hits, 1 walk, with 6 Ks. His second start was against Atlanta, at home, and it did not go as smooth.   In 5.0 IP, he surrendered 4 runs on 7 hits, with 4 BBs and 3 Ks.  He also allowed 3 solo HRs.
The other two Padres pitchers are more well known to LAD and LAD fans.  Yu Darvish has started 6 games against the Dodgers.  He has thrown 37 IP (Avg 6.1 per start), 2.43 ERA, 0.838 WHIP, 51 K, and 3 HR allowed.  The secret for RHP is to beat the Dodgers, strike out a lot of batters, and limit the HRs.  Check and check for Darvish.
Even though he is a LHP, Sean Manaea, has not been as successful against LAD.  In his 3 games started, he threw 13.2 IP, 5.27 ERA, 1.683 WHIP, 10K, and 5 HR.  Manaea has been solid in all three of his starts in 2022 (3 quality starts).   Methinks he is chomping at the bit to face a Dodger lineup that has been as inept against LHP all year.  He is more likely to throw a no-no than to get hit hard and harder against LAD.
Meaningless stats this early in the season, but oh well…
Batting vs LHP
SDP – .252/.342/.466/.808 – #5 OPS
LAD – .157/.250/.213/.463 – #30 OPS
Batting vs RHP
SDP – .222/.324/.329/.653 – #17 OPS
LAD – .282/.363/.460/.863 – #1 OPS
WRISP
SDP – .234/.326/.396/.727 – #15 OPS
LAD – .315/.385/.431/.789 – #5 OPS
Runs
SDP – 61 (#7)
LAD – 64 (#5)
Note – SD has 49 more ABs
HR
SDP – 12 (#11)
LAD – 11 (#15)
Pitching ERA – Overall
SDP – 3.15 – #9
LAD – 2.38 – #1
Pitching ERA – Starter
SDP – 2.85 – #6
LAD – 2.33 – #2
Pitching ERA – Reliever
SDP – 3.61 – #21
LAD – 2.44 – #4
Pitching WHIP – Overall
SDP – 1.07 – #4
LAD – 0.96 – #1
Pitching WHIP – Starter
SDP – 1.04 – #4
LAD – 1.05 – #5
Pitching WHIP – Reliever
SDP – 1.12 – #12
LAD – 0.83 – #1
Runs Allowed
SDP – 43 – #6
LAD – 32 – #1
Strikeouts
SDP – 132 – #2
LAD – 112 – #13
Walks
SDP – 44 – #17
LAD – 27 – #1
Not much of sample size, and the teams played against include two common opponents: Braves and Reds.  Draw your own conclusions.
The Padres starting pitching is the strength of the team, especially without Fernando Tatis, Jr. in the lineup.
Established veteran starters – Yu Darvish, Joe Musgrove, Sean Manaea,
Project – Nick Martinez
Top-rated Rookie – MacKenzie Gore
Veterans on the IL – Blake Snell and Mike Clevinger
Once Snell and Clevinger return from the IL, the Padres will have seven strong starting pitchers.  With the way MacKenzie Gore has pitched in his first two games, he is not coming out any time soon.  I have been advocating for Gore since I saw him pitch in the California League (when they were A+), and he dominated.  I was soundly rebuffed by many last years but was still an advocate.  I still believe he is going to be one of the most dominant LHSP in MLB within the next couple of seasons.  He just turned 23.  And he seems to have found both his mechanics and confidence.
So far this year, The Pads have a couple of bangers; one expected and one not so expected.  Manny Machado has a team-leading OPS of 1.056.  He has 3 HRs, 5 DBLs, and 10 RBIs.  The unexpected is Jurickson Profar.  He has an OPS of 1.003, with 4 HRs, and 11 RBIs.
The Padres have tried to unload Eric Hosmer for the last couple of years.  Right now, I think the Padres are happy with him.  Hosmer is slashing .378/.404/.489/.893.  His OPS of .893 is better than every Dodger not named Freddie Freeman.  And he has done that without any HRs.  But the numbers drop off considerably after Hosmer.
The one surprising bat that has not yet shown up is Jake Cronenworth.  Jake is batting .174/.339/.239/.578.
The Padres need to stay close until Tatis Jr. returns.  Hosmer will undoubtedly come back down, and Cronenworth should pick up.  But it will be that starting pitching that will be extremely competitive come playoff time.
Over the first 12 games, the Dodgers are hitting as well as they are with these three guys not yet producing:
Justin Turner – .227/.306/.273/.579
Max Muncy – .128/.306/.256/.562
Mookie Betts – .178/.288/.222/.510
When your two best RH hitters are not producing, and one of your top LH bats (and one with reverse splits) is not producing, is it any wonder why the Dodgers are so dismal against LHP thus far in 2022?
Everyone thought that San Diego was going to be the team pushing LAD in 2021, and yet they never materialized as honest contenders.  So what is the difference this year?  IMO, Bob Melvin over Jayce Tingler.  Melvin is not going to lose control of that dugout as Tingler did.
The Padres are not as good as the Dodgers are in a 162-game schedule, but they will be a Wild Card team.  After that, it will be a dogfight between the Dodgers vs Padres.  As it usually does, pitching will decide who wins in the playoffs, and the Padres will have a formidable voice.
Big Night for Mookie and Max.  
GO BLUE!!
Big Night  the Dodger