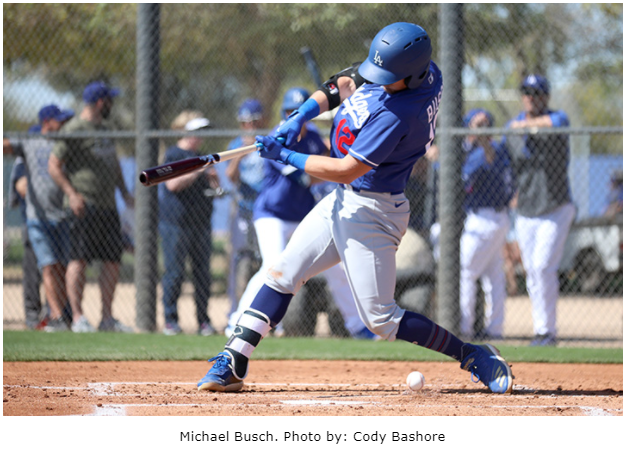 Dodgers 3 – Sacramento River Cats (Giants) 8
With a Drew Avans solo HR (1), the Dodgers got on the board 1st in the 2nd inning.
OKC got a 2nd run with another solo HR (1) this one by Andy Burns in the 4th.
The River Cats got one run (unearned) back in the 5th with a double, passed ball and single.  That was it for starting pitcher Yefry Ramirez.  Yefry pitched a quality 5.0 innings allowing 1 run (unearned), on 2 hits, and 5 Ks.  Ramirez threw 79 pitches (49 strikes).
Tommy Kahnle pitched a perfect 6th inning with a K.  Shane Greene relieved in the 7th, and was roughed up.  He gave up 4 runs, (all earned) on 4 hits and a walk.  Marshall Kasowski relieved Greene to get the final out.
The Dodgers got a run closer with Andy Burns' 2nd HR of the night.  But that was as close as they would get.  Marshall Kasowski still pitching in the 8th, with one out, he allowed 4 hits and 2 walks to score 3 runs.  Daniel Zamora relieved Kasowski and retired the side without any further damage.
The Dodgers went quietly in the 9th and the River Cats won this one, 8-3.
Tulsa Drillers 6 and Springfield Cardinals 9
Michael Busch and Andy Pages were the two hottest Driller hitters going into the game, and they stayed hot.  Unfortunately, they were the only ones.  Busch hit 2 solo HRs (5), James Outman had a 2 run HR (5), and Ryan Ward had a solo HR (3), accounting for five of the six runs.
The other run was scored in the 1st when the Drillers jumped out to a 2-0 lead.  After Busch's solo HR, Andy Pages doubled and scored on an errant throw from CF to try to throw out Pages who was going to third on a fly out.
Gus Varland started and went 4.1 innings allowing 6 runs (5 earned) on 7 hits.  He walked two and did not record a strikeout.  He did allow 2 solo HRs.  Alec Gamboa relieved Varland, and was not the answer.  He allowed 3 runs (all earned) on 4 hits. He surrendered 1 walk but registered 3 Ks.
Melvin Jimenez was the third and final pitcher for the Drillers.  He pitched a scoreless 8th with 2 Ks.
Good showing of power by the Drillers, but not much else to call home about in this one.
Lake County Captains (Cleveland) 3 – Great Lakes Loons 9
Great Lakes took a 2 games to 1 series innings lead with a 9-3 victory.  The Loons scored 9 runs on 9 hits (4 doubles and a HR) and 9 walks.
Nick Nastrini started and got off to a rough start.  He allowed 2 walks and a single in the 1st for a run.  He allowed a single and a walk in the 2nd, but no runs.  After 2 innings, Nastrini was done for the night.  2.0 IP, 3 H, 1 R, 2 BB, 4K, 51 pitches 33 strikes.
The Loons struck back for 4 in the first.  With 2 out, Eddys Leonard walked and scored the tying run on an Aldrich De Jongh double (1).  De Jongh came around to score on an Ismael Alcantara single.  Alcantara moved to 2nd on an error and scored on an Imanol Vargas single.  Zac Ching doubled to score Vargas and a 4-1 lead.
In the 5th, Braydon Fisher was in his 2nd inning of work.  He walked the first three batters and was relieved by Julian Smith.  Smith walked the first batter he faced and the Captains scored their 2nd run.  The Captains moved to within 1 in the 6th on a Michael Ramirez HR.
The Loons exploded for 5 in the bottom of the 6th.  Jonny DeLuca hit his 6th HR to lead off the inning.  Jorbit Vivas and Eddys Leonard followed with walks.  The catcher attempted to pick off Vivas and threw the ball away allowing Vivas to score and Leonard to move to 3rd.  Leonard scored on a sac fly.  Ismael Alcantara got on an error, stole 2nd, went to 3rd on a WP.  After two more walks to load the bases, Ismael Alcantara hit a 2-run single to complete the scoring.
Ismael Alcantara and Imanol Vargas had two hits.
Rancho Cucamonga Quakes 1 – Modesto Nuts (Seattle) 11
I learned that when there is not anything positive to say, KEEP QUIET!
The Quakes had two singles; one by Damon Keith and one by Austin Gauthier.  While down 11-0, the Quakes did get a run in the 7th on a single, 2 walks, and a HBP.
4 Quakes pitchers combined to allow 11 runs on 11 hits and 7 walks.  Only Yamil Castillo pitched well, going 2.0 scoreless innings, with 1 hit, 1 walk, and 2 strikeouts.
For those serious fans that want to see the damage, here is the: