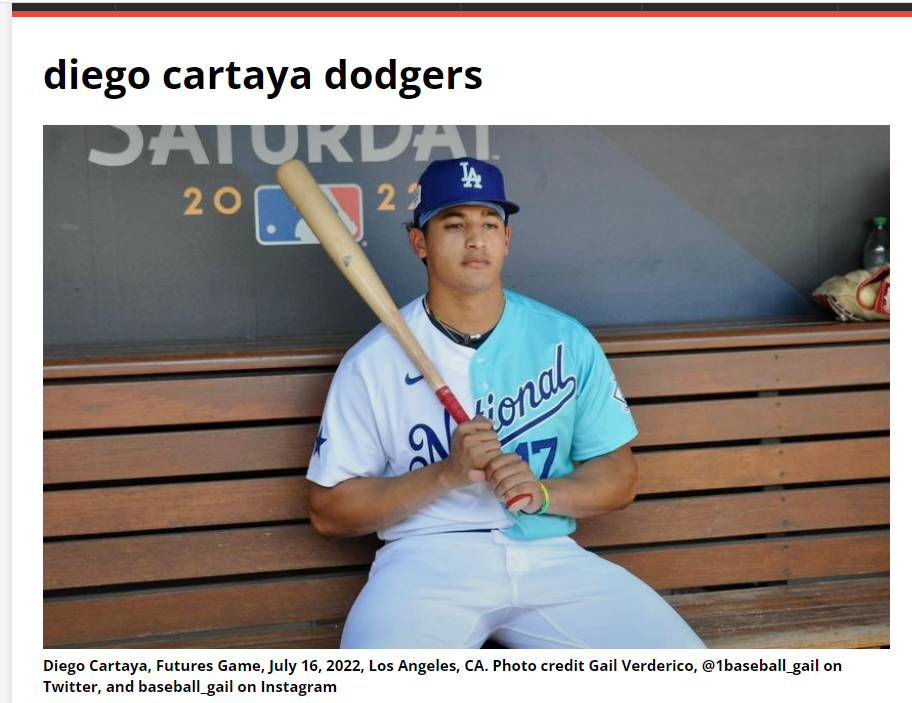 FanGraphs is the final major publication to report on their top 100 prospects. Again the Dodgers were well represented with 6.  FanGraphs does it a little different than others.  Their list includes every player that has a FV of 50 or more as in their Top 100.  This year there were 112 players that hit a FV of 50 or more.
As a reminder, 50 FV is an average everyday regular for position players, and a #4 starting pitcher.
FV 50 – Position – Average Regular Everyday Starter – fWAR 1.6 to 2.5
FV 50 – Pitcher – #4 starters. Approx. 4.00 FIP, at times worse but then with lots of innings – fWAR 1.8 to 2.5
Overall, FanGraphs rated 2 players with a FV of 65:

FanGraphs 12 players with a FV of 60:
In addition, FanGraphs has 24 prospects with a 55 FV and 74 prospects with a FV of 50.

FV 60 – Position – All Star – fWAR 4 to 4.9
FV 60 – Pitcher – #3 starters, 3.30 FIP, volume approaching 200 innings – fWAR 3.5 to 4.9
FV 55 – Position – Above Average Regular – fWAR 2.5 to 3.3
FV 55 – Pitcher – #3/4 starters. Approx 3.70 FIP along with about 160 IP – fWAR 2.6 to 3.4
The Dodgers have 2 prospects with a FV of 55 and 4 with a FV of 50.  The position choices are per FanGraphs.
Diego Cartaya (C) – #28 (last year #37), FV 55
Bobby Miller (RHSP) – #33 (last year #94), FV 55
Michael Busch (DH) – #46 (last year #79), FV 50
Miguel Vargas (LF) – #48 (last year NR), FV 50
Andy Pages (RF) – #58 (last year #86), FV 50
Gavin Stone (RHSP) – #59 (last year NR), FV 50
Each of the 4 prospects that were on the 2022 Top 100 list moved up, while 2 more joined the group.  The biggest mover was Miguel Vargas.  For the past couple of years, FanGraphs has downgraded Vargas as a non-power hitting 1B as his only legit shot as a MLB regular.  For 2023, FanGraphs has finally joined the party and believes that Miggy will be a ML regular.  However they are still not sold on his defensive prowess, as he is listed as a LF…the place to hide your bat first players.  Incidentally this is the position they have given Rayne Doncon, as they rate him a poor middle infielder.
Like most of the other publications, the Dodgers do not have any elite prospects, but do have a bevy of good prospects who project to be regular position players and middle rotation SP.  To me, what that says is that in order for the Dodgers to get that elite player onto their roster, they are either going to have sign them as a FA or trade multiple potential everyday players for the elite player.
The Dodgers have a couple of elite players (Betts and Freeman) and one on his way to that status (Smith).  They have one elite pitcher (Urías), with multiple in the second tier who can pitch at the elite level, but just not the innings needed to be considered elite.  I do believe May is on his way to that status level.
Overall, I review 7 different top 100 lists. The 7 lists are:
Baseball America
MLB Pipeline
The Athletic (Keith Law)
ESPN (Kiley McDaniel)
Baseball Prospectus
FanGraphs
Bleacher Report
The Dodgers had 4 consensus top 100 prospects: Cartaya, Miller, Vargas, and Stone.  For whatever reason, Kiley McDaniel (ESPN) did not include Michael Busch.  Although McDaniel did include Busch in the group of prospects with a FV of 50 not included in top 100.  ESPN was the only list that did not include Busch.
Andy Pages was rated in the top 100 by 4 of the seven.
Dalton Rushing was placed on 3 lists and is sure looking at becoming a consensus top 100 as early as mid-year, but probably no later than the start of 2024.
Ryan Pepiot was also placed on 3 lists with Nick Nastrini (Baseball Prospectus), Nick Frasso (Baseball Prospectus) , and James Outman (Keith Law – The Athletic) on one each.

As a follow up, Baseball America previously published their individual teams' top 10 prospect lists.  The top 30 are published in their Prospect Handbook, which is a paid subscription.  I do not have a problem with providing Prospects 11-30 for the Dodgers.  BTW, I heartily recommend purchasing the Handbook.  It is chock-full of great information on 900 prospects.
11      Jacob Amaya – SS
12      Nick Frasso – RHSP
13      Josue De Paula – OF (Corner)
14      Emmet Sheehan – RHSP
15      Eddys Leonard – SS/2B
16      Ronan Kopp – LHRP
17      River Ryan – RHSP
18      Jonny DeLuca – OF
19      Michael Grove – RHSP
20      Maddux Bruns – LHSP
21      Jorbit Vivas – 2B
22      Devin Mann – 2B/OF
23      Landon Knack – RHSP
24      José Ramos – OF
25      Yeiner Fernandez – C/2B
26      Peter Heubeck – RHSP
27      Damon Keith – OF
28      Kyle Hurt – RHSP
29      Carlos Duran – RHRP
30      Justin Wrobleski – LHSP
There are a couple of surprises.
Devin Mann as a utility player made the Top 30 the only publication he was named. This is a strength of the Dodgers system…utility players.  Even though he has a FV of 40 with BA, he does present a true opportunity to make a MLB roster at some point.
Ronan Kopp, who is truly a relief option with this organization was ranked as high as #16. Kopp was named in three top prospect publications, and BA is the highest ranking of any publication. For me, he replaces Nick Robertson as the top relief option in the system.
BA was the fifth publication naming Josue De Paula. He was ranked anywhere from #7 (FanGraphs) to #22 (Prospects Live).
Justin Wrobleski was named to his second top LAD prospect list. He is my sleeper prospect for 2023.  He is another in a long line of TJ reclamation projects, and is considered to be in the fast track similar to Caleb Ferguson a couple years back.
Finally, a couple of positive notes coming out of Camelback.
Julio Urías and Noah Syndergaard were impressive in their live intra-squad scrimmage. Syndergaard's velo is already north of his average velo last year.  Another Tyler Anderson, except with big-time K potential?
"I thought today was really awesome," Syndergaard said. "A lot of what I've been working on was starting to click, so it was a lot of fun being out there and playing baseball." 

"Today, my delivery was super consistent," said Syndergaard. "There were a lot of strikes and a lot of competitive pitches."
The overwhelming front runner for the Dodgers 26th man and 5th OF is Jason Heyward. He has a revamped swing that has the team smiling.  It doesn't hurt that he has Freddie Freeman as his biggest advocate.
James Outman looks more and more likely headed to OKC. If the Dodgers were not expected to contend, there would be no question that James would break camp as part of the 26 man roster.  But regardless as to what Stan Kasten says, AF is always going to lean toward veterans.  Thus the addition of LHH Jason Heyward and LHH David Peralta.  Not to mention the other two LHH CF signed to MiLB contracts, Bradley Zimmer and Steven Duggar.
Miguel Vargas has been getting schooled big time in his new permanent position of 2B. On a Miguel Rojas AB, with Vargas shaded more up the middle, Rojas stroked what looked to be a groundball single into RF.  Instead, Vargas on his first playable ball of the Dodger intra-squad scrimmage — made a diving stop, rolled over and delivered a perfect strike to Devin Mann to get Rojas out and end the two-inning matchup.
Ryan Pepiot is standing out with huge plaudits from the Dodger hitters.  His fastball is trending up, and his renewed change has hitters whiffing.  He has much more confidence coming into 2023, and even though he is not expected to break camp with the big league team as a member of the rotation, he should get a lot of opportunities to show his stuff this year.  He still needs to work on his slider, but he is expected to challenge hitters more often.  If he cannot get that slider to cooperate, his two pitch repertoire of fastball/change should be enough to become a late inning high leverage reliever.
Of course these are intra-squad scrimmages and mean nothing.  But positive plays, pitches, and ABs still count in the eyes of the decision makers.  And it is enough to get me excited for actual baseball games to begin.
Michael Grove will draw the start against Milwaukee on Saturday for ST Game #1.  Matt Andriese and Bryan Hudson are also scheduled to pitch on Saturday.
#Dodgers Dave Roberts says Michael Grove will start Saturday's Cactus League #lidlifter against the Brewers. Matt Andriese and Bryan Hudson among others scheduled to pitch

— Bill Plunkett (@billplunkettocr) February 22, 2023