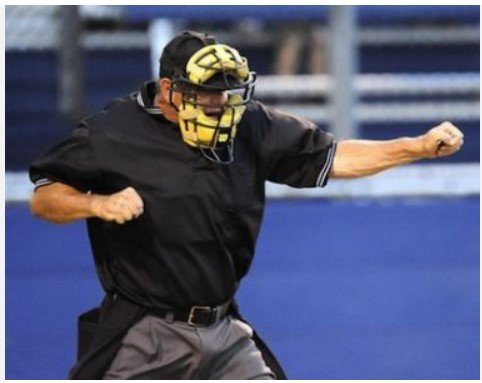 Let me make one thing very clear, I have always disliked strikeouts. A wasted opportunity to help your team. Last thing I wanted to do when I played ball was strikeout.
I once played a fast-pitch softball game where I struck out three times. It was mortifying to me that this guy had my number. I did everything to just make contact and give myself a chance. But he had a rising fastball that would go up at just the right time.
Year, 1910, hypothetical conversation between an owner and his player. Well son, we are sending you down. Why??? You struck out 15 times last year and that just is not acceptable.
An exaggeration to be sure. But back in the day, striking out was just something players did not want to do. Now, some of the big sluggers with big swings struck out a lot. Ruth struck out 1330 times in his career. But he also was hitting .340 plus every year with 46 bombs and 143 RBI's.
I am sure if some player today reached those lofty heights, no one would say much about it at all. Yet for all of those strikeouts, over a 22 year career, Ruth never struck out more than 93 times in any season, and only reached 90 twice.
Taylor had that many by July. You go down the career leaders in striking out, you have to go all the way to number 150, before you find a player from Ruth's era on the list. Ruth himself is at 142.
Number one is Mr. October, Reggie Jackson. Reggie is just a few away from having TWICE as many as Ruth. 2597. That is in 11,418 plate appearances. Chris Taylor, who is definitely not what one would consider a power hitter, is already at 902 for his career.
34  Hall of Famers, all of them from the modern era, have more strikeouts than Ruth. Including Griffey Jr. Mays, Mantle, Aaron, Stargell and Schmidt. So why are strikeouts more acceptable in this day and age?
Tough question. Bigger stronger, more athletic and better trained pitchers is one reason. Hitters rarely face a pitcher more than twice in any game. Changes in the hitting philosophy. I was coached to hit the ball hard and on a line. Never try to hit a homer. Swing level and make hard contact.
Over the last several years we have seen players who have adopted the new ideas. Hitting coaches no longer teach just making hard contact. There is the lift theory, hit more balls in the air, use a timing mechanism. That could be a toe tap, or if your name is Justin Turner, a leg kick.
Managers and coaches do not seem as disturbed by strikeouts as they used to be especially if your OBP is above the league average. Max Muncy hit .196 last year, but his OBP was .329. He slugged 21 homers. It was the second time in his career that his OBP outweighed his low average.
Muncy struck out 144 times last year. He has never struck out less than 120 times in his four full seasons. His OBP is what it is because he has a very good eye at the plate and will take his walks.
By contrast, Bellinger had a batting average .014 pts higher than Muncy, but his OBP was a dismal .265. He drew 26 fewer walks and struck out 6 times more than Muncy.
One thing that seems very clear, and it was pointed out to me by Badger in another post, OBP is more important to the powers that be than batting average. A lot of the trend away from strikeouts being a bad thing started with Moneyball.
Billy Beane, the A's GM, lost 3 of his best players to free agency. He knew he did not have the financial wherewithal to replace the three with players of the same stature. So he improvised and instead replaced their combined OBP's.
Bill James was just coming into prominence then too and the new younger GM's embraced the new philosophy and  sabermetrics and things began to change.
Strikeouts meant less if a player had a high OBP. Theo Epstein was the Boston GM early in the 2000's and he was a huge Bill James proponent. And he used those forms of metrics to build his Boston team and it got him two World Series wins.
Now a guy like, say, Rob Deer, an outfielder who came up with the Giants and then moved to Milwaukee, struck out 1409 times in 4513 at bats His career BA was .220. But his OBP, .324. Deer had a lot of power and hit 230 HR's in his career. He never led the league in anything but strikeouts, and he did that four times.
Joe DiMaggio struck out 379 times in his entire 13 year career. The most he struck out in any season was 36 times, and he did that twice. No, I doubt we will ever see a hitter come close to that number ever again. It is just not the way they are coached to play the game, and I think in some ways, baseball is hurt by that.
Watching a game where both sides flail away in frustration, is not entertainment I enjoy.