I am not convinced that the Dodgers have a legit SS or CF prospect in MiLB.  Could someone like Joendry Vargas (SS)  or Josue De Paula (CF) be that candidate?  Maybe, but they are both teenagers, and neither has played in the US.  When I say legit, I am referring to someone who can take over the position on an everyday basis.  Someone like Joc Pederson, or Cody Bellinger, or Corey Seager, or Gavin Lux.
I do not yet know how well Lux will do at SS in 2023, but it cannot be denied that he was a legit SS prospect.  All Star?  We will wait and see.
The system could have some corner OF position players, but not in CF.  Areas where the Dodgers do seem to prosper is in RHP, utility infielders, and the subject of this post…catching.
The Major League team has one of the top catchers in all of MLB as the regular.  Will Smith should be an All Star, but he just has not had that vote.  I do believe that Smith was overshadowed last year when the backup players were named, and the teams had to make sure that every team was had at least one player representing, and that any consideration due Smith was secondary to those selections.  I do think he should have received the nod over Travis d'Arnaud after J. T. Realmuto, but with William Contreras the DH, also an emergency catcher, the need for Smith was not there.
The Dodgers are also fortunate to have Austin Barnes as their backup.  He has the respect of his team, and more importantly with his pitching staff.  He is not going to wow anyone with his arm, but the LAD pitchers had no clue how to hold a runner anyway.  He will probably get less PA in 2023 because of the presence of J.D. Martinez as the DH, taking away DH opportunities for Smith.
Barnes just signed a 2-year $7MM deal with a 2025 club option at $3.5MM.  As long as he continues to provide adequate game calling and pitcher support, he is the perfect backup receiver.  Low salary and happy with his limited games.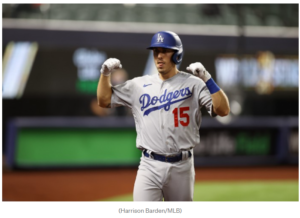 In addition to Smith and Barnes, the Dodgers had two other catchers that were included in big trades, and have played MLB.  Keibert Ruiz was the overwhelming favorite to earn the regular LAD catcher position before Will Smith took over.  Ruiz was then the key player in the Max Scherzer/Trea Turner deal with Washington.  While Ruiz has not accomplished what many thought he would have by now, he is all of 24 with a very bright future.
The second Dodger organization catcher to accede to MLB is backup, Connor Wong.  Wong was included with Alex Verdugo and Jeter Downs in the Mookie Betts trade.  Wong will undoubtedly never reach the regular status, but he will be one of those backup catchers that seem to stick around forever.
Where the Dodgers strength lies in what is yet to come.  Jim Bowden just wrote at piece on who his top catcher prospects are right now.  His #1…Diego Cartaya. Bowden joins Keith Law with that distinction. MLB Pipeline, Baseball America, and Kiley McDaniel (ESPN) each consider Cartaya #2 behind NYM Francisco Álvarez  Arizona's Gabriel Moreno would be ranked slightly north of Cartaya, but he is not truly a prospect as he passed rookie status last year.
It seems that fans have been waiting on Cartaya to get to Los Angeles since he was signed out of Venezuela in 2018 for $2.5MM.  He had an injury riddled first couple of years, but broke out in a big way in 2022.  He made staying on the field a top priority in 2022 and played a career-high 95 games as he rose from Low-A to High-A. He finished in the top 10 in the Dodgers' system in doubles (22), home runs (22) and OPS (.892), earned a selection to the Futures Game at Dodger Stadium and was named the Dodgers' minor league player of the year.
Cartaya's strength is his power potential.  He hits well to all fields and is graded with a 20-25 HR power.  The Dodgers currently get this with Smith, so there is no potential bump in power.
Dodgers GM Brandon Gomes:
"Diego's combination of at-bat quality and ability to do damage is exciting. What's equally impressive is the way he handles a pitching staff and navigates a game behind the plate. He possesses true leadership qualities and makes those around him better."
Below are the scouting reports from Baseball American and MLB Pipeline:
Baseball America Scouting Report: 
A large, physical masher at 6-foot-3, 219 pounds, Cartaya has grown into plus-plus power and has become one baseball's most promising young power hitters. He demolishes baseballs from left-center to right-center field with a fast, powerful swing and drives balls over the wall even when he mishits them. He crushes both high-end velocity and good breaking stuff and has a knack for playing up to his competition, including when he homered off Padres lefthander Blake Snell during a rehab start last May. Cartaya's swing gets a tad long at times, leading to bouts of strikeouts, but he has the instincts and awareness to self-correct and make adjustments. Cartaya recognizes pitches, stays in the strike zone and draws plenty of walks to post high on-base percentages on top of his power. He projects to be an average hitter with plus-plus power and still has room to improve as he becomes more consistent with his swing mechanics. Cartaya's defense has further to go. Once considered a potential plus defender, he has gotten tighter in his hips and upper body as he's gotten bigger and lost quickness and mobility. He has yet to find an optimal setup with his new physique and receives pitches too deeply, resulting in drops and framing issues at the top of the zone. He is frequently late on blocks and allowed 93 wild pitches and 11 passed balls in just 64 games in 2022. The Dodgers ascribe Cartaya's struggles to rust at the beginning of the year and fatigue at the end of it, but his setup, receiving technique and blocking all need significant improvement for him to be an average defender. Cartaya does have the intangible components for catching. He is an advanced game-caller who communicates well with his pitchers and is bilingual. He has above-average arm strength that plays up with a quick release.

The Future: With Will Smith entrenched as the Dodgers' catcher, Cartaya has time to improve his defense without being rushed. He projects to be a middle-of-the-order force in the Dodgers' lineup no matter his ultimate position.

Scouting Grades: Hitting: 50. Power: 70. Speed: 30. Fielding: 45. Arm: 60
Scouting Report MLB.com:
A more advanced hitter than Salvador Perez was at the same stage of their careers, Cartaya recognizes pitches and works counts well while making repeated hard contact from the right side of the plate. His combination of bat speed and strength give him legitimate power to all fields. The Dodgers have worked with him to pull the ball with authority and he has made that adjustment well, though he now could stand to use the opposite field more often. 

Though he's big and physical and possesses well below-average speed, Cartaya is agile behind the plate. He has the soft hands and strong arm to become a solid receiver and control the running game, though he needs more polish after committing 11 passed balls and throwing out just 20 percent of basestealers last year. Club officials praise his maturity, leadership and baseball IQ, and he's making strides with his game-calling. 

Scouting grades: Hit: 55 | Power: 60 | Run: 35 | Arm: 60 | Field: 55 | Overall: 60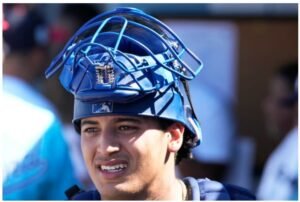 Cartaya will start the season in Tulsa, but could reach LAD sometime in 2023 for the experience.
Next up after Diego Cartaya is former Louisville catcher, Dalton Rushing.  Rushing was the first Dodger drafted last year, even though technically it was the 2nd round.  Rushing hit the ground running slashing a gaudy .424/.539/.778 with 19 extra-base hits and 30 RBIs in just 28 games with Single-A Rancho Cucamonga. More production anywhere near that level will assuredly put the 21-year-old in the Top 100 conversation.  Rushing has already earned that recognition in ESPN, The Athletic, and Baseball Prospectus.
Rushing totaled just 93 at-bats and started only two games at catcher in his first two years at Louisville while blocked by 2021 No. 1 overall pick Henry Davis, who was Pittsburgh's 1st overall draft pick in 2021. Like Rushing, Davis' ticket to MLB is his bat which is more advanced than Rushing's.  While he was not a known stand out for Louisville in his first two years, he began to make a name for himself in the Cape Cod League. In his one Cape Cod season after his sophomore year, Rushing hit .314/.401/.542/.944 in 142 PA.  He was also getting accolades for his catching skills.  Rushing built on that momentum by slugging 23 homers last spring.
There were scouts who could not understand why Rushing did not catch more at Louisville with Davis doing more at DH.   His improving defensive skills were present in his Junior season where he was the full time catcher.  He rocketed up the draft charts to somewhere in the 20's.  But he lasted for the Dodgers first pick at #40and signed for $1,956,890, and it is paying off.
After the draft, Jim Callis had this to say:
"I think the industry slept on him a little bit," Callis said of Rushing. "Area scouts who covered both guys believe he's a better receiver than Davis."
Scouting Report Baseball America:
A standout linebacker in high school, Rushing is a muscular, physical slugger who squats 700 pounds and does immense damage with his raw strength. He unloads on balls with a compact, violent swing and crushes them to all fields, frequently clearing 400 feet. He has exceptional plate discipline and an advanced feel for picking out pitches he can drive, helping him project to be an average hitter with plus power. Rushing has holes in his swing, primarily against fastballs up and in, but the Dodgers believe adjustments to his posture will rectify the issue. Rushing is a good athlete despite his bulk and is an average runner underway. He maintains that athleticism behind the plate, but he is very raw as a receiver and is a below-average defender overall. Rushing's glove frequently gets beat by the ball to the spot, and he has timing issues in his framing and blocking. His plus arm strength is hindered by below-average throwing accuracy. Rushing has the elite work ethic and competitive makeup to improve.

The Future: Rushing projects to be a slugger who hits in the middle of the order regardless of position. He'll focus on improving his defense to stay behind the plate in 2023.

Scouting Grades: Hitting: 50. Power: 60. Speed: 45. Fielding: 40. Arm: 55
Scouting Report MLB.com
Rushing creates solid game power with impressive strength and well-above-average bat speed from the left side of the plate. He repeats his compact swing well and shows the ability to drive the ball in the air and to all fields. He works deep counts and enhances his on-base ability by drawing walks and getting hit by more than his share of pitches. 

Though Rushing needs more experience and agility behind the plate, he should become at least an adequate catcher and most area scouts who cover Louisville believe he's a better receiver than Davis. He deters the running game with his solid arm strength and throwing accuracy. If he doesn't stick behind the plate, first base is his only other viable defensive option because he lacks speed and quickness. 

Scouting grades: Hit: 50 | Power: 55 | Run: 20 | Arm: 55 | Field: 45 | Overall: 50 
Rushing should start the season at Great Lakes, but I do see him on the fast track.  The Dodgers were able to have both Ruiz and Smith on the same Tulsa and OKC roster, so it should not be a problem with Cartaya and Rushing both playing together.  The Dodgers are going to need to make a decision at some point.
There are several other catchers in the system that should get recognized.  Many will make it to the MLB level, even if not as a regular.
LAD catchers who are also rated by some publications:
Yeiner Fernandez (also plays 2B) – Expected to be at Great Lakes
Thayron Liranzo – Arizona Complex League
Jesus Galiz – Arizona Complex League
Nelson Quiroz – Rancho Cucamonga
Other capable catchers in the system that could help some teams:
Hunter Feduccia – AAA
Patrick Mazeika – AAA
Carson Taylor – AAA
Hamlet Marte – AA
Ryan January – AA
Wladimir Chalo – Rancho Cucamonga
Simon Reid – Rancho Cucamonga
Griffin Lockwood-Powell – Great Lakes (Also plays 1B)
I will comment more on some of the other catcher prospects in the days/weeks ahead. Especially if one or more start to separate themselves from others.