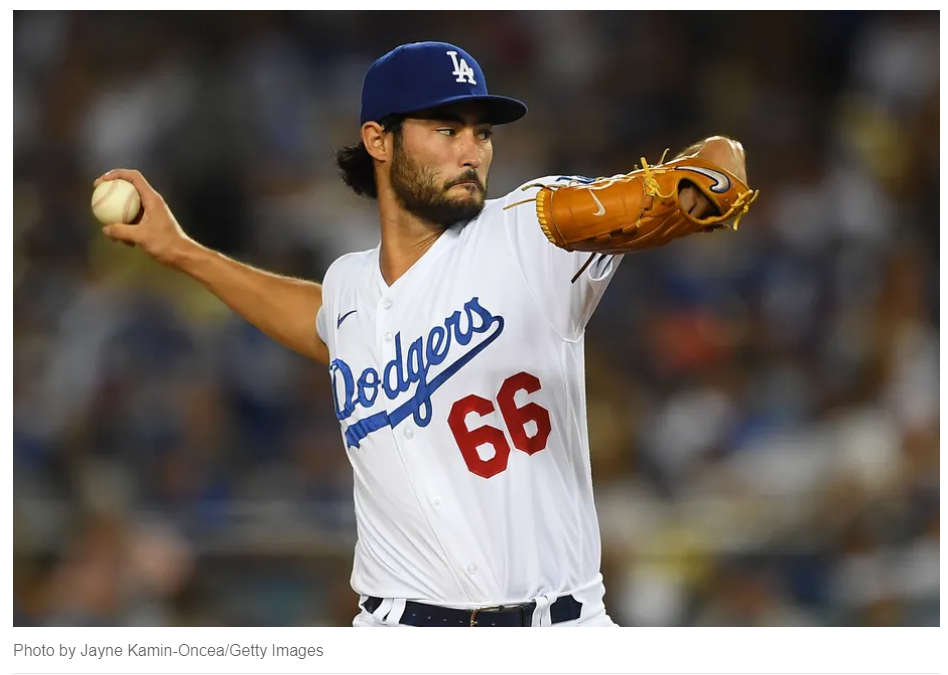 OKC Dodgers 7 vs Reno Aces (DBacks) 0 
On the Mound 
Mitch White was absolutely brilliant.  I do not know how many people have actually visited the Reno Greater Nevada Field, and while it is a great venue, it is also a launching pad.  All Mitch White did was to pitch 6.0 scoreless innings on 3 hits.  He did not issue any walks, but recorded 4 Ks.  He threw 79 pitches (58 strikes).  He has absolutely nothing left to prove in MiLB.
Mitch White threw just 79 pitches in 6 innings tonight for OKC. He gave up no runs, struck out 4, and have up just 3 hits. Here's how it looked. #dodgers #dodgersprospects #mitchwhite pic.twitter.com/2M9smHNqVJ

— Dodgers Daily (@dodger_daily) June 19, 2022
Sam Gaviglio followed White and continued to master the Aces hitters.  He threw 3.0 scoreless innings, allowing only a one out 9th inning double, with 3 strikeouts.
At the Plate
In the first, OKC jumped out quickly.  Miguel Vargas had a one out single, but got picked off.  Jake Lamb followed with a solo HR (13).  Michael Busch then doubled and came home on Jason Martin's HR (10).  The Dodgers got a quick 3-0 lead.
Jake Lamb.

Goodness gracious. pic.twitter.com/He2uzbDLNC

— Oklahoma City Dodgers (@okc_dodgers) June 19, 2022
Jason Martin is 26, from Corona, has had 189 big league at bats (.208/.260/.328) in parts of three seasons, and with his double and homer today, is hitting .297/.964 with 10 HR and 45 RBIs for OKC. Possible candidate for callup tomorrow. #Dodgers
pic.twitter.com/rjQiwaqsSe

— Howard Cole (@Howard_Cole) June 19, 2022
In the 3rd, Miguel Vargas reached on an error, with Jake Lamb and Michael Busch walking to load the bases with nobody out.  Jason Martin hit a ground rule double to score 2.  Michael Busch scored on a Jacob Amaya ground out, to increase the lead to 6-0.
In the 4th, Jake Lamb hit his 2nd HR (14) of the night.
So nice, he did it twice!

Jake Lamb lifts off the second time this game! pic.twitter.com/WYdph2a4UK

— Oklahoma City Dodgers (@okc_dodgers) June 19, 2022
Overall the Dodgers scored 8 runs on 12 hits.  Jake Lamb went 2-3 with 2 HRs.  Michael Busch went 3-4 with a double.  Jason Martin went 2-4 with 4 RBIs.  He had a HR and double.  Michael Busch now has an 11 game hitting streak.
Wichita Wind Surge (Twins) 1 vs Tulsa Drillers 2 
On the Mound
Gavin Stone got back to his dominating self.  He pitched 5.0 scoreless innings.  He threw 91 pitches (56 strikes).  He gave up 3 hits and 2 walks, but he also recorded 11 K's.  That is 5.5 SO/W ratio.  His Tulsa ERA is now 1.45 and WHIP 1.10 in 31.0 AA innings.  He has not yielded a HR in AA.  Overall in AA, 51 K and 7 BB.  He is 23 and dominating at AA.
Gavin Stone had another brilliant outing for Tulsa, and his velo is ticking up and holding – there a lot of 97s in the first three innings, and his last three fastballs of the outing were 95 ⛽️

The line:

5.0 IP
3 hits
0 runs
2 BBs
11 Ks (the 👌 did some work today) pic.twitter.com/9k3OTMhHex

— Josh Thomas (@jokeylocomotive) June 19, 2022
Guillermo Zuniga relieved Stone.  He gave up a solo HR (12) to DaShawn Keirsey in the 6th.  With a runner on 1st, Jose Hernandez relieved Zuniga in the 7th.  After a SB and throwing error, the runner moved to 3rd.  Hernandez got out of the inning without surrendering another run.
Down 2-1 entering the 9th, Jordan Leasure was in to close the game out.  He allowed a 1 out double to Keirsey, and walked a batter with 2 out.  He got PH Anthony Prato to F8.
At the Plate
The Drillers were also struggling at the plate.  They could not get more than one runner on in any inning until the 7th.  Down 1-0, with one out, Brandon Lewis was HBP, and Leonel Valera slugged a 2-run HR.
Leonel Valera couldn't have picked a better time for his first home run as a Driller! 🤟

Drillers now lead 2-1 in the 7th. pic.twitter.com/e4c0CKDZ84

— Tulsa Drillers (@TulsaDrillers) June 19, 2022
The Drillers had a total of 6 hits, and no multi-hit batters.
The Drillers start the last 7 games of the first half with a 2.0 game lead over the Arkansas Travelers (Seattle).  The two teams face off next week.  First half ends Sunday, June 26, 2022.
Wisconsin Timber Rattlers (Brewers) 6 vs Great Lake Loons 8 
On the Mound
Kendall Williams continued his inconsistent season.  He could not follow up with a 2nd consecutive positive outing.  After 2 scoreless innings, in the 3rd Williams gave up a single, an out, single, and BB to load the bases.  Ethan Murray hit a bases clearing double and a 3-2 lead.
In the 4th, with one out, Williams issued a base on balls.  A single moved the runner to 2nd, moved to 3rd on a ground ball force out, and scored on a single.  Cole Duensing relieved Williams with a runner 1st and 2nd.  After a WP, the runners were on 2nd and 3rd, but Duensing got out of the inning.
Cole Percival followed Duensing.  He struck out the first four batters he faced, but then issued a walk and single before Braydon Fisher relieved Percival.  Fisher threw 2 WP and a run score charged to Percival.
In the 8th with Fisher still on the mound.  He walked the leadoff batter who stole 2nd. Fisher struck out the next two.  An run scored on a bunt single.
Jeff Belge entered the 9th to try to close the game, and proceeded to strike out the side and his first save.
Jeff Belge struck out the side in his perfect 9th for Great Lakes, picking up his first save of the season in their 8-6 victory! (this time, the right vid is attached, apologies 😊😂) pic.twitter.com/LSylbDLaxP

— Josh Thomas (@jokeylocomotive) June 19, 2022
At the Plate
In the 2nd Imanol Vargas singled and Jonny DeLuca hit his 15th HR.
Jonny DeLuca hit his 15th homer for Great Lakes, tying him with Michael Busch for the Dodger system lead pic.twitter.com/ygJ3zLQ0nR

— Josh Thomas (@jokeylocomotive) June 18, 2022
In the 4th, Ismael Alcantara singled and moved to 3rd on a Diego Cartaya double.  Alex De Jesús doubled home both runners for the tie.  José Ramos doubled home De Jesús, and scored himself on an Imanol Vargas single.  Great Lakes takes a 6-4 lead.
Alex De Jesus tied things up for Great Lakes with a two run double off the wall in right pic.twitter.com/eoUxfDBAfM

— Josh Thomas (@jokeylocomotive) June 19, 2022
With the score tied 6-6 in the 8th and two out, Ismael Alcantara and Jorbit Vivas walked.  Diego Cartaya followed with a 2-out 2-run double and 8-6 lead and final score.
Diego Cartaya came up to bat in a tie game, with two on, and two out in the bottom of the 8th inning, and he knocked in a pair of runs with his second double of the ballgame, and the game-winning hit had him fired up 🔥🔥🔥 pic.twitter.com/HCMwjvOgJC

— Josh Thomas (@jokeylocomotive) June 19, 2022
Diego Cartaya had 3 hits (2 doubles), and Alex De Jesús had 2 hits (double).  Imanol Vargas also had 2 hits.
Inland Empire 66ers (LAA) 6 vs Rancho Cucamonga Quakes 7 
On the Mound
Five different pitchers took the mound, and pitched in and out of traffic all night long.  Finally Madison Jeffrey was brought in to relieve Ben Harris with 2 outs in the 8th with runners on 1st and 2nd, in a one run game, and got the final out.  He retired the side in order in the 9th.
The pitchers allowed 7 hits and 8 walks.
At the Plate
In the first inning, Luis Yanel Diaz reached on a fielding error and scored on a Gaige Howard double to take a 1-0 lead.
In the second, Luis Rodríguez hit a solo HR (5).  Julio Carrion followed with a BB and moves to 3rd on a Luis Yanel Diaz single and scored on a Jake Vogel single.  The Quakes now have a 3-1 lead.
After being tied for the second time in the 3rd, Damon Keith hit a solo HR (9) and Nelson Quiroz hit a solo HR (4), and now has a 5-3 lead.
With the Quakes lead down to 5-4 in the 6th, Julio Carrion drew a BB and moved to 2nd on Kenneth Betancourt's single.  Both runners moved to 2nd and 3rd on a WP.  Carrion scores on a Diaz single.  Jake Vogel drew a walk to load the bases, and Gaige Howard was HBP for what turns out to be the deciding run.
Every Quakes batter reached base, and all but Julio Carrion had at least one hit.  Carrion did have 2 walks.  Six Quakes had 2 hits:
Luis Yanel Diaz
Jake Vogel
Gaige Howard
Damon Keith
Luis Rodriguez
Kenneth Betancourt