Oklahoma City Dodgers 5 vs Round Rock Express (Texas) 3
The Dodgers came away with a much needed win on Sunday against the Express to whom they had lost four of the first five games in the six-games set. The win gave them a two-game lead over Round Rock in the PCL Eastern Division.
On the Mound
Michael Grove started and had a good outing pitching five innings giving up four hits and three runs while walking one and striking out five.
Andre Jackson followed Grove and also had a good afternoon. In his four scoreless innings of work he gave up one hit with a walk and three strikeouts.
At the Plate
The Dodgers scored twice in the top of the second inning. James Outman was awarded first base on catcher's interference  and was followed by a Jason Martin single, a Hunter Feduccia RBI double and  a run scoring ground out by Devin Mann.
They scored three more in the top of the third inning. Drew Avans walked to lead off the inning and stole second base. The next three Dodgers all had hits resulting in two runs scored. Michael Busch had a RBI single, Edwin Rios doubled and James Outman also had a RBI single. Jacob Amaya brought home the third home with a sacrifice fly.
James Outman and Michael Busch both had two hits.
Player of the Game
It has been a difficult season for Andre Jackson so his four scoreless innings on one hit and a walk were the highlight of the day. He threw 41 pitches, 26 for strikes.
NW Arkansas Travelers (KC) 2 vs Tulsa Drillers 4
On The Mound
Nick Nastrini  started for the Drillers and gave up two earned runs in four innings pitched although he gave up only one hit, a double to Travelers second baseman Morgan McCullough. His difficulty was that he issued four walks and was the victim of two stolen bases.
Jacob Cantleberry and Guillermo Zuniga combined for the next three scoreless innings  with one hit, two walks and two strikeouts.
Gus Varland chipped in with a perfect eighth inning with two strikeouts. He climbed the hill again in the top of the ninth inning and retired the Travelers on seven pitches by inducing three ground outs.
At the Plate
The Drillers scored a run in the second inning following a Brandon Lewis walk, a Carson Taylor single and an Abiatal Avelino ground out.
They took a 3-2 lead in the bottom of the fifth inning. Avelino reached base on an error, was moved to second when Leonel Valera was hit by a pitch and scored on a Justin Yurchak single. Valera then scored on a Ryan Ward single.
Tulsa added an insurance run in the seventh inning. Leonel  Valera led off with a single, went to third on a Justin Yurchak single and scored on a pop fly down the first base line by Andy Pages.
Player of the Game
Justin Yurchak gets the nod with his 4 for 4  performance. That was one-half of the Drillers hits for the evening.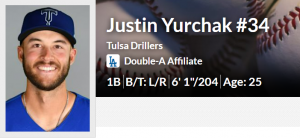 Lake County Captains (Cleveland) 4 vs Great Lakes Loons 0  Game 1
The Loons played a pair of 7-inning games on Sunday making up for a postponement on Saturday. Great Lakes hitters have gone on an extended vacation. In four of their last six games they have scored one or fewer runs. That means they have been shut out twice.
In the first game of the twin bill they were shut out again.
On the Mound
Ronan Kopp still trying to acclimatize to High-A recorded only two outs in the first inning while giving up two runs on a hit and two walks. Jeff Belge came on and stranded an inherited runner to  close out the first inning. However, the second inning was un-Belge like. He also gave up two runs on a hit and three walks.
Robbie Peto pitched a nice four innings allowing but one hit. He did walk five but did not allow any of them to score.
Left-hander Christian Suarez making his High-A debut, retired the side in the top of the seventh inning on 10 pitches, including one strikeout.
At the Plate
The Loons managed only three hits with no walks and seven strikeouts.
Player of the Game
Robbie Peto gets the call for his four scoreless innings. He did give up five walks but worked around them allowing no runs. In his last five appearances, Peto has had four outings of four innings in which he allowed one of fewer runs.
Lake County Captains (Cleveland) 2 vs Great Lakes Loons 03 Game 2
On the Mound
Kendall Williams tossed a strong five innings giving up two runs on two hits and three walks, He struck out two. It was the fourth time in his last five starts where he has pitched at least five innings.
Ben Harris came on for the final two innings picking up the win. He gave up two hits and a walk but struck out four. With the Loons he has given up two earned runs in 26 innings pitched , none in his last 23.1 innings pitched.
At The Plate
The Loons scored twice in the third inning on a Yunior Garcia single, a Jorbit Vivas fielder's choice and a two-run double by Eddy's Leonard.
In the bottom of the seventh inning the Loons got a much needed boost to their confidence. Austin Gauthier led off the inning with a walk-off home run to right field. It was his first home run as a Loon.
Player of the Game
I'm going Austin Gauthier as his home run may be a catalyst to help get the Loons bats going as the play-offs approach.
Rancho Cucamonga Quakes 11 vs Inland Empire 66ers (LAA) 10
On the Mound
Peter Heubeck started for the Quakes and pitched  2.2 innings. It was not a good night for the 20-year-old right-hander. His stat line showed four runs on three hits and four walks. Two of the hits were home runs.
Gabe Emmett followed Heubeck and he surrendered two runs in his inning pitched on  three hits and three walks.
Heisell Baro slowed down the 66ers  by giving up just one run in his 2.1 innings pitched.
Madison Jeffrey slowed down the 66ers even more in the seventh inning as he retired the side in order. The eighth inning for Jeffrey was a different story as he got only one out while giving up three runs allowing the 66ers' to climb within one run of the Quakes.
Livan Reinoso was called in to put out the fire for Jeffrey. He did so with a strikeout and a caught stealing by catcher Yeiner Fernandez. Reinoso came back in for the ninth inning and following a lead off HBP he retired the side on a fly out and a double play.
At the Plate
The Quakes plated two runs in the top of the first inning. Taylor Young singled, Nick Biddison walked and both were driven home by a double by none other than Dalton Rushing.
They  scored two more in the fourth inning on a Griffin Lockwood-Powell single, a Kyle Froemke double and a Juan Alonso double bringing in the two runs.
Trailing 7-4 going into the top of the sixth inning the Quakes closed the gap to 7-6. Juan Alonso walked, Taylor Young doubled him home and then Young scored on a ground out following his steal of third base.
Rancho Cucamonga loaded the bases in the top of the seventh inning with no outs. Dalton Rushing led off the inning with his third hit in the game. Alex Freeland added a single of his own and Bubba Alleyne walked. Griffin Lockwood-Powell brought in one run, to tie the game, with a sacrifice fly to right field. Kyle Froemke next worked a walk after being 0-2. The Quakes took an 8-7 lead on a wild pitch strike out by Taylor Young. Yeiner Fernandez padded the lead to 10-7 with a two-run single up the middle.
In the top of the eighth inning Alex Freeland hit his first professional home run.
Dalton Rushing had three hits while Alex Freeland, Griffin Lockwood-Powell and Taylor Young all had two hits.
Player of the Game
The player of the game is Alex Freeland who had two hits, two runs scored, one RBI with his home run turning out to be the winning run.