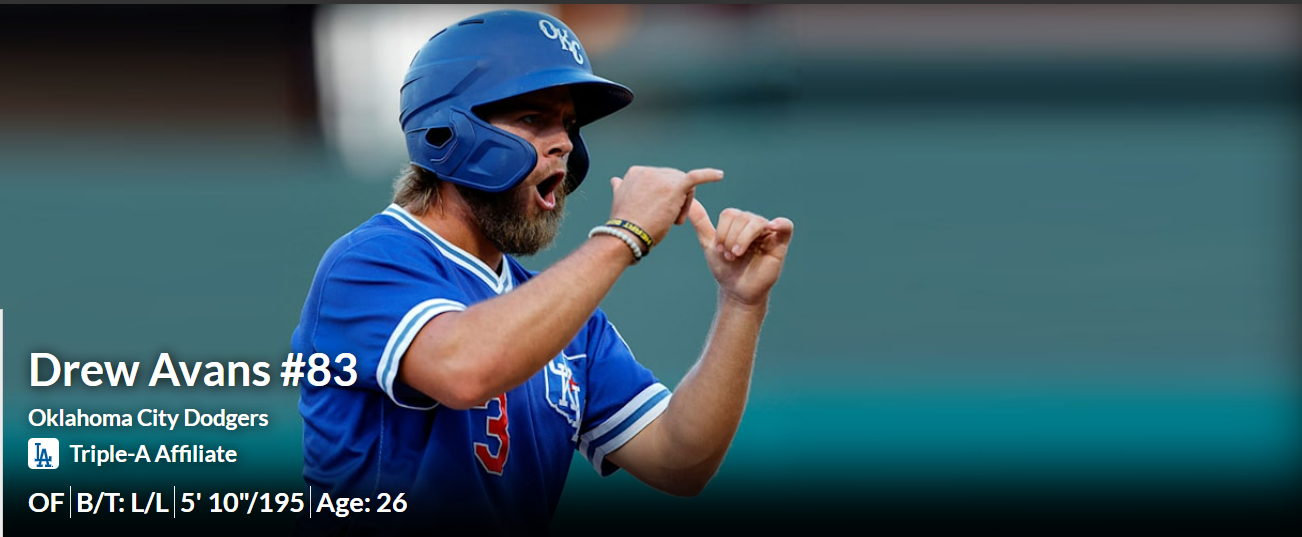 Outfielder Drew Avans of the OKC Dodgers was born in Alabaster, Alabama and attended Thompson High School in his home town of Alabaster.
Following high school he attended Southeastern Louisiana University for four years. In his senior year he hit a career-high .330 with 10 home runs and 44 RBI, playing strictly in the outfield for the first time. He led the Southland Conference in walks (44) and stolen bases (23), earning first team All-Conference honors. Avans ranked third in both slugging (.568) and on-base percentage (.462), and fourth in runs scored (52).
He was selected by the Dodgers in the 33rd round of the 2018 First-Year Player Draft .That is the same round in which Zach McKinstry was selected during the 2016 draft.
Avans moved step-by-step through the Dodger system with success at the plate except for his stop with the Great Lakes Loons.
He hit .275/.389/.438 with five home runs and 24 extra-base hits in 90 games for Triple-A Oklahoma City last season. Avans, who turns 26 in June, stole a team-high 19 bases in 2021, and also provided stellar defense, starting at all three outfield positions.
In 90 games with the OKC Dodgers in 2022 he has slashed .288/.387.446 and has 30 extra base hits while leading the league with his 10 triples. He has stolen 27 bases.
In a spring training game on March 29, 2022 Avans had a moment he will enjoy forever. He hit a grand slam home run off former Dodger Grant Holmes.
The Drew Avans story for 2022 is his on base streak.  On Sunday, August 14  he connected on a two-out single as part of OKC's 10-run eighth inning and collected a walk as he extended his PCL-best on-base streak to 50 games. He owns the longest active on-base streak in the minors and the longest on-base streak by an OKC player since 2005. He has reached base in 64 of his last 65 games and his 50-game streak is the longest in the PCL since a 66-game streak by Nashville's Nick Martini in 2018. He is now one game shy of the longest on-base streak in the minors this season, set by Luke Berryhill of Double-A Corpus Christi (51 games). That would be Berryhill – no relation to Damon Berryhill – the aspiring MLB player and country music singer.
Need Some Relief – Who You Gonna Call?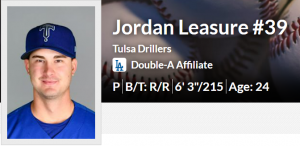 How about calling Jordan Leasure of the Tulsa Drillers?
Leasure is one of only three 2021 Dodger draftees who have made it to AA Tulsa in 2022. The other two are left-handed pitcher Lael Lockhart and right-hander Nick Nastrini who was just promoted to the Drillers.
Jordan Leasure was selected in the  14th round of 2021 draft out of the University of Tampa. He was born in Riverview Florida and attended Riverview High School prior to his four years with the Tampa Spartans.
He signed with the Dodgers with a $125,000 signing bonus and perhaps it was his senior year at Tampa that helped seal the deal.  As a senior, in 17 relief appearances with eight saves, he posted an ERA of 0.94 and a 0.60 WHIP along with 60 strikeouts and four walks.
Dodger Poke describes his pitching arsenal.
"Leasure features a fastball that is touching 97, a tight slider, and a change-up that he is working on and looking to throw more in games. Like most power pitchers, he likes to ride the 4 seam fastball up in the zone, but he also gets good carry to his fastball down in the zone too. "
"Leasure features a good, tight slider that is 8-10 mph off of his fastball, and it tunnels well off the fastball as well, so it is a very effective secondary pitch for him."
"The change-up is a very feel-heavy pitch and one that he has been working very hard on in the bullpen to get the feel for and trust."
He presently has an 11 game scoreless streak over 14.2 innings pitched. In those 11 games he has struck out 18 and walked two. Since May 29 over 24 games and 27 innings pitched he has a 0.33 ERA.
MiLB Players of the Week  (August 8-14)
https://www.milb.com/fans/players-of-the-week
Nick Nastrini (No. 14 in Dodgers Top 30 Prospects List)
Nick Nastrini who was selected by the Dodgers in the fourth round of the 2021 First-Year–Player Draft out of UCLA was named the Midwest League Pitcher of the Week for the week of August 8 -14 .
The 6'3"/215 lb. right-hander shut out the Peoria Cardinals on Thursday, August 11  and did not allow a hit until the fifth inning when two singles put runners on first and second with one out. Nastrini struck out the next hitter and got out of the inning with a fly out. He finished with nine strikeouts to go with the two hits and two walks. His dominant performance earned him the Pitcher of the Week award.
His dominant start on August 12 should not have come as  a surprise as in his last four starts he has gone six  innings on each appearance  posting an ERA of 2.63 and a WHIP of 0.83. He struck out 28 over 24 innings and walked seven.
On Monday, August 15, Nastrini was promoted to the AA Tulsa Drillers.
Rayne Doncon (No. 20 in Dodgers Top 30 Prospects List)
Infielder Rayne Doncon was signed by the Dodgers out of San  Pedro  de Macoris in January of 2021. He might be considered one of the "sleeper" or "steal" prospects. For the week of August 8-14 he was named the Arizona Complex League Player of the Week.
The 18-year-old right handed hitter through 47 games in 2022 has slashed .262/.309/..503 along with nine home runs and 38 runs batted in.
MLB Pipeline and Baseball America has this to say about Doncon.
"One of the most advanced young bats in the system, Doncon could be a plus hitter with 20 or more homers per season if he reaches his ceiling. He repeats his simple right-handed swing with ease, has a knack for barreling balls and possesses plenty of bat speed and projectable strength. Doncon already shows the ability to drive balls in the air, though he can get overly pull-conscious." – MLB Pipeline
"He has fast bat speed, excellent natural timing in the batter's box and consistently barrels fastballs. He has a flat swing plane that results in a lot of low line drives, but he has a chance to grow into average or better power as he gets stronger and fills out physically." Baseball America
During the past seven days the shortstop/second baseman had perhaps the best week of any player in the Dodgers MiLB system.
The 6'2"/176 lb. Doncon in those seven days, through five games, posted a triple slash of .474/.546/1.211 with an OPS of 1.756. Six of his nine hits were for extra bases including four home runs and one of them was a grand slam.  He drove in 11 runs.