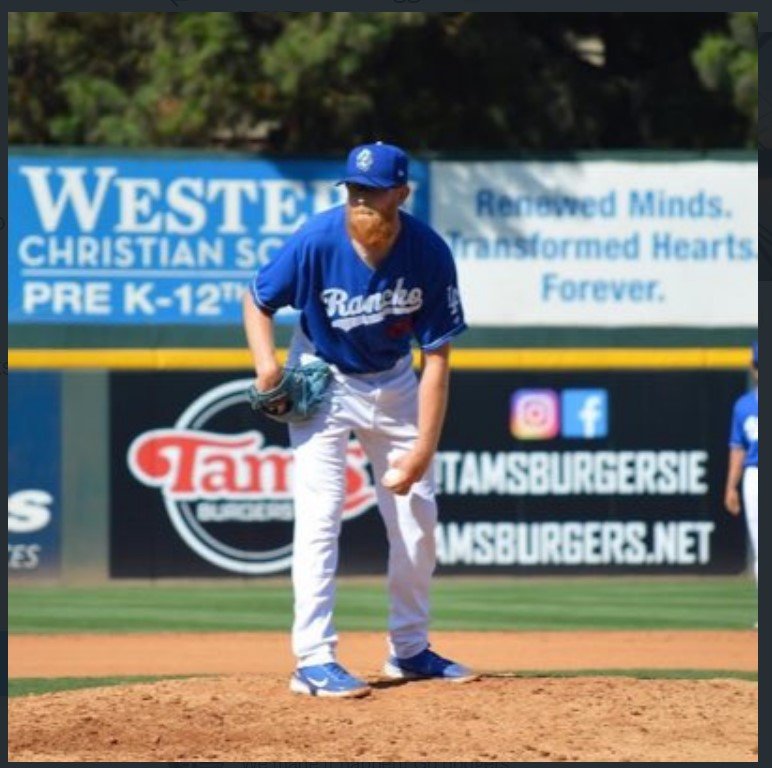 On Thursday, April 21 left-hander Adam Scoggins debut was made with the Great Lakes Loons. He was signed by the Dodgers as an undrafted free agent on July 21, 2021, out of Oral Roberts University.
In 2021 the Dodgers signed 11 undrafted free agents and Scoggins is the first to be assigned to the High-A level. Shortstop Austin Gauthier is the second member of that undrafted fraternity to be playing with a Dodger affiliate at this time. He is currently with the Rancho Cucamonga Quakes.
Scoggins was born and raised in Springdale, Arizona, and attended Har-Ber High School in his hometown.
Following graduation from high school, he moved on to Crowder College which is a community college in Neosho, Missouri, and located on the former Camp Crowder base used in World War II.
He pitched solely in relief with the Rough Riders making 18 appearances while striking out 43 in 23 innings pitched during the 2017 and 2018 seasons.
His next stop came in 2019 when he decided to study and play baseball closer to home and enrolled at Oral Roberts University in Tulsa. He was now a two-hour drive from home.
His next two seasons proved to be difficult for him as he became a victim of both TJ surgery and a season lost to Covid-19 restrictions. He was primed for a comeback season after his surgery but appeared in only six games with the Golden Eagles during the 2020 season before the pandemic shutdown.
"That was tough. I was the first guy on the team to find out," Scoggins said. "We were practicing when we found out the NCAA was shutting it down. I was just getting over that hump from recovering from Tommy John and everything was feeling good. We were starting to groove as a team, everything was starting to click."
He did get to pitch during the 2020 season but not back with Oral Roberts University. After two months of the shutdown, he got back on the hill in the Perfect Timing College League with all teams playing out of Tyson Field in his hometown of Springdale. Beginning on June 1, 2020, the league offered a five-week season for area teams and some from Tulsa. For Scoggins, we might say the timing was perfect.
"I had different options all over," said Scoggins after his scoreless seventh inning nailed down a 1-0 victory for Perfect Timing White on Tuesday in the Perfect Timing College League. "I live right across the street. This is a great experience."

"There were people out here today that haven't seen me pitch since I was in high school. So that was really cool to see them, and hug everybody's neck."
Adam Scoggins finally got to show what he could do in 2021 with the ORU Golden Eagles. He finished with a 3-1 record and a 2.88 ERA while striking out 45 batters and walking just 13. He notched a team-high seven saves out of the bullpen with 22 appearances and 25 innings pitched.
Following his college season, he headed east and began to play with the Chatham Anglers of the Cape Cod Baseball League and experienced more success.
With the Anglers, he was their most frequently used reliever and a consistent left-handed option out of the bullpen late in games. He struck out 16 batters in 6.1 innings, including a seven-strikeout, three-inning performance in his final outing against Wareham on July 9.
The 6'3"/220-lb. Scoggins was not selected in the 2021 First-Year Player Draft but was signed by the Dodgers as an undrafted free agent nine days later to help make his dream come true.
He said he'd been in talks with the Dodgers as early as the second round of the MLB Draft, but eventually ended up signing with the organization after the Draft was said and done.
Former Har-Ber Wildcat turned pro! Congrats to @AdubScogg for inking with the Dodgers. @harberwildcats https://t.co/xtTL6pihO4

— Jourdan Black (@JourdanBlack) July 18, 2021
"I was filled with every emotion. This is what I dreamed of my whole life. I had every emotion. I had anger. I was excited." Scoggins recalled. "I cried a little bit of course. This is what I dreamed of. I can't even explain what it means to me and my family. I've got the best support group behind me."
Scoggins began his professional career with the ACL Dodgers on August 30, 2021, with a scoreless inning and three strikeouts against the ACL Angels. On the season he made eight appearances – two with the Quakes – in which he had six scoreless outings.  The other two did not go as well as he might have hoped. Still, in 8.1 innings pitched he struck out 16 and walked five.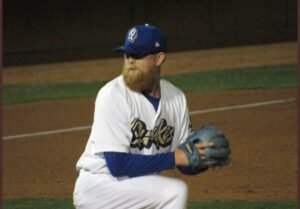 Now 24, in his High-A debut on April 21, he pitched a scoreless inning with one walk and one strikeout.
Scoggins, who has a Justin Turner worthy beard, relies on his fastball and slider while especially working on both sides of the plate. He has used a split-finger pitch sparingly.
Welcome to Great Lakes Adam.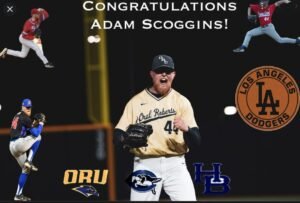 You lose the audio at about 2:24, but there is enough there to get a feel about the young man, through his words.
Harold found the YouTube and was interested as the interviewer, Ben Shulman, is the son of Dan Shulman one of his favorite play-by-play announcers.  Dan Shulman is currently the Toronto Blue Jays play-by-play announcer.