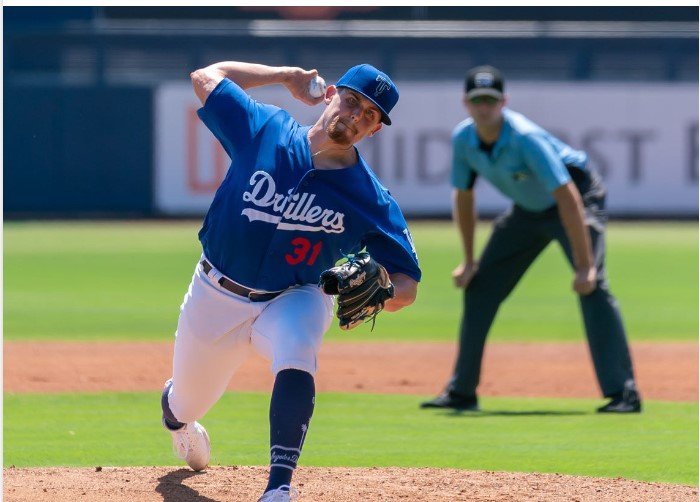 So many want to ignore what has happened to Gavin Stone this year, and to Ryan Pepiot and Michael Grove last year, and start bringing up AA pitchers.  Just who are being referred?
Landon Knack
Emmet Sheehan
Nick Frasso
Nick Nastrini
River Ryan
Kyle Hurt (Probable Reliever)
Alec Gamboa (True Reliever)
I can see all 7 pitching in MLB at some point, IF (BIG IF) they all stay healthy.  I just cannot say when, or with which team.  We have observed what has happened to Gavin Stone this year at the MLB level.  What did Stone do to deserve his chance this year?
For 2021 and 2022, Stone was pitching:
212.2 IP, 2.45 ERA, 1.17 WHIP, 7.58 H/9, 0.42 HR/9, 12.95 K/9, 2.92 BB/9, 4.43 K/BB
As good as his first two years were, it was 2022 that put Stone on the helium balloon to MLB.  At three levels, Gavin compiled the following.  He was as effective and productive at each level.
121.2 IP, 1.48 ERA, 1.12 WHIP, 6.81 H/9, 0.22 HR/9, 12.43 K/9, 3.25 BB/9, 3.82 K/BB
No matter how good Gavin was last year, he was not being considered for a role on the ML team.  That very well could have been because the 2022 LAD won 111 games.  Even this year Gavin was third in line for the #5 spot, behind Ryan Pepiot and Michael Grove.  It took 2 injuries for Gavin to join the rotation.
IMO, the closest AA pitcher to MLB right now might be Landon Knack.  He is having a good season, but overall is he ready for MLB?
2023:
41.0 IP, 1.32 ERA, 0.80 WHIP, 5.71 H/9, 0.22 HR/9, 9.88 K/9, 1.54 BB/9, 6.43 K/BB
Career:
168.0 IP, 3.43 ERA, 1.08 WHIP, 7.50 H/9, 0.91 HR/9, 11.09 K/9, 2.25 BB/9, 4.93 K/BB
Landon is having one good year after one not so good year.  He was drafted the same year as Gavin, and was originally considered a more prominent prospect.  But Gavin's 2022 was far superior, and he bypassed Knack on the pitcher depth chart.  Landon does not have as pronounced K/9 as Gavin, but a superior BB/9.  Does 41.0 productive IP in AA for 2023 warrant an ML promotion.  Knack is not Clayton Kershaw worthy of a promotion straight from AA.  Even Clayton had 200.1 IP in MiLB before he was promoted in 2008.  Different times, different talents.
Emmet Sheehan has piggybacked one good season in 2022 with an outstanding 2023.
2023:
44.0 IP, 1.64 ERA, 0.80 WHIP, 3.48 H/9, 1.02 HR/9, 15.55 K/9, 3.68 BB/9, 4.22 K/BB
Career:
127.2 IP, 2.75 ERA, 0.99 WHIP, 4.93 H/9, 0.70 HR/9, 15.23 K/9, 4.02 BB/9, 3.79 K/BB
Sheehan really has just one plus pitch…fastball.  60 in Baseball America and 65 in MLB Pipeline.  MLP Pipeline considers Sheehan's change as a 60, while BA considers it a 50.  No other pitch is considered even average by the two most prominent talent evaluating publications (IMO).  Sheehan is considered the #13 LAD prospect by both publications, and is not considered a top 100 prospect.
A couple of questions.  1) Have his secondary/tertiary pitches improved this year?  2) What is the most prominent reason for his high K/9 rate?  3) Does 127.2 career IP for generally a 2 pitch pitcher, with considerable relief risk, warrant a mid-season promotion from AA directly to MLB as a starting pitcher?
Nick Frasso is a personal favorite, and one who is highly regarded in the talent evaluating industry (LAD #9 MLB Pipeline and #11 BA), with some speculating that Frasso could be a Top 100 candidate.  He missed three weeks earlier this season, but he has outstanding career metrics.  Unfortunately, he has only compiled 88.2 career professional IP.  Probably not enough to warrant a promotion to AAA, much less MLB.
Career:
88.2 IP, 1.42 ERA, 0.89 WHIP, 5.58 H/9, 0.20 HR/9, 12.59 K/9, 2.44 BB/9, 5.17 K/BB
Nick Nastrini happens to be another personal favorite.  I am partial to John Savage trained pitchers.  Nick may have had a problem with his final season with UCLA, but the talent was always there, and it still is.  He also has a very limited professional number of innings experience at 159.1, but the results are favorable, but not elite.
Career:
159.1 IP, 3.56 ERA, 1.10 WHIP, 5.65 H/9, 1.19 HR/9, 12.88 K/9, 4.24 BB/9, 3.04 K/BB
Nastrini has control issues.  His BB/9 is not where most would like to see, but it is also not as bad as many had predicted, especially after his final season at UCLA.  He still has work in that regard, and should not be considered a viable rotational candidate at this time. And there are better relief candidates currently.
River Ryan was a two-way player at NCAA Division II UNC Pembroke.  He asked to continue to hit and the Padres allowed him to do so. After the trade to the Dodgers for Matt Beaty, Ryan became strictly a pitcher and is still just learning how to be that pitcher.  He is pitching well, but his BB/9 and K/BB are just not quite to the level to get a promotion to AAA much less MLB.  Some pundits do consider him a possible Top 100 prospect.  But he is not there yet.
Of course none of those pitchers could do much worse than Gavin Stone or Noah Syndergaard.  But what might it do to their psychological makeup if they get hit and beat like Gavin.  If Gavin Stone was considered the best of the rest, and he has pitched better and for more innings than any other MiLB pitcher, what makes one believe that the AA pitchers can succeed where Stone has not.  None of those pitchers identified above have the pitch arsenal of Bobby Miller.  Most have maybe two plus and one average pitch.  Currently!!
If Gavin does not make his next start, he will be replaced by Michael Grove, not Landon Knack or Emmet Sheehan.  One other consideration, will be that 4-5 pitchers currently on the 60 day IL will need to be added back to the 40 man, and someone is going to be gone.  It would be easier to DFA a Matt Andriese than the prospects.  By the time the Dodgers do get to adding players back from the 60 day IL, some 40 man players could be moved at the trade deadline to make room for the 2nd half pitchers.  Possible 2nd half pitchers?
Ryan Pepiot
Daniel Hudson
J. P. Feyereisen
Alex Reyes
Dustin May (???)
Blake Treinen (???)
Adding AA pitchers to the 40 man would make that task that much more difficult.
To answer the original question, are AA pitchers a realistic option?  IMO, not yet.
UPDATE 
I wrote this before Landon Knack's outing on Tuesday night.  That seems to solidify my comment that there is not a AA pitcher ready for MLB.
05-30-2023 – MiLB Summary Report
OKC Dodgers 7 – Reno Aces (Arizona) 0 
OKC threw a 4 pitcher bullpen game.  They combined on a 2 hit, 1 BB, shutout.  Mark Washington started and pitched the first three innings.  He allowed 2 singles and a BB and 2 Ks.
Trevor Bettencourt (3.0 IP), Taylor Scott (1.0 IP), and Wander Suero (2.0 IP) finished off the Aces with 6 perfect innings for the shutout.
OKC was scoreless for the first three innings, but broke through for 5 in the 4th.  The had 1 walk and 6 hits including doubles by Michael Busch, a run scoring triple by Ryan Ward, a run scoring double y Yonny Hernandez (7).  Hunter Feduccia and Devin Mann singled with Mann driving home Fernandez.  Justin Yurchak drew a walk to load the bases.  Drew Avans hit a 2-run double to end the scoring in the 4th
In the 8th, OKC loaded the bases on singles by Feduccia and Yurchak, and a BB to Avans.  Jonny DeLuca had another pair of RBIs with a 2-run single.
Ryan Ward – 2-4, triple (2)
Hunter Feduccia – 3-4, double (6)
Justin Yurchak – 2-3
Drew Avans – 2-run double (12)
Michael Busch – 2-run double (11)
Tulsa Drillers 9 – Wichita Wind Storm (Minnesota) 8 
The Wind Surge knocked Landon Knack around for 4 innings.  The Wind Surge had 4 after the first four batters.  A single, walk, triple and HR and 4-0.  For good measure, the 5th batter hits a double and the Wind Surge hit for the cycle in the first 5 batters.
A walk and 2 singles score another in the 2nd.  Finally Wichita scored an unearned run in the 4th, and the game looked like it was getting out of control.
Before the game, we learned that Austin Gauthier was promoted to Tulsa from Great Lakes.  And he played a part in the scoring, as he did at Great Lakes.
But the Drillers hit back in the 5th.  Yusniel Díaz led off with a BB and Diego Cartaya hit his 5th HR on the year.  Austin Gauthier then drew a BB and Brandon Lewis reached on a dropped throw. Jorbit Vivas singled home Gauthier and Imanol Vargas hit a 3-run HR.  Score is tied at 6, and Knack is off the hook.
The score remained tied into the Drillers 8th.  A Cartaya single and Gauthier double (1) put runners at 2nd and 3rd.  Brandon Lewis singled both home and an 8-6 lead.  The Drillers scored an insurance run in the 9th.  José Ramos drew a BB and Yusniel Díaz moved Ramos to 3rd.  Ramos scored on a Cartaya ground out.
Kevin Gowdy, John Rooney, and Braydon Fisher followed Knack, and shutout Wichita over the next 4 innings.  Jordan Leasure gave up a 2-run HR in the 9th inning to make it close, but he closed it out for the Tulsa win.
Jorbit Vivas – 2-5
Imanol Vargas – 2-5, 3 RBI, HR (6)
Yusniel Díaz – 2-4
Diego Cartaya – 2-5 3 RBI, HR (5)
Great Lakes Loons 20 – Beloit Sky Carp  (Miami) 0
Great Lakes banged out 20 hits to score 20 runs.  Four Loons pitchers spread out 4 singles and 1 walk for a shutout.  Yon Castro started and went 5.0 innings.  He allowed 2 hits and issued the one walk to go with 5 strikeouts.  Three relievers finished the shutout.
Franklin De La Paz – 2.0 IP, 1 hit, 1 K
Christian Suarez – 1.0 IP, 1 hit
Jack Dreyer – 1.0 IP, 1 K
The Loons banged out 10 doubles, 3 by Dalton Rushing, whose doubles brought home 4 RBIs.  But the hitting star for the Loons was the just promoted (today) OF, Chris Newell.  Newell went 3-5, with a double and 2 HRs and 5 RBIs.  Welcome to Great Lakes Chris Newell.  Newel was the 13th round pick out of Virginia in last year's draft.  He has been hitting ever since he was drafted. Chris now has 16 HRs to lead all LAD affiliates in HRs.  He has 9 doubles and 2 triples to go with the HRs.  He is batting .321/.433/.704/1.137 in 2023 over two levels.
Every Loons batter with an AB had at least 1 hit.  Four Loons had 3 hits.  Besides Rushing and Newell, Alex Freeland went 3-5 including a double (8) and 3 RBIs.  Luis Yanel Diaz went 3-6 with a double (6).
Three Loons hitters had a pair of hits.  Damon Keith went 2-5 including a double (8) and 2 RBIs.  Jake Vogel went 2-6 with a HR (1) and double (6) and 2 RBIs.  Chris Alleyne went 2-4 with a double (7).  Yeiner Fernandez had the other double (6).
The Loons were up 7-0 when they put up 8 runs in the 5th.  They scored 5 more in 3 of the final 4 innings.
I am not sure that any team could have played any better baseball than in this game.  Pitching, hitting, and defense.
Inland Empire 66ers (LAA) 11 – Rancho Cucamonga Quakes 0
The Quakes were shut out on 3 hits.  2 of the hits were doubles by DH Jesus Galiz (8).
The Inland Empire 66ers did something that no other team had done in 2023, as they shut out the Quakes for the first time this year, dominating in an 11-0 decision to end Rancho's three-game winning streak.
Three Sixers pitchers combined for a three-hit shutout, with Leonard Williams (2-2) going six innings and allowing just one hit to earn the win.
The Inland Empire offense enjoyed one of their best games of the year, matching a season-best 15 hits on their way to their third straight win overall. They also slugged three home runs, including two off of Rancho starter Chris Campos (5-2), who allowed seven runs (six earned) over just 2.1 innings.