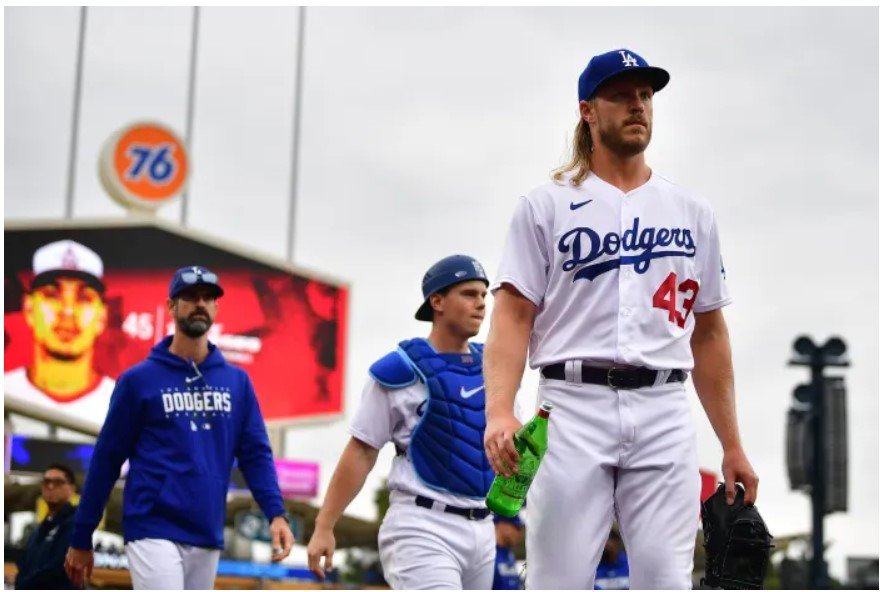 This was the day the Dodgers were expected to sweep the Nats and feel good going into a weekend series against NYY.  Not to be. The Dodgers have very little choice.  They have to keep throwing Noah Syndergaard out there.  It is disappointing that he has not even approached mediocrity since his first game as a Dodger.
It was also Dave Roberts' 51st birthday.
Happy birthday, Doc! pic.twitter.com/h84OoHlgCF

— Los Angeles Dodgers (@Dodgers) May 31, 2023
Happy Birthday Doc.  I only wish your team played better.
Staked to a 3-0 lead after only 3 batters, Syndergaard could not handle the luxury of a lead.  Mookie led off with a HR, the 40th lead off HR for his career.  Freddie singled to extend his hitting streak to 20 games.  Will Smith then hit a 3-run HR.  JD Martinez drew a walk, Max Muncy grounded into a DP.  Chris Taylor then singled before Miguel Vargas popped out to SS.  It looked like Patrick Corbin was going to get rocked.  As it turns out, did not happen.
In the 2nd, he gave two back on HRs from such noted power hitters as Keibert Ruiz and CJ Abrams.  It was the 6th HR for both.  In the third, with 2 out, he allowed a single to Joey Meneses, walked Corey Dickerson on a 3-2 pitch and gave up a game-tying single to Jeimer Candelario.
The Dodgers got the lead again in the 4th inning.  Freddie reached on an error, and promptly stole 2nd base.  Smith singled and as Freddie looked like he may attempt to score, Lane Thomas over threw his cutoff and Smith moved up to 2nd.  With runners on 2nd and 3rd and nobody out, Corbin walked both JD Martinez and Max Muncy to retake the lead.  With the bases loaded and nobody out, one might expect the Dodgers to plate a couple more off Patrick Corbin.  Chris Taylor, Miguel Vargas, and Miguel Rojas could not get the ball out of the infield.
Again, Thor could not handle the lead and gave up a 2-out 2-run HR to Candelario.  While Syndergaard gave up the HR, he also made the pitch to get out of the inning unscathed.  After catching a one-out liner, second baseman Miguel Vargas' underhand flip to second pulled Rojas off the bag, and Joey Meneses, who had doubled with one out, was safe. Jeimer Candelario then clubbed a two-run homer to center for a 5-4 Washington lead.  Yes, Noah did make that HR pitch
"We had an opportunity to put that inning to bed," Roberts said, "and we couldn't do it."
In the 6th inning, the Dodgers left the bases loaded a second time without scoring.  But they got the tying run in the 7th from an unusual duo.  Chris Taylor drew a walk on a clock time violation for ball 4.  As Miguel Vargas was striking out, CT3 stole 2B, and scored on a 2nd hit by Miguel Rojas.
After Evan Phillips and Caleb Ferguson, the bullpen has been pretty much hit and miss.  Alex Vesia gave up a lead off double to Luis Garcia.  Garcia moved to third on a long fly ball.  Vesia struck out Corey Dickerson, IBB to Jeimer Candelario.  Vesia then struck out Dom Smith to end the threat.
In the 8th,  Brusdar Graterol hit Keibert Ruiz on the first pitch.  On a ball hit back to Graterol that he did not handle, he made an ill-advised, off-balance throw to second that bounced into the outfield, putting runners on second and third with no outs. On a play that Badger will be upset with, Jason Heyward was not backing up 2nd on the errant throw.  He just did not anticipate a bad throw.
Graterol got the next two outs without a run scoring.  On an 0-2 pitch, Graterol decided to not waste a pitch, he threw a very hittable pitch that Luis Garcia hit down the line and into the RF seats for a 3-run HR.  It was the first HR Graterol has allowed this year.
When asked about it after the game, Graterol had this to say:
"I was supposed to throw that pitch on the ground," Graterol said. "I left it up."
The Dodgers got one back in the 8th inning, on Mookie's 2nd HR of the game, and 13th of the year.
Phil Bickford entered in the 9th, and allowed a leadoff double to Stone Garrett.  He got the next two outs, but left a slider too much in the middle to Keibert Ruiz who hit his 2nd HR of the game, and third in the series against his former team.
The Dodgers went quietly in the 9th.  So for the 2nd time in 4 games, the Dodgers scored 6 or more runs and lost a game they should have won.  In this one, LAD was 2-14 WRISP.
The Nationals did not have a game all year hitting more than 2 HRs  in a game.  Then again they have not been facing Noah Syndergaard all year.  Syndergaard has now allowed 10 HRs in 52.1 IP.
After the game…
Noah Syndergaard is going through it right now pic.twitter.com/MjF3gADtRW

— FOX Sports: MLB (@MLBONFOX) May 31, 2023
THAT'S THE PROBLEM.  Noah, nobody expects you to be the same pitcher YOU USED TO BE.  Figure it out, and pitch with who you are now.  All pitchers need to re-teach themselves whether it be to injury or age or whatever.  It is those who accept who they are in the here and now, and can make that adjustment, that can continue their careers positively.  You staked your financial future to the pitching gurus of the Dodgers.  I have no idea if they are advising something that you are incapable of, or you are ignoring them, or any other possible outcome.  But your comments above seem to indicate that you are looking in the past.  If you want a future as a starting pitcher, then make the adjustments NOW.  If you want your future outside of MLB, then keep thinking you are a 100 MPH pitcher.
It is important to win games that you should.  The Dodgers continue to score runs, but have lost 2 of the last 4,  and scored 10 and 6 runs respectively.  Pitching (starting and relieving) still wins games.
Also after the game:
Asked #Dodgers manager Dave Roberts if Noah Syndergaard is going to make his next start in Cincinnati: "Um, I don't know. The hope is that he does. Right now I just don't want to answer that question."

— Juan Toribio (@juanctoribio) May 31, 2023
A very telling and sobering statistic:
The Dodgers have allowed 10+ runs in a game 7 times this season. They allowed 10+ runs in a game 7 times in the previous 3 seasons combined. It equals their most in a season under Dave Roberts (since 2016), and they are only 57 games in.
Now the Dodgers have to face NYY with a questionable Clayton Kershaw, and two rookies.  How comfortable are you all with a Gerrit Cole vs Michael Grove matchup on Saturday.  The other two games?
Friday – Luis Severino v Clayton Kershaw
Sunday – Domingo Germán v Bobby Miller
Will the Dodgers still be in 1st place after this weekend?
05-31-2023 MiLB Summary
Reno Aces (Arizona) 6 – OKC Dodgers 5
Robbie Erlin was OKC's starting pitcher.  He allowed the first run of the game in the second inning.  Alek Thomas tripled and scored on a RBI groundout by Tristin English.
OKC answered with four runs in the bottom of the inning to take the lead. Yonny Hernández belted a three-run homer out to left-center field and Drew Avans later connected on a RBI single for a 4-1 advantage.
Reno scored four runs in the fourth inning to regain the lead, 5-4, including a two-run homer by Jake Hager.
Hunter Feduccia then tied the score, 5-5, in the bottom of the fourth inning with a RBI single for the Dodgers.
In the 5th, with runners on 1st and 3rd, Justin Hagenman relieved Erlin, inheriting the two runners.  Alek Thomas doubled home 1, giving Reno a 6-5 edge before ending the inning.
Brayan Hudson, Zack Burdi, and Nick Robertson each pitched a scoreless inning for OKC.  This was Burdi's OKC debut.
The Aces then held the Dodgers scoreless over the final five innings to tie the six-game series, 1-1.
Drew Avans – 2-4
Luke Williams – 2-5
Yonny Hernández – 2-4, 3 RBIs, double (8), HR (1)
Jahmai Jones – 2-3, double (12)
Yonny Hernández extended his hitting streak to 12 games — the longest of the season by an OKC player. During the streak, he is 15-for-42 (.357). The homer was OKC's first in four games and the sixth of Hernández's career. He last homered June 1, 2022 while playing for Reno against Tacoma.
Wichita Wind Surge (Minnesota) 7 – Tulsa Drillers 2
For the second game this week, one of the vaunted AA pitchers was tagged hard.  On this night it was Kyle Hurt who allowed 6 runs (all earned) in the 3rd inning.  The inning started: single, double, 2-run double, single, pop out, walk, Grand Slam HR.  After allowing another single, Ben Harris came in to relieve Hurt.
Harris got out of the 3rd inning.  Ben Casparius followed and pitched a decent 3.0 innings, allowing a single run.  He allowed a single, SB, throwing error, and single for the sole run allowed by Casparius.
Alec Gamboa and Antonio Knowles pitched a scoreless inning each, issuing only a walk.
The offense for the Drillers was a pair of solo HRs.  Diego Cartaya hit his 6th HR.  He has now hit a HR in three consecutive games.  Imanol Vargas hit his 7th HR.
Diego Cartaya's bat looks to be heating up.  He also had a double (6).  In his last 4 games, Diego has gone 7-15 with 3 HRs, 1 double, 5 RBIs.
Great Lakes Loons 4 – Beloit Sky Carp (Miami) 3
Robbie Peto rejoined the rotation.  For his first 4 innings he faced the minimum allowing only a single.  The runner was thrown out trying to steal.
In the 4th, he allowed a single, triple, and double for two runs.  After hitting a batter, Michael Hobbs was summoned to get the final out.  Hobbs struck out the only batter he faced.
Luis Yanel Diaz led off the Loons 1st with a triple and scored on a ground ball.  In the top of the third, Diaz reached on an error by Beloit's shortstop. Diaz advanced to second after a walk, then stole third base. The Dominican-born speedster then became the first Loon to steal home this season.
After Sky Carp starter Gabe Bierman reached down for the rosin bag, Diaz sprinted home, forcing a rundown, and slid across the plate as the ball deflected off his shoulder from a throw by third baseman Jacob Berry.
Hyun-il Choi followed Hobbs as the new piggyback reliever.  He pitched 3 scoreless innings.
After a one-out walk to Griffin Lockwood-Powell, Jake Vogel and Chris Alleyne both hit ground rule doubles. Vogel's double put two in scoring position, and Alleyne cleared the bases making it 4-2. Alleyne has three runs batted in the first two games of the series.
The Loons sent Aldry Acosta to close out the game and victory.  He did allow a 2-out solo HR, but got the final out for his 2nd save.
Jake Vogel – 2-4, double (7)
Chris Alleyne – double (8)
Alex Freeland – double (9)
Luis Yanel Diaz – triple (1)
Rancho Cucamonga Quakes 8 – Inland Empire 66ers (LAA)
In the 3rd, down 1-0, RC got singles by Kenneth Betancourt and Kyle Nevin.  Josue De Paula drew a walk and on ball 4 WP, Betancourt scored.  Thayron Liranzo followed with a 3-run HR (13) and a 4-1 lead.
Peter Heubeck allowed a run in his 3.1 IP, and Kelvin Ramirez allowed a 2nd run on 4 hits.
Leading 4-2 in the eighth, Rayne Doncon blasted a two-run homer, his tenth, putting Rancho up comfortably, 6-2.
The 66ers didn't go quietly in the ninth though, as a two-run single from Christian Sepulveda and a pair of wild pitches from Quakes' reliever Madison Jeffrey allowed Inland Empire to tie the game and send it to extras.  Jeffrey now has 7 WP in 15 games and 14.0 IP.
The teams went scoreless in the tenth and then traded runs in the 11th. Tied at 7-7 in the 12th, Kenneth Betancourt pulled off a terrific play behind David Tiburcio (2-0), starting a 4-6-3 double-play to end the inning and give the Quakes a chance to win it with a run.
Dayton Dooney, who started the inning at second base, advanced to third on a fly ball to right field by Juan Alonso, then scored on a wild pitch for Rancho's fourth win in their last five games.
The Rancho pitching staff matched a franchise-record with 21 strikeouts through nine innings, then got two more in extras to set a new mark of 23.
Jesus Galiz – 2-5
Rayne Doncon – 2-5, 2 RBIs, HR (10), double (9)
Thayron Liranzo – 1-4, HR (13), 3 RBIs
In his second game in the US and in A Ball, 18 year old RF Josue De Paula got his 1st hit.  He went 1-3 (single) with 2 BBs.  He did get caught trying to steal 2B.