A while back, Sandy mentioned that the Dodgers have the MLB talent and organization that will have them contending for the next ten years.  I totally agree.
The core of the current team seems to be Mookie, Freddie, Will Smith, Max Muncy, Clayton Kershaw, and Julio Urías.  The kids will be joining the core soon enough…Gavin Lux, Dustin May, Tony Gonsolin, James Outman, Miguel Vargas.  While not fundamental to the overall success, CT3 and Austin Barnes have been integral to multiple LAD teams that have been winners.  Because of his injury, Walker Buehler is somewhere in between.
Of the above, the only players not tied up for next year are Kershaw and Urías.  Both could re-sign with the Dodgers, but if pressed to give an opinion, I would say that LAD will re-sign Kershaw but not Urías.  Urías can be replaced by May/Gonsolin/Buehler/Miller to begin the next core.
The organization has the players too add:  Ryan Pepiot, Gavin Stone, Bobby Miller, Michael Grove, Nick Frasso, Emmet Sheehan, River Ryan, Nick Nastrini, Landon Knack, Michael Busch, Jonny DeLuca, Andy Pages, Diego Cartaya, Jorbit Vivas, Eddys Leonard, Dalton Rushing, Yeiner Fernandez, Thayron Liranzo, Rayne Doncon…While I would be hard-pressed to claim any of them are destined for All Star status, some could and possibly will.    Many of those are ready now, and will be next year.  Some will not make it all.  That is baseball.
The Dodgers cannot possibly find enough room for all of the above on their 26 man (2024 and 2025). Instead of wasting on the prospect vine, some could and should be packaged for established players.  I do not profess to have any clue what direction AF may go in (if any at all).
Regardless, the Dodgers have the necessary prospect capital to make something happen.  Or do nothing at all.
Sandy said something else… "Whether that translates to championships is anybody's guess [I still want two more to match SF's recent run], but the chances will be there."  I think we have supported that the organization will definitely provide championship opportunities, championships are not guaranteed.
Matching the Giants' three championships?  This gets back to the question…Is it better to be contending every year or winning 3 WS championships in 5 years?  In the last 13 years, San Francisco has won 3 WS championships but reached the playoffs only 2 other times (2016 and 2021). Only 3 times since 2013.
OTOH, since 2013, the Dodgers have been in the playoffs every year.  Giants fans will brag about the 3 championships, and LAD fans can brag about the 10 years of playoffs, even with only 1 WS ring.  The Dodgers were hosed in 2017, so the Dodgers should have 2 championships in the last 10 years.  But they do not.
Here is what both SFG and LAD have done since SFG won their 1st championship.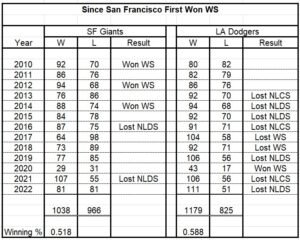 But Mark Walter (Guggenheim Partners) did not purchase the Dodgers until May 2012.  It is hard to include any Frank McCourt years, as winning was not a high priority for McCourt. Thus the first year Walter had control was 2013.  This is the tale of the two organizations since 2013: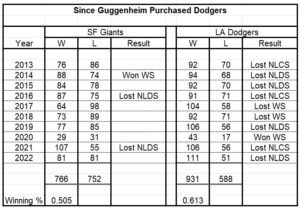 I have run into many SFG fans in Northern California.  And they will all point to the three championships and say that the cost was well worth the 3 World Series wins.  Many LAD fans say that as long as the team is relevant and contending every year, that is what they expect.  For me that is a cop out.  That is what frustrated fans say when they do not win championships.  There were more than enough opportunities to win multiple rings.  I am sure true Atlanta fans are not happy with only one WS with that run they had from the 90s into the 2000's.
After all, that is what Mookie promised when he signed the big extension.  Multiple rings.