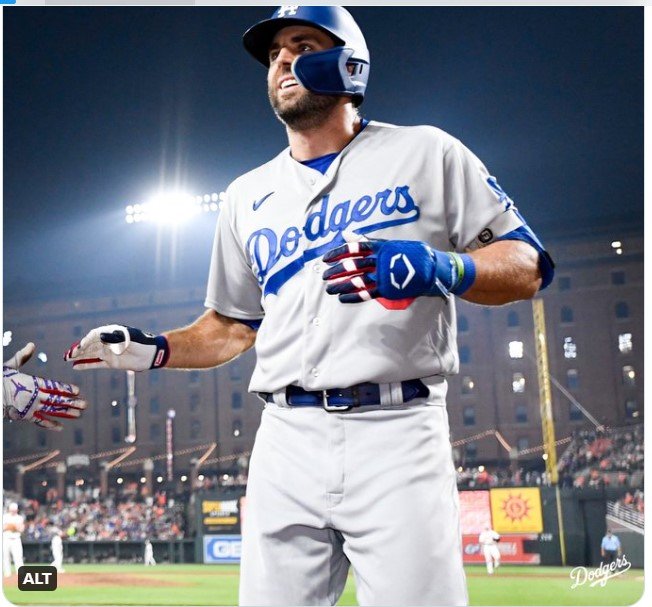 Fresh off a road series win against the Mets, the Dodgers will now be facing 4 probable playoff teams for the next 12 games.  6 on the road (Baltimore and Texas), and 6 at home (Toronto and Cincinnati).
The first night was a matchup of two of the hottest teams in MLB.  Baltimore was on an eight game win streak, while LAD has been winners of 6 of their last 7, and 8 out of 10.  Freddie Freeman was 3-5 with a single, double, and triple, but it was Chris Taylor who was the star on this night.  He makes a couple of very good defensive plays at SS, and then in the 6th, he hit his 2nd grand slam of the year, 6th of his career, and 9th for the team.  CT3 was basically back home where he grew up an Orioles fan and spent many nights at Camden Yards.  I grew up a huge Brooks Robinson and Jim Palmer fan, and CT3 grew up a Cal Ripken Jr. fan (then again, who wasn't).  Baltimore has a rich history, and I am thrilled that they are once again a playoff contender.
Chris Taylor is the fourth Dodgers player this year to hit two grand slams.

Taylor
Muncy
Freeman
Outman

— Doug McKain (@DMAC_LA) July 18, 2023
Most grand slams in Dodgers history:

Gil Hodges 14
Mike Piazza 8
Carl Furillo 8
Matt Kemp 7
Cody Bellinger 7
CHRIS TAYLOR 6*
Pee Wee Reese 6
Mike Marshall 6
Roy Campanella 6
Shawn Green 6

*2 slams this year for Taylorhttps://t.co/vxJVvvkw7i

— Eric Stephen (@ericstephen) July 18, 2023
The grand slam turned Emmet Sheehan from being on the line for the loss, to the pitcher of record for the win.  He was not sharp, but he battled.  Baltimore's rookie pitcher Grayson Rodriguez was very effective the first two times through the lineup.  Not so much in his third time.  Rodriguez has been a consensus top 100 prospect, while Sheehan was a relative unknown until this year.  The two rookie pitchers' stats were very close on the night.
Emmet Sheehan – 5.0 IP, 4 runs (all earned), 5 hits, 3 BB, 2 K, 1 HR, 94 pitches/54 strikes
Grayson Rodriguez – 5.0 IP 4 runs (all earned), 7 hits, 2 BB, 4 K, 0 HR, 91 pitches/59 strikes
These are rookies.  You can hope, but you really cannot expect much better.  Not every pitcher is Spencer Strider or Eury Pérez.
Will Smith broke out of a mini slump with 2 hits and a BB.  Jake Marisnick got is 1st hit as a LAD.  Jason Heyward may have had the AB of the night with his walk right before CT3's GS.  J-Hey started at 0-2, and had some excellent takes, including his 3-2 take for the BB.  Max and J-Hey were the only starters who went hitless, but both drew walks and scored runs.
Besides Freeman and CT3, the stars for the night were once again members of the LAD bullpen.  There are still holes in the bullpen, but right now, they are the best pen in MLB.  Once again the starter could not get to 6.0 IP and 4 relievers were required to hold a 6-4 lead against an excellent come from behind team.
Yency Almonte – 1.0 IP, 1 hit, 1 K
Alex Vesia – 1.0 IP, 2 K
Caleb Ferguson – 1.0 IP, 1 hit, 1 K
Ryan Brasier – 1.0 IP, 1 BB
Since the All Star break, the eight relievers have been used A LOT.
4 games – 15.1 IP 1 run (unearned), 6 hits, 3 BB, 15 K
Some very impressive numbers, but can they hold up? Unless the starting pitchers can go deeper, it is unlikely that the bullpen can hold up for the next 70 games as impressively as they have been of late.  Since the All Star break:
Caleb Ferguson, Alex Vesia, Ryan Brasier have appeared in 3 games
Yency Almonte, Brusdar Graterol, and Evan Phillips have appeared in 2 games
Phil Bickford and Nick Robertson have appeared in 1 game
Since July, Alex Vesia has been unhittable; literally.  In 6 games, 5.1 IP, 0 runs, 1 hit, 0 BB, 8 K.  His BAA is .059, and his WHIP is 0.19.  This is the 2022 Alex Vesia we were hoping for in 2023.
Yency Almonte has been his 2022 version since he hit bottom on May 18.  In his last 20 games (before last night's game) – 19.2 IP, 1.37 ERA, 0.966 WHIP, 24 K, 6 BB, 1 HR, .186/.260/.257/.517.  Very few relievers have put up better numbers.
Caleb Ferguson since June 11 (before last night's game) – 12 games, 11.1 IP, 0 runs, 5 hits, 2 BB, 14 K,   .132/.214/.132/.346.
Colton Cowser is one of the up and coming stars in MLB.   Cowser is MLB Pipeline's #12 prospect and Baseball America's #14.  At Norfolk in the International League (AAA), Cowser was batting .330/.459/.537/.996, and was called up to Baltimore on July 5.  The International League is a much better pitcher's league than the hitter friendly PCL.
Since then, Cowser has gone 3-23, with 7 BB against 3K.  His batting line is .130/.375/.130/.505 since being called up.  ML Baseball is very hard.  Much harder at the MLB level than AAA.  That is why I try to temper my optimism with prospects.  The Dodgers have tried 4 different rookie position players, and only 1 remains: James Outman.
The Dodgers have the 2nd best record in the NL and the 5th best in MLB.  Austin Barnes' hitting is horrendous, and he does not throw out base stealers.  Then again, neither does Will Smith.  Thus most of you out there want Hunter Feduccia in and Austin Barnes out.  To make that happen, Barnes would have to be released.  That will anger pitchers.  I know, I know. They are professionals and they have to get over it.  Regardless IT AIN'T HAPPENIN'.
However, I have begun to wane on my position somewhat. Smith cannot DH, thus in order to keep Smith's bat in the lineup, he has to catch.  Barnes' inability to hit ML pitching in 2023 puts more pressure to keep Smith in the lineup.  The result is that Smith may tire more often.
However, I still contend that those of you who seem to believe that Hunter Feduccia will all of a sudden come to LAD and be that game changer and take LAD over the top might be disappointed.  Take a look at Colton Cowser, a top 15 prospect above who plays regularly, and is struggling in his first time at MLB.  Feduccia may give Smith a couple more days off, but he is not going to be hitting anywhere near what he is doing at AAA.  As I said before, maybe he gets 10 more hits, but that is not game changing, and the only reason to change catchers at mid-season is to add a game changer.  Just my opinion.
We will see if the Dodgers agree.  Although I am confident that Austin Barnes will be the backup catcher in the playoffs.  He will not catch much, but he will have the pitcher's confidence when he does.
Finally for those who thought that Arte Moreno would actually consider trading Shohei Ohtani to LAD:
Reports came out today that Angels owner Arte Moreno is unwilling to trade Shohei Ohtani to the Dodgers.@Ken_Rosenthal tells us which teams would be in the mix for a potential Ohtani deal. pic.twitter.com/pCg1X6FapI

— FOX Sports: MLB (@MLBONFOX) July 18, 2023