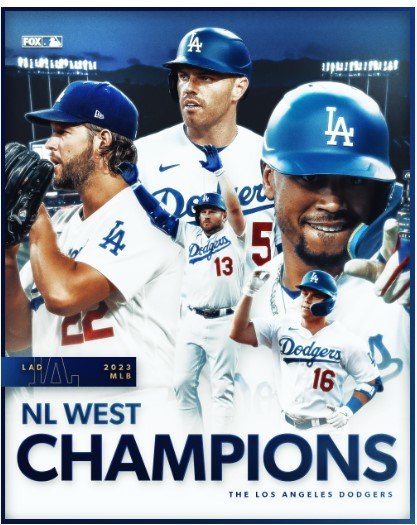 It was a lot sooner than expected (if it was by many), and yet it still seemed to take a little longer than expected, but it has happened.  The Dodgers have clinched the NL West Division Championship with a resounding 6-2 victory in 11 innings against a very good and young Seattle Mariners team.
The Dodgers and M's took it to the 10th scoreless.  Amed Rosario ran for JD Martinez as the placed runner.  Chris Taylor hit a soft 71.7 MPH ground ball  down 3B that Eugenio Suarez was only able to pick up and take a bite out of the ball.  Runners on 1st and 3rd nobody out.  The Dodgers looked like they were going to be able to break through.
With 3 doubles already in the game, Jason Heyward hit a line drive (trajectory) hat was caught by Jared Kelenic.  Dino held Rosario and Kelenic's throw was way up the 3rd base line.  Amed probably scores, but I trust Dino Ebel to know who has the arm and who doesn't. It was a bad throw, but you should not anticipate one.  Force the issue in a scoreless game?  Maybe.
James Outman was nicked by a pitch to load the bases for the #9 hitter.  Kolten Wong came up to hit for Miggy Rojas and hit a 2-strike booming sac fly to plate Rosario, and the Dodgers had a 1-0 lead.
With one out and a runner on 3B, and Evan Phillips on the bump, the Dodgers actually got an out on a ball hit with the runner going on contact.  The Dodgers got the runner out, but they still need to work on these rundown plays as Jose Caballero was able to stay in the rundown long enough for Josh Rojas to get to 2nd.
On an 0-1 pitch to PH Mike Ford, and Stephen Nelson already congratulating the Dodgers for winning the Division, Ford singles home Rojas to tie it up.  Why Scott Servais did not run for Ford, we will never know.  A faster runner probably scores on JP Crawford's double.
Phillips got out of the inning and the Dodgers were ready to begin the 11th.  With Mookie on 2nd and Freddie Freeman up, you have to like your chances, right?  But Freddie struck out, and the M's IBB Will Smith to get to Max Muncy to face off against the LHP Gabe Speier. Of course, he is the nephew of former LAD nemesis SFG SS Chris Speier.
Everyone is expecting Max to swing for the fences as he is wont to do.  Instead he is fooled by a slider low and away, but is able to keep the bat in the zone long enough to poke a line drive single to score Mookie. But that was just the start of the fun.  Amed Rosario walked to load the bases, and Chris Taylor hits a little bloop single into LF to plate 2 more.
After J-Hey singles for his 4th hit to load the bases, James Outman strikes out.  Kiké Hernández follows up with a blast of his own.  A 2-out 2-run 61.7 MPH hit into RF, and a 6-1 lead.
The M's got one back in their half of the 11th off Joe Kelly.  As it turned out, Kelly's error did not matter in the scoring as it was the strike 3 WP that brought the runner home from 3B.  But then the 4-3 ground out ended it and made the LA Dodgers magic number 0.
The Dodgers were the Champions of the NL West for the 10th time in 11 years.  They are going to the playoffs for the 11th consecutive year trailing only Atlanta (14 years) and NYY (13 years).  The way this team is built, I believe the Dodgers will reach the postseason in each of the next 4 seasons to pass Atlanta.
This was supposed to be a transitional season.  The Dodgers management intentionally did not go out and buy any front line players or trade for any so they could bring up some of the talent they had stashed in the MiLB.  They also decided to sigh multiple long in the tooth veterans with great clubhouse presence to be significant influences for these youngsters.
The Dodgers signed a pair of FA to 8 figure contracts.  Noah Syndergaard was supposed to be the next Tyler Anderson signed for $13MM.  JD Martinez signed for $10MM so he could get back with RVS and Mookie, and play for a chance to win.  Syndergaard was a bust, but not JDM.
Jason Heyward was jettisoned by the Cubs who were willing to eat $22MM just to release him.  Freddie went to AF and told him that J-Hey was very much worth bringing to LAD.  Freddie was right.
Right before ST, long time Arizona LF David Peralta signed with LAD for $6.5MM.  He had built in incentives to increase the salary to $8MM with 150 days service.  He has made that.  He had back surgery in the offseason to repair a herniated disc and started very slowly, causing multiple fans to want him released.  Since May 1, in 311 PA, DP has hit .289/.328/.425/.753, 17 BB and 53 K.  The power was not there as it used to be (probably due to the surgery).  But the bat to ball skills and his GG LF defense was there.
Also just before ST, AF traded for Miguel Rojas for LAD AAA SS Jacob Amaya.  I was a long time advocate for Jacob, but I was absolutely 100% on board with the trade.  I have taken a lot of guff from many for my affinity for Miguel Rojas.  I have been on his bandwagon since the trade.  Many LAD fans did not like the trade.  Rojas was supposed to be Gavin Lux's backup SS, but after Lux's horrible ACL tear, Rojas would go on to have a GG type season as the LAD regular SS.  He will not win it, but he will be strongly considered.  His bat was nowhere close to the value of his glove (to be expected).  However since August 1, with 128 PA, Miggy Ro has batted .272/.325/.439/.764, 5 doubles, 1 triple, 4 HR, 8 BB, 12 K.  And since September 1, in 47 PA, Rojas is batting .333/.378/.476/.854, with 1 double, 1 triple, 1 HR, 2 BB and 2 K.  That is a 9.375 K rate since August, and 4.255 since September 1.  On Friday, he had a pivotal 2-run HR off Seattle's outstanding young RHSP, George Kirby for the LAD lead they would not relinquish.
At the time of the deadline when the Dodgers acquired Amed Rosario (a great trade), many LAD fans were calling for Rojas and his GG to be sidelined for Rosario, the worst defensive SS in MLB.  Why, because they believed Rojas was an incompetent bat.  Since the trade, in 109 PA, Rosario has batted .235/.284/.392/.677 with 5 doubles, 1 triple, 3 HR, 7 BB and 19 K, a very good 17.43%.  I think Miguel Rojas has more than solidified his role as the starting SS for the Dodgers.
At the same time, Amed Rosario was moved to 2B for the first time in his life, and he responded with some outstanding defense of his own.  He now has a new position to take into his FA offseason.  We will get more into this once LAD has their parade.
The Dodgers have played a few rookie position players.  It was supposed to be Miguel Vargas who was going to be the LAD entrant for ROY consideration.  Before ST, he was given the 2B job and expected to run with it.  Unfortunately he hurt his hand and thumb during ST, and never really got started.
Instead it was Cf James Outman who forced his way onto the roster and into the Opening Day Lineup.  He would go on to be named April Rookie of the Month and moved ahead of the line for ROY consideration.  He would fall quickly back to earth for the next two months, but after some strong mentoring from J-Hey, Outman started again in July.  He was beaten out for Rookie for the month of July, but did get it for the 2nd time in August.  He has now established himself as the everyday CF for LAD.
Michael Busch also got a look, but the Dodgers love their veterans, and Michael never really got that long look at Miguel Vargas had.  Busch will be a MLB regular.  Probably not with LAD, but he will be a good MLB hitter for someone.
The Dodgers also brought up Ron Cey junior, AKA Jonny Deluca.  He was performing very well before his own injury.  He will be in the OF discussion for 2024 and beyond.
Where the rookies were most noticed was in the pitching.  No team had more IL days for pitching than the Dodgers.  Every starter hit the IL at least once, and some multiple time.  The team lost Dustin May on May 18 for the remainder of the season.  With May, Syndergaard, Kershaw, and Urías all on the IL, Tony Gonsolin felt he needed to push through his own right forearm strain injury.  The Dodgers knew of his injury, but were advised that Gonsolin would not injure it more by pitching.  Probably because they knew he was headed for surgery anyway.
Kersh and Urías were back, and the Dodgers acquired Lance Lynn. In addition rookie RHSP Bobby Miller was establishing himself as a front of the rotation level SP, and Gonsolin was ready to face the surgeon's knife.
Another rookie RHP, Ryan Pepiot, was recalled from his IL stay to be the bulk inning reliever for DH game against Miami.  He was sent down (not an option) and brought back again for a DH bulk reliever game.  He next started against the DBacks and was optioned for a fresh arm.
Julio Urías was placed on the restricted list September 6, and Pepiot was allowed to be recalled and started against the Marlins on September 7.  He would pitch 6.2 perfect innings before surrendering a hit.  He should now finish the season as a starting pitcher filling in for the suspended Urías.
In addition, on June 16, Emmet Sheehan made a fantastic debut of his own against SFG.  He has been an integral part of the staff both as a starter and bulk reliever since, except for August when he was optioned to monitor his innings, and bring in still another fresh arm.  Sheehan has been both good and bad when he was recalled in September.  But his best outing was in the pressure cooker of Seattle following Clayton Kershaw on the night they would eventually clinch the division.  Sheehan retired the first 8 batters he faced, striking out 5, including JP Crawford, Julio Rodriguez, and Teoscar Hernández in the 6th.  After Ty France's single, he got Jarred Kelenic to fly out and his evening was done.
Gavin Stone is still on the roster, and could be starting on Sunday against a third outstanding young Seattle RHSP, Logan Gilbert.  I do not expect Stone to be on the LAD NLDS roster, but he has pitched some valuable innings for the Dodgers as a rookie this year.  The experience will serve him extremely well for 2024.
Michael Grove is scheduled to join the roster again at some point in a relief role.  I fully expect Grove to be moved to the bullpen more permanently for 2024 unless he is traded to a team who wants him to start.  I think he could be an outstanding reliever.  More in the Mitch White and Ross Stripling role, but a role the Dodgers rely on.
To make it even more interesting, the Dodgers brought up a future closer…RHP Kyle Hurt.  Hurt faced the heart of the SD Padre order and got all 6 batters he faced, including striking out the side in the 9th.  His reward?  Back to OKC.  However, he is now under consideration for a playoff spot.  Let me think. Alex Vesia or Kyle Hurt?
Veterans:
Miguel Rojas
JD Martinez
Jason Heyward
David Peralta
Shelby Miller
Noah Syndergaard
Kiké Hernández
Amed Rosario
Lance Lynn
Joe Kelly
Ryan Yarbrough
Kolten Wong
Rookies:
Miguel Vargas
James Outman
Michael Busch
Jonny Deluca
Bobby Miller
Ryan Pepiot
Emmet Sheehan
Gavin Stone
Michael Grove
Kyle Hurt
So out of the 12 key veterans brought in, and the 10 rookies brought up, it appears that AF hit on all but one personnel move.  And Dave Roberts expertly navigated the necessary lineup changes due to injuries and communicated with his veterans to keep all moving in the same direction.  It is one thing to say players are willing to do whatever is needed, but another to really mean it.  This clubhouse is special.  There is no doubt in my mind that each and every player not only says it but believes it.  I do not think it was by mistake that Miggy Rojas and Jason Heyward were the key speakers to the team before the celebration.
I also noticed that LAD veterans, Kersh, Mookie, Max went out of their way to give their plaudits for Miggy, J-Hey, JDM, and DP.  They recognized how valuable they each have been.
With all of the celebration that happened, there was one person I actually felt sorry for.  He was with the Dodgers almost since the beginning of this run and will be a Dodger forever.  But this year, Justin Turner was not in the LAD clubhouse celebrating with his teammates.  I hope that someday (someday soon), JT will be back in Dodger blue.  Probably not as a player, but in some coaching capacity.
We now have 2 weeks before the season is over.  The Dodgers will probably be getting a bye with Atlanta, and the NLDS will begin October 7.  I will be gone from September 30 thru October 6 on a trip with 5 of my closest friends and their wives in St. George, Utah.  But will be back for Game 1 of the NLDS.