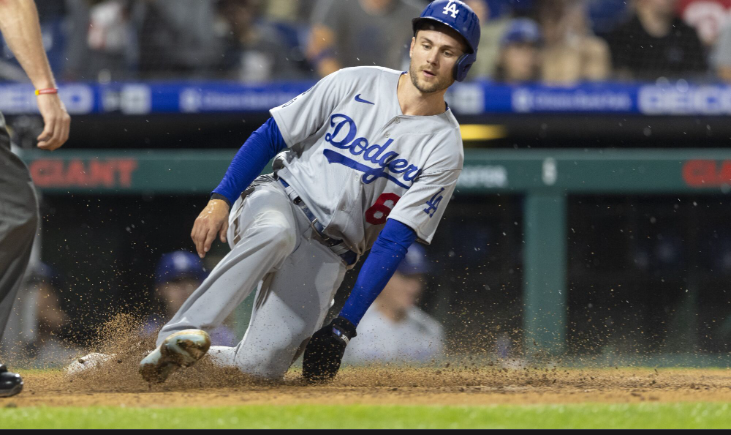 We continue to hear that Trea Turner wants to sign with an east coast team. Trea is from Florida and attended North Carolina State University.  Turner's wife is also from the east coast (New Jersey) and attended North Carolina State University.  Both families are back east.  Thus the prognosis seems very reasonable.  I have not been shy about my desire to see Trea Turner as the LAD SS for years and years.  But he has to want to.
IMO, as long as the difference in contract offers is not outrageous, I do believe it is reasonable to think that Trea would prefer to stay closer to family.  But certainly not an absolute.  From all that I can gather from all reports, Trea loves playing for the Dodgers.  Trea wants to win, and he acknowledges that LAD will always be a contender, and give him a chance to win every year.  The Dodgers have the money to spend (if they want).
But for the moment, let's consider that Trea will push hard to move back east.  I have zero idea as to what he may want in terms of contract dollars.  He is 29, and some are speculating that Turner will command Corey Seager level money.  If that is true, I do not believe that AF will seriously consider Turner to be an option for LAD SS for the long term.
What options will he have on the east coast?
He is from Florida, but neither the Marlins nor Rays will spend the dollars. Besides the Rays have Wander Franco tied up at SS.
Atlanta – Atlanta will do whatever they can to re-sign Dansby Swanson. If Atlanta cannot re-sign Dansby Swanson it will be because of money.   There is zero chance they would pass on Swanson and then sign Trea for more.  The Braves have been very fortunate to be able to bring up MiLB players and have them play extraordinarily well.  Perhaps they are willing to roll the dice with Braden Shewmake as their SS.
Washington Nationals – They are perhaps a 5-7 years away from contention. Trea will not go back.  Plus , there is no news on the new ownership group that will be assuming these contracts.
NYY – Will the Yankees stay on the Anthony Volpe course? He may not be ready at the beginning of 2023, but it will not be long.  If Aaron Judge does leave, that could free up $$$ for Turner, and Volpe could be used to get pitching or move to 2B.
NYM – Francisco Lindor. Trea Turner, not happening.
Boston – Will undoubtedly lose Xander Bogaerts, and they have to money to spend for Turner and to keep the team a contender.
Philadelphia – They need a SS. Bryson Stott is finally starting to come into his own, but he could slide over to 2B. It is almost a certainty that Philadelphia will buyout the $17MM Jean Segura option for $1MM. Philadelphia has the money to spend (if they want).  Bryce Harper is already recruiting Turner.
SF – Not east coast, but has to be a consideration. The Giants will be in the long term discussion for Aaron Judge.  But if those talks go south, Farhan has indicated that with the departure of Brandon Crawford, and no true internal replacement until Marco Luciano is deemed ready, they would turn their focus to SS.  SF has the money, and the desire to compete for a championship in 2023.  And nothing would make SF happier than to "steal" away Trea Turner from LAD.  With Buster Posey and Crawford out of the picture, Trea Turner could become the face for the Giants.  Would that mean anything to him?  I get the distinct impression that would not be a factor in Trea's decision.
IMO it will come down to Philadelphia and LAD.  If the offers are close, Turner goes to Philadelphia, and the Dodgers will get a compensatory pick after the 4th round.
MiLB Game Summary
by Harold Uhlman
OKC Dodgers 16 vs El Paso Chihuahuas (San Diego) 3
On the Mound
The Dodgers now out of the running for their division championship gave a good portion of their pitching a staff an outing on Sunday.
Ryan Pepiot started and and pitched a clean inning with two strikeouts on 12 pitches, 10 of them strikes.
Jose Adamas followed Pepiot and went two innings allowing one run on three hits while striking out two.
Adamas was followed by Beau Burrows for another two innings in which he gave two hits but no runs and struck out one.
Logan Salow struck out the side in  the sixth inning allowing just one walk.
Things definitely did not go  so smoothly in the seventh inning as Yency Almonte was charged with two earned runs on two hits. He was replaced by Keone Kela who gave up a hit allowing two inherited runners to score. Those were the runs charged to Almonte.
Kela returned in the bottom of the eighth inning and retired El Paso allowing one hit in the inning.
Aaron Ochsenbein finished up with a scoreless ninth inning.
At the Plate
The Dodger bats had produced just six runs in their past three losing games with El Paso which eliminated them from play-off contention.
They fared much better on Sunday with two-three run innings.
In the third inning Drew Avans continued with his hot bat and stroked his seventh home run following singles by Jason Martin  and Tony Wolters.
They struck for three more in the top of the fifth inning. Omar Estevez singled and scored on a Drew Avans triple. Avans scored on a Ryan Noda sacrifice fly. Rehabbing Kevin Pillar produced the third run in the inning on a home run (10) to center field.
Edwin Rios drove home the Dodgers seventh run in the seventh inning with a double (16) following a James Outman walk and Jason Martin single.
They struck again in the top of the eighth inning with Saturday's missing power bats now on display. Drew Avans walked and came home on a Ryan Noda home run (25)  to center field. A Kevin Pillar single and a Michael Busch walk extended the inning for James Outman who cranked a three-run home run (14) to right center field.
Not content with  a 12-3 advantage OKC scored four more in the top of the ninth inning. Kevin Pillar with his fourth hit of the day drove in one run with a double following a Drew Avans single and  a Ryan Noda HBP. Edwin Rios put an exclamation mark on the game with a three-run home run (9) driving home Noda and Pillar.
Player of the Game – Drew Avans
Outfielder Drew Avans nudged out Kevin Pillar. Avans  missed the cycle by a double. On the day he had three hits and a walk. He drove in four runs and scored four.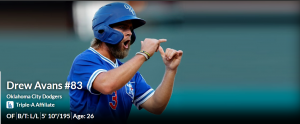 Game Notes
Seven OKC pitchers struck out 11 on the day and issued just one walk.
Is Kevin Pillar making an unexpected run for a LA Dodger post-season roster spot? He had four hits on Sunday, including a home run, scored three runs and drove in two. He played strong outfield defense.