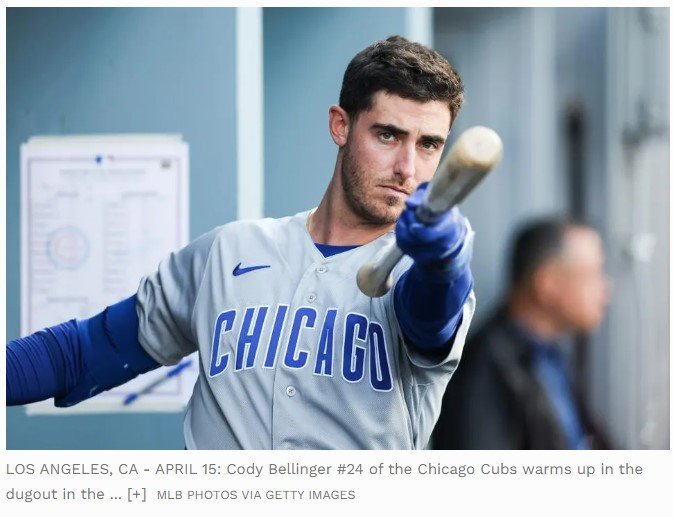 I came across a Twitter post that had me saying to myself, this is why players want Scott Boras as their agent.  Cody Bellinger is looking for $200MM for his next deal.  There are reportedly 4 teams that will be in hot pursuit (hotter than the other teams):  NYY, Giants, Padres, and Cubs.  Of course that number was floated by Boras.  Might as well get used to the starting point before the bidding begins.  And of course I recognize and acknowledge that what he will be asking for will not necessarily be what he signs for, but how many big deals has he missed on?  I can think of three:  Mike Moustakas, 2018 JDM, and Carlos Correa.  Moustakas was oversold, but like Eric Hosmer he signed for a lot more than what most thought he would get.  Correa's medicals stopped him from cashing in big time. And teams find it hard to pay DH's $150MM-$175MM which is what Boras was shopping JDM for.
This winter he will get maximum contracts for Blake Snell, Matt Chapman, Jordan Montgomery, James Paxton, and Josh Bell.  Do not look for the Dodgers to make a serious run at any of them.  And the Dodgers do not have a prayer of extending Ryan Pepiot.  If Boras was Spencer Strider's agent, he would not have been extended.  Nor would any of those other eight extensions Alex Anthopoulos negotiated. Atlanta does not have one Scott Boras agent.  I would not be surprised if that was a criterion that Braves management looks at.
The Dodgers had their franchise SS in Corey Seager, who will be getting serious consideration as the AL MVP.  Unfortunately, Scott Boras simply used the Dodgers to jack up the contract amount for Seager to sign with Texas.  The Dodgers have a team first criterion, and in my opinion, Scott Boras clients are not team first players.  They are not selfish.  They recognize that MLB is a business, and they have hired the best negotiator for themselves.  But it does make it hard to build a team around a Scott Boras client.
I know of one exception with a Boras client being more team focused than the individual: Steven Strasburg. He told Boras to get him signed with Washington, no matter what.  He did not want to play for any other team.  Contrast with Juan Soto.  Scott Boras turned down a 15 year $440MM deal for his client.  Max Scherzer would not talk extension.  After an apparent growing relationship between Boras and the Nationals, once Steven Strasburg announced his retirement, the Nats do not have a single Boras client.
Going through the agency database, it is remarkable the number of elite young players in his client rolodex who will be hitting FA in a few years.
After this year's crop, he has Corbin Burnes, Alex Bregman, José Altuve, and Spencer Turnbull ready for 2025.
Two or more years:
Dylan Cease (2026)
Zac Gallen (2026)
Brendan Rodgers (2026)
José Urquidy (2026)
Alec Bohm (2027)
Jonathan India (2027)
Jesús Luzardo (2027)
Tarik Skubal (2027)
MacKenzie Gore (2028)
Matt Manning (2028)
Bryson Stott (2028)
Braxton Garrett (2029)
Gunnar Henderson (2029)
Josh Jung (2029)
Shea Langeliers (2029)
Royce Lewis (2029)
MJ Melendez (2029)
Ryan Pepiot (2029)
Spencer Torkelson (2029)
That is an impressive list of young clients.
Players hitting FA in 2028 are not even arbitration eligible until 2025.  Thus $$$ will not be a factor for low revenue producing teams, making the necessity to trade these players non-existent…except of course for a monster overpay.   I am certain that AF was not going to give CWS a bevy of top rated prospects for a player they will lose in 2.5 years.
Back to the question.  Will Belli get $200MM?  I would not count Boras out for getting him that contract.  NYY just might make Belli a very happy CF in pinstripes.
09-05-2023 – MiLB Game Summary Reports
Sugar Land Space Cowboys (Houston) 6 – OKC Dodgers 0
Mike Montgomery and Tanner Dodson each allowed 3 runs: Montgomery in 4.0 IP and Dodson in 1.0 IP.  John Rooney continued his surge over the last 10 games.  He pitched a scoreless 2.0 innings with 2 hits.  In 8 of his last 10 games, Rooney has not allowed a run.  Bryan Hudson pitched a scoreless 8th inning.
OKC had 4 hits including 2 doubles:  Jonny Deluca and Justin Yurchak.  Yurchak had a 2 hit game.
JD Martinez was making his first rehab game and went 0-4.
Springfield Cardinals 9 – Tulsa Drillers 1
Kendall Williams had a quality start.  He allowed 3 runs in 6.0 IP.  Ben Harris and Jack Little were hit hard and allowed 6 runs in their 2.0 IP.
Tulsa had 6 hits.
Key Offensive Performances:
Austin Gauthier – 2-4, 1 run, triple (4)
Imanol Vargas – 2-4
Great Lakes Loons 2 – West Michigan Whitecaps (Detroit) 1
21 year old RHP (20 baseball age) Peter Heubeck had his best game since early July.  In 5.0 IP he allowed 1 run on 3 hits.  A single, a fielders choice, and a run scoring single in the 1st.  He allowed only a single over the next 4.0 IP.  He did not allow a BB and registered 4 K.
Jared Karros piggybacked off Heubeck and completed 4.0 scoreless IP on 1 hit.  No BB and 2 K.
The opposing pitcher was Detroit's 1st draft pick (#3 overall) in 2021.  Like Heubeck, Jackson Jobe is 21 with a baseball age of 20.  Jobe is #55 in MLB Pipeline's Top 100.  He allowed 2 solo HRs for the Loons scores.  Dalton Rushing hit his 14th and Damon Keith hit his 11th.
The Loons had 4 hits with no Loon having more than 1.
Rancho Cucamonga Quakes 11 – Visalia Rawhide (DBacks) 2
20 year old RHP Christian Romero and 3 other pitchers combined for a 3-hit shutout.  Romero went the first 5.0 scoreless innings, allowing a single and double.  He did not surrender a walk and registered 6 K.
Jonathan Edwards, Garrett McDaniels, and Madison Jeffrey followed.  Combined they allowed 1 hit, 4 BB, 1 HBP, and 7 K.
RC had 11 hits including 3 HRs.  They scored 1 in the first and then put up 4 consecutive crooked numbers in the 3rd-6th inning to score 11 runs.  The biggest bomb was a grand slam by Jake Gelof.  That was his 2nd HR.  Gelof also hit his 7th double.
Key Offensive Performances:
Kendall George – 2-4, 1 BB, 1 run, 2 RBI
Thayron Liranzo – 1-2, 2 BB, 4 runs, 2 RBI, HR (23)
Jake Gelof – 3-5, 1 run, 5 RBI, HR (2)
Joe Vetrano – 2-5, 1 run, 2 RBI, HR (2)
Luis Rodriguez – 2-4, 1 run