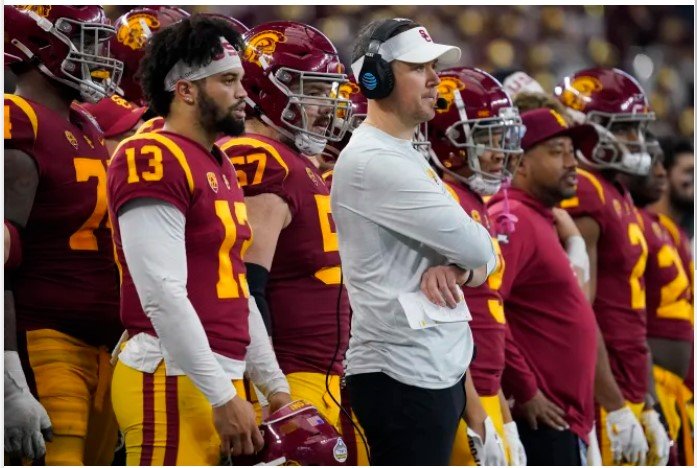 My television and iPhone survived January 2, 2023, but just barely.  It is a good thing my grandkids were not home or they would have heard some very colorful language to take back to school.
I cannot make any excuses for USC.  The defense and special teams, which has been piss poor ALL YEAR, failed to show up in Dallas.  The offense got a good makeover last year, but the defense still had too many of the Clay Helton players who were not allowed to tackle during practices.  It seems that Clay Helton's ghost has resurfaced.  That defensive performance has got to have Lincoln Riley reason to question whether Alex Grinch (Defensive Coordinator) deserves another shot.  But what is it, the scheme or the execution?
I couldn't write after the game, so I sat and watched another debacle…the Rose Bowl.  I do not generally watch a lot of NFL that does not involve the Packers, but I needed a good game to cleanse the bad taste from college football.  Buffalo and Cincinnati promised to be a good game.  But then with about 6 minutes left in the first quarter, Bills safety Damar Hamlin tackled wide receiver Tee Higgins.  After standing up, he just collapsed.
Fortunately, medical personnel were immediately available and were able to get Hamlin's heart pumping again.  The ambulance was there and ready to transport Damar to the hospital.
Having lost a son to a heart attack, I prayed for my son Kris to watch over Damar, and to give his family strength and hope.  I turned off the TV, and went to bed to watch a rerun of a Hallmark Christmas movie that was not erased.  I got a NFL notification later at night, indicating Hamlin's vitals were back to normal, but was still in very critical condition.
Yes I was horribly upset after the USC loss, but the Damar Hamlin collapse put everything in perspective.  Football (and baseball) is just a game.  I got up this AM, and the game was just a bad memory, but I was ready to move on.
Still no word on the Trevor Bauer saga, and there does not seem to be anything resembling any rumors revolving around the Dodgers.  I think I have read a dozen articles on the best landing spots for the top three remaining FA:  Jurickson Profar, Andrew Chafin, Michael Wacha.  It is January 3, and where Elvis Andrus and Johnny Cueto land are top MLB rumors being dissected.
I just read a FanSided article from Jason Reed where he projected what three Dodgers currently on the roster, will not be there at the end of the season.  For the record, he thought that Trayce Thompson, Shelby Miller, and Andre Jackson would be gone from LAD before the end of the season.  I say no for the first two, but Jackson could be packaged in a trade.  Just to remind everyone how Trayce Thompson can play CF:
Who says the Dodgers need a center fielder when we already have Trayce Thompson? pic.twitter.com/jZF4Vjqu1J

— sky (@GonsolinRBW) December 22, 2022
I predict a better offensive year for Trayce than what Cody produced last year, with no discernable drop-off defensively.
I also predict that Shelby Miller will be a stalwart in the LAD bullpen.  I have read (no Bluto I do not remember where), that Miller is already working with the LAD coaches and sees a big difference.  Whether that will translate into a solid season of relief, we will have to wait and see.
I also read an article by Jason Reed whereby he indicated that it might be a good idea that AF/BG trade CT3.  Honest this was Jason Reed, and not Bums.  Otherwise, Max Muncy would have been included.

Theoretically, this would be much more difficult to consummate than just predicting it in a baseball column.  Taylor is 32 year old utility player with a $45MM commitment over the next three years.  He is a former All Star, but so was Cody Bellinger.  Of course there are teams out there that could use a Swiss Army Knife like CT3, but not at $45MM.  Cash would undoubtedly have to go back, but that sort of defeats the purpose of the trade.  But I understand the theory.
I have learned never to say never when it comes to AF.  On December 21, 2018 AF pulled off what has become affectionately known as the Kyle Farmer trade.  The Dodgers traded Yasiel Puig, Matt Kemp, Alex Wood, and the aforementioned Kyle Farmer to Cincinnati for RHSP Homer Bailey and two prospects that would be pivotal in changing the Dodgers in future years:  SS Jeter Downs, and RHSP Josiah Gray.
Bailey was immediately released, and Downs and Gray were pivotal in the Mookie Betts and Trea Turner/Max Scherzer trades respectively. The deal turned out to be a plus transaction for LAD, and not so great for the Reds.
Brandon Gomes has intimated that the roster in still very fluid, and changes are anticipated.  To what degree, we will still need to learn.  But anything significant will probably come from a trade.
So as January 2 came to a merciful end, we all wake up on January 3 for a new beginning.  My prayers are with the Hamlin family.