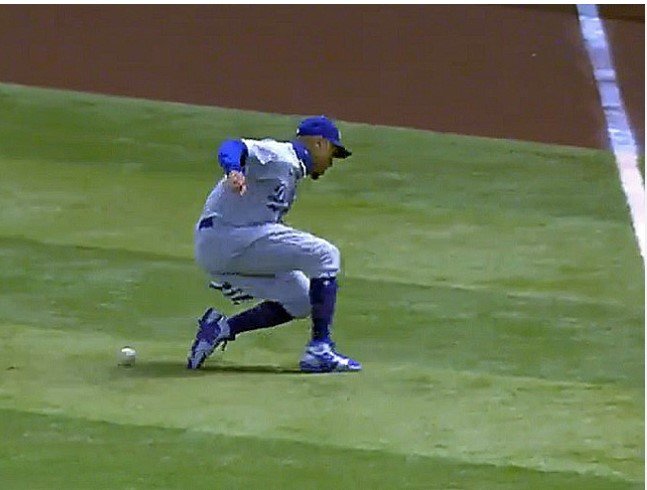 Up here in El Dorado County, we are hunkering in for the storm that is supposed to be bring with it a lot of flooding, and up in the higher elevations, mud slides.  After fires have devastated the region the last 2-3 years, there is no vegetation, creating the hazardous mudslides condition. There were numerous floods in last week's storms, but this storm is due to bring with it more rain in already saturated ground.  The mountains are getting tons of snow.  Friends had their cars buried in Tahoe over the New Year's holiday.  We need it, so there is very little complaining, except for those that have to drive in it.
Enough of my Weather Network reporting, and back to baseball.
It seems now that the LAD roster construction questions have been beat to death, albeit with a lot of unanswered questions that still remain. The focus is now moving to an area where many of us have been harping on for quite some time…run prevention.
The Dodgers have had a reputation as one of the best defensive teams in MLB, but that could also be a result of the shift.  Offensive players may have been hurt by the shift, but the defensive players were the ones that benefitted.  No team benefitted more defensively from the shift than did the LA Dodgers.
Based on https://fieldingbible.com/TeamDefensiveRunsSaved, the Dodgers had the second most defensive runs saved in MLB with 86.  That trailed the MLB leader, NYY, by a rather significant margin.  NYY had 129 DRS.  That is 43 more DRS than the 2nd place LAD.  The study also measured the DRS due to infield positioning.  The Dodgers were first in MLB with 45 DRS from infield positioning.  38 of those DRS was due to positioning from the shift, which also ranked #1 in MLB.
But now the shift is gone, and the Dodgers are going to need to rely more on athleticism than algorithms.  Of course the nerds in the back office will still be generating boat loads of information as to where best to position the infielders, but the team's success will need to rely on the athlete to make the play.
Many of the pundits are now realizing that the Dodgers are taking a 2B with good range and a weak arm, and moving him to SS (Gavin Lux).  A 3B that can make plays hit right at him, but has trouble moving his feet to make plays in the hole (Miguel Vargas).  And a 2B who may have benefitted more from the shift defensively than any other player (Max Muncy).  How many hits into RF will opposing teams have with Freddie holding the runner on 1B and Max having to play both up the middle and in the hole.  That is a lot of ground to cover, and an older Max Muncy does not project well in that role.  How many hits in the hole between SS and 3B because the SS cannot throw the runner out, or the 3B cannot get to the ball.
With the gnashing of teeth over the inability or unwilling desire to pay extortion prices for a SS, and the inability or unwilling desire to get a strong defensive CF  for the last two months, the realization that the Dodgers will have an infield including Miguel Vargas at 3B, Gavin Lux at SS, and Max Muncy at 2B probably puts more trepidation in the LAD pitchers than it does the opposing batters.
I am actually not worried too much about OF defense.  In 2022, defensively, CF produced 0 DRS for the Dodgers, and -2 DRS in LF.  RF generated 16 DRS for LAD.  Mookie is still Mookie, the best defensive RF in MLB.  There is not a lot of drop-off between the defensive prowess of Cody Bellinger and Trayce Thompson.  James Outman and CT3 should be an improvement in LF over Lux, Gallo, Pillar, Alvarez…
DRS by position:
Pitcher: +2
Catcher: +10 (tied for 4th best in MLB)
1B: (-1)
2B: +5
3B: +7 (this is where Max and JT benefitted greatly with the shift)
SS: (-1)
LF: (-2)
CF: 0
RF: +16 (best in MLB)
Infield Positioning:
Outfield Positioning: +5
For all those looking for Bryan Reynolds to be the LAD CF, Pittsburgh had a -16 DRS in CF.  They also had a -20 in RF.  With a +4 DRS due to OF positioning, it seems to be quite telling about the athlete in the OF and their ability (or inability) with run prevention.
It is widely speculated that Pittsburgh will move Reynolds, either now or at the trade deadline.  There is a lot of impetus for teams to get that OF now if they can.  Jim Bowden analyzed 9 trade proposals for Bryan Reynolds from The Athletic subscribers, and the projection for LAD was RHSP Bobby Miller, OF José Ramos, and LHSP Maddux Bruns.  Bowden believed it to be a fair trade and one that both teams could work with.  He did suggest that the Dodgers should counter Ryan Ward instead of Ramos.  If I am AF/BG, I am not about to give up 3 top 14 prospects, including a top 100 RHSP to get Bryan Reynolds.
If the Dodgers cannot get a difference making OF without an overpay, they should stick with Thompson and James Outman as their primary OF.  I like Ian Happ for LF, but it is more likely that he will be made available at the trade deadline.  The Cubs might as well see where they rank in a weak NL Central before moving on from Happ.
Could the Dodgers get Garrett Mitchell from Milwaukee?  The Brewers have a lot OF depth, including CF.
If Max Kepler is available now, he will be at the trade deadline as well.  Same with Jarred Kelenic, Alex Kiriloff, Nick Senzel, and a whole host of mediocre OF that are considered available.  Might as well see what Trayce and Outman can do on the big stage with a reasonable runway.
We will have a clearer picture of the Dodgers position come Friday.  Will they have room to add a player?
2023 is a year of transition for LAD.  It is time to put up or shut up about the value of the Dodgers' top prospects:  Miguel Vargas, James Outman, Michael Busch, Ryan Pepiot, Bobby Miller, and Gavin Stone.  Michael Grove and Andre Jackson are long relief candidates as well as trade package material.  The brain-trust can then re-analyze what their needs will be at the trade deadline.  Will their rookies put up or shut up?
While it is a year of transition, I am hoping that the eyes on run prevention are not blinded.