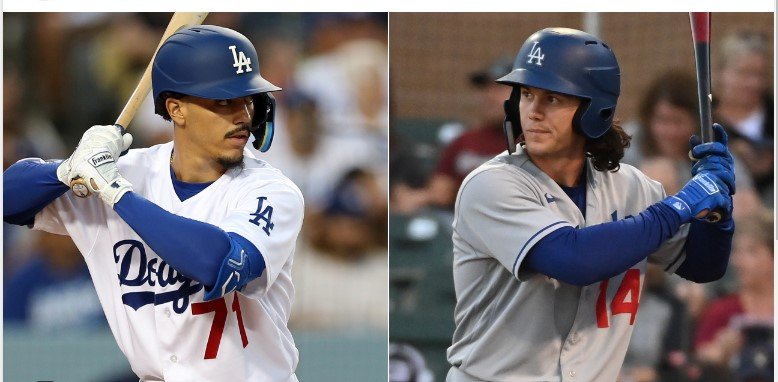 Are the Dodgers prospects over-hyped?  Nobody questions the number of role or platoon players that the Dodgers have put into MLB.  From the first AF draft in 2015, the Dodgers have not had one drafted position player or one International Free Agent (IFA) become an All Star as a Dodger.  Walker Buehler (twice) and Tony Gonsolin (once) have made All Star teams as pitchers.  That is 8 drafts that have produced 2 All Stars for a total of three times.
Admittedly, Will Smith deserved to make the team in 2022, but did not.  Gavin Lux also drew consideration as a 2B, but his chances as an All Star SS are extremely remote at best.  What is the likelihood that Miguel Vargas, Ryan Pepiot, or James Outman get an All Star nod this year?
In that same time frame, the Ned Colletti era produced 5 All Stars:  Clayton Kershaw, Cody Bellinger, Hyun-jin Ryu, Corey Seager and Joc Pederson.  While Paul DePodesta produced 1 (KJ), and Dan Evans produced 1 (Matt Kemp).
I was in the process of writing this article when the Rafael Devers extension took place, but it should not sway from the point.
Xander Bogaerts would have been a free agent at 27 had he not signed a 6 year extension at 26.
Rafael Devers would have been a free agent at 27 had he not signed an 11 year extension at 26.
Carlos Correa was a free agent at 27.
Francisco Lindor and Corey Seager were 28 when they became free agents.
Atlanta lineup includes:
Michael Harris II was 21 when he won 2022 NL ROY.  He had 196 PA in AA and zero PA in AAA.
Vaughn Grissom was 21 years old in his rookie year, 2022.  He played 2B for the injured Ozzie Albies and will now be the starting SS as a 22 year old.  He had 98 AA PA and zero AAA PA.
Ozzie Albies and Ronald Acuña Jr. were 20 year old rookies.
Austin Riley was 22 as a rookie.
William Contreras and Spencer Strider (2nd in NL ROY for 2022) were 23 as rookies.
Contrast those with LAD prospects.
Miguel Vargas will be 23 as a rookie.
James Outman will be 26 as a rookie.
Michael Busch will be 25 in 2023 (AAA or MLB?)
Bobby Miller, Gavin Stone, and Jacob Amaya will be 24 in AAA in 2023.
Michael Grove will be 26 in his rookie year in 2023 (if he sticks with MLB club).
Diego Cartaya will be 21 at AA and Andy Pages will be 22 at AA or AAA.
If this was Atlanta, I would submit that James Outman would be a starting OF.  However, we continue to hear speculation that the Dodgers are looking for a veteran OF.  Why?  Why not tell Outman that the job is his to lose?
Miguel Vargas is not as bad as he displayed in his short tenure with the big league club, and James Outman is not as good as he was in his 16 PA.  They need a clear unobstructed runway to showcase whether they are big league regulars or role/platoon players.
Not one Dodger prospect reached rookie status in 2022.  That is understandable for a team that won 111 games.  But for a team that is looking to get younger and more athletic, I would think that the team could introduce younger players at quicker pace.
Look at what the Braves have done since 2017.
2017 – Ozzie Albies (20) started as a rookie – Braves finished 3rd in NL East
2018 – Ronald Acuña (20) started as a rookie – Braves finished 1st in NL East
2019 – Austin Riley (22) started as a rookie – Braves finished 1st in NL East
2020 – William Contreras (23) started as a rookie – Braves finished 1st in NL East
2021 – No rookies – Braves finished 1st in NL East
2022 – Michael Harris II (21), Vaughn Grissom (21) and Spencer Strider (23) all played prominent roles with the ML Braves – Braves finished first in NL East.
The last time a LAD rookie played a prominent role as a rookie was Cody Bellinger in 2017 and Walker Buehler in 2018..  I am hoping that one, two, or three of Miguel Vargas, James Outman, Ryan Pepiot, Bobby Miller, Gavin Stone, Michael Busch, or Jacob Amaya can change that.   But I have my doubts.
I do plan on discussing the LAD prospects in greater detail, but thus far, only Baseball Prospectus and Prospects Live have published their top prospects lists.   Baseball America has not yet published their LAD Top 30 prospects.  BA has published top 30 for all of the East and Central Division teams, but only Oakland in the West.  It looks like NL West will be the last Division to be reported.
MLB Pipeline, FanGraphs, ESPN, and The Athletic generally publish their lists later.
For the record, it is difficult to criticize what the Dodgers have done over the last ten years, and I will not begin to try. I am grateful for the last ten years of contending. While AF may not have a record of drafting or signing All Stars, he has constructed teams that have the best won-loss record over his reign as President of Baseball Operations for the Los Angeles Dodgers.  It is hard now to realize that the Championship Window could be closing, and that the Clayton Kershaw years may have been squandered.
It is assumed that the Dodgers have enough talent to make the playoffs, but it isn't inconceivable that the Dodgers could miss the playoffs in 2023.  If that happens, it could indicate that the multiple pitchers may have incurred injuries (as many expect), and that the rookies did not put up the production necessary for a playoff team.  If that happens, not only will the playoff streak come to an end, but it could also create doubt as to just how valuable the rookies are, and that the return in future trades will not be there.
I would be very surprised if the Dodgers (as currently constructed) end up with a better record than NYM, Atlanta, or San Diego.  It will then be a battle for the final three playoff spots with St. Louis, Milwaukee, Philadelphia, and LAD.
OTOH, I could also envision a potentially deep LAD rotation will prove to be elite once again, and that two or three rookies take off to become full on regulars in the LAD lineup/rotation.
That is why they play the games.  Winners and losers are not determined by the nerds and their algorithms.  They are played by young men with tremendous baseball skills.  Get to the playoffs, and get hot.  Getting to the WS as a Wild Card team is not as remote as many believe.
This is the year the Dodgers have to reach for that extra effort and cross the finish line.