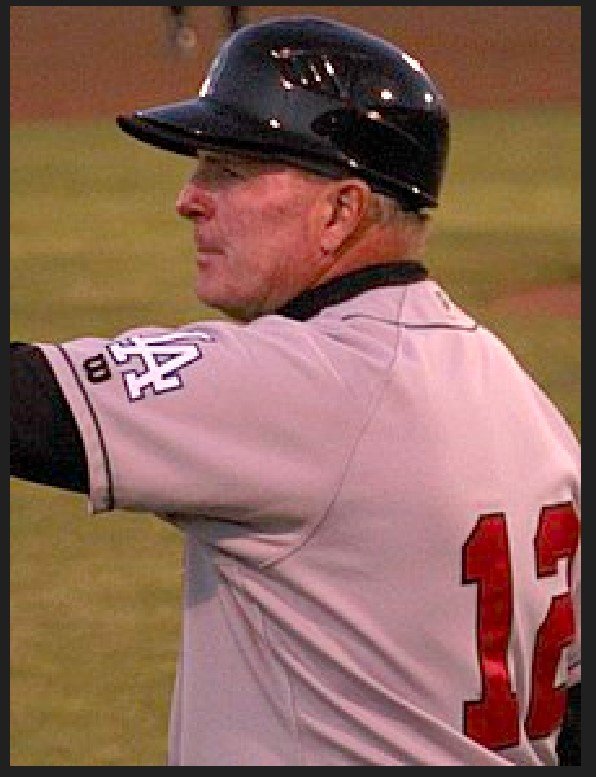 John Shoemaker was born in Chillicothe, Ohio in 19 in August of 1956. He went to Waverly High School and the University of Miami before being drafted by the Dodgers in the 35th round of the 1977 MLB Draft. He was also selected in the 6th round of the 1978 NBA draft by the Chicago Bulls.
He was primarily a second baseman and he played in the Dodger system from 1977-1980 before retiring in 1981 to become a Coach in the Dodger system. He has been with the organization continuously since 1977. Forty-six years.
The Dodgers named him Captain of Player Development in 2015 as recognition of his "continual demonstration of superior teammate behavior."  This according to Gabe Kapler, who was the Dodgers head of player development at the time.
In his time, he has helped 113 players reach the majors, and he is in a position to help many more.  Kershaw, Karros, the Martinez brothers, Kemp, Bellinger and more have at some point been under his influence.
He has held almost every coaching position available in the Dodgers system over stints with Dodger affiliates in 11 different cities. In short, there is no Dodger team he has not influenced in the last 30 years.
He gets kudos from management and former players alike. Joc Pederson said "He is one of a kind, he is a special guy."  From AF, "He cares so much about this organization and shows it everyday."
Now 66 years young, John is going to be managing the Dodgers Class-A Rancho team. Except for a couple of times when he has been an infield instructor or minor league fielding coordinator, he has been managing since 1986. His first few years he was a hitting coach.
Part motivator, part teacher, he excels at nurturing talent wherever possible, be it a blue-chip prospect like Kershaw, who he managed in parts of two seasons at AA Jacksonville, or a 33rd round pick like Steven Cilladi.
You might not know Cilladi, but he is now the bullpen catcher for the Dodgers. He played for Shoemaker at Great Lakes in 2011. Although he only had 29 plate appearances, John noticed his hard work. After one game that season, John gave him a game ball and lauded him in front of his teammates.
Cilladi still has the ball given to him by Shoemaker. Cilladi became a coach at age 25, Shoemaker, a 38th round pick, was coaching in the minors by age 24.
Shoemaker treats his job like it is the most important job in the whole organization. He feels you must do that in order to do it correctly and to impact the organization in a positive way.
He played baseball and basketball at Waverly and was drafted by the Giants in the 26th round in 1974. But he had a basketball scholarship to Miami-Ohio, so he opted to go to college instead.
"If I would have signed with the Giants out of high school, I would have been out of baseball, as my grandmother would say, so fast it would make your head swim. I would not have been ready for pro ball, so I made the right decision."
His slash line in his four years as a pro was not that bad, .282/.394/.314. But he hit one homer in over 1000 at bats and the writing was on the wall, especially when the Dodgers asked him if he would be interested in coaching.
He wasn't going to be promoted to AAA, so he took the job as batting coach at Vero Beach at age 24. He was barely older than some of the players. Having multiple coaches at the minor league level was a novelty back then.
"When I went to Clinton in 1977, we had a manager, a player-coach and a pitching coordinator who came around sometimes. At Lodi in 1978, we had a manager and a player-coach, but no pitching coach."
When he became a coach, multiple coaches were new for the organization.
Stan Wasiak, who managed in the minor leagues for 37 consecutive seasons, was the manager at Vero. But Wasiak had slowed down a lot due to age, so John became the teams Jack-of -all-trades.
He pitched batting practice, hit fungoes, coached first base. It was a chance to learn the ropes at a very young age.
That he got into coaching was not a surprise to former Miami-Ohio teammate, Randy Ayers, a former NBA coach, but what sport he did it in was. "He could have coached basketball and I am surprised he did not." Ayers was quoted as saying.
Both Ayers and Shoemaker had led Miami to a win against Marquette in the 1978 NCAA tournament. Marquette was the defending champion. Both were drafted by the Bulls but neither played in the NBA.
He is one of those who could boast about being drafted by both baseball and basketball professional teams, but that is not his style. "I have talked with him a lot about basketball, but he plays it down, typical John." AF said.
Coaching is in his blood, and he credits his father who coached at Waverly High in basketball and baseball. He is all about family. His dad would drive 6-8 hours with him and then drive back.
He is now what is called the Captain of Player Development and wears a C on his uniform. He won the 2015 Mike Coolbaugh award given annually by the Minor Leagues for the coach who has shown outstanding baseball work ethic, knowledge of the game, and skill mentoring young players.
Shoemaker still dreams of someday making it to the major leagues, but he would only accept such a job with the Dodgers. He is truly a team player.
A majority of his manager experience has come at Class-A or lower. I for one would like to see his loyalty and service awarded at some point with a promotion to the major league staff. He could continue his great work with the kids on that level. John Shoemaker is an unsung hero of the organization, and it is time that he and guys like Stan Wasiak, get their due.