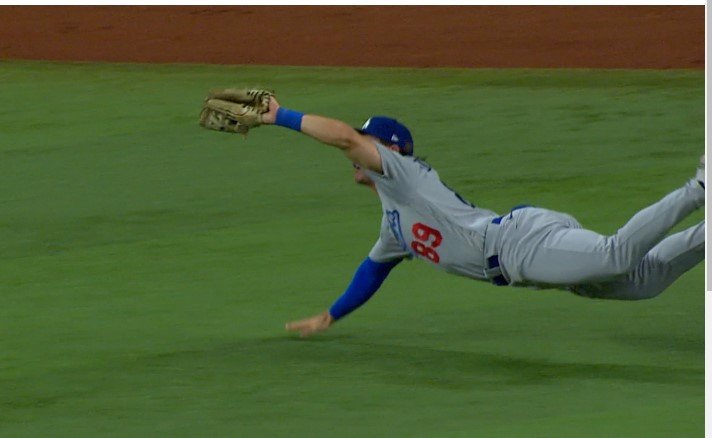 Once again, it was not offense that was a problem. With All Stars aplenty, the Dodgers All Stars out-performed the Texas All Stars.   They did their job and scored 9.  Yonny Hernández got the LAD 2nd sac bunt all year, and in a way led to 3 insurance runs in the 8th.
Tony Gonsolin started and had problems right away in the 1st.  He allowed an oppo 2-run HR to Nathaniel Lowe.  He finished the inning after 25 pitches, and it looked like another short night for Tony and the LAD starting rotation.
It was a 19 pitch 2nd inning, but he got three strikeouts.  Now at 44 pitches, a know there was a concern as to whether Mr. 54 pitches would get out of the 3rd.    At the end of 3.0 IP, Tony was still in with 60 pitches.
Tony was given a 3-2 lead after a 2 run double by Freddie and a run scoring single by JD Martinez.  But a walk, double, and walk loaded the bases with nobody out.  2 SF and the Rangers are back in front 4-3.
Freddie tied it up in the 5th with his 18th HR off Andrew Heaney.  Thanks to these outstanding defensive web gems by Jonny DeLuca, Gonsolin gets out of the 5th still tied at 4-4.
Jonny DeLuca makes his case for the greatest back-to-back catches in MLB history ‼️pic.twitter.com/4WmAbCEiBV

— Blake Harris (@BlakeHHarris) July 22, 2023
https://twitter.com/Bnicklaus7/status/1682564198637895680?s=20
ARE YOU SERIOUS JONNY DELUCA???? WHAT AN INNING IN CENTER FIELD pic.twitter.com/NfQDZbuuiN

— Bruce Kuntz (@Bnicklaus7) July 22, 2023
That is not the first one Jonny DeLuca has brought back.
VIDEO | Jonny DeLuca robs FAU of a home run with a leaping catch at the wall! #GoDucks #SCtop10 pic.twitter.com/HZPxzg4wk4

— Oregon Duck Baseball (@OregonBaseball) March 6, 2018
Jonny's reward?  He gets PH for with James Outman, who singles.
After 5, it turned into a bullpen game, and that should favor LAD.  Alex Vesia was first man up and he gives up a long HR (434 feet) to Corey Seager on a slider that hung, and Seags did not miss it.  After an out, and walk, Doc had seen enough and called on Ryan Brasier to bail Alex out.  After a walk to Josh Jung, Brasier got Jonah Heim to hit into a 4-6-3 DP.
Texas rookie reliever Alex Speas walked two, allowed a flair single to Will Smith. Speas then walked JDM to score a run.  Max Muncy hit a DP ground ball to Seager, but Max's hustle beat the throw to 1B and another run scored, and the Dodgers had a 6-5 lead.
Brusdar Graterol pitched a 1-2-3 7th inning.  The Dodgers opened it up in the 8th.  Miguel Rojas led off with a single.  Yonny Hernández laid down a sac bunt.  Rojas stole 3B, and Mookie drew a BB.  After Freddie struck out, Will Smith doubled home Rojas and Mookie.  JDM then singled home Smith and a 4 run lead.
The bottom of the 8th may turn out to be tough loss for Texas.  With Caleb Ferguson now pitching, Corey Seager had a one out double but came out in what looked like a great deal of pain with what turned out to be a right sprained thumb.  How long will Seager be out?
After two walks to load the bases, Josh Jung lifted a fly ball to Mookie in right.  The runners tagged and Mookie fired the ball home.  Jonah Heim started to run to 3B but saw that the runner did not break for home.  Heim tried to turn and go back, but slipped and was easily doubled off by a throw and tag from Smith to Rojas.
In the 9th, Max Muncy hit a booming double to lead off.  After one out, Miggy Rojas was HBP.   Mookie doubled home both runners.  With Max's and Mookie's doubles, every Dodger hitter had at least 1 hit.
Justin Bruihl pitched a scoreless 9th, and the Dodgers beat Texas in Game 1.  That broke a 6 game winning streak by Texas coming out of the All Star Break.
Dodger All Stars – 7-17, 5 BB, 3 doubles, 1 HR, 10 RBIs, 6 runs. Miguel Rojas had three runs and Yonny had another.
Texas All Stars – 3-14, 5 BB, 1 double, 1 HR, 2 RBI, 3 runs
The Dodgers were 6-17 WRISP, and have now scored 233 2-out runs.
The Dodgers got another 5.0 IP from a starter (92 pitches).  Unfortunately, while the bullpen was effective, it took 5 to close it out.  Each of the 5 pitchers should be able to bounce back on Saturday.
Vesia – 17 pitches
Brasier – 8 pitches
Graterol – 13 pitches
Ferguson – 16 pitches
Bruihl – 14 pitches
Okay, who likes this new celebratory dance.
The vibes are immaculate. pic.twitter.com/ElzdlzdO0a

— Los Angeles Dodgers (@Dodgers) July 22, 2023