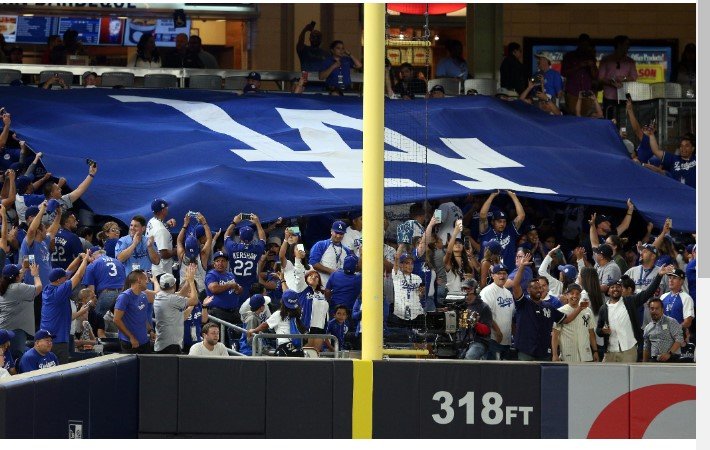 Yep, I believe it is time for the Dodgers to surprise us all again, and this time exceed fans expectations and win the NL West and then defeat the Braves in the playoffs. Why?
Gut feeling I think. This team has had to overcome a lot of injuries and adversity. They are struggling because the payroll took a huge hit and in my eyes, limited a great deal of what they could do in the off season.
Now, no doubt, AF made some astute, and not so astute moves. Heyward and Peralta are finally paying off. The jury is still out on Thor except it looks pretty bad so far.
The team has been hot coming out of the All-Star break. They have won five of seven on the road trip. And it was not an easy landing place coming out of the break. NY, the O's and the Rangers are all pretty decent offensive teams.
I have no clue what they plan on doing at the deadline. I still believe they need at least one good innings eating pitcher. Otherwise the bullpen is going to be shot by playoff time.
But I believe even as constructed, they are going to be a handful for any team to handle, especially the closer it gets to playoff time.
Dodgers On A Roll At The Right Time?  Part 2 (Jeff Dominique)
The Dodgers are indeed on a roll.  The Dodgers are at the tail end of what was considered to be a difficult 3 city, 9 road game stretch. Eight games in, the Dodgers are 6-2.  They have scored 60 runs with a run differential of +34 in those 8 games.  That is an average of 7.5 runs per game.
But it isn't just these 8 games  Since the embarrassing loss to KC on Sunday July 2, the Dodgers are 11-3, scoring 104 runs with a run differential of 52.  They have scored twice as many runs as they have allowed.  For those 14 games, they are averaging 7.4 runs per game.
On July 9, the Dodgers were 0.5 games behind Arizona in 2nd place.  They were ahead of San Francisco by 3 games and San Diego by 9.0 games.  Going into today's finale, the Dodgers are 4.0 games ahead of both Arizona and San Francisco and 10.0 games ahead of San Diego.
Things are a little different now than they were on July 1 when they were 3.0 games behind Arizona.  First, I am not advocating this.  But I do believe that the Dodgers will be less involved in the trade market than is being suggested.  I think they will end up with 1 SP and 1 RP, and no RH bat.  Right or wrong, the Dodgers are loyal, and I do  believe they are going to hitch up their wagon to the horses that they started the season with.
First the RH bat.  The Dodgers are fiercely loyal to their players, and probably to a fault.  Trayce Thompson is the player they wanted as their starting CF when the season began.  As we all painfully recall, from April 19, TT went 21 games, 47 PA and 39 hitless AB before going 3-3 with a walk on May 28.
Thompson went 1-3 his next game and 0-1 in his last game, June 3  He went on the IL with an oblique strain.  On Friday night, Thompson was in Arizona on a rehab assignment.  He went 2-5 with an RBI and NO STRIKEOUTS.  Yes it is rookie league, so I am not going to get overly excited (or even remotely excited).  But I also have no doubt that Trayce Thompson is a RH bat and one that the Dodgers' management trusts.  More than Tyler O'Neill or Dylan Carlson or Mark Canha or Tommy Pham.  Pham may in fact be a better hitter (and he is), but is he a better teammate?  Thompson has another week before the deadline to show if he is healthy. He will probably get some game time at OKC.   If he is, I am convinced AF/BG consider him their RH bat.
Miguel Vargas and Jonny DeLuca are also readily available.  Also, Devin Mann and Hunter Feduccia are RH bats that could be utilized.  I do not see the Dodgers going big for a rental RH bat.
Starting pitcher:
Again not advocating it, but another player who started the season with LAD and was counted on by management is Noah Syndergaard.  Syndergaard pitched a good five innings at OKC in his second rehab assignment. He will undoubtedly get another start (or two) at AAA to see if he can get past 5.0 IP.  He still has problems with holding runners on, and I think that was a mistake by management to not consider, especially with the new rules.  Also one that will not be remedied this year.  But Syndergaard is a better option than Gavin Stone and Ryan Pepiot (right now).  He is a better option than Jack Flaherty.  I think the Dodgers go for one playoff caliber starter and hope that Syndergaard can be productive.  Or will they go for two?
Bobby Miller pitched very well against a top offensive team, Texas, and deserves consideration for a playoff rotation spot.  Emmet Sheehan and Michael Grove are good relief possibilities.  I do not think the Dodgers can take the chance that all will stay healthy, and they are going to need pitching.
07-220-2023 – MiLB Game Summary Report
OKC Dodgers 2 – El Paso Chihuahuas (San Diego) 1
Matt Andriese pitched 5.0 shutout innings on 1 hit,  Two relievers pitched 2.0 innings each with Justin Hagenman surrendering a solo HR for El Paso's one run.
Key Performers:
David Dahl – 3-3, 1 RBI, 2 doubles (13)
Kole Calhoun – 2-4, double (10)
Miguel Vargas – double (2)
David Dahl finished with a game-high three hits, going 3-for-3 with two doubles and a RBI. He has hit safely in seven of his last eight games, going 10-for-29 with five doubles and a homer.
Kole Calhoun went 2-for-4 with a double, triple and run scored. He has hit safely in five straight games, going 7-for-21 (.333) with four extra-base hits.
NW Arkansas Naturals (KC) 5 – Tulsa Drillers 1
Tulsa was shutout for 7.2 innings before José Ramos singled home Brandon Lewis who had doubled (8) and moved to 3rd on a ground out.
River Ryan started and allowed 3 runs in his 4.0 IP, 5 hits, 2 BB, 3 K.
Key Performers:
Lansing Lugnuts (A's) 2 – Great Lakes Loons 1
Two unearned runs by Lansing held up as Great Lakes was able to score only one run.   No Tulsa hitter had more than 1 hit, and only Chris Newell had an XBH, double (8).
Lake Elsinore Storm (San Diego) 22 – Rancho Cucamonga Quakes 4
Two nights after losing 18-0, RC was destroyed by 18 again.  RC actually closed the score to 5-4 after 4 innings.  However, Lake Elsinore score an unanswered 17 runs to put an exclamation point on the rout.  RC pitchers gave up 16 hits, 10 BB, 2 HBP, and an error.
Jorge Puerta had 2 of the RC 4 hits.  Dayton Dooney hit his 2nd triple.
NICK FRASSO
On Friday night, Frasso completed 5.0 IP for the first game since April 25.  He allowed 1 run on 4 hits, 0 BB, and 6 K.  Looking forward to Nick finishing the season strong.