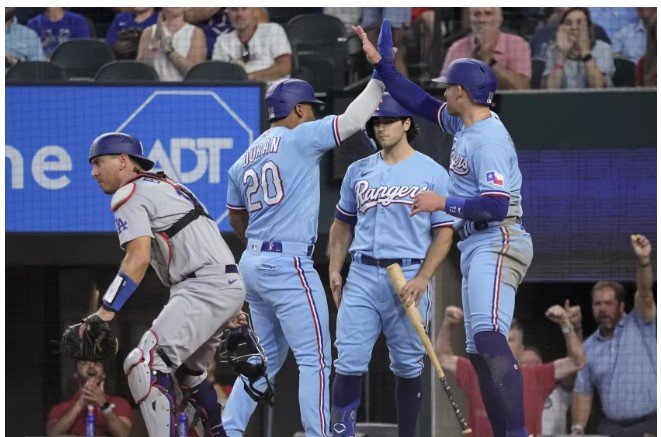 For the third straight series the Dodgers won the first two and needed to win the finale for a sweep.  In all three series, LAD came up short.  Against Texas, without Corey Seager and Adolis Garcia, the Rangers took advantage of Emmet Sheehan's lack of both command and control.  Sheehan walked five, and all five scored.  Sheehan also did not miss much of the plate with his pitches when they were strikes.  That was especially true with 0-2 pitches.
Emmet Sheehan looked very much like a AA pitcher against a MLB team.
The Dodgers are coming home with a 6-3 record on a tough 9 game trip, and are 4.0 games ahead of both Arizona and San Francisco, and 10.0 games ahead of San Diego.  San Diego is 6.0 games behind both Arizona and San Francisco for the final WC team.  Cincinnati is 6.5 games ahead of San Diego in the #1 WC seeding.  Philadelphia and Miami are 0.5 games behind Arizona and San Francisco in the Wild Card chase.
San Diego finds themselves with 5 teams ahead of them for a Wild Card.  Per FanGraphs, their reaching the playoff odds are 35.2%.  They have 7 games before the trade deadline.  They are at home vs. Pittsburgh for three and Texas for three.  They are on the road against Colorado the day before the trade deadline.
There were good and bad outcomes on this trip.  First the bad.  On this 9-game trip, the starting pitchers threw 44.2 IP or an average of less than 5.0 innings per start.  Their ERA over those 9 games is 6.04.
The good.  The bullpen threw 36.1 innings and allowed 3 earned runs for a 0.74 ERA.  A couple of those starters ERA got out of control because it was clear they did not have much from the 1st inning, but the bullpen was already taxed enough so they were left out on the bump.  This makes it somewhat of a mixed bag, but mostly positive.  The Dodgers are just going to need to rely on bullpen depth and the ability to move pitchers in and out of OKC.
The good.  The Dodgers scored 64 runs in the 9 games.  That is an average of 7.1 runs per game.  Only twice did the team score less than 5 runs.  2-1 loss to NYM in 10 innings, and 8-4 loss to Texas.
On the season, when the Dodgers score 4 or more runs, they are 51-19.
0-3 runs – 6-22
4-7 runs – 26-14
8 or more runs – 25-5
I am not in the camp that the Dodgers need a RH bat.  Could they use one?  Sure.  IMO it is the starting pitching situation that needs to be addressed first.
Per ESPN Splits, the Dodgers splits are:
vs LHP – .228/.325/.454/.779 – 851 AB + 114 BB = 965 (26%)
vs RHP – .254/.340/.458/.797 – 2,448 AB + 298 = 2,746 (74%)
As of this post, the teams that are probably out of the playoff picture (5.0 Games or more out of the WC or Division leader) are:
San Diego
Colorado
NYM
Washington
Cubs
Louis
Pittsburgh
Detroit
CWS
KC
Oakland
RHH outfielders from these teams:
Randal Grichuk – Colorado (rental)
Jurickson Profar – Colorado (rental)
Kris Bryant – Colorado (5 years $131MM after 2023)
Mark Canha – NYM (rental)
Tommy Pham – NYM (rental)
Lane Thomas – Washington (2 years, arbitration after 2023)
Alex Call – (5 years control after 2023)
Seiya Suzuki – Cubs (3 years $59MM after 2023)
Tyler O'Neill – Cardinals (1 year arbitration after 2023)
Dylan Carlson – Cardinals (3 years arbitration after 2023)
Connor Joe – Pittsburgh (4 years arbitration after 2023)
Matt Vierling – Detroit (1 year pre-arb + 3 years arbitration after 2023)
Drew Waters – KC (2 years pre-arb + 3 years arbitration after 2023)
Brent Rooker – Oakland (1 year pre-arb + 3 years arbitration after 2023)
Of course I eliminated multiple RH hitting OF that will not be moved:  Jordan Walker (St. Louis), Luis Robert Jr. (CWS), Ian Happ (Cubs), Andrew McCutchen (Pittsburgh), Fernando Tatis Jr. (San Diego).  KC is extremely unlikely to trade Drew Waters, but I still included him above.
There are four rental RH hitting outfielders:  Grichuk, Profar, Canha, Pham.  Maybe Bear can provide a better trade update, but I cannot remember the last time Colorado ever traded with LAD.  They certainly had the opportunity to do so with Arenado, and LAD could have certainly given a better package.  It has been reported that Pham has worn out his welcome in multiple cities.  That would leave Mark Canha.  Is he really an upgrade?
Many of the above are not desirable by the Dodgers.  It is seemingly less likely that Lane Thomas will be moved (not absolute).  Brent Rooker is hitting .202/.283/.365/.649 since April.  Other OF with multiple years control will cost more prospect capital that AF/BG may want to spend, especially knowing they need SP more than any other position.
You want a RH bat, those are your options without an unknown surprise.  The bat has to be a better option than Jonny Deluca and Miguel Vargas.
Starting pitching:
Rentals
Lucas Giolito
Jordan Montgomery
Jack Flaherty
Lance Lynn
James Paxton
Michael Lorenzen
Kyle Hendricks
Blake Snell
Rich Hill
Mike Clevinger
Marcus Stroman (If he opts out as expected)
Eduardo Rodriguez (if he opts out as expected)
Does anyone truly believe San Diego would trade Blake Snell to LAD without a vastly significant overpay?  Will Seattle bring him home?
What prospects is AF/BG willing to cough up for rental SP?  As an example, there is speculation that Baltimore could trade for St. Louis' LHSP, Jordan Montgomery.  The reported cost is Baltimore's #11 prospect, 23 year old LHP,  Cade Povich, a big strikeout AA pitcher (115 K in 76.1 IP), and their #12 prospect, 21 year old 3B, Max Wagner, 2022 2nd round pick.  I have linked their MiLB stats page for reference.
Baltimore's farm system is rated #1 overall, so these two prospects would be rated higher in most systems.  For comparison purposes, the Dodgers #11 and #12 prospects are 24 year old RHP, River Ryan, and 22 year old 2B/3B, Jorbit Vivas.  Ryan is not the strikeout pitcher that Povich is, but he does have better numbers all around.  And he is still learning how to pitch.  His ceiling is considered as a mid-rotation SP.
Jorbit Vivas is having a surprisingly good year at AA.  He continues to showcase outstanding bat to ball skills, but considered to have very little power.  Regardless, he has 10 HRs and 20 doubles this year.  He still has excellent bat to ball skills and plate discipline/pitch recognition.  38 BB vs 40 K.  He has good hands, but limited range as a 2B, but his bat to ball skills could see him there as a MLB player.  Probably more as a utility infielder, but he should reach MLB.  Probably not at their level, but think more like Adam Frazier, Daniel Murphy, and Nick Madrigal as a hit first 2B.
I may be biased (okay I am), but IMO, even if Baltimore's system is considered superior, the Dodgers #11 and #12, are better prospects than Baltimore's #11 and #12.  I would do that deal of River Ryan and Jorbit Vivas for Jordan Montgomery.  With the LAD system, both prospects are expendable.
The Dodgers have the necessary prospect capital to pick up two starters.  Will they?  What will distinguish the starter options?  Will they pass on a proven mid-rotation starter because they did not want to include a specific prospect?  Will they give additional consideration to Southern California prospects for potential extension?  Lucas Giolito, Jack Flaherty, Michael Lorenzen, Kyle Hendricks.
Or will they try and go bigger with more MLB ready prospects or already with MLB experience?
Next up 3 at home against Toronto:
José Berríos (RHP) vs Michael Grove
Chris Bassitt (RHP) vs Julio Urías
Yusei Kikuchi (LHP) vs Tony Gonsolin
Then Cincinnati:
Brandon Williamson (LHP) vs TBD
Luke Weaver (RHP) vs TBD
Graham Ashcraft (RHP) vs TBD
07-23-2023 – MiLB Summary Game Reports
OKC Dodgers 5 – El Paso Chihuahuas (San Diego) 3
Gavin Stone got back in the win column.  He started and completed 5.0 innings allowing 3 runs (2 earned) on 5 hits, 1 BB, 5 Ks.  He threw 74 pitches (48 strikes).  It was not stellar, but it was serviceable in the hitter friendly PCL.  The offense was supplied by Michael Busch and a pair of 2 run HRs.
Key Performers:
Michael Busch – 3-3, 1 BB, 2 runs, 4 RBI, 2 HR (15)
Drew Avans – 2-4, 2 runs, double (17), triple (2)
Kole Calhoun – 2-4
Devin Mann – 1-3, 1 BB, double (League Leading 33)
NW Arkansas Naturals (KC) 9 – Tulsa Driller 8
Kyle Hurt started and pitched a decent 5.0 innings.  He allowed 2 runs on 2 hits and 2 BB, with 7 K.  Kyle now has 105 Ks in 61.1 IP against 26 BB.  That is right at 4:1.  Three pitchers surrendered 6 runs in the 6th and 7th innings to give NWA the lead.  After tying the game in the 8th, NWA walked it off in the 9th with a triple and single.
Key Performers:
Jorbit Vivas – 3-4, 3 Runs, 1 RBI
José Ramos – 2-4, 1 run, 5 RBI, HR (17)
Ismael Alcantara – 2-5, 1 run, 1 RBI, HR (1), double (2)
Doubles – Austin Gauthier (9), Diego Cartaya (9), Yusniel Diaz (10)
Great Lakes Loons 5 – Lansing Lugnuts (A's) 3
Justin Wrobleski was only able to go 3.1 innings.  He allowed 3 run (2 earned) on 5 hits, including two solo HRs.  Justin was relieved by 5 pitchers who navigated the final 5.2 scoreless and hitless innings.  They did have 3 BB and 6 K.  Benony Robles registered his 10th save.
Key Performers:
Taylor Young – 2-5 1 run
Luis Yanel Diaz – 2-4, 1 RBI
Chris Newell – 1-4, 1 run, 2 RBI, HR (7)
Lake Elsinore Storm (San Diego) 9 – Rancho Cucamonga Quakes 8
Rancho had an 8-3 lead going into the 7th.  A run in the 7th and 5 in the 8th sealed the loss for the Quakes.  RC was 4-21 WRISP.
Key Performers:
Thayron Liranzo – 4-5, 2 runs, 1 RBI, 1 BB, 2 doubles (10)
Luis Guerra – 3-4, 1 run, 1 RBI, 2 doubles (6)
Jorge Puerta – 2-4, 2 runs, 1 RBI, 1 BB, double (16)
Simon Reid – 2-4, 1 run, 4 RBI, 2 doubles (9)
Rayne Doncon – double (18)