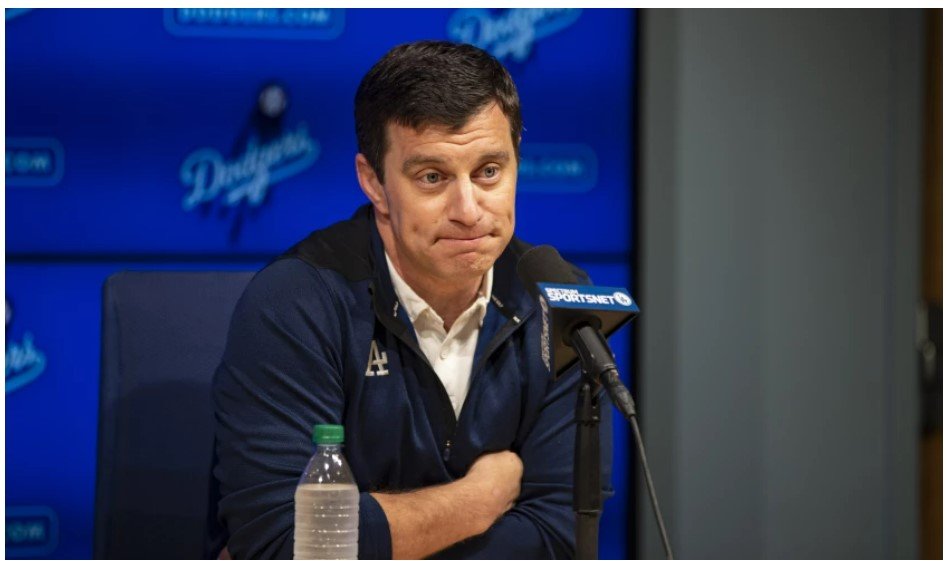 We go through this every deadline and Winter.  Yesterday, one of our commenters said that he was not impressed with AF's trade deadline history.  I know he is not alone, and I certainly respect his and the other's opinion.   Apparently to some, unless a baseball executive hits 100% on trades, they are in fact nothing special.  We can all point to the ones that did not pan out IN RETROSPECT.  But how many said before hand that they were bad trades.  No Bear, I am not talking about Tyler White and Jedd Gyorko.  And then again define a bad trade.  Trades at the deadline are made to put the team in the best possible situation to win that year.  The cost is generally a prospect whose future is ahead. Prospects are just that…prospects.  There are no guarantees they will be productive or busts, just like there are no guarantees that the trade will lead to a WS.
Here are the deadline trades made during the AF era.
2015 – LHP Alex Wood (Atlanta) and 2B Jose Peraza (Atlanta) and Mike Morse, Jim Johnson, Bronson Arroyo, Luis Avilan, and Mat Latos from the Braves and Marlins, while giving up Hector Olivera, Paco Rodriguez, and Zach Bird.  So really, Alex Wood and Luis Avilan.
2016 – LHSP Rich Hill (Oakland) and OF Josh Riddick (Oakland) for RHP Grant Holmes, RHP Frankie Montas, RHP Jharel Cotton.
2016 – RHRP Josh Fields (Texas) for Yordan Alvarez (the one everyone talks about but nobody ever heard of before the trade).  Judge trades AT THE TIME OF THE TRADE not after.  If you complained about what a mistake it was at the time of the trade, congratulations.  You should be in a MLB GM's office giving player advice.  Alvarez had exactly ZERO PA while in the LAD organization.
2017 – RHSP Yu Darvish (Texas) for Willie Calhoun, AJ Alexy, and Brandon Dixon.
2017 – LHRP Tony Watson (Pittsburgh) for IF Oneil Cruz and RHP Angel German.
2017 – LHRP Tony Cingrani (Cincinnati) for 1B/OF Scott Van Slyke and minor league catcher Hendrik Clementina.
2017 (Waiver Wire) – OF Curtis Granderson (NYM) for RHRP Jacob Rhame.  Curtis did not produce on the field, but his presence in the clubhouse was immeasurable.  Curtis Granderson is one of the great human beings.
2018 – Manny Machado (Baltimore) for OF Yusniel Diaz, RHP Dean Kremer, RHRP Zach Pop, 3B Rylan Bannon, INF Breyvic Valera.
Yusniel Diaz back with Dodgers in AA.
Dean Kremer still with Baltimore in their rotation
Zach Pop – Toronto AAA
Rylan Bannon – Houston AAA
Breyvic Valera – Out of baseball
2018 – RHRP John Axford (Toronto) for AAA RHRP Corey Copping
2018 – Brian Dozier (Minnesota) for 2B Logan Forsythe, OF Luke Raley and LHP Devin Smeltzer
2018 (Waiver Wire) – David Freese (Pittsburgh) for DSL INF Jesus Valdez – Best supplemental trade deadline transaction for AF
2019 – LHRP Adam Kolarek (Tampa Bay) for A+ OF Niko Hulsizer
2019 – INF Jedd Gyorko (St. Louis) for DSL RHP Jeffry Abreu and LHRP Tony Cingrani.
2019 – 1B/DH Tyler White (Houston) for AA RHRP Andre Scrubb
2019 – Utility Kristopher Negrón (Seattle) for MiLB Utility INF Daniel Castro
2020 – MiLB RHP Kendall Williams and MiLB 1B/DH Ryan Noda for RHP Ross Stripling
2021 – RHSP Max Scherzer (Washington) and SS Trea Turner (Washington) for C Keibert Ruiz and RHSP Josiah Gray
2021 – RHSP Danny Duffy (KC) for cash considerations
2021 – OF Billy McKinney (NYM) for AA OF Carlos Rincón
2022 – OF Joey Gallo (NYY) for AA RHSP Clayton Beeter
2022 – RHRP Chris Martin (Cubs) for utility Zach McKinstry
2022 – DSL OF prospect German Tapia (Tampa Bay) for RHRP Garrett Cleavinger
2022 – Cash consideration (Seattle) for 3B/1B/LF Jake Lamb (Really sending Jake Lamb home to Seattle)
2022 – RHP Nick Frasso and DSL LHP Moises Brito for RHP Mitch White and AA 3B Alex De Jesus.
A mixed bag of results.  Mostly positive.  How many GMs/President of Baseball Operations do not make mistakes?  Name me one.  The Dodgers do not stay on top as long as they have unless the guy pulling the strings makes a lot more positive deals than he does negative deals, especially where the Dodgers draft.
Let's get the least favorite out of the way.  Yordan Álvarez was nobody.  When baseball people were talking about the Dodgers' Álvarez, they thought it was Yadier Álvarez.  The Dodgers knew Houston wanted Álvarez, and Houston had a reliever the Dodgers wanted. The deal was made.  Álvarez did not have one PA outside of his 2014-15 year in Cuba until he played in the DSL for Houston.
Secondly, who is to say that Alvarez would have been the same player in the LAD organization.  Maybe yes. Maybe no.  But…
Josh Fields –
2016 – 19.1 IP, 2.79 ERA, 3.61 FIP, 1.448 WHIP, 1-0, 2 holds
2017 – 57.0 IP, 2.84 ERA, 4.18 FIP, 0.965 WHIP, 5-0, 2 Sv, 3 BSv, 15 holds
2018 – 41.0 IP, 2.20 ERA, 3.62 FIP, 0.951 WHIP, 2-2, 2 Sv, 1 BSv, 8 holds
Fields did not allow any inherited runners (13) to score after June 10, 2017.
Fields was not the closer (Kenley Jansen) or primary setup:
2016 – Joe Blanton and Pedro Baez
2017 – Pedro Baez, Brandon Morrow (after June 1), Tony Watson and Tony Cingrani (after trade deadline)
2018 – Pedro Baez and Scott Alexander
The Dodgers are looking for relief help this deadline, and would gladly take a pitcher with those metrics.  Fields was not a problem.  He just was not what Yordan Álvarez turned out to be.
For all those that can see that well into the future, please let us all know who the next 3 WS champs are so we can make bank on those bets.
Now to the other significant trades:
2016 – Rich Hill and Josh Reddick – Hill started 6 games after the trade.  34.1 IP, 1.83 ERA.  He shutout the Cubs in the 2016 NLCS Game 3 for 6.0 innings.  Reddick did not do much during the season (they did not need him), but was one of the top three hitters for LAD in the playoffs.  JT, Andrew Toles, and Josh Reddick were the top 3 bats for the Dodgers in the 2016 playoffs.
The cost was high.  Three top 10 pitching prospects.  Grant Holmes (#4), Frankie Montas (#5), and Jharel Cotton (#9).  Holmes has not yet pitched at the MLB level.  He is now a RHRP with Atlanta in AAA after being released by Oakland.  Cotton pitched 232 MLB innings to a 5.16 ERA.  He last pitched for SF before being outrighted, which Cotton refused and became a free agent.
2017 – Yu Darvish – 9 starts with the Dodgers, 49.2 IP, 3.44 ERA.  Two very good starts in the NLDS and NLCS.  Unfortunately, Darvish was the first recipient to the Astros cheating in the WS (Game 3).  He was snake bit, and should never have started Game 7.  That should have been a Kershaw/Wood combo.  Like most LAD prospects, Willie Calhoun (#4), Brendon Davis (#27), and AJ Alexy (#30), have all played at the MLB level, but none have distinguished themselves as regulars.  Calhoun is with NYY roster on a AA rehab assignment.  Davis is with Detroit AAA.  Alexy is in Independent League.
2017 – Tony Watson – Was an integral part of the LAD bullpen with KJ, Brandon Morrow, Pedro Baez, Josh Fields, and Tony Cingrani.  He was not the lockdown reliever he was with Pittsburgh, but he was productive.  24 games, 20.0 IP, 2.7 ERA.  12 inherited runners and 3 scored.  He was also effective in the playoffs.  He was in 11 games, 7.0 IP, 2.57 ERA, 3 inherited runners, 0 scored.
The cost was Oneil Cruz.  He might become a big time player, but he isn't yet.  He will probably not stick at SS as he is considered a well below average defender, but has a ++ arm.   Ke'Bryan Hayes is at 3B.  Cruz into RF?  Does he have the SLG to be a corner OF.  Just because a prospect is top 100 prospect, does not mean they will become a regular much less a star.  Maybe Cruz will.  Maybe not.
Darvish, Watson, and Cingrani were great deadline additions, and should have been WS champions if it were not for the Cheaters.
2018 – Manny Machado – While he was not what he was at Baltimore or what he is now with San Diego, the Dodgers were at best a Wild Card team without him.  Then who knows.  The return for Machado was listed above.  Which one of them outside of Dean Kremer have established themselves.
2021 – While Max Scherzer and Trea Turner did not bring a WS championship, I doubt they get to NLCS without them.  That was SF year and Max was huge in getting past them.  Yes, Keibert Ruiz and Josiah Gray will be part of the next resurrection of the Nationals, but they were both blocked in LAD, and the Dodgers got players that could get them across the finish line.  They just didn't get it done.  But the trade was necessary.
2022 – Chris Martin for Zach McKinstry.  Martin was as much of a stopper in the pen as the Dodgers had.  Sure McKinstry was having a resurrection in Detroit, but his June brought him down to a more expectant level.
2022 – Nick Frasso and Moises Brito for Mitch White and Alex De Jesus has a chance to become a steal.
Outside of David Freese, it was the supplemental deals that did not pay off as hoped.  But the cost was so insignificant.
2023 – Hits – Jason Heyward, David Peralta, JD Martinez, Clayton Kershaw, Shelby Miller.  Misses – Noah Syndergaard.
AF will be the first to tell you that he has not always made the right trades or may have missed out on some.  Since nobody here knows what AF's trade offers have been for specific players that did not go through, we cannot truly judge what he missed out on.
IMO the Dodgers have not been in first place as much as they have been since 2015 without him.  I judge winning as winning the NL pennant and getting to the World Series.  AF has seen the Dodgers reach the WS three times in 8 tries, winning 1 (should have been 2). If you judge winning as just getting to the playoffs, he has done that every year. What other team has done that over the last 8 championship seasons. I think he has proven himself.  I am happy he is the Dodgers PBO.  For those who disagree, who do you think is better?