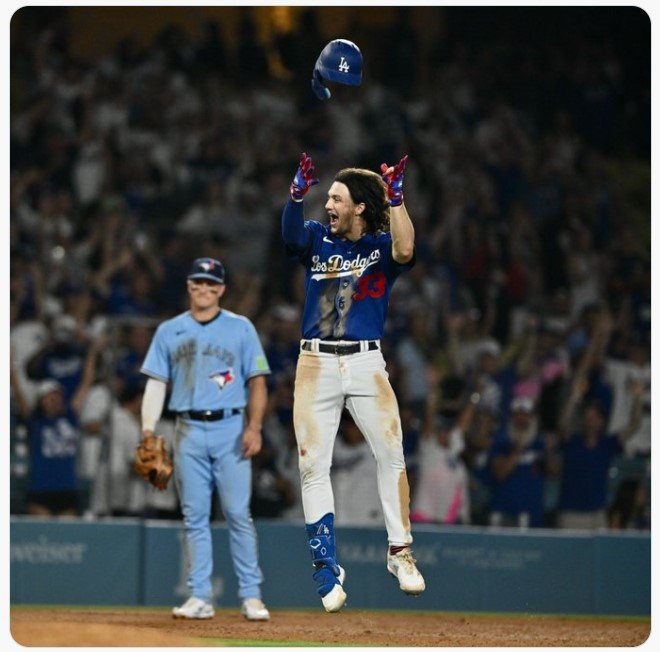 This one could be a season changer.  It was a wild win.  Will Smith proved to be a hero both with his legs and with his glove.  James Outman 3-3 including walk off run scoring double in the 10th.
Justin Bruihl had just opened the flood gates in the top of the 9th.  With one out, he walked two followed by a single to load the bases. Danny Jensen then hit a bases clearing double to give Toronto what was seemingly an insurmountable lead.
But on this night, it was the Dodgers who got off the mat and provided 9th and 10th inning magic to somehow, some way come out with an 8-7 victory.
This game started 3 hours and 26 minutes earlier, and it took one pitch for Toronto to get a runner on 2nd with a Whit Merrifield double.  Next batter, Bo Bichette singled and Merrifield moved to 3rd.  He scored on a Brandon Belt sac fly.  He did give up a 2 run HR to Bichette in the 3rd.
Julio did not have his best stuff, but he did grind it out to get thru 6 innings and 104 pitches.  The team needed Julio to go 6.0 innings and getting a quality start.
Freddie hit a solo HR in the bottom of the 1st to tie the score at 1-1.  The bottom of the order loaded the bases with 2 outs in the 2nd, but Mookie hit the 1st pitch into a 6-3 ground out.
After Bichette's HR in the 3rd, the Dodgers climbed a bit closer.  Freddie led off with a BB and Will Smith doubled him to 3rd.  Max Muncy hit a sac fly to get the Dodgers within 1.
After Yency Almonte put together a perfect 7th, Caleb Ferguson came in to relieve in the 8th.  He walked the leadoff batter after his 3rd pitch strike was called a ball.  Fergie seemed to lose focus after that with a visual WOW on the call.  Instead of 1-2, it was 2-1 and he walked Chapman.
Ferguson then induced a ground ball that Muncy played into a double.  Maybe I am being too critical, but that is a play that should have been made.  It wasn't hit hard (92 MPH) and really was not right down the line  The ball never did get into foul territory.  He tried to slide to make the backhand play.  Even the announcers said that he probably should have dove to at least knock it down and hold it to a single.   As long as Max's bat continues, we are going to need to live with plays that could/should be made.  Again, maybe I am seeing something that wasn't there.
Ferguson got out of the inning without any further damage.
Now down 4-2 in the 8th, JDM slugged his 25th HR of the season, and the Dodgers were back within 1.
Bruihl then seem to implode with his lack of control.  After one out in the 9th, 2 walks, a single, a bases clearing double and Toronto had a 4 run lead.  But Jordan Romano was not available on this night, and Toronto called on Erik Swanson.  Swanson had 7 scoreless appearances before last night's game.
James Outman had reached base in each of his 3 previous PA: 2 walks and a single.  He led off the 9th innocently enough with a single.  Miguel Rojas had an infield single in the hole between 3rd and SS.  Mookie lined a single into LF to plate Outman.  But they were still a long way from turning this one around.
Freddie hit a fly ball to Daulton Varsho in LF for the 1st out.  Will Smith then hit hard ball to platinum 3B Matt Chapman.  It took a crazy hop and Chapman could not handle it and Smith reached 1B.  It was ruled a single, Smith's 2nd hit of the night.  Now it was getting interesting.
The bases were loaded and Max Muncy stepped up with a chance to end it.  He actually induced a 3-2 BB.  They were clearly balls, but with CB Bucknor calling balls and strikes, nobody knew what he would call.  The walk brought home Rojas, and the Dodgers were within 2, and they now had the tying run at the 2B.
JDM struck out and CT3 was coming to the plate.  He hit a ground ball that was headed to RF, but Vlad Guerrero Jr. knocked it down and Santiago Espinal did not pick it up cleanly and did not see Will Smith racing home right away.  Smith got a great secondary lead from 2nd base and never quit running.  He saw Dino waving him home, he put his head down and did not see him later holding him up.  Smith ran through the hold sign and actually scored easily.
Smith got a great secondary lead from 2nd base and never quit running.  He saw Dino waving him home, he put his head down and did not see him holding him.
CHRIS TAYLOR TIES IT IN THE NINTH pic.twitter.com/QsukLNIoqX

— Talkin' Baseball (@TalkinBaseball_) July 26, 2023
Max got caught too far off 2B, and was thrown out trying to get back.  He was originally ruled safe.  The Blue Jays had already challenged a play, and they did not get the reversal so they should not have been able to get a replay review.  However, there was in fact a replay review, but it was considered a crew chief replay.  Why?  We all saw someone in the Blue Jays dugout on the phone that determined that a review should be made…If they had one.
That was not the last of the crazy crew chief replay reviews.
In the top of the 10th with Brusdar Graterol on the bump and Kevin Kiermaier on 2nd.  Varsho struck out for the first out.  Bo Bichette followed with his 4th hit of the night on a ball hit to Mookie in right.  Kiermaier raced for home.  Mookie's throw was offline (1B side).  Smith caught the throw and dove at Kiermaier as he was attempting to score.  Bucknor had to wait to see if Smith still had the ball, and when he saw it in the glove, called Kiermaier out.
Mookie started the game at 2nd, had a huge hit in the 9th, then this! Give Will Smith all the credit in the world! Enjoy…Again! #dodgers pic.twitter.com/whgn09v0JH

— Dodgers Daily (@dodger_daily) July 26, 2023
Again there was the Blue Jay on the phone in the dugout, and we shortly learned that the crew chief was calling for a review of the out call and for blocking the plate.  How does Toronto get another shot  at replay review and get it called as umpire review.  And how could anyone conceivably consider Smith blocking the plate when he had to go from the first base side to make the catch, dive back across the plate and tag the runner.
The call was upheld as Kiermaier being out, and of course there was no blocking of the plate.  George Springer followed with a soft line drive to Yonny Hernández, and the inning was over with the score still tied.
With former LAD pitcher Mitch White on the mound, and Chris Taylor starting at 2nd, Yonny tried to bunt him over to 3rd.  Instead, he bunted a soft line drive that Matt Chapman dove for and made the catch.  On a 1-1 slider, James Outman hit a long fly to CF that went off the top of the wall and CT3 raced home with the winning run.
James Outman is HIM ….. what a roller coaster year, but we love the ride!
pic.twitter.com/UJ88tei7rS

— Dodgers Nation (@DodgersNation) July 26, 2023
After a quick celebration, we saw Outman back away from the crowd and was watching the umpires gathering and discussing the play.  What could they possibly be looking for?  This was the 3rd crew chief replay review in the last two innings.  The reviewed the play and determined it was not a HR and that the run had scored.
Jonny Deluca apparently tweaked his hammy.  Doc said he would probably go on the IL on Wednesday, and saying "you can probably guess who will be joining us".
The three game series will conclude with a matinee event on Wednesday afternoon.  It will be Tony Gonsolin vs Yusei Kikuchi.  The Dodgers will be going for their 3rd straight series win against three offensively gifted AL contenders.
This is the kind of win that can spark a team.  Not that the Dodgers needed a spark.
07-26-2023 – MiLB Game Summary Report
OKC Dodgers 13 – Reno Aces (Arizona) 6
Landon Knack was fantastic for the first three innings.  He faced the minimum, allowing 1 hit, but getting the DP.  In the 4th he gave up a 1-out, 3-run HR.  He allowed 3 more  (2 earned) in the 5th.
Every OKC starter had at least 1 hit.  OKC scored in 6 of 9 innings (5 with a crooked number).
Key Performers:
Trayce Thompson – 3-5, 3 runs, 2 RBI, HR (1), 2 doubles (2)
Miguel Vargas – 2-4, 2 runs, 2 RBI, 2 BB, double (3)
Ryan Ward – 2-4, 2 runs,1 RBI, double (21), SF
Devin Mann – 2-5, 1 run, 2 RBI
Hunter Feduccia – 4-5, 2 runs, 2 RBI, HR (8), double (15)
David Dahl – 2-4, 2 RBI
Tulsa Driller 5 – Springfield Cardinals 3
Tulsa jumped out to a 3-0 lead after three.  Ben Casparius had a good start but allowed an unearned run in the 4th.    In 4.1 IP, he allowed the 1 unearned run on 2 hits, 2 BB, and 4 K.  Tulsa scored two more before Springfield scored a pair off Robbie Peto in the 8th.
Key Performers:
Jorbit Vivas – 3-4, 3 runs, 2 RBI, HR (11)
Kody Hoese – 3-4
Eddys Leonard – 1-3, 2 RBI
Dayton Dragons (Reds) 3 – Great Lakes Loons 2
Kendall Williams started and pitched an outstanding 5.0 scoreless innings.  He allowed 1 hit, 1 BB, against 5 K.  He only threw 59 pitches (39 strikes).  Ruben Ibarra hit a 2 out, 3-run HR  in the top of the 9th and took a 3-2 lead.  Great Lakes went out in order in the 9th.
Key Performers:
Taylor Young – 2-3, 1 BB, 1 RBI, 2 doubles (16)
Griffin Lockwood-Powell – double (14)
Rancho Cucamonga Quakes 10 – San Jose Giants 7
Down 5-2, RC scored 8 runs in the 3rd and then held on for the victory over the Giants.
Key Performers:
Thayron Liranzo – 3-5, 2 runs, 3 RBI, double (11)
Jose Izarra – 2-5, 2 runs, 1 RBI, double (14)