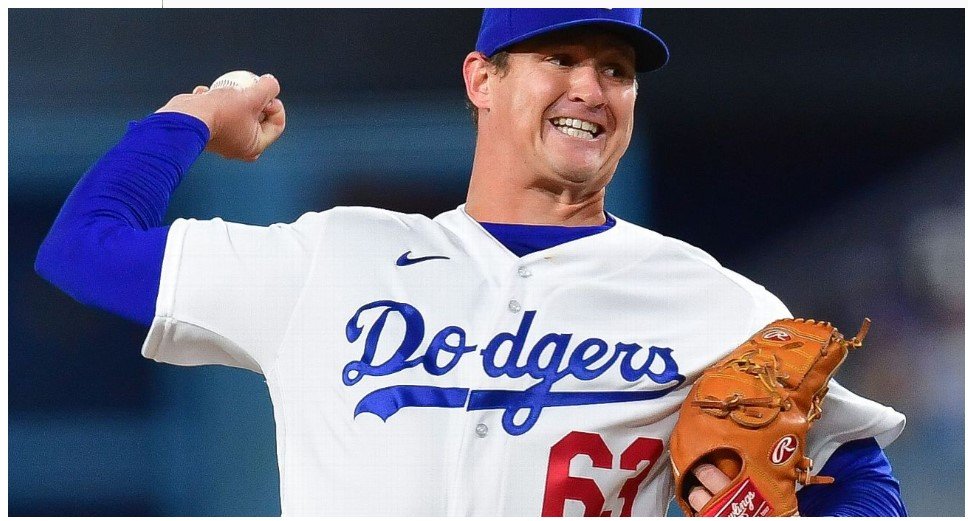 The Dodgers came back after a bad loss to the Padres and took them to the woodshed.  They played a complete game with good starting pitching, big hits, some great defense and of course an outstanding and unforgettable MLB debut by RHP Kyle Hurt.
Lance Lynn had two horrible outings prior to his start on Tuesday.  He wasn't overwhelming but was effective when he needed to be.  He got out of a 1st inning jam when the first two batters reached, but retired Juan Soto, Manny Machado, and Xavier Bogaerts (with a K), to get out of the inning.
Lynn loaded the bases in the 4th with a Soto double, Machado single, and Bogaerts BB loaded the bases with nobody out and Trent Grisham representing the tying run coming to the plate.  He bunted the first pitch right to Max Muncy at 3B who stepped 3rd and forced Machado with Soto scoring.  But that was all the Padres got as he retired Matthew Batten and Brett Sullivan.
With the score 7-1, Lynn surrendered his patented HR in the 5th to Fernando Tatis Jr.
Lynn was at 100 pitches when he finished the 6th, and everyone thought he was finished for the night.  Not so fast.  Lynn came out for the 7th and retired the side in order.  After 7 innings and 111 pitches, Lynn was through.
Next up for the Dodgers was 25 year old RHP Kyle Hurt.  He was given an almost impossible task with facing Fernando Tatis, Jr., Juan Soto, and Manny Machado.  He retired all three on three soft contact AB on 9 pitches.
He had to do one better in the 9th inning.  He struck out the side on 15 pitches.  This will be a game he will never forget.
I know it is one game, and he needs multiple appearances for Doc and AF to form an opinion, but Hurt sure looks like a late inning high leverage pitcher.  He has the explosive fastball that sets up his swing and miss change.  There was once a former LAD starter with an explosive fastball and devastating changeup that became a "Game Over" reliever for the Dodgers.  That pitcher was Eric Gagne.  It is waaaaaay too early to make any comparison, but it sure feels like Hurt might become someone special.  Yes, I am easily impressed.
Offensively, the Dodgers were led by Freddie Freeman on his 34th birthday and Will Smith.  They reached base 8 times out of 10.  Each had a HR and a double.  Freddie also had 2 singles, but could not get a triple.  Smith also reached on a BB and HBP.  This was the 4th HR Freddie has hit on his birthday.
Kiké Hernández had two hits and JDM had a 2 run single.
The Dodgers face off against San Diego one more time in 2023.  Ryan Pepiot will take the ball for the Dodgers and will match up with LHSP Blake Snell.  Snell has generally pitched well against the Dodgers.  He has started 12 games against LAD and compiled 56.2 IP.  He has a 2.86 ERA in those 12 games.  He has 28 BB against 74 K against LAD.
The magic number for the Dodgers to clinch NL West Division crown 10th time in 11 years, and to reach the playoffs for the 11th consecutive season.  Only the Braves (14 seasons, 1991-2005) and Yankees (13 seasons, 1995-2007) have more consecutive advances to the WS.
MiLB Game Summary Reports
Midwest League East Division Championship – Game 1 in Fort Wayne
 Fort Wayne TinCaps (San Diego) 5 – Great Lakes Loons 0
Justin Wrobleski completed 5.1 IP.  He allowed a run in the 4th on a pair of doubles.  In the 6th, Tyler Robertson led off the 6th with his 2nd double of the game.  After a fly out, Justin was lifted for Jack Dreyer.  Dryer struck out his 1st batter and walked the 2nd.  He then allowed a soft fly ball into CF for a single and the 2nd run charged against Wrobleski before striking out the final batter of the inning.
Benony Robles gave up a 2-out 3-run HR in the 7th inning to put the game out of reach.
Mitchell Tyranski pitched a scoreless 8th inning, with 1 BB and 2 K.
The Loons had 3 singles, a double, and 7 walks.  They had traffic, and in Dodger playoff fashion they were 1-12 WRISP.
Key Performers:
Jake Vogel – 2-4, double
Griffin Lockwood-Powell – 1-4, 1 BB
Kenneth Betancourt – 1-2. 2 BB
Dalton Rushing – 0-3, 2 BB
Alex Freeland – 0-2, 2 BB
California League South Division Championship – Game 1 in Lake Elsinore
Inland Empire 66ers (LAA) 3 – Rancho Cucamonga Quakes 0
The Quakes were the second LAD affiliate in the playoffs to get shut out in Game 1.  The Quakes were able to only get 2 singles and a BB on the night.
As I surmised, 20 year old RHP Christian Romero drew the start, and pitched well enough to win, except for his team getting shut out.  Romero went 5.0 IP allowing an unearned run on 5 hits, no walks, and 5 strikeouts.
Garrett McDaniels relieved Romero.  He pitched a scoreless 6th with traffic, but could not duplicate it in the 7th.  He surrendered a single and 2 walks to load the bases.  He was pulled with 1 out and the bases filled.  Kelvin Ramirez relieved McDaniels.  His first batter hit a sac fly for 1 run, and a wild pitch scored the 2nd.  Ramirez finished the final 1.2 innings allowing one hit, 1 BB, and 3 K.
Jake Gelof and Jesus Galiz got the two RC singles.
OKC Dodgers 5 – Tacoma Rainiers (Seattle) 4 – 11 innings
32 year old LHP Robbie Erlin pitched his best game of the year.  He completed 6.0 IP allowing 2 runs (1 earned) on 5 hits, 1 BB, and 6 K.  He spotted the Rainiers 2 runs before OKC tied it in the 7th with a Miguel Vargas 2-run HR.
24 year old Ricky Vanasco retired the side in order in the 7th in his OKC debut.
OKC took the lead in the 8th with a 2 out single to Bryson Brigman.  Brigman stole 2nd and went to 3rd on a throwing error.  Jonny Deluca walked and Yonny Hernández followed with a run scoring single and a 3-2 lead.
With 1 out in the 9th John Rooney retired 4 consecutive batters in his 1.1 IP before he was lifted for Ken Giles to close it out.  Unfortunately Giles gave up the game tying run and a blown save.
In the 10th, with 2 outs and a placed runner still on 2nd, Bryan Hudson walked 2 to load the bases and Taylor Trammel singled to give Tacoma the lead.  OKC tied it up in the bottom of the 10th.  Bryson Brigman singled home placed runner on 2B Óscar Mercado.
Jake Reed pitched a scoreless 11th for OKC.  For OKC, Jorbit Vivas started the inning at 2B.  He moved to 3rd on a ground ball to 2nd.  After an intentional BB to Tucker Barnhart, Óscar Mercado walked off OKC with a sac fly plating Vivas.
Key Performers:
Yonny Hernández – 2-2, 1 BB, 1 run, 1 RBI.
Bryson Brigman – 2-4, 1 run, 1 RBI
Miguel Vargas – 1-4, 1 BB, 1 run, 2 RBI, HR (8)
Jake Marisnick made a rehab start and went 0-2 before Ryan Ward replaced him.
Michael Busch was removed from the game in the top of the 5th and replaced by Yonny Hernández.  Michael went 1-2 while he was in the game.
Corpus Christi Hooks (Houston) 12 – Tulsa Drillers 0
The Hooks scored 12 runs by the 4th and needed no more as they shut out the Drillers.  The Hooks scored their 12 runs on 18 hits.  I will leave it at that and the box score below.