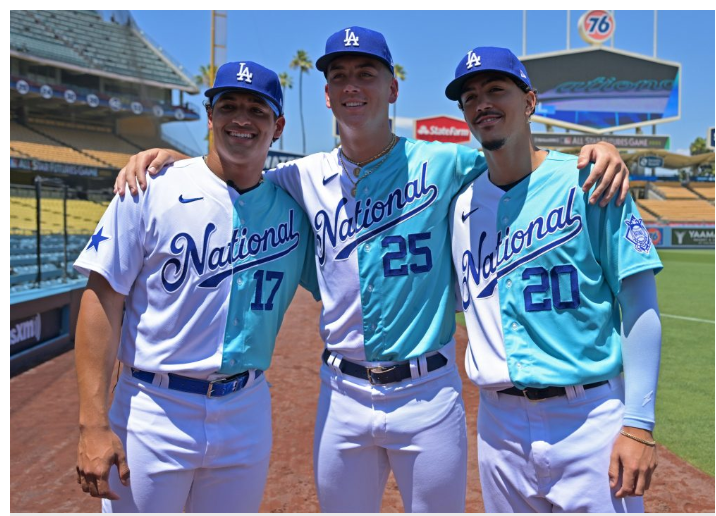 As I commented yesterday, Baseball America has published their annual pre-season Top 100 prospects.  The Dodgers are one of the highest rated systems with 6 top 100 prospects. Of the 6, 3 are top 30 and all 6 are top 56.
#18 – Diego Cartaya – C/DH
#21 – Bobby Miller – RHP
#30 – Miguel Vargas – 3B/LF/DH
#54 – Michael Busch – 2B/LF/DH
#55 – Ryan Pepiot – RHP
#56 – Gavin Stone – RHP
That is a fairly impressive sextuple of prospects, and five of them could see significant time at the MLB level this season.   Cartaya is a year away before he is considered ready for MLB.  2024 is when I have always maintained Diego would be ready.  I can recall some who wanted to move Will Smith to 3B to make room for Cartaya for 2022.  Now even BA lists Cartaya as the DH in 2026 with Will Smith as the everyday catcher.  Interestingly, Will Smith will be a free agent after the 2025 season.  Do the Dodgers extend Smith?  I would be 100% behind that.  IMHO, Smith should be the long term choice as catcher for the Dodgers.
Below is the teams in order of most top 100 prospects.
Orioles – 8
Guardians – 7
Dodgers – 6
Mets – 6
Rays – 6
DBacks – 5
Red Sox – 5
Cardinals – 4
Nationals – 4
Pirates – 4
Reds – 4
Rockies – 4
Cubs – 3
Mariners – 3
Rangers – 3
Twins – 3
Angels – 2
Astros – 2
Brewers – 2
Giants – 2
Marlins – 2
Padres – 2
Phillies – 2
White Sox – 2
A's – 1
Blue Jays – 1
Tigers – 1
Royals – 1
Braves – 0
Digging more into the numbers:
Not only did Baltimore have the most top 100 prospects, but they also had multiple elite prospects.  They had 3 top 15.  O's SS Gunnar Henderson was the second consecutive #1 top 100 prospect for Baltimore, after Adley Rutschman topped the list for 2022.  RHP Grayson Rodriguez is knocking on the door at #6, and uber SS prospect Jackson Holliday breaks in at #15.  Henderson is the odds on favorite for AL ROY.  Holliday, son of St. Louis and Colorado star LF Matt Holliday, is the highest rated prospect from the impressive 2022 draft.  Most forecasters are projecting Holliday to be #1 prospect for next year's list.  I will not argue with that projection.  Holliday is going to be special.  He is about as untouchable of a prospect as there is.
The O's also had the #41, #75, #76, #93 and #95 prospect.
Arizona has perhaps the largest group of elite prospects in MLB.  They also had 3 of the top 15.  The #2 overall prospect is CF Corbin Carroll.  Carroll is the overwhelming favorite for NL ROY.  He will be challenged by the Dodgers' Miguel Vargas, and perhaps a trio of NYM rookies.
DBacks catching prospect Gabriel Moreno, the partial return in the Daulton Varsho deal, is the #12 prospect.  Young SS Jordan Lawler checks in at #13.  Another of the 2022 draft uber prospects, CF Druw Jones, son of Andruw Jones,  was ranked at #24.  RHP, Brandon Pfaadt, went from unranked to #27.  Pfaadt reached and dominated AAA in Reno.  For the year (AA and AAA) at two huge hitter friendly parks, Pfaadt had 218 K's and only 33 walks in 167.0 IP.  That is not a misprint.  Pfaadt threw 167 innings last year.  That contrasts to the Dodgers fastest riser, Gavin Stone, who threw 121.2 innings, and registered 168 K's and 44 BB's.  Coincidentally, both Pfaadt and Stone have the exact same birthday, October 15, 1998.
NYM has a stacked roster, but also has a top MiLB system.  They have 6 top 100 prospects, including 2 in the top 20, and 4 in the top 50.  Their top prospect, catcher Francisco Álvarez (#9), is followed by RHP Kodai Senga (#16).
Long awaited 3B prospect, Brett Baty (#33), should get a long runway to this year.  He should receive the biggest advantage of the Mets not signing Carlos Correa.  Eduardo Escobar will get some playing time, but Baty should get most of the PA's at 3B.  The final top 50 prospect for NYM is catcher Kevin Parada.    Finally, NYM had #92 and #98 prospects.
Cleveland had the second most top 100 prospects with 7, but only two top 20.  As usual, Cleveland's top 2 prospects were RHP, #19 hard throwing Daniel Espino and #20 Gavin Williams.  The other Guardian top prospects are #68, #72, #77, #85, and #86.
One other note of interest in the top 100 prospects, is the utter disillusionment that Oakland is as a competent franchise.  The A's have 1 top 100 prospect, home grown catcher Tyler Soderstrom.  While Baltimore has rebuilt their farm system with trades and smart draft picks, the A's squandered a chance to rebuild their system.  They have traded Matt Olson, Matt Chapman, Frankie Montas, Sean Manaea, Chris Bassitt, Sean Murphy, and Jesús Luzardo.  That is 4 MLB starting pitchers, a top starting catcher and 3B, and an elite starting 1B.  That could be the core of a quality MLB team.  Instead they were all traded, and the return has not generated any top 100 prospects.  What a waste of an organization.  I hope no A's fans (if there are any left) boycott.  The owner(s) only care about the revenue sharing revenue they receive.
For 2023, Baltimore should be rated the top farm system, with Arizona as #2.  Besides Brandon Pfaadt, the DBacks have 2 quality RHP prospects who project to be in the starting rotation at some point this year: Ryne Nelson and Drey Jameson.  Jameson is also considered a top closer prospect.  Arizona is capable of overtaking SF this year, and could be a contender in 2024.
While Cleveland has more top 100 prospects than the Dodgers, all 6 LAD top prospects are rated higher than all but two of the Guardians prospects.  That should make the Dodgers the clear #3 system.  Prior top farm systems have fallen out of the top five or ten.  That includes San Diego, Seattle, Toronto, and Atlanta.  Atlanta's roster is stacked, but they will be unable to drop down into their farm system for help, either via trade or calling up.  They have zero top 100 prospects.  Pursuant to the BA Top 100 chat, they really do not have anyone close.
While most organizations join the elite systems at some point, and the fall off, the Dodgers do not fall into that category.  They almost always have a top 10 organization, and now figure to have a top 5.  5 of their 6 top 100 figure to graduate this year.  But look for Dalton Rushing, and perhaps OF Andy Pages, RHP Nick Frasso and RHP Nick Nastrini who all could join Cartaya next year.  In many of the chats on top prospects, Dalton Rushing, is being loudly lauded as a potentially very quick riser in next year's top prospect lists.  Both Nastrini and Frasso need further development, but are potential back end rotation prospects that could break into the 2024 top 100.  Nastrini is a high strikeout rate pitcher, but needs to gain better command.  If he does, he will be a #4 or #5 for a contender team.  If not, he could become an elite late inning high leverage reliever.  This could be a huge breakout season for Frasso who should get a full season after being managed after TJ surgery.
Kyle Glaser was asked what he thought the chances of Frasso breaking into the top 100 by mid season.  Here is what he had to say:
Nick Frasso is one of the sleepers who has a chance to rise onto the Top 100, yes. As you've said, it all is going to come down to the development and command of his secondary pitches. As for how likely that is, it's hard to say. He shows it in flashes, but doing so consistently is an entirely different challenge. We'll see if he can.
SS, RHP, and OF dominated the prospects top 100 list.  Catchers were also largely represented.
Catcher – 12
1B – 3
2B – 5
3B – 6
SS – 23
OF – 23
RHP – 23
LHP – 5
MLB Pipeline, FanGraphs, Baseball Prospectus, The Athletic, ESPN will all be coming out with their versions shortly.  As has been a consistent, there is an inconsistency in many of the top 100 lists.  Last year, the Dodgers had 2 consensus top 100 prospects (Diego Cartaya and Bobby Miller), and five others that were on one or more lists.  I am guessing that will be the same this year, but I would expect more consensus top 100.