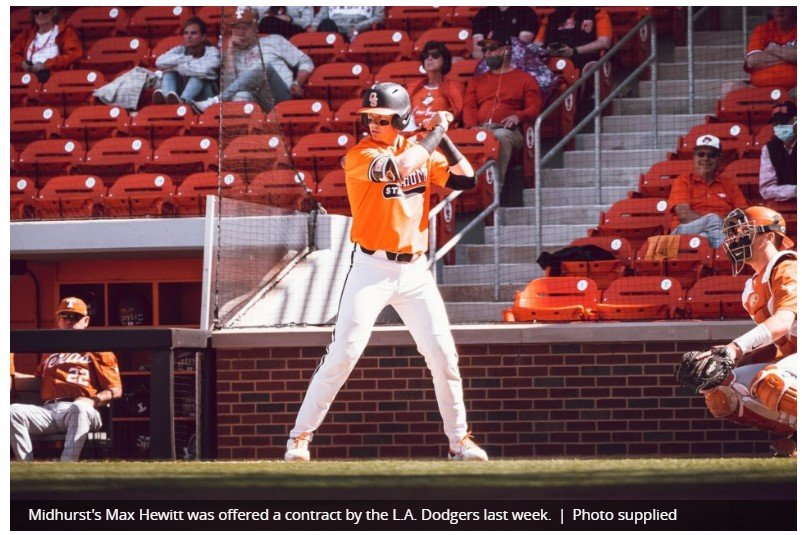 https://www.orilliamatters.com/local-sports/local-athlete-realizes-dream-inks-contract-with-la-dodgers-4182172
Following the 2021 First-Year Player Draft the Dodgers signed 11 undrafted free agents. Until now only two of them had surfaced. Shortstop Austin Gauthier has been hitting well with the Quakes and right-hander Adam Scoggins has made his way to the Great Lakes Loons.
Signed in late July of 2021, undrafted free agent Max Hewitt debuted with the Great Lakes Loons on Wednesday, May 18 in a game against the Lansing Lugnuts.
He is perhaps my favorite undrafted free agent so far but with considerable bias. He is a Canadian boy from Barrie, Ontario. Having gone undrafted he is not a Larry Walker, Joey Votto, Russell Martin or Eric Gagne.  However, Russell and Eric had slow starts so who knows.
As mentioned, catcher/infielder Max Hewitt was born and raised in the Barrie area of Ontario. He began playing T-ball at age five and finished his college career at Oklahoma State University.
Hewitt graduated from Eastview High School in Barrie in 2015 and for a year really had no baseball offers. That did not deter him as he trained and because of his age he was still eligible to play travel ball. During that gap year, he continued training in Toronto and also in New Lowell at Smith Brothers Baseball Central. New Lowell is a small town in Ontario.
In November of 2015 he did get a call. It was from Connors State College in Warner, Oklahoma, inviting him for a visit. Playing as an infielder he slash line was .436/.507/.564 with an OPS of 1.071 and 67 RBI in 60 games. His community college year in Warner opened another door for him, one of his choosing. He chose Oklahoma State University and immediately fell in love with OSU.
"I loved it for so many reasons, one of which was that all the team was in the same hall at the dorm," said Hewitt. "It was so much fun, and I got to do my favorite thing every day. That fall we were playing scrimmages and inter-squad games that lasted 14, 16 sometimes 18 innings. It's been awesome, it feels like home now."
Hewitt, now 24, played four seasons with the Cowboys with a triple slash of .317/.431/.385 and an OPS of .816. He continued to walk more often than striking out.
He earned his Bachelor of Arts in Sociology from OSU and was not able to go home to Barrie for over a year and a half because of Covid-19. In the meantime he continued to train and realistically prepare for the 2021 draft.
"As in life, nothing in baseball is ever promised," said Hewitt. "I know I won't get drafted high, if I get picked at all in the 20 rounds, because I'm a senior. But it sounds like things are picking up and that there is a bit of interest from some teams."
OSU had lost in the NCAA Tournament regional to UC Santa Barbara eliminating them from competition.
"I really wanted to win some more games; we all did," said Hewitt. "But it is what it is. I just got back from an LA Dodgers camp and was looking forward to the draft."
Hewitt wasn't selected in the draft but did stay on the Dodgers contact list. It will be another difficult climb for the 6'0"/192-lb. left-handed hitter who throws right.
For his first three years at OSU he played as a utility player and was not able to lock down a starting role. Then to begin the 2021 season coach Josh Holliday needed a catcher. Hewitt, who had never caught, answered the call playing 55 games in his senior year. Both he and his coach were pleased with their decision to put him behind the plate.
"Anyway I can help the team," Hewitt said. "Even now practice at second, third and short just in case something were to happen. Stay sharp at all those positions. It just so happened that we needed a role filled and I'm glad I've been able to step into that."

"He's just competing extremely well," Holliday said. "He plays the pitches correctly, he prepares really, really good and cares a great deal about performing well — because he's proud and he wants to win — and he wants to play for his team. He's playing for the right reasons. He's not scared. It gives him the courage to get up there and deliver."
Hewitt is one of many young men who love to play, appreciate that they can and see the game as part of a bigger picture. There are kids watching, just as he used to.
"I like playing," Hewitt said with a smile. "I try to do my best every day at this school. To be able to get on the field and contribute like that — it's a special feeling. It's been a long time coming for me to be able to help the team that way."
As for those kids, who chose to watch a non-conference baseball game instead of Bedlam basketball being held just a block away, he didn't have to give them a minute of his time. He didn't have to stand there and sign countless baseballs until he was the last player left on the field, but he said that he wouldn't have had it any other way.
Hewitt does get to pursue his dream of playing baseball as the Dodges did sign him following the draft and for which he admits he was emotional  and is grateful.
Former Connors State Cowboy Max Hewitt is surprised and told by Dodgers area scout and also a former Connors State Cowboy Heath Holliday that he is being offered a contract from the LA Dodgers organization #TheTraditionContinues pic.twitter.com/sUnS57BrZ2

— Connors State Baseball (@ConnorsBaseball) July 20, 2021
"To be signed by one of the most storied franchises in sports is such an honor and a blessing. So much work, sacrifice from my family, and so many prayers went into this and in that moment I ultimately just felt gratitude," Hewitt said. "It would be impossible to fit on one page the list of people who helped me on and off the field to get to this point."
He is still that kid who dreams of hitting a home run to win the World Series or striking out the last batter to win the game.
"I still feel like that kid every time I get to be on the field, and I'm so grateful for this opportunity to now take this next step toward my goals in baseball."
His first professional game did not provide that moment as he had three strikeouts in four at bats but there will be more games and there is another hill to climb.