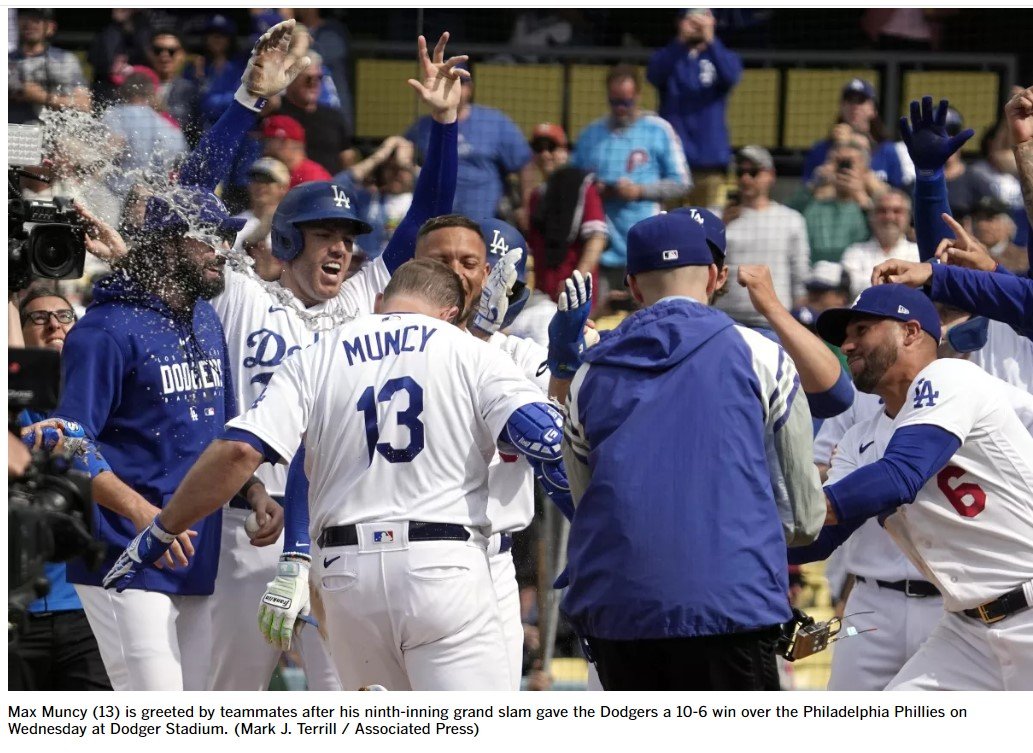 On April 27, the Dodgers were limping home after losing the game and series to Pittsburgh.  They were 13-13 and 2.0 GB Arizona.  They came home to play a pair of 2022 playoff teams, St. Louis and Philadelphia.  They get a homestand sweep and are leaving LA six games north of .500 and 1.5 game ahead of Arizona and 2.0 games ahead of San Diego.  For the 6-game homestand, LAD scored 50 runs against 17 scored on them.  The Dodgers had 68 hits over the 6 games.  They score double digit runs in all three games against the Phillies.
The third and final game of the Philadelphia Series was a hugely exciting come from behind victory.  This is one I am going to remember for a long time.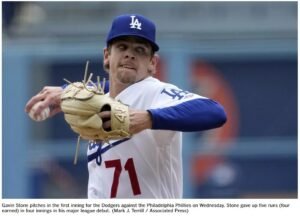 It is not as easy as some fans think it is.  The jump from AAA to MLB is monstrous.  Many can get off to quick starts, however, most do not.  Gavin Stone had the misfortune of having to face a very good offensive team that has been shut down for two nights.  He had more misfortune on a bloop double and an error by Max Muncy for a run in the 1st inning.
He retired the side in order in the 2nd, and we were all hoping that the opening jitters were gone and he can sit back and pitch. In the 3rd, he gave up 1-out back to back doubles to Bryce Harper and Nick Castellanos.  He was not the first pitcher that has happened to, and he will not be the last.  After getting Bryson Stott for the 2nd out, he was one out away of getting out of the inning.
But that was not the way it played out.  Three straight singles by Alec Bohn, Brandon Marsh, and Edmundo Sosa scored 2 more and put runners on the corners.  The heart-breaker was not being able to punch Sosa out.  Garrett Stubbs (USC Trojan) came to bat with a total of 2 hits all year in 17 AB.  He lays down a perfect bunt single to score the 5th run.  Did Gavin lose focus?  Did he relax a little too much? Or were those three Philadelphia batters just better.
Phillies looked on top of the world after 2½ innings with Aaron Nola on the hill and a 5-0 lead.  Plus Philly had a bevy of hard throwing relievers waiting in the wings.
The Dodgers started the long climb back into the game in their half of the third.  David Peralta singled and Chris Taylor was HBP.   Mookie singled home Peralta to get on the board.  5-1 after 3.
In the bottom of the 4th, the rookies took over.  James Outman doubled and Miguel Vargas hit a 2-run HR.  5-3 after 4.
In the 7th, Chris Taylor blooped a single that Nick Castellanos turned into a triple.  Freddie Freeman comes within a few feet of a HR, but deep enough to score CT3.  5-4 after 7.
In the 8th, hard throwing LHRP José Alvarado took the mound.  In 12.1 IP, Alvarado allowed 1 run, 6 hits, 0 walks, and 24 K.  After Max popped out, Miggy Rojas came to the plate.  On a 1-1 pitch, Alvarado left a 93 MPH cutter over the plate and Rojas banged a single.  That brought up LHH James Outman who is LAD's best hitter against LHP this year.  He went oppo with a double off a patented Alvarado 100 MPH sinker.  With the infield in, Rojas took off on contact when Miguel Vargas hit a grounder to Trea Turner.  The out was recorded at the plate.  The Dodgers challenged the call that Stubbs blocked home, but that call stood.  It did not look that much different from when Austin Wynns was called for blocking the plate.  Maybe someone will put together a side by side comparison.
That put Outman on 3rd and Vargas on 1st.  You could hear all the moans and groans from fans once Austin Barnes was announced as the PH for David Peralta.  Peralta will almost never face off against LHP.  The only other players on the bench were LHH Michael Busch, and RHH Trayce Thompson.  Doc chose Barnes and he was rewarded as Barnesy got a 2 run single just by Edmundo Sosa.  Before the single, Miguel Vargas stole 2nd without a play putting 2 runners in scoring position. Maybe another 3B gets that ball, maybe not.  We will never know.  We do know it was a BIG 2-run single that brought the Dodgers all the way back, and I am not going to question a positive result.  Dodgers 6-5 after 8.
Austin Barnes with the go-ahead single-ish. pic.twitter.com/8k23KeysyV

— Chad Moriyama (@ChadMoriyama) May 3, 2023
Caleb Ferguson thew 9 pitches to retire the side in order in 8th.  He went back out to face Kyle Schwarber and got him on 1 pitch.  The Dodgers brought in Brusdar Graterol to face Trea Turner and Bryce Harper.  He got the speedy Trea Turner on a high bouncer over the middle that Miguel Rojas bare-handed and threw Turner out by ½ a step.  That was as good as a defensive play we will see this year.
Holy Miguel Rojas 🤯🤯🤯 pic.twitter.com/2Ovt3RLcZf

— Blake Harris (@BlakeHHarris) May 3, 2023
Bryce Harper hit a 96 MPH cutter into LF (77MPH exit velo) for a single.  He then had Nick Castellanos ready to end the game after he swung wildly at a slider way off the plate.  But eventually lost him for a walk.  Okay, get Bryson Stott and get the win.  He had Stott 0-2 but left a cutter at the top of the zone that Stott hit just over the head of Rojas for a tying single.  He finally struck out Alec Bohm.  But this was Graterol's first K in five games.
This is why Brusdar Graterol is not a closer.  He is good in high leverage situations, but a closer needs to shut the door in the 9th.  You need that guy to be able to get that swing and miss.  With 18 pitches, Brusdar got just 1 whiff.  He could not put the batters away until Bohm, but the damage was done.  Neither single was hit hard.  But they made contact.  After 8½  – 6-6 tie.
Craig Kimbrel came into relieve in the 9th.  He gave up 2 runs in 0.2 IP on Monday, and decided to come back for redemption.  But the Dodgers had different ideas.  Why come all the way back without finishing?  CT3 singled to open the 9th and promptly stole 2nd.  Mookie got to 3-1, but got fooled on two fastballs on the outside edge (they were strikes) and struck out looking.
Freddie was IBB, and Will Smith followed with a 5 pitch walk to load the bases.  That brought the Phillies pitching coach to the mound, probably advising that he needs strikes.  Max Muncy is known to wait.  But not this time.  He attacked 1st pitch and deposited it just past the RF wall for a walk off grand slam, and a LAD sweep of Philly and the homestand.
Aaron Nola may own Max Muncy, but not Craig Kimbrel.  Max more than made up for his 1st inning error with his walk off grand slam for his MLB leading 12th HR.
This is the Kimbrel we Dodgers fans got to witness last year.  Kimbrel came into the series with a 4.09 ERA.  After 1.0 IP, his ERA is now 8.25.   Kimbrel is being paid $10MM so there is a cost for not pitching him. There may be a greater cost by letting him pitch.
We are going to see more of Gavin Stone.  I am not sure when that will be, but he will be back.  I would expect that Gavin will be optioned and the Dodgers will call up an 8th reliever for the San Diego series.
Just like with Ryan Pepiot, MiLB hitters will swing and miss at his changeup.  But at the ML level, batters are just going to spit on it.  77 pitches/47 strikes, but only 6 swing and miss pitches.  After the game, Gavin said he had problems with his change on the day.  As Nomar and AGon said after the game, Gavin needs to keep the ball down in the zone.  Just like most pitchers, he is going to get beat with pitches up.
The other thing I noticed was that he was basically a two pitch pitcher.  34 changeups, 34 4-seamers, and 9 sliders.  This is one of the reasons he has been labeled as a pitcher with huge relief risk.  I am not going to apply that label, but he is going to need to manage his command better to be effective at the MLB level relying on two pitches.  He is going to learn that he can get away with mistakes at Tulsa/OKC that he is not going to get away with in The Show.  He will learn.  I am confident of that.
It is great to see that three much maligned LAD players of late become stars in this one…Chris Taylor, Miggy Rojas, and Austin Barnes.  The rookies (Outman and Vargas) are continuing to get their experience, and still producing.  The bullpen is once again becoming a weapon. They are getting closer to having the right pieces.  Brusdar Graterol came within one strike of finishing 5.0 scoreless innings.  1 run in 5.0 innings?  I can live with that.
Congratulations to Clayton Kershaw who won NL Pitcher of the Month for April and to James Outman who won NL Rookie of the Month for April.
Now on to San Diego for 3.
Friday – Clayton Kershaw v Joe Musgrove
Saturday – Dustin May v Yu Darvish
Sunday – Julio Urías v Blake Snell