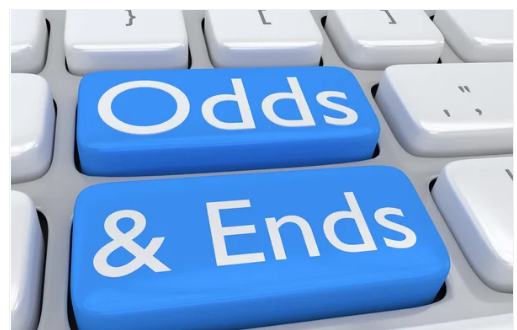 I'm not Gene Autry but it is time to get back in the saddle again. First, I had a keyboard injury to my neck and shoulder and reluctantly had to go for physiotherapy.  Then, Elaine opened something that looked legit from Microsoft, which we do not have, and our computer went down. It took some time to install a new hard drive, clean up everything and thankfully rescue my files. In the meantime Jeff and Rob have carried on with superb articles and MiLB summaries. So here goes with just a few tidbits.
Brelyn Jones Surfaces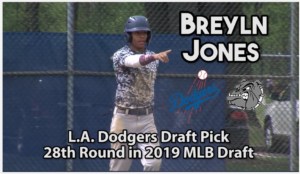 Contrary to the picture above, Jones was actually the Dodgers 29th selection in the 2019 First-Year Player Draft out of Rutherford High School in Rutherford, New Jersey.
The son of former MLB pitcher Bobby Jones, the younger Jones has just made his professional debut.
His 2020 season, as with all minor league players, was wiped out by Covid. I do not know why he missed the 2021 season, nor can I find out, even by Google. How can that be?
However, he was not selected by accident so I thought this might be an opportunity to catch a glimpse of Jones as we waited to see him make his professional debut during the 2022 season. He turned 21 last October so I thought he could be a prospect to start the season with the Low-A Rancho Cucamonga Quakes.
The 6'2"/ 180 lb. right-handed hitter was drafted as a shortstop but also had success as a pitcher in high school.
After spending two seasons at Northern Highlands High School in Allendale, New Jersey, he transferred to Rutherford  High School where he starred as a shortstop and as a pitcher.
With the Bulldogs he had a two-year pitching record of 9-2 along with a 0.45 ERA and 112 strikeouts in 62.2 innings pitched.
His skills included outstanding speed and a  strong throwing arm. In his senior year with Rutherford he hit  .403 (27-for-67), scored 29 runs and, stole 19 bases.
Brelyn Jones has surfaced, as previously mentioned by Jeff, with the Arizona Complex Dodgers and not the Quakes.
And, he surfaced as a pitcher. The right-hander has made two appearances with the ACL Dodgers logging 2.1 innings pitched while allowing one earned run along with three strikeouts and five walks.
Loons Kyle Hurt Tosses No-Hitter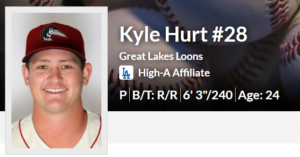 The 6'3"/240-lb. native of Rancho Santa Fe, California attended  Torrey Pines  High School in San Diego and was drafted out of high school in the 34th round of the 2017 First-Year Player Draft by the Philadelphia Phillies. He chose not to sign and spent the next three years with the University of Southern California Trojans. His 2020 season, which had started out very promisingly, was limited to four games due to Covid-19.
His time with the Trojans was not all he might have wanted it to be but he did start 30 games for USC and he had his moments. Along the way, he posted one of the most exciting performances on the mound in recent USC memory when he tossed 7.2 innings in a combined no-hitter against Utah in 2018. Hurt struck out seven batters in that game and earned Pac-12 Pitcher of the Week and Collegiate Baseball National Pitcher of the Week honors.
He threw a career-high 8.0 innings against Washington in 2019 and struck out a career-best 10 batters in that game as well.
The first part of his dream to play MLB came true during the 2020 limited draft in which he was selected in the fifth round by the Marlins.
The following February he was traded to the Dodgers as a low-risk, perhaps eventual high reward player. When I say low risk I simply mean the Dodgers got him as an extra when they already had Alex Vesia who was their prime target. His scouting reports highlight the risk part with the possible reward part disguised within the report.
Baseball America: "The gap between Hurt's stuff and performance makes him one of the most divisive prospects in this year's draft class…His fastball reaches 95-96 mph as a starter, his changeup is a consensus plus pitch he locates well and his curveball and slider each flash plus at their best. While he throws hard, Hurt's fastball is too straight and plays down due to below-average command, often leaving him to rely on his secondaries. He struggles to put together more than a few good innings at a time and scouts have long-held concerns about his work ethic and makeup."
MLB Pipeline: "The right-hander hasn't always commanded his stuff well or maintained it deep into starts, with the sharpness of his stuff often varying from outing to outing. He entered the spring as one of the more enigmatic college pitching prospects in this class and there wasn't really enough time for scouts' questions to be completely answered this spring."
"For three years, Kyle Hurt has been one of the most tantalizing prospects on the West Coast. Scouts have been enamored with his fastball that reaches into the mid-90s, a sharp-breaking slider and devastating pull-the-string changeup." –Shotgun Spratling of D1Baseball.com.
Hurt's recent no-hitter with the Loons was not a Sandy Koufax type of no-hitter. On Friday evening, he started for the Loons and was dominant, not allowing a hit and walking three batters. The right-hander struck out eight batters, a personal season-high. He now has a 10-inning scoreless streak over three appearances, and has not allowed a hit in nine straight innings at Dow Diamond.
A no-hitter is a bit of a stretch, well a big stretch, but Hurt is definitely working on the reward part mentioned above. Thus far in 2022 he has made 11 appearances with the Loons, nine of them starts.
On May  31 he had one of those games that are sometimes not easy to forget. In one inning pitched he gave up five earned runs. It seems he got over that as his 10 scoreless innings followed that bump in the road. That means he has given up four earned runs in his other 30.2 innings pitched and two of those in his first appearance of the season on a cold night on April 14.
On the season he has now logged 35.2 innings pitched with a 2.52 ERA and a 1.18 WHIP , allowing only 21 hits while striking out 54 and walking 21.
Loons Making a Charge
The Great Lakes Loons had a very slow start to their season which was a bit surprising after posting a roster that seemed to feature very strong pitching. It was expected the offense might lag behind a bit after the contingent that passed through Midland during the 2021 season including Andy Pages, Ryan Ward, Miguel Vargas, Justin Yurchak, and James Outman.
The Loons began the current season by losing seven of their first nine games. Following their forgettable start, they went 38-19 and bested the Dayton Dragons by 1.0 game for the first half championship. In early June they took five of six games against the Dragons in Dayton, three of those games by one run. The Loons made up 5.0 games on the Dragons in their last 10 games to get the first half championship.
The pitching staff has lowered its ERA to 3.72, third best in the league while leading the league both in strikeouts and walks allowed with 693 and 314 respectively.  The staff also allowed the least number of HRs with 48.  And they lead the Midwest League with 22 saves.
Offensively the team in most statistical categories is at best middle of the pack with the exception of 278 walks (3rd), .336 OBP (2nd) and 317 runs (3rd).
A Very Special Mission – from MiLB Official Site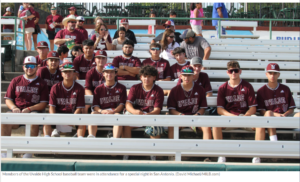 Last month's shooting at Robb Elementary School in Uvalde, Texas, that took the lives of 19 students and two teachers shook the United States to its core. Yet a byproduct of evil inevitably leads to an outpouring of love, support and kindness — all needed to begin the healing.
"San Antonio is the closest big city to Uvalde," said Double-A Missions president Burl Yarbrough. "Some of our high schools play in the same district. There are so many connections we have with the Uvalde community. What happened really hit home."
In conjunction with the Uvalde Consolidated Independent School District and Wilson Sporting Goods, players and coaches for the Padres' Double-A affiliate wore replica jerseys of what the Uvalde High School baseball squad wears during the game against Amarillo.
Fans were able to bid for the game-worn jerseys with all proceeds going to the Robb School Memorial Fund, established by the First State Bank of Uvalde to aid the families of those affected by the tragedy.
Full story: https://www.milb.com/news/missions-wear-uvalde-high-school-jerseys