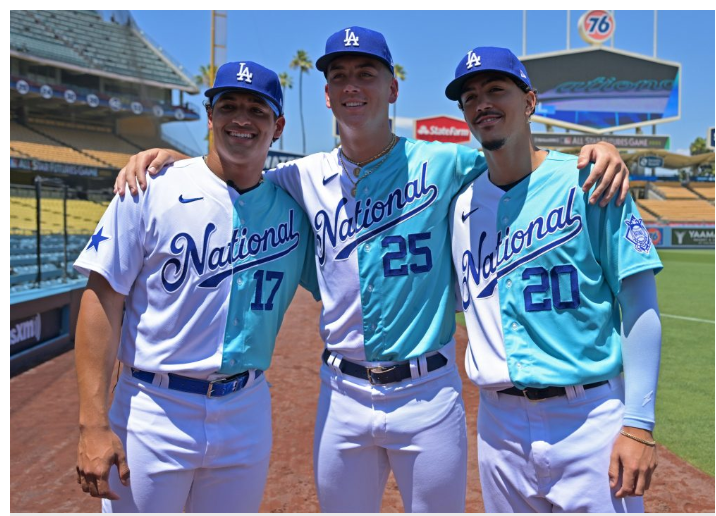 Dodgers MLB beat writer, Juan Toribio, had opined as to what LAD prospects will be counted on in 2023.
Miguel Vargas – INF – ETA Opening Day – Vargas has been practicing at both 2nd and 3rd at Dodger Stadium this Winter. He will be given a long runway to succeed.
James Outman – OF – ETA Opening Day – Outman currently is projected to make the roster, but if the Dodgers add an OF or prefer one of the veteran CF who have signed a MiLB contract (Bradley Zimmer or Steven Duggar), Outman will be optioned to OKC to get consistent ABs.
Gavin Stone – RHP – ETA Midseason – Stone is currently rocketing up the prospect charts, and some believe that while his "stuff" is not equal to Bobby Miller, his entire pitching persona (including command and control) makes him a better chance to advance to MLB faster. He is certainly a relief prospect for this season.
Bobby Miller – RHP – ETA Opening Day – Miller is considered one of the top pitchers in MiLB (#6 MLB Pipeline).  He has a 4 pitch arsenal, but sometimes his fastball catches too much of the plate.  He was inconsistent in 2022.  There were games when Miller was unhittable, and then there were games that he could not command his pitches.  IMO, Miller has the higher ceiling, but Stone has the higher floor.  Both will pitch for the Los Angeles Dodgers in 2023.
What caught my eye was that there was not a single mention at all about Michael Busch or Jacob Amaya.  While they are still considered rookies, I am assuming that Toribio is excluding Ryan Pepiot, Michael Grove, and Andre Jackson because of their innings pitched in 2022.  As it is currently configured, all three will see the mound with the Dodgers in 2023.  Starting or relieving is still to be determined.
At 25, if Busch is not going to play for LAD this season, or just occasionally, it might be the best use of his value to include him in a trade.
The Dodgers have an abundance of DHs.
JDM
Max Muncy
Miguel Vargas
Michael Busch
With CT3, Max Muncy and Mookie Betts all available to play 2B, the chances for Busch getting 2B time or DH time are not promising.
————————————————————————————————————————————————————–
The Carlos Correa saga is getting interesting.  A NYM source spoke with Mike Puma, NY Post, and said that the odds of Correa signing with NYM is 55%.  Scott Boras is still taking calls from other teams, but is telling all interested teams that they are not budging on years or salary.
————————————————————————————————————————————————————–
Baseball Prospectus (BP) put out the 1st Dodger prospect ranking.  They have included a list of 23 prospects.
Diego Cartaya (C) – OFP: 60 / Bat-first catcher
Bobby Miller (RHP) – OFP: 60 / no. 3 starter
Miguel Vargas (INF) – OFP: 60 / The latest Dodgers Swiss army knife
Gavin Stone (RHP) – OFP: 60 / no. 3 starter
Nick Nastrini (RHP) – OFP: 60 / no. 3 starter or first-division closer
Dalton Rushing (C) – OFP: 60 / First-division backstop
Michael Busch (2B/LF) – OFP: 55 / Above-average regular without a set position
Nick Frasso (RHP) – OFP: 55 / no. 3/4 starter or late-inning reliever
Andy Pages (OF) – OFP: 55 / Above-average slugger
James Outman (OF) – OFP: 55 / Above-average outfielder
Ryan Pepiot (RHP)
Emmet Sheehan (RHP)
Eddys Leonard (SS)
Jorbit Vivas (2B)
Maddux Bruns (LHP)
José Ramos (OF)
Alex Freeland (SS)
Ronan Kopp (LHP)
Accimias Morales (RHP)
Andre Jackson (RHP)
Peter Heubeck (RHP)
Yeiner Fernandez (C/2B)
Carlos Duran (RHP)
OFP means Overall Future Value as projected by Baseball Prospectus.  The comments are also per Baseball Prospectus.  Baseball Prospectus relies a great deal on statistical metrics as they have a huge Fantasy Baseball audience, but their observations are some of the best that I have found.
Five of the 2023 top ten were also in the top ten for 2022, with 4 of them in the 2022 top 100.
#1 – Diego Cartaya – 2022 #2 and Top 100 #55
#2 – Bobby Miller –- 2022 #3 and Top 100 #63
#3 – Miguel Vargas –- 2022 #1 and Top 100 #36
#7 – Michael Busch –- 2022 #6 and Top 100 (NA)
#9 – Andy Pages –- 2022 #4 and Top 100 #68
Five of last year's top ten have dropped down the list.
#11 – Ryan Pepiot – Last year #5
#13 – Eddys Leonard – Last year #9
#14 –  Jorbit Vivas – Last year #8
#15 – Maddux Bruns – Last year #7
#20 – Andre Jackson – Last year #10
BP also considers the LAD prospects as RHP heavy.  10 of the 23 are RHP.