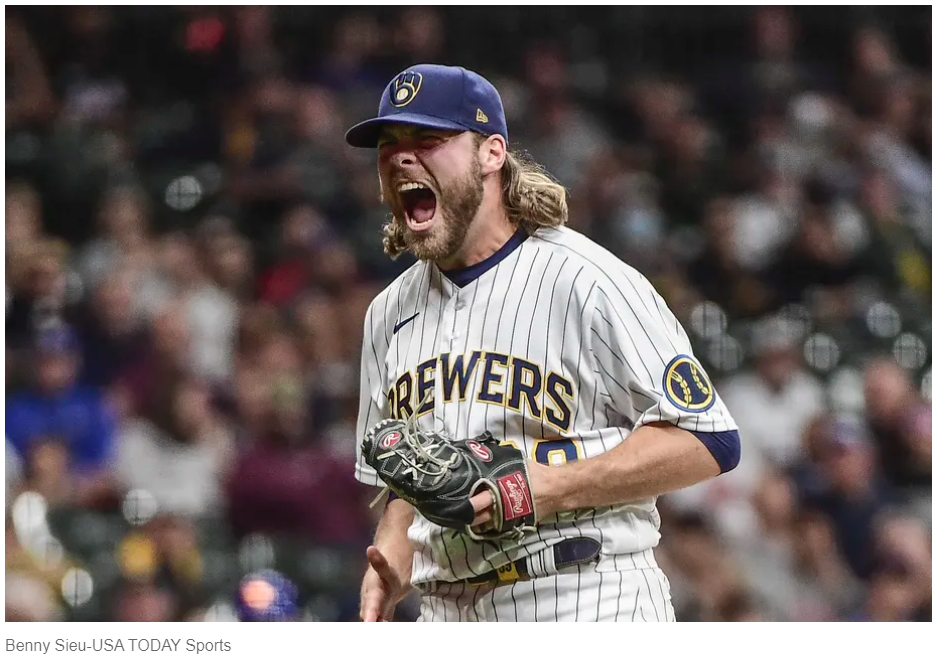 I agree 100% that there are not a lot of pitchers who can go 6-7 innings in a playoff game.  But to be contrarian, IMO AF looks for the best deal, and that may not always get the best player available at that time.  The Dodgers could have signed Nathan Eovaldi last year.  Texas paid $34MM for two years. Certainly not outlandish, and affordable.  His fWAR value was almost $20MM ($19.9MM).  If his 2024 fWAR is 2.0, he exceeds his contract.
When was the last time the Dodgers have signed a FA starting pitcher to a term longer than 1 year?  Early on, but not lately.  Instead the Dodgers did sign a reclamation project pitcher for 1 year…Noah Syndergaard ($13MM).  I would have bet plenty that Eovaldi would have had a better year than Syndergaard.
Admittedly, there have not been many Aces that have been FA in the last few years, but there have been some.  And I think for the majority of them, the decision not to pursue them were good choices.  But there were others that worked out.
The top 3 last year, deGrom, Verlander, and Rodón were not good choices.  Two were hurt most of the year, and JV earned a little more than ½ of his $43MM salary.
Chris Bassitt may not have been an Ace, but he is a top of the rotation pitcher, and he signed for 3 years $63MM.  He had 200 IP last year with Toronto (averaged a tad over 6.0 IP).  He had 181.2 IP the year before with NYM. There have been a few of us who wanted to see the Dodgers acquire Bassitt when he was with Oakland.
Last year I advocated for Zach Eflin who signed with Tampa Bay for 3 years and $40MM.  Tyler Anderson was horrible last year, but aren't all LAA pitchers?  Would he have been better had he stayed with LAD.  He will be 34 and 35 his last two years of his contract.
The year before, Kevin Gausman signed for 5 years $110MM ($22MM AAV) with Toronto, and has been outstanding.  Marcus Stroman 3 years $71MM.  Robbie Ray 5 years $115MM. Eduardo Rodriguez 5 years $77MM.  Ray won the CY in his platform year while with Toronto, and pitched well (not great) his first year in Seattle.  He had TJ and flexor tendon surgery last year.  You cannot predict most injuries, and I was one who was hoping that the Dodgers would sign Ray.  They didn't, and as it turns out, good for them.
What I want to see is a change in the mindset.  Get away from the 1 year reclamation projects. If there are no Aces, get the best #2, then the best #3.  If it costs more and/or requires more years, so be it.  AF has to look at the FA market (and trade market) differently this year.  Whereas he could justify the reclamation projects in the past with his envious pitching staff, this year he needs proven top of the rotation pitchers, and then let the kids be the back of the rotation until they prove themselves.
The Dodgers have lost out on multiple pitchers via trade.  The Dodgers very much wanted Luis Castillo and Pablo Lopez.  They would not pay the asking price (which I have no idea what that was), and they went elsewhere. How much has the trade value of Diego Cartaya, Michael Busch, Gavin Stone, and others decreased.  If the Dodgers had offered Cartaya, Busch, and Stone could they have acquired either Castillo or Lopez?  They wouldn't now because of the prospect capital tumble.
Jordan Montgomery (for 2023, 188.2 IP for 32 starts, and year before 178.1IP for 32 starts) ?  Dylan Cease (for 2023, 177 IP in 33 starts, and year before 184 IP in 32 starts)?  Mitch Keller (32 starts, 194 IP, average 6.0+ IP).  They are out there.  AF just has to be willing to spend $$$ or prospect capital, or both.  Change the mindset.
Why didn't Eduardo Rodriguez accept the trade with the Dodgers? I continue to believe that it was because AF would not give him extra dollars to waive the no trade deal.  We will see how much he likes Detroit this year as he has opted out of his contract.
Negotiate in good faith with Scott Boras clients.  Jordan Montgomery and Blake Snell would fit in nicely at the front of the LAD rotation.
I still believe the most likely top of the rotation FA pitcher in MLB that AF will target is Sonny Gray.  Jim Bowden's projection is 3 years $64MM. That is $21.33MM per year AAV.  Not out of line.  Is it out of the comfort zone for AF?
I do not pretend to know if the Dodgers value draft picks more than FA pitchers/players. I am more than positive that AF will not let the loss of draft picks stop them from signing Ohtani.  But what does it do with signing Sonny Gray, Blake Snell, Aaron Nola, or Matt Chapman.  Would signing Ohtani render the other FA with a QO out of bounds?  More opportunities for Yamamoto, Imanaga, and Montgomery. And of course the reclamation projects.
Five pitchers that I would absolutely target for trades:
Corbin Burnes (RHSP), Milwaukee (193.2 IP, 32 starts)
Dylan Cease RHSP), CWS (177.0 IP, 32 starts)
Logan Gilbert (RHSP), Seattle (190.2 IP, 32 starts)
George Kirby (RHSP), Seattle (190.2 IP, 32 starts)
Jesús Luzardo (LHSP), Miami (178.2, 32 starts)
A little more cautionary based on medicals, Shane Bieber (Cleveland) and Triston McKenzie (Cleveland), and Max Fried (Atlanta).
Others:
Braxton Garrett (LHSP), Miami
Cole Ragans (LHSP), KC
Brady Singer (RHSP), KC
Tarik Skubal (LHSP), Detroit
Matt Manning (RHSP), Detroit
I am sure that there are at least a dozen more that I would never think of.  But don't try to make the perfect deal.  It isn't out there.  Make a fair deal that will help the Dodgers in 2024 and not hurt them in 2025.  Outside of pitching, the Dodgers do not have elite MiLB talent at the upper levels, and the pitching is a surplus that AF can pick and choose.  They can certainly put a package together for pitching or position players.
One player that I mentioned last year, and one I hope that AF/BG pursues this winter.  The Dodgers have been looking for a RH hitting OF who hits LH pitching.  Washington Nationals OF, Lane Thomas.  Against LHP in 2023, in 192 PA, .332/.375/.573/.948, 14 doubles, 1 triple, and 9 HRs.  He will cost, as he has two years of control.
Back to my premise…Change the mindset.  Don't try to be perfect, just fair and good.
BTW, MLBTR has just published their annual Top 50 free agents and predictions.  I will be reviewing it and commenting.
https://www.mlbtraderumors.com/2023/11/2023-24-top-50-free-agents-with-predictions.html