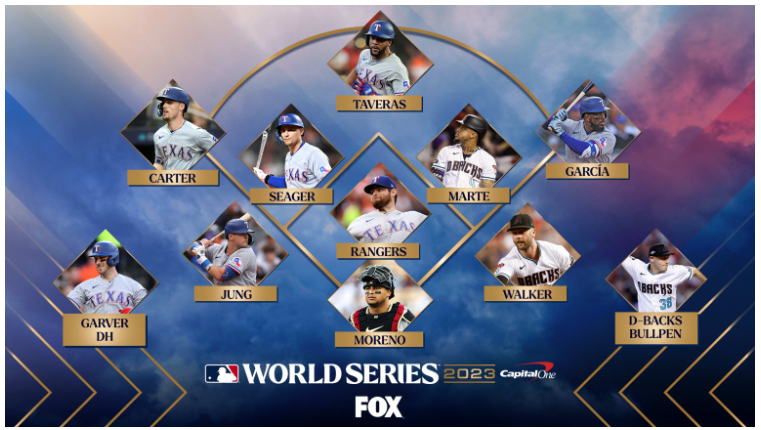 The 2023 World Series participants are now identified, and I for one am surprised but not dismayed.  I will enjoy the show.  I am a non-apologist diehard LA Dodgers fan.  I will always be convinced they can and will win, and I will support them even in their worst times.   Support does not mean that I cannot question.  I will continue to reserve the right to question on the field decision making, on the field play, as well as front office personnel decisions and finance decisions.
But I am also a baseball fan.  So, I plan on watching the World Series.  I will be rooting for Texas, primarily because of Corey Seager.
Both teams lost 100 games two years ago (Arizona lost 102).  How do you go from a 100 loss team to a WS participant in two years?  Both teams got there in different ways.  Texas used the draft, free agency, and trades to get there, while Arizona primarily used the draft and surgical trades.
Texas Pre-Season Acquisitions:
FA – Signed RHSP Jacob deGrom, RHSP Nathan Eovaldi, LHSP Andrew Heaney, LHSP Martín Pérez (accepted QO), OF Robbie Grossman.
Selected the contracts of OF Travis Jankowski and RHRP Ian Kennedy. Both signed MiLB contracts.
Acquired RHP Jake Odorizzi and cash considerations from Atlanta in exchange for LHP Kolby Allard.
Texas at the deadline:
Acquired RHSP Max Scherzer and cash considerations from the New York Mets in exchange for INF/OF Luisangel Acuna.
Acquired LHSP Jordon Montgomery, RHRP Chris Stratton and international bonus pool money from St. Louis in exchange for LHP John King, INF Tommy Saggese, and RHP T.K. Roby.
Acquired C Austin Hedges from Pittsburgh in exchange for international bonus pool money.
Not all organizations that have benefitted from FA did so at the level of what Texas has done.
Of the 26 players to appear in a game for the Rangers this postseason, nine were acquired or retained via free agency. The club got a combined 23.3 WAR (per Baseball-Reference) from these nine players during the 2023 regular season.
That is the 3rd highest bWAR for FA for any MLB team.  2009 NYY FA had a bWAR of 38, and Boston's 2013 FA had a bWAR of 26.
FWIW, no LAD team is included in the top 10 bWAR for FA.  This should dispel the commentary that LAD buys their teams.  But it will not.
Arizona Pre-Season Acquisitions:
FA – Signed Andrew Chafin, Evan Longoria, Scott McGough, Zach Davies
Acquired OF Kyle Lewis from Seattle Mariners for C/OF Cooper Hummel.
Traded C/CF Daulton Varsho to Toronto Blue Jays for OF Lourdes Gurriel Jr. and C Gabriel Moreno.
Traded cash to St. Louis Cardinals for LHP Anthony Misiewicz.
Arizona at the deadline:
Acquired C Francisco Ortiz from Colorado for cash.
Acquired RHP Paul Sewald from Seattle in exchange for INFs Josh Rojas, Ryan Bliss and OF Dominic Canzone.
Acquired OF Tommy Pham and cash in exchange for SS Jeremy Rodriguez.
The Gabriel Moreno/Lourdes Gurriel Jr. trade, and the Paul Sewald/Tommy Pham deadline trades have put Arizona into the WS.  Those were great trades for very little cost, and all four have been critical for the D-backs during the year, and especially in the playoffs.  Paul Hazen should get exec of the year for those trades alone.
Both teams benefitted from their respective deadline trades, more than any other MLB team (IMO).
In 2023, Arizona also released veterans, Nick Ahmed, MadBum, Carson Kelly to get younger.
One 2022 deadline trade has generated positive results.  Arizona traded RHP Luke Weaver to KC for 27 year old 3B Emmanuel Rivera.
Mike Petriello, MLB, authored a position by position analysis for the Series.  Here are his conclusions.
 Catcher – Jonah Heim (Texas), Gabriel Moreno (Arizona)
Advantage: D-backs (Ever So Slightly)
1B – Nathaniel Lowe (Texas), Christian Walker (Arizona)
Advantage: D-backs (Somewhat small)
2B – Marcus Semien (Texas), Ketel Marte (Arizona)
Advantage: D-backs (Marte offense over Semien Defense)
SS – Corey Seager (Texas), Geraldo Perdomo (Arizona)
Advantage: Rangers (Rather significant advantage)
3B – Josh Jung (Texas), Evan Longoria and Emmanuel Rivera (Arizona)
Advantage: Rangers (Clear Advantage)
LF – Evan Carter (Texas), Lourdes Gurriel Jr. (Arizona)
Advantage: Rangers (Clear Advantage)
CF – Leody Taveras (Texas), Alek Thomas (Arizona)
Advantage: Rangers (Ever So Slightly)
RF – Adolis Garcia (Texas), Corbin Carroll (Arizona)
Advantage: Rangers (Throws a Dart)
DH – Mitch Garver (Texas), Tommy Pham (Arizona)
Advantage: Rangers
SP – Jordan Montgomery/Nathan Eovaldi/Max Scherzer (Texas), Zac Gallen/Merrill Kelly/Brandon Pfaadt – Texas has Dane Dunning/Jon Gray/Andrew Heaney as a 4th starter…Arizona has no 4th starter
Advantage: Rangers (Montgomery and 4th starter give small advantage)
RP – Neither is a strength, and can probably be labeled as a weakness for both teams.
Advantage: D-backs (Somewhat small)
Mike Petriello prediction – D-backs in 7
 I might have switched Corbin Carroll over Adolis Garcia (even with his ALCS).  Otherwise, I cannot argue with his conclusions on the players.  However, I am picking Texas in 6.
Both teams have a pair of rookies that are playing a significant role this season that is being carried over to the postseason:
Texas (LF Evan Carter and 3B Josh Jung), Arizona (RF Corbin Carroll and RHSP Brandon Pfaadt).
I do not anticipate many changes in the lineups for either team.  Arizona could use Longoria as the DH to face LHSP Montgomery, with Pham going into RF and Carroll to CF with Alek Thomas sitting.  Texas could throw out the same 9 in each game.
Four more wins by one team will get us closer to the Hot Stove League.  Let the games begin.