One of my concerns with the Dodgers is that they do not have any elite young prospect talent ready for the ML.  Plenty of depth, platoon, reserve, utility.  But where is that lock down SS or 3B or 2B or right hand hitting corner OF in the MiLB?  24 year old Jonny Deluca could be a fine #4 OF to replace David Peralta. But he is not going to be at the level of either of the two rookie OF playing well in the WS…22 year old Corbin Carroll (Arizona) and 21 year old Evan Carter (Texas).  Heck, he is not going to be at the same level as 23 year old CF, Alek Thomas.  I would have preferred that he would have been on the roster rather than the injured David Peralta, but obviously the Dodgers did not.  I may not have expected much, but it would have been refreshing to see what the rookie might have done if given the chance.
Arizona unceremoniously jettisoned their longtime SS, Nick Ahmed, for the untested young prospect, Jordan Lawler, Arizona's #1 prospect (60 grade).  Lawler is an exceptional 5-tool SS talent with plus speed (of course he does), who is probably not ready for prime time. But he is a PR candidate and getting the experience.   They already have the slick fielding 23 year old Geraldo Perdomo as an All Star SS.  The Dodgers could have put  Deluca on the roster instead of Peralta, and/or Michael Busch on the roster instead of Kolten Wong.  Again, not the Dodgers way.  Under AF, they prefer the veteran.
Texas brought up Evan Carter in September and played him over the veteran Robbie Grossman.  He has rewarded them nicely with his offense and defense not only at the end of the season, but also throughout the playoffs.  They have had to wait for 2 years and 2 separate injuries for the 3B, Josh Jung.  But he is in the every day lineup and producing both with his bat and glove.
2nd year catcher, Gabriel Moreno, is one of the very best catchers in all of MLB and he is 23.  Diego Cartaya, the "elite future catcher" for LAD is 17 months younger, but nowhere close to the talent of Moreno.
Why is this an issue with respect to the Dodgers?  The Dodgers do not have any talent at the upper levels on their MiLB rosters that can replicate what the rookies Carter, Carroll, Thomas, and Jung are doing, or 2nd year players Moreno and Thomas.
MAYBE one of Michael Busch or Miguel Vargas can play an infield position.  Jung is the oldest of the rookies (25), but he is younger than Busch.  Both Busch and Vargas (24), are DH trying to play infield.  There is no way that Busch or Vargas  makes the plays that Jung has been making at 3B.  At 2B?  Vargas was one of the worst defensive 2B in MLB, and he is better than Busch.  Busch and Vargas stay in the lineup, only if they hit.  Try them in LF?  Okay.  Then there is no spot for Deluca.  At least Deluca can play adequate defensive OF.
Deluca has not played one inning in the infield.  He is not going to magically move to 3B because he looks like Ron Cey.  Yes, in the 70's, Lopes and Russell were converted OF moving to the infield.  But they were speedy OF that moved to middle infield positions.  Cey always played 3B.  Craig Biggio went from catcher to outfield to 2B.  But he is a HOF player.  Gavin Lux grew up a SS, and could not play 3B.  There is nothing in Deluca's career that even suggests he can play 3B.  The Dodgers are more likely to move Will Smith to 3B, but that ain't happenin' either.
Why is this an issue with me?  The Dodgers' position players are old and do not have replacements in MiLB.  Below is a chart on the average player age for both bat and pitch. These are from Baseball Reference.  I also combined both for a third section.   It cannot be that far off in accuracy.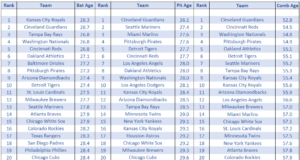 The Dodgers far and away are the oldest team of position players in MLB.  It is their young pitching, that should not have even been in MLB, that made them not at the bottom overall.
Vargas is the youngest of the LAD prospects ready for MLB, and he is less than one month younger than Perdomo (already an All Star), and is older than both Carter and Thomas.  Andy Pages is 22, and has lost a year to a shoulder injury.  He is a potential every day LF, but will not be ready until mid season, at the very earliest.  Jorbit Vivas?  He is a utility infielder.  The Dodgers have a dugout full of those guys. Jorbit will be 23 in 2024.   Hunter Feduccia?  Back up catcher, and he will be 27 in 2024.  That is it.  Which one of those guys puts the Dodgers over the top?  None of them are elite.  Gavin Lux, Will Smith, and James Outman are the only position players drafted, or signed as an IFA , in the AF era that have made any kind of impression at the MLB level.  Vargas, Busch, and Deluca are works in progress and are well past the young and elite age.
Will Smith (will be 29) is older than both the Texas and Arizona catcher. James Outman (will be 27) is older than both the Texas and Arizona CF.  Lux (will be 26) is older than Arizona's SS, but younger than Corey Seager, but nowhere near his abilities.
So while I agree with Badger that both Mookie and Freddie are elite premium talent, they do not have anyone else that can be counted on, and both of them choked in the playoffs.  Second year in a row for Mookie.  If you do not draft or sign young IFA how do you get younger and better?
Signing free agents does not get you younger. Trades may or may not get you younger.  The Dodger trades have not produced younger talent for position players.  Most (if not all) of the younger difference making players are not going to be traded (and that includes Bobby Witt).  Generally the Dodgers are going to get players who are at most one year away from FA (Mookie and Trea Turner).  For the best, that is late 20's.  Mookie was 27 and Trea Turner was 29 when traded to LAD.
The Dodgers prefer veterans.  Thus if you sign FA or trade for older players, the younger players get blocked.
Finally, the pitching age for LAD is going to increase.  For those that truly believe that Buehler/Miller/Pepiot/Sheehan/Stone are going to be the rotation have not paid much attention to what AF has done.  AF will sign at least two SP, that does not include Clayton Kershaw.  Hopefully one will be Yoshi Yamamoto, but I think it will be Sonny Gray and one of Lucas Giolito or Jack Flaherty.  Maybe both.  Many are predicting that the Dodgers will re-sign Lance Lynn.  I have seen nothing in AF's history that would indicate anything else.
They may not win the Division next year.  Arizona is not going away, and they have figured out a way to win without always needing to slug.  Although they certainly can.  They have three SP they can count on, and I expect Mike Hazen will find one or two others.  They have 3 FA, and one (Evan Longoria) will be replaced by a younger Emmanuel Rivera.  They have been waiting for OF Pavin Smith to arrive. Or maybe it will be the speedy Jake McCarthy.   If not, they can always re-sign Lourdes Gurriel Jr. (30).
The Dodgers?  They will find older stop gap players to fill in until hopefully their A and Rookie level players start to show they can play MLB.  I see no way they get younger and more athletic.  They will be built to win the Division.  October????