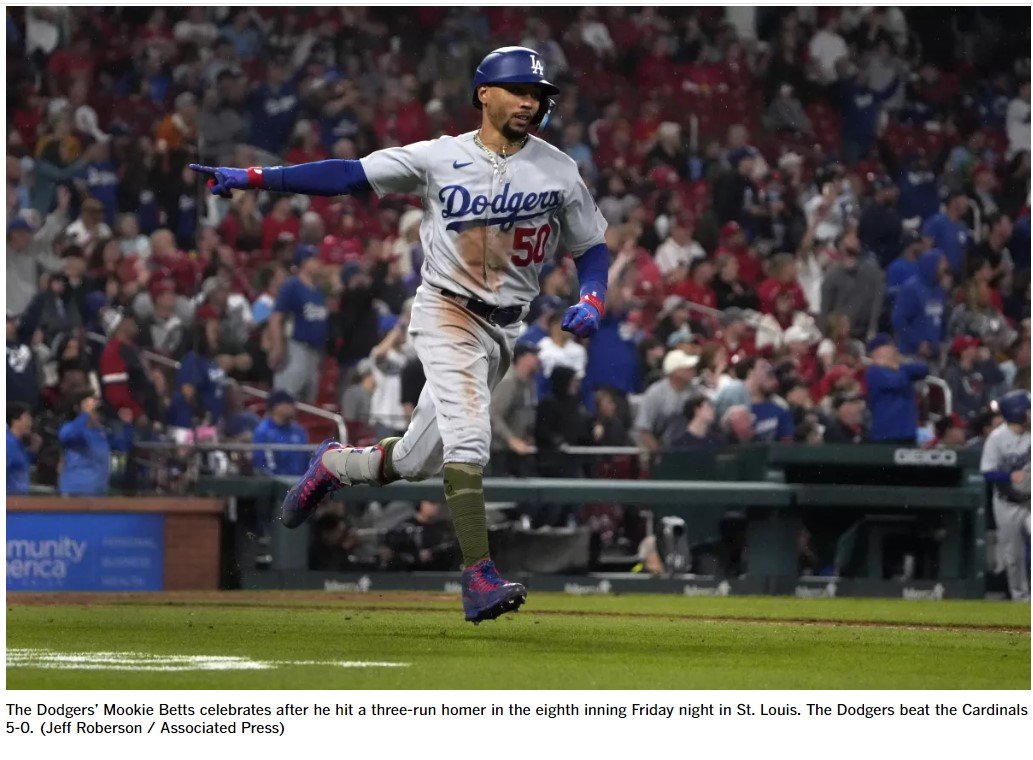 Baseball is a funny game.  No two games are alike. The Dodgers get their butts kicked on Thursday.  Starting pitcher, Julio Urías, was spanked for 4 HRs.  Tipping pitches?  Or just bad pitches?  Overall the Cardinals scored 16 runs on 12 hits and 6 BB.  For the game, the Cardinals would hit 7 HRs that led to 13 runs.
The Dodgers would score 8 of their own.  Four runs coming on Freddie Freeman's 300th career long ball for a grand slam.  Max Muncy would add a solo HR.  8 runs should be enough to win, but with Urías pitching poorly, and the Dodgers #7, #8, and #9 relievers pitching even more poorly, 16 runs was a bit too much for the LAD offense to match.
Switch to Friday.  Tony Gonsolin was scheduled to face the Cardinals, and was hoping to go a bit deeper into the game to give the bullpen a bit of a rest.  He was facing a team that has scored 85 runs in their last 11 games for an average of nearly 8 runs per game (7.7).
One of my concerns with The Catman is long innings.  He does not give up runs, but he sure runs up the pitch count.  In Friday's game, he threw 30 pitches in the first inning alone.  It did not look promising that Tony would be going deep into the game.  After 4.0 innings, Gonsolin had thrown 84 pitches (an average of 21 pitches/inning).
The Dodgers finally put a run across in the 5th on a 2-out 2-strike double by CT3, after a rare error by Nolan Arenado.
Tony now up 1-0 came back out to pitch the 5th.  After innings with pitch counts of 30, 17, 21, and 16 pitches, the Cardinals did Gonsolin a favor by being a little aggressive, especially Lars Nootbaar swinging on a 3-0 count and hitting a fly ball into CF for a 10 pitch inning.
Gonsolin was now turning the game over to the bullpen.  How many felt comfortable with a 1-0 lead and the Dodgers needing 4 innings from the bullpen?  Brusdar Graterol was first up.  Paul Goldschmidt crushes a ball to CF that James Outman makes a HR saving leap to make the catch.
Arguably the play of the game.  I would score James' catch as play 1A to Mookie's 3-run jack as play 1B.
JAMES OUTMAN ARE YOU SERIOUS pic.twitter.com/QXe2NwJZP3

— Blake Harris (@BlakeHHarris) May 20, 2023
Nolan Gorman followed up the Goldy out with a single into RF.  Graterol got Nolan Arenado to hit into a 4-6-3 DP to end the inning.
Still clinging precariously to a 1-0 lead, Shelby Miller retired the side in order in the 7th.
The Dodger bats broke through in the 8th.  Miguel Vargas led off with his second hit of the game.  He was still at 1st when David Peralta came in to PH for Trayce Thompson, and drew a 4 pitch BB.  After the 4 pitch BB, the next batter, Mookie Betts, attacked the first pitch for a 3 run HR.  Freddie followed with a double, and Will Smith singled him home and a 5-0 lead.  The Dodgers were 2-2 WRISP in the 8th, but were 2-14 leading up to the 8th.
MOOKIE BETTS HAS THAT DOG IN HIM pic.twitter.com/yBRoeyeLal

— Blake Harris (@BlakeHHarris) May 20, 2023
Staked to a 5-0 lead, Caleb Ferguson came in the 8th. After he struck out Tommy Edman for the 1st out, he got a ground ball to Miggy Rojas, who booted it for an error.  After a force out, Caleb walked Goldschmidt on 4 pitches.  An unintentional intentional BB?  He then struck out Nolan Gorman to end the inning.
Newcomer Tyler Cyr was called on to finish the game.  The first batter Tyler would face as a Dodger would be Nolan Arenado.  A very hot Nolan Arenado.  He struck out Nolan Arenado on 4 pitches.  Welcome to LAD.  He got Willson Contreras on a 5-3 ground out, and got Brendan Donovan on a routine fly out to David Peralta in LF.
So after a night the Cardinals score 16 runs on 12 hits, Tony Gonsolin and 4 relievers shut out St. Louis on 2 hits (2 singles).
Following a loss, the Dodgers have been relentless.  In the game following a loss, the Dodgers were batting:
OPS – .857 (1st in MLB)
BA – .256 (10th in MLB)
OBP – .343 (3rd in MLB)
SLG – .514 (1st in MLB)
Maybe the batting average is not special, but considering their overall BA is .231 (24th in MLB), something gets those bats moving.
With the win, the Dodgers have opened up a 3.5 game lead over Arizona who lost to Pittsburgh (with Zac Gallen pitching).  They have also picked up a game on San Diego.  The Dodgers have an 8.5 game lead on San Diego, and are now just 1.0 game better than the last place Rockies.
Noah Syndergaard faces Miles Mikolas on Saturday.  Can Thor get through more than 4.0 innings with his finger?  It sure would help if he could pitch 6.0.
MiLB Summary Report
OKC Dodgers 7 – Sugar Land Space Cowboys (Houston)
Robbie Erlin, another journeyman AAA pitcher, spotted Sugar Land a 4-0 and 6-1 lead after 3.0 innings.  Down 4-0 in the 1st, the Drillers got one back.  Drew Avans led off with a BB.  Avans scored on a Michael Busch double (10).
Down 6-1 in the 4th, Yonny Hernandez and Justin Yurchak led off with singles. A WP moved the runners to 2nd and 3rd.  Avans scored on a Patrick Mazeika ground out.  Jahmai Jones drew a BB.  Drew Avans grounded into a force out to score Yurchak.
Michael Busch singled Avans to second.  Luke Williams walked to load the bases with 2 outs.  Ryan Ward single home Avans and Busch.  Jonny DeLuca singled home Williams.  Yonny Hernandez was HBP to load the bases.  Justin Yurchak hit an infield single to plate Ward for the 6th run of the inning and a 7-6 lead.
Erlin completed 5.0 innings and left with a 7-6 lead, and turned the game over to the bullpen.  Justin Hagenman (2.0 IP), Alex Vesia (1.0 IP), and Nick Robertson (1.0 IP) completed 4.0 scoreless/hitless innings.  Robertson recorded his 6th save in 6 save opportunities.
Michael Busch – 2-3, 1 BB, 1 R, 1 RBI, double (10)
Yonny Hernandez – 2-3, 1 R
Justin Yurchak – 2-4, 1 R, 1 RBI
Ryan Ward – 1-5, 1 R, 2 RBI
Tulsa Drillers 10 – Corpus Christi Hooks (Houston) 1
The Tulsa Drillers snapped a four-game losing streak in a big way Friday night. The Drillers, who had totaled just six runs in their four straight defeats, matched that total in the their first two at-bats and eventually reached double figures in a 10-1 win over Corpus Christi.
Offensively, the Drillers were led by Jorbit Vivas, who finished a perfect 3-3 with three runs scored, and Carson Taylor (the other catcher not named Cartaya) had two hits, including his third home run.
Tulsa pitchers combined for a season-high 19 strikeouts in the game and came within one out of getting the team's sixth shutout of the year.
Since scoring three runs in the first inning of the first game of the series with the Hooks, the Drillers entered Friday's game with just one run over their last 26 innings. They broke out of their offensive slump quickly, scoring in each of the first three innings.
In the top of the first, Tulsa took a 1-0 lead when Vivas led off with a base hit and later scored on an error.
The Drillers padded their lead with five more runs in the second inning. With two outs and the bases empty, a wild pitch brought home a run. Following a walk, Imanol Vargas singled home two runs, and left fielder Quincy Hamilton's fielding error on the play plated another. Yusniel Diaz capped the big inning with a run-scoring double that increased the lead to 6-0.
Tulsa's offensive fireworks continued into the top of the third. Taylor's 378-foot blast over the right-center field fence made it 7-0 before a pair of balks delivered another to make it an eight-run lead.
Vivas doubled and scored in the sixth, and Eddys Leonard did the same in the seventh inning to make the lead 10-0.
Starting pitcher Kyle Hurt delivered a dominant performance, blanking the Hooks through four innings while allowing just two hits and striking out ten.  Ten of the 12 outs were via a strikeout.
Newcomer Kevin Gowdy followed Hurt to the mound in his Drillers debut and worked a scoreless fifth inning.  Gowdy was signed by the Dodgers to a MiLB contract in January and was assigned to Tulsa.  He was activated by Tulsa on May 16.  He was a former 2016 2nd round draft choice of the Philadelphia Phillies.
The only run for the Hooks came with two outs in the bottom of the ninth on Shay Whitcomb's ninth home run of the year of Jordan Leasure.
HIGHLIGHTS AND HAPPENINGS:
Tulsa's pitching staff is currently tied with three other teams to lead Minor League Baseball with five shutouts. The Drillers came within one out of taking the lead alone.
The 19 strikeouts were the most for Tulsa pitchers since striking out 20 on May 27, 2021, in a 13-inning win over Arkansas. The franchise record for a nine-inning game is 21 when Dave Righetti reached that figure himself in a complete game performance during the 1978 season.
Alec Gamboa followed Gowdy to the mound and did not allow a hit in three shutout innings.
The game was an ugly end for the Hooks' four-game winning streak. Corpus Christi committed three errors and two balks while throwing five wild pitches.
Great Lakes Loons 3 – West Michigan Whitecaps (Detroit) 2
This was not a bad game, but not one of Ben Casparius' better outings.  He got thru the first three innings without a run, but with some traffic in all three innings.  In the 4th, he issued a one out BB and single.  With runners on the corners, a ground ball force out got the run home, and a runner on 1st with 2 outs.  Next batter slugged a run scoring double.  He walked the last batter he faced, and Michael Hobbs came in to get the final out.
Hobbs completed 2.0 scoreless innings with a hit, BB, and HBP.  Following Hobbs, three Loons pitchers each pitched a perfect inning with 5 Ks in 3.0 IP.
Mitchell Tyranski – 2K
Carlos De Los Santos – 1 K
Benony Robles – 2K
The Whitecaps took a 2-0 lead into the bottom of the 9th.  The Loons had 4 hits (1 double) and 3 BB in 8.0 innings.  The situation looked dire.  Damon Keith led off with a BB.  After an out, Chris Alleyne drew a walk putting two runners on for Ismael Alcantara.  On a 1-2 pitch, Alcantara hit an opposite field walk off 3-run HR.
The Loons have opened up a 3.0 game lead on the Whitecaps.
Sergio Alcantara – 2-3, 1 run, 3RBI, HR (2)
Visalia Rawhide (Arizona) 8 – Rancho Cucamonga Quakes 3
For the first time in the series, the Quakes' offense was contained by Visalia pitching, as the Rawhide knocked off the Quakes by a final of 8-3.
Leading 8-0, Visalia couldn't finish the shutout, as the Quakes, who were held to just three hits in the first eight innings, put together a rally and scored their only runs of the game, with Kenneth Betancourt doubling home a pair, then scoring on a Dayton Dooney double. It wasn't nearly enough though, as Visalia ended Rancho's brief two-game win streak and evened the series at two wins apiece.
Rawhide starter Jose Cabrera (1-3) was sharp, allowing just three hits over five scoreless innings.
Peter Heubeck (0-3) gave up two runs over three innings, suffering the loss on Friday.
The Quakes (25-12) will send Payton Martin (1-0) to the mound on Saturday.