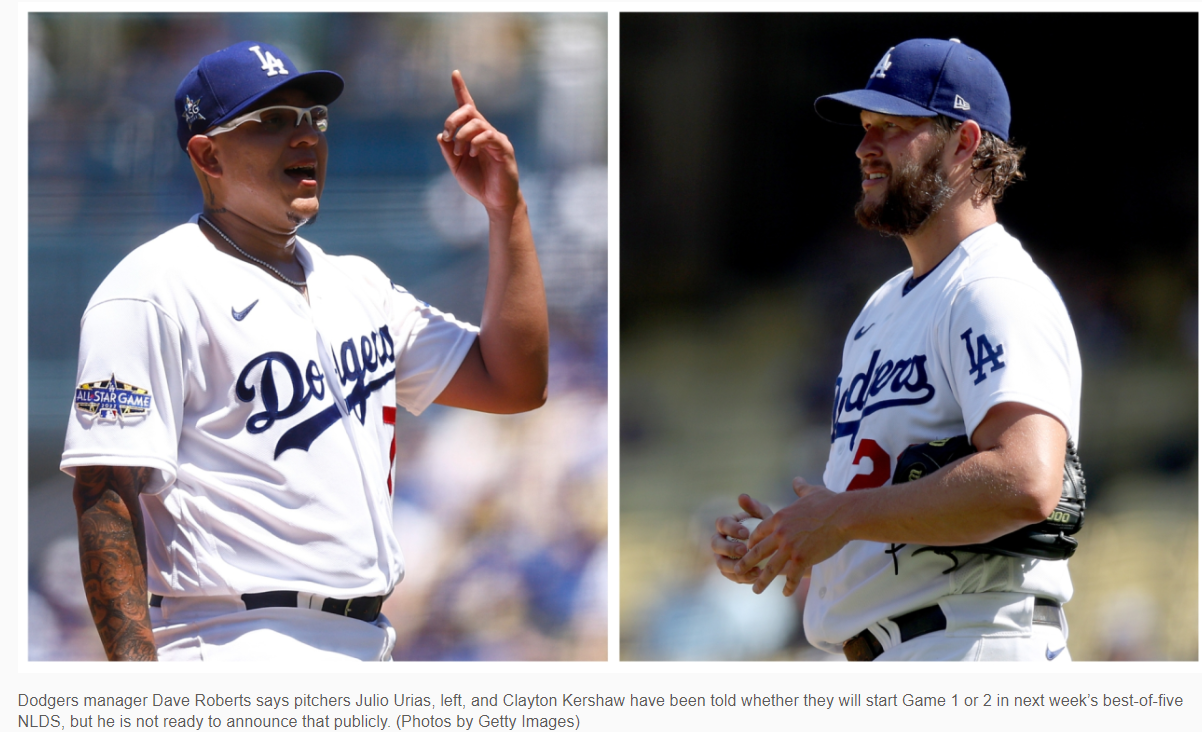 Ryan Pepiot, Michael Grove, and now Dustin May.  Three starting pitchers on the IL.  Pepiot was added to the IL before the season began with an oblique strain.  Everything was set up for Pepiot to make his first OD roster.  Instead it was Michael Grove who replaced Pepiot on the OD roster as the #5 SP.  In the most recent update, the earliest Pepiot is expected to be ready is July 14.
#Dodgers announce Ryan Pepiot will start the season on the injured list with a left oblique strain.

Michael Grove is on the OD roster as the No. 5 starter.

— Juan Toribio (@juanctoribio) March 30, 2023
Grove lasted into his 4th 2023 start on April 20.  On April 21, Grove was added to the IL with a groin strain.
The Dodgers have placed Michael Grove on the IL and recalled Jake Reed

To make room on the 40-man, Ryan Pepiot has been transferred to the 60-day IL

— Blake Harris (@BlakeHHarris) April 21, 2023
Grove is currently with the Taxi Squad and traveling with the team.  His presence is more of an emergency in a relief role rather than in a starting role.  He is expected to be ready (probably for a rehab assignment) on May 21.
See LAD Injury Status below:
At the time Grove was going onto the IL, Tony Gonsolin was just in the beginning of his own rehab assignment.  Instead of continuing at OKC, Gonsolin was summoned to LA to join the rotation.  At the same time Grove went on the IL, Julio Urías went into his end of April funk.
The starters were sucking wind when they called on Gavin Stone to make a spot start as a #6 starter. Stone was dispatched back to OKC, and the rotation was once again intact.
Gonsolin had been building back up and should be able to assume a 90-100 pitch game.  However, is he going to be able to keep the pitch count per inning below 20? Noah Syndergaard's finger is still suspect.  Gavin Stone is a rookie. Julio Urías is an enigma.  The only pitcher I am comfortable with right now is Clayton Kershaw, and he could be emotionally spent due to the passing of his mother.
Are we convinced that there is nothing physically wrong with Julio Urías?  He in now tied with Jordan Lyles (Baltimore) as the pitcher allowing the most HRs in MLB.  His ERA is now at 4.39.  In Monday's game, Urías could not get the Cardinals to chase, and the umpire was not expanding the strike zone.  He had 1 K.  Urías was tattooed on Monday.  We have already reported Julio's drop in velo over the last few years.  But his velo dropped even more on Monday.
4-Seamer – Monday 92.5 – 2023 Average 93.0
Cutter – Monday 85.1 – 2023 Average 86.4
Slurve – Monday 78.4 – 2023 Average 79.7
Change – Monday 86.4 – 2023 Average 86.4
Last year when we saw a precipitous drop in velo from Walker Buehler and a rising ERA, I raised the question as to whether he was healthy.    Well we all know how that ended.
I am not about to speculate that Julio has an injury.  But can I not ask a question about trends?  He is showing frustration when he cannot get teams to chase, and when umpires are not giving him pitches out of the box. Is there a reason that he continues to nibble rather than go after batters? The trends in Urías are not as severe as they were with Buehler, and he does pitch exceedingly well at times.  Urías will pitch Tuesday against Atlanta.  Will he bounce back?  He has before, so why not?  Starting pitching has been outstanding at times, but certainly tenuous.
I will take a look at the potential depth that MIGHT be needed before the trade deadline.
The bullpen is already overworked and taxed.  For the last 5 games, starting pitching have pitched 17.0 innings,  However, the bullpen has accumulated 30.0 innings over those same 5 games.  Things will not get any easier.  The Dodgers still have 6 consecutive games against the top 2 NL offenses, and after a day off, 3 more against the best offense in MLB.
Does not bode well, but the team has had their backs against the wall quite a bit this year and are 28-17.  That is still 2nd best in the NL and 4th best in MLB.
There are currently 9 relievers on the 26 man:
Victor González – 0.00 ERA, 11.1 IP
Caleb Ferguson – 1.10 ERA, 16.1 IP
Evan Phillips – 2.12 ERA, 17.0 IP
Justin Bruihl – 2.53 ERA, 10.2 IP
Shelby Miller – 2.70 ERA, 20.0 IP
Phil Bickford – 5.66 ERA, 20.2 IP
Andre Jackson – 7.98 ERA, 14.2 IP
Yency Almonte – 9.00 ERA, 18.0 IP
Jackson pitched well for the 1st 3.0 innings in Monday's debacle.  He hit a wall.  Even the broadcast booth recognized that he had lost a few ticks in his 4th inning of work.
Yency Almonte?  Is he really a MLB reliever at this point.
I am certain that the bullpen on Monday will not be the bullpen on Sunday.  The question is, who will they be?
05-18-2023 MiLB Summary Report
OKC Dodgers 6 – Sugar Land Space Cowboys (Houston) 4
Matt Andriese started for OKC and pitched 5.2 innings. He did allow the 4 tuns (3 earned) but got the win.  OKC had three relievers follow Andriese and pitched 3.1 scoreless innings on 1 hit.  Adam Kolarek, Mark Washington, and Wander Suero were the three OKC relievers, with Suero getting his 6th save.
OKC had 6 hits.  Jonny DeLuca had three of them.  He had a double (2) and 4 of the 5 RBIs.  Steven Duggar had the other RBI.  DeLuca has had a good start in AAA.
Like their parent club, they had problems WRISP.  OKC was 3-17.
Corpus Christi Hooks (Houston) 4 – Tulsa Drillers 1
The Drillers have now been shut out and scored only 1 run in the last two games.  Landon Knack started for the Drillers and pitched extremely well in his 5.0 IP.  He allowed one run on 3 hits, 1 BB, and 9 K.
Ryan Sublette relieved Knack and gave up the go-ahead run on a double, ground out, and WP.
Ben Harris relieve Sublette, and while he did pitch a scoreless 7th inning, he continued to pitch with traffic with 2 BB.  Tanner Dodson surrendered a 2-run HR in the 8th.
The Drillers have mustered 4 runs on 12 hits in the last three games since Andy Pages and Jonny DeLuca were promoted.
Eddys Leonard was 2-4.  Diego Cartaya had the only XBH, double (5).
Great Lakes Loons 10 – West Michigan Whitecaps (Detroit) 0
Ron Kopp and three relievers pitched a 5 hit shutout.
Ronan Kopp – 3.1 IP, 2 hits, 3 BB, 3 K
Aldry Acosta – 1.2 IP
Robbie Peto – 3.0 IP, 1 hit, 1 BB, 4 K
Jack Dreyer – 1.0 IP, 2 hits, 1 K
Robbie Peto got the win, and is now 4-0.
The Loons had a 14 hit attack to score their 10 runs.  Every Loon except Austin Gauthier had a hit.
Luis Yanel Diaz – 3-4, 2 runs, 2 RBI, double (4), HR (2)
Damon Keith – 2-5, 2 runs, 3 RBI, HR (5)
Alex Freeland – 2-3, 2 BB, 1 Run, double (6)
Yeiner Fernandez – 2-5, 1 run, 2 RBI
Taylor Young – 2-3, 1 BB, 2 runs, 1 RBI
Rancho Cucamonga Quakes 17 – Visalia Rawhide (Arizona) 13
In one of the wildest finishes you'll ever hear about, the Quakes overcame a three-run deficit in the ninth inning, scoring nine times to take the lead for good in a 17-13 win over the Visalia Rawhide.
Leading 11-8 in the ninth, Visalia reliever Yaifer Perdomo (2-1) struck out Chris Newell for the first out, then ran into trouble.  He proceeded to give up a hit and three walks, forcing in a run and putting the go-ahead run on base.  Perdomo bounced back to strike out Dayton Dooney, but was lifted from the game after 28 pitches.  Needing just one more out and the Visalia bullpen running on empty, the Rawhide turned to right fielder Danyer Sanabria, who had not pitched in a game all year.    Sanabria walked the first three hitters he faced to give Rancho a 12-11 lead, before giving up a two-run single to Newell and a two-run homer to Jesus Galiz, as the Quakes scored eight runs with two outs to take a commanding 17-11 lead.   Gabe Emmett (2-1) got the first two outs of the ninth before Jon Edwards came on to get the elusive 27th out.    Newell cracked a pair of homers, giving him a league-leading ten on the year.  Nick Biddison also went deep, as Rancho built an 8-3 lead midway through the game.   Visalia ripped off eight straight runs against the Quakes' bullpen, before things fell apart in the ninth.   The Quakes (25-11) will look for a third straight win on Friday, sending Peter Heubeck (0-2) to the mound against Jose Cabrera (0-3) at 6:30pm.