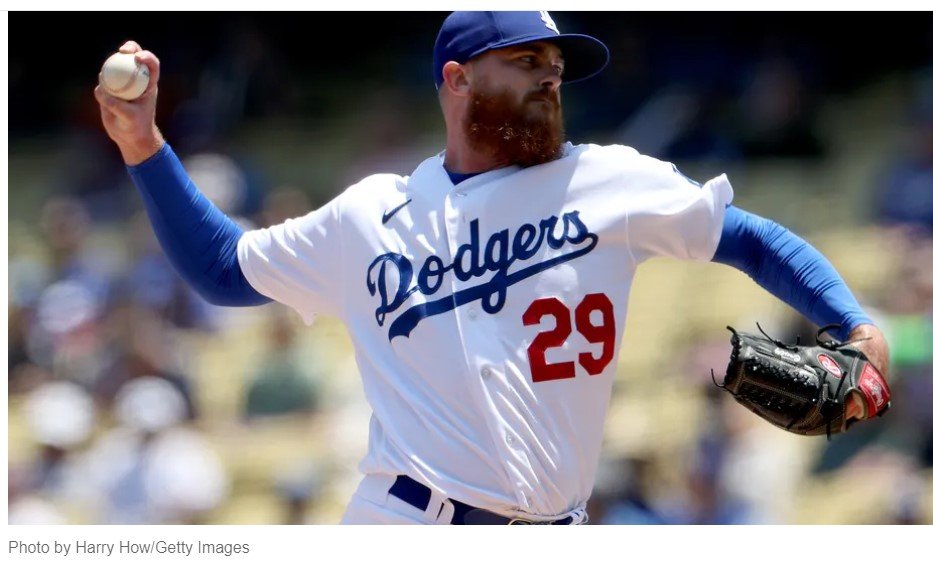 This was supposed to be the much awaited pitchers duel between the Dodgers' Dustin May, and the MLB ERA leader, Twins' Sonny Gray.  Dustin finished just one inning before an elbow injury cut his day short.  The worry was that: a) the actual pain, and b) his velocity was significantly down:
Sinker on Wednesday – 94.7 – Average for 2023 – 96.7
Cutter on Wednesday – 90.9 – Average for 2023 – 93.1
Curve on Wednesday – 85.6 – Average for 2023 – 86.3
4-Seamer on Wednesday – 95.4 – Average for 2023 – 97.4
Dave Roberts reported after the game that Dustin had a flexor pronator strain. The degree of the injury was not known by Doc, but Dustin will definitely go on the IL.  A drop in velo as indicated above, cannot be good.  The doctors are going to need to review the images to learn of the severity.  Early reports indicate that his UCL is not damaged at all.   The estimated recovery time for his particular injury is at least 6 weeks.
Clayton Kershaw had already said that he will be pitching in St. Louis on Sunday.  So Gavin was not going to be called up for CK.  But he will be called up to take the place of Dustin May, with a scheduled start in Atlanta on Monday.  He will likely face 2nd year RHP Spencer Strider.  Stone pitched well in his last 2 outings.  On Tuesday, Gavin got his strike out pitch working again with 10.  It would appear Gavin is back on track.
In the meantime, the Dodgers still had a game to play.  After the starters only went 4.0 IP in the first two games, and with the first game going 12 innings, the bullpen needed a break.  Justin Bruihl pitched in three consecutive games: 4.0 IP and 64 pitches.  He was pitching well in those three games until the Kyle Farmer 2-run jack in his final inning on Tuesday.  He was optioned so that AF/BG could bring up another arm.  Justin will be back.  Enter – Dylan Covey.
Dylan Covey is a 31 year old RHP who last pitched in MLB in 2020 with Boston.  For the last 2 years, Covey was pitching in the Chinese Professional Baseball League, Rakuten Monkeys.  At OKC, Covey has been used almost exclusively as a starting pitcher.  In 7 games, 6 starts, Covey has compiled a 4.22 ERA.  In the PCL that is a good ERA.  It is good for 4th in the PCL, right behind Gavin Stone.
Covey, a life-long Dodger fan, was born and raised in Glendale, CA, and attended Maranatha High School, in Pasadena, CA.   He pitched well enough to get drafted in the 1st round (14th overall) in the 2010 draft by Milwaukee.  That year he lost 35 pounds and could not regain it.  He was all prepared to sign with Milwaukee, but after the post draft physical, Covey learned that he had Type 1 Diabetes and decided not to sign with the Brewers so he could get acclimated to his condition.  He was reportedly about a week away from slipping into a coma.
Covey's party was quoted as saying, "They [Milwaukee] knew they would have to do some special things for Dylan." He ended up turning down a $1.6 million signing bonus offer from Milwaukee."
Having turned down Milwaukee, Covey enrolled at the University of San Diego.  At USD, Covey was close to his doctors and parents as he worked to manage his condition.  He had an undistinguished college career for the Toreros, but was once again drafted in the 4th round by Oakland in 2012.  He did not make his MLB debut until April 14, 2017, with the White Sox against…Minnesota.  He pitched 5.1 innings, 5 hits, 1 run (earned), 3 BB, 1 K.  He did not figure in the decision.
Covey is 0-7 in his MLB career.  He did not get the win in Wednesday's game, but he did pitch well for his first 4.0 innings.  He allowed 1 run on 2 hits, 1 being a Byron Buxton HR (9) in the 4th.  He seemed to hit a wall in his 5th inning.  He gave up a solo HR to Joey Gallo (10).  He then gave up back to back singles to Alex Kirilloff and Carlos Correa before walking Byron Buxton on 4 pitches.
Covey left the game with the bases jammed with nobody out.  A tough spot for Victor González to come in to.  In perhaps the clutch inning in the game, all VGon did was to get Jorge Polanco to pop out to Freddie, strike out Donovan Solano, and get Kyle Farmer to fly out to Trayce Thompson.  For the strikeout, VGon got Solano to swing at three pitches out of the zone.
The Dodger bats were once again being stifled, and with RISP.  The Dodgers loaded the bases in the first without the benefit of a hit  The Dodgers could not get to Sonny Gray, and all three runners were stranded.  In the third, the Dodgers drew 1st blood.  Mookie led off with a triple and scored on a Freddie Freeman sac fly.  Will Smith singled and Max Muncy walked putting LAD in scoring position again.  Right where Sonny Gray wanted him.  They were both left stranded.
After Minnesota tied the score, in the bottom of the 4th, James Outman broke of his 0-12 hitless string with an infield single.  He stole 2nd , and 2 more LAD bats left a RISP before Mookie singled Outman home.
After Minnesota tied the score in the 6th, Caleb Ferguson was summoned to relieve González.  He gave up an infield single to Willi Castro on a ball hit between 1B and the mound.  With both Freddie and Caleb going for the ball, Caleb got to the ball, and with nobody defending 1B, it became a foot race.  Ferguson is going to lose every foot race to Castro, and he did this time as well.  Christian Vazquez took an inside edge fastball and hit it into RF for a single.  Another in a long line of soft singles by Minnesota in the three games.  After striking out Gallo, Castro was bouncing off 2B, threatening to run.  Ferguson had Castro picked, but made a horrible throw to Max Muncy at 3B that allowed Castro to score and Vazquez to move up to 3B.
Ferguson got Kirilloff on a 10 pitch strikeout.  With Vazquez still at 3B, and Carlos Correa coming to the plate, Doc called on Brusdar Graterol to get Correa.  On a 7-pitch AB, Correa hit into a 6-3 ground out to end the inning.  But Minnesota now had a 3-2 lead.
Former Dodger RHP prospect, José De León, struck out Mookie and Freddie.  With 2 out, the Dodgers were ready.  Will Smith and Max Muncy both singled. Emilio Pagan relieved De León and walked Jason Heyward to load the bases for Miguel Vargas.  Vargas drew a run scoring BB.  With score now knotted at 3-3.  After back to back walks, Outman attacked the first pitch, a 95.5 MPH 4-seamer out over the plate in the lower zone, and hit it over the CF wall (407') for his 2nd grand slam of 2023.
JAMES OUTMAN IS A BAAAAD MAN. pic.twitter.com/45hbKxqwvr

— Los Angeles Dodgers (@Dodgers) May 17, 2023
Outman's confidence has to be soaring again.  When he was going well, he had that short compact swing that he seemed to get away from.  For his grand slam, he went back to that short compact swing.  For his infield single, he indicated after the game that he has been consistently swinging underneath the pitches and he changed his approach to try and pound the ball into the ground.  He did, and he beat it out for a single.
Graterol came back out in the 8th and retired the side in order.  Evan Phillips entered in a non-save situation, but still a must-win.  Kyle Farmer reached on a CT3 E6.  Undaunted, Phillips got Castro to fly out to Trayce in LF, and struck out Christian Vazquez and Ryan Jeffers to complete the victory and the 6th consecutive series win.
The Dodgers are now 15-3 in their last 18 games.  They faced the AL Central's 1st place team (Minnesota), while Arizona was facing Oakland with MLB's worst record, and San Diego was facing the Kansas City with the 2nd worst record in MLB.  Both the Dodgers and Arizona won 2 of 3, while San Diego only won 1 of 3.  Arizona remains in 2nd place, 3 games behind LAD.  San Diego dropped behind San Francisco into 4th place in the NL West, 8.0 games behind LAD.
The Dodgers are in the middle of arguably the toughest part of the schedule.
3 at San Diego
3 at Milwaukee (1st place NL Central)
3 at home vs San Diego
3 at home vs Minnesota (1st place AL Central)
4 at St. Louis (are 7-3 in last 10 games)
3 at Atlanta (1st NL East)
Open date
3 at Tampa Bay (1st AL East)
They get somewhat of a break with 3 at home against Washington, before they get 3 against NYY at home.  They play a Sunday game in Tampa Bay starting at 8:35 AM, and fly home to face Washington Monday night at 6:10.
I would not expect Dylan Covey to assume a regular starting role, but should be the long man in relief, and the #6 starter.  I do expect Gavin Stone to get an opportunity to cement himself into the rotation.  Neither Ryan Pepiot nor Michael Grove are near a rehab assignment.
James Outman:
OPS – #2 with LAD – .903
SLG – #2 with LAD – ..549
HR – Tied with Mookie for #2 with LAD – 9
RBI – #2 with LAD – 27
Hits – #3 with LAD – 38
SB – #2 with LAD – 5
Outman needs to play.  He will go in slumps (like all MLB players), but he needs to fight his way out of them.  His short compact swing should help.
Another name has resurfaced for monitoring.  Bobby Miller pitched his best game in AAA against Sugar Land Space Cowboys (Houston).  In 6.0 IP, Bobby allowed 2 hits on 76 pitches.  He issued only 1 walk, and chalked up 6 Ks.  Unfortunately, one of those hits was a triple, who then scored on a ground out.
Now Miller has to back that one up with a solid next start.
On to St. Louis.
MiLB Summary Report
OKC Dodgers 5 – Sugar Land Space Cowboys (Houston) 1
Guess who showed up?  Bobby Miller pitched his best AAA game in his MiLB career.  In 6.0 innings he allowed 2 hits, 1 walk, and compiled 6 Ks.  One of the two hits was a triple, who then scored on a ground out for a short-lived Sugar Land lead.
OKC took the lead in the 5th.  4 consecutive walks and a DP scored two runs.  That would be all that OKC needed for this one where the OKC pitching was brilliant.  Luke Williams homered (5) in the 6th.
In the 8th, Luke Williams led off with a single. After a strikeout, Jonny DeLuca got his first AAA hit, his first AAA XBH, and his first AAA RBI, scoring Williams.  DeLuca would later score on an error.
Alex Vesia, Tayler Scott, and Nick Robertson each pitched a scoreless inning. Scott and Robertson did not allow a runner, while Vesia was still not clean giving up a single and BB.
Bobby Miller – 6.0 IP, 2 Hits, 1 Run, 1 BB, 6 K
Luke Williams – 2-4, 2 runs, 1 RBI, HR (5)
Doubles by Yonny Hernandez (5) and Jonny DeLuca (1)
3 defensive double plays
Corpus Christi Hooks (Houston) 1 – Tulsa Drillers 0
José Ramos reached base 3 times with a single and 2 BB.  His single was the only hit for Tulsa.  The positive aspect of the game was the Drillers pitching.  Emmet Sheehan was brilliant for 5.0 scoreless IP, 2-hit pitching. He did not allow a walk and struck out 10 Hooks batters.  With Dylan Covey in LA and Gavin Stone probably on his way, a spot is open for a Sheehan promotion to OKC.
In the 6th, Jose Altuve reached on an error.  John Rooney relieved Sheehan and promptly picked off Altuve.  Then gave up a single and run-scoring double.  After the double, the running was thrown out attempting to steal, and he retired the next 4 batters.
Trevor Bettencourt relieved Rooney and pitched a scoreless 8th.
Emmet Sheehan – 5.0 IP, 2 Hits, 0 runs, 0 walks, 10 strikeouts
Great Lakes Loons 4 – West Michigan Whitecaps (Detroit) 2
Maddux Bruns started his 2nd Great Lakes game.  It did go better than his first.  But his weakness reappeared again in this game.  He only allowed 1 run on 1 hit, but it was the 5 walks and HBP that created his problems.
In the 2nd inning, a run scored on 2 walks, a HBP, and a force out.
The Loons pushed across 4 runs in the 6th for their only scoring, and the only scoring that they would need.
Taylor Young led off the inning with a double (5).  A HBP (Alex Freeland) and two walks (Griffin Lockwood-Powell and Damon Keith) forced in a run. A walk to Ismael Alcantara forced in a 2nd run.  Jake Vogel would later single to plate Lockwood-Powell and Keith.  The Loons scored 4 runs on two hits.
Orlando Ortiz-Mayr pitched the final 4.0 innings, and allowed 1 run in the 9th, for the win.
Damon Keith – 2-3, 1 BB, 1 run, 1 RBI, double (5)
Rancho Cucamonga Quakes 9 – Visalia Rawhide (Arizona) 2
 Jose Izarra led off the 1st inning with a single, that was followed by a Rayne Doncon HBP.  Chris Newell doubled home Izarra and Doncon moved to 3rd.  Doncon scored the 2nd run on a passed ball.
In the 4th, the Quakes scored 5 thanks to a couple of errors by the second baseman. Jorge Puerta was HBP and Juan Alonso followed with a single. Kenneth Bettencourt drew a BB to load the bases.  Cameron Decker reached on the first E-4 and Puerta scored.  Izarra drew a walk to force in the 2nd run.  Rayne Doncon singled to plate Bettencourt and Decker.  Chris Newell reached on the 2nd E-4 to score Izarra for the 5th run of the inning.
RC scored single runs in 5th and 7th to finish the Quakes scoring.
Jared Karros started his 2nd consecutive game.  He allowed a run in the 1st on a lead off single, a WP, a fly out to move the runner to 3rd, and another WP.  Karros was pitching in traffic each inning, but he allowed only the one run.
Joel Ibarra and Lucas Wepf combined on 4.1 scoreless innings.  Madison Jeffrey pitched the final inning and did not allow a hit.  But he did walk 3 and hit a batter for a run.
Jose Izarra had two hits and reached base four times, as he was the only player with a multi-hit game, as eight of nine Quakes recorded hits on the night.
The Quakes (24-11) now lead the second-place Storm (20-15) by four games in the South Standings.
On Thursday, Rancho will send Chris Campos (5-0) to the hill, as he makes his first start of the year.
The Rancho Cucamonga Quakes bounced back nicely from a tough loss on Tuesday, hammering the Visalia Rawhide on Wednesday night.