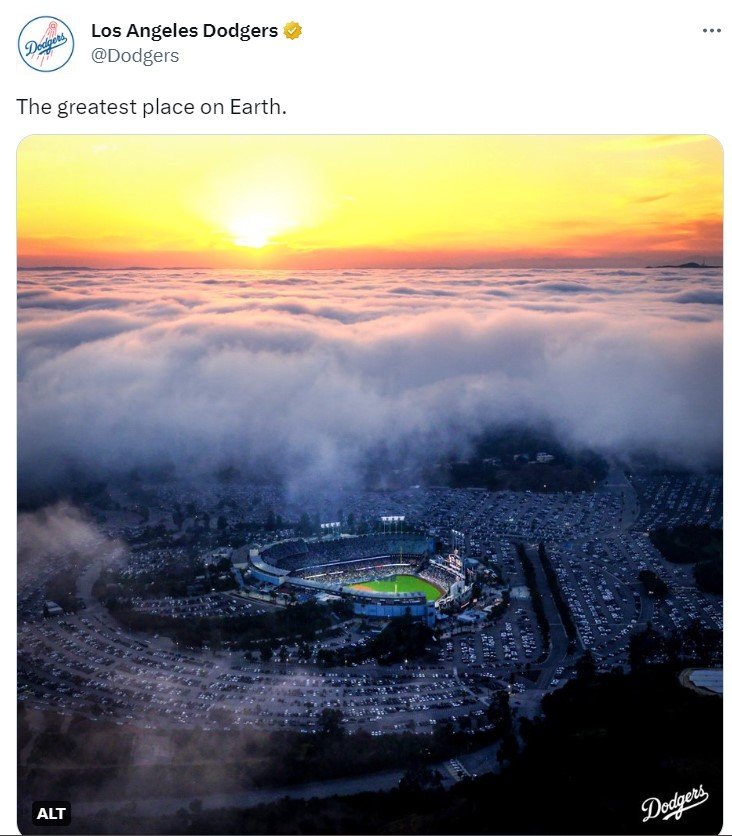 Not only has baseball changed over the years, the places it is played have also changed dramatically. Dodger Stadium is a far cry from Ebbets Field. Considering that the Dodgers played in an Olympic style stadium converted for football when they first arrived in LA, it is amazing that they won there at all.
Now the folks in SD will say it is Petco Park, and the Giant fans love their ballpark by the bay. I totally understand that. But Dodger Stadium with it's improvements and additions, plus it's colorful history makes the choice for me. Of course, I am a Dodger fan.
Dodger Stadium has seen the second most no-hitters behind Fenway Park, in the majors. Fenway has 14 and Dodger Stadium 13. Two of those were perfecto's. Koufax and Dennis Martinez.
There have been 10 World Series played at Dodger Stadium. It has hosted 5World Champs, the 2020 team won the first and only World Series played at a neutral park. But they played the season at home. Only one of those Championships was won at home, 1963 and fittingly, Koufax was on the mound. It would be great if Kershaw could do the same.
For a Stadium that opened with so much bad press and problems, that the Dodgers are still playing on a field that actually looks better than it did in 1962, is totally amazing.
I have been to a couple of MLB parks, but I would love to visit more, especially the two that are older than Dodger Stadium, Fenway and Wrigley Field.
MiLB Summary Report
OKC Dodgers 4 – Sugar Land Space Cowboys (Astros) 3
Gavin Stone was held back from his weekend start so that he could start on the same day as Clayton Kershaw.  While not certain, it is believed that CK may take a bereavement leave and miss his next start, which Stone would assume.
His pickoff error led to an unearned run in the first.  Former LAD prospect Rylan Bannon hit a HR for the Space Cowboys 2nd run.  And a single, SB, and ground rule double led to the third run.  He only allowed five hits, but they were timely for Sugar Land.  But he got his strikeout pitch going again, as he registered 10 K's in his 5.2 IP.  Stone left the game down 3-0.
OKC finally crossed the plate in the 6th.  A single, 2 walks to load the bases, and a force out brought a run home.
The score stayed 3-1 until the 9th.  Jonny DeLuca, in his AAA debut, led off the 9th with a BB.  With one out, Steven Duggar hit a 2-run HR to knot the score at 3 apiece.  Drew Avans singled.  Jahmai Jones went in to PR for Avans, and moved to 2nd on a disengagement violation.  With 2 outs in the bottom of the 9th, Luke Williams gets the walk off single to score Jones and a 4-3 win.
Drew Avans – 2-5
Yonny Hernandez – 2-4
Jonny DeLuca and Andy Pages each drew a BB in their AAA debut, both going 0-3. Pages struck out twice, while DeLuca did not K.
Corpus Christi Hooks (Astros) 7 – Tulsa Drillers 3
José Ramos the lone remaining Tulsa OF after the promotions of both Andy Pages and Jonny DeLuca, got the Drillers off to a great start with a 3 run HR in the 1st inning.  But that was it for the offense.
River Ryan took the bump to try and add to his outstanding start this season.  He breezed thru the first three innings, allowing a single baserunner on a HBP.  The 4th was a different story.  He allowed a one out walk, who stole 2nd.  With a K and 2 outs, he walked another and then gave up his first hit of the night, which was a tying 3-run HR.
Ryan gave up a single following the HR, and Braydon Fisher came in to relieve Ryan.  Fisher walked the first batter he faced.  Both runners pulled off a double steal, and came home on a 2-run single, and a Hooks 5-3 lead.
In the 5th, after Fisher got the first two batters out, back to back errors put runners on 1st and 2nd.  A single loaded the bases, and a double plated 2 unearned runs.
Jake Pilarski and Lael Lockhart delivered 3.1 scoreless innings in relief.
Jose Altuve went 0-5 with a strikeout while making a rehab start.
José Ramos – 2-4, 1 run, 3 RBI, HR (9)
Eddys Leonard – 2-4, 1 run, double (9)
Jorbit Vivas – 1-3
That was the offense.
West Michigan Whitecaps (Detroit) 11 – Great Lakes Loons 10
The Great Lakes Loons (21-13) and West Michigan Whitecaps (21-13) went toe-to-toe in a high-scoring matchup that showcased 21 runs, 24 hits and saw a one-run Whitecaps victory.
The Loons left the potential tying run 90 feet away, down 11-10 in the ninth. After two two-out singles from Griffin Lockwood-Powell and Chris Alleyne, the third strikeout of the inning ended the ball game.
The second, seventh, and ninth were the only innings to not see any runs.
West Michigan jumped out to an early lead, a Eliezer Alfonso RBI single was the highlight of a three-hit first. Great Lakes took the lead, the first of five lead changes. Austin Gauthier reached on a walk, and Yeiner Fernandez was hit by a pitch. Gauthier was plated by an Alex Freeland RBI double, and Taylor Young's sacrifice fly scored Fernandez.
Great Lakes exploded in the bottom of the third, for four runs. Yeiner Fernandez doubled, and then Taylor Young doubled for his second RBI. Damon Keith and Griffin Lockwood-Powell were next and delivered back-to-back home runs.
The Whitecaps trailing 6-2, would tie it up entering the bottom of the fifth. Yon Castro, worked a scoreless second and third but allowed his first home run of the year, an Austin Murr two-run shot. Castro got the fifth, which was led off, by Izaac Pacheco. Pacheco demolished a ball to right-center. Franklin De La Paz took over, he hit a batter and allowed a single. Danny Serretti, lined the first pitch he saw to right field to score both.
Robert Campos, a 19-year-old for West Michigan pushed the Whitecaps ahead with a two-run homer in the sixth against Carlos De Los Santos.
The Loons first three batters in the sixth all reached and all scored. Griffin Lockwood-Powell singled, and then Chris Alleyne, powered his first home run of the season, a high fly over the right field fence. Great Lakes proceeded to load the bases, Alex Freeland, who had two hits and 10 RBI with bases loaded this season, grounded into a fielder's choice to bring home a run, making it 9-8 Loons.
West Michigan supplied their fourth multi-run inning, a three-run eighth. Christian Suarez surrendered three straight singles, Chris Meyers a two-run base knock. The Whitecaps' back end of the bullpen did enough to finish the job. Austin Gauthier smashed a 2-0 pitch, a homer, to begin the bottom of the eighth. The next three batters were retired.
Griffin Lockwood- Powell – 3-5, 2 runs, 1 RBI, HR (4)
Chris Alleyne – 2-5, 1 run, 2 RBI, HR (6)
Ismael Alcantara – 2-5, 1 run, 2 doubles (4)
Austin Gauthier – 1-3, 2 BB, 2 runs, 1 RBI. HR (4)
Alex Freeland – 1-5, 2 RBI, double (5)
Taylor Young – 1-5, 1 run, 1 RBI, double (4), sac fly
Yeiner Fernandez – 1-3,2 HBP, 2 runs, double (4)
Damon Keith – 1-5, 1 run, 2 RBI, HR (4)
Dalton Rushing playing 1st base was the only Loon without a hit, going 0-5.
Visalia Rawhide (Arizona) 16 – Rancho Cucamonga Quakes 7
Five different Quakes pitchers were banged around allowing 16 runs on 15 hits and 16 walks.
Offensively:
Kenneth Betancourt 2B-SS – 4-5, 1 run, 2 RBI
Cameron Decker DH – 3-5, 3 RBI, double (3)
Thayron Liranzo 1B – 2-4, 1 run,
Juan Alonso RF – 2-3, 2 BB, 3 RBI