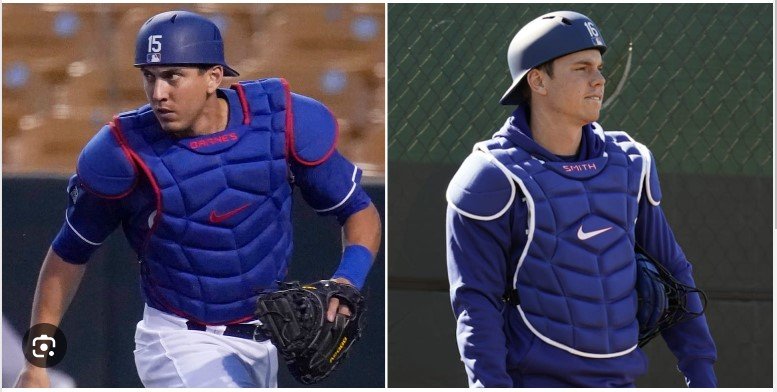 I have been writing about Hunter Feduccia for a couple of years now.  He was a 12th round draft pick in 2018 out of LSU.  I love LSU baseball (okay I love a lot of college baseball teams).  But LSU is at the top of my non-USC list for baseball.  Thus I started to follow him.  His path started out well, but like a lot of MiLB players, his career was seemingly derailed in 2020 with no MiLB.
In 2021, his first year post COVID, was an okay year.  2022 his OPS got to .800 at Tulsa and .795 at OKC.  In 2023, he received a MLB invite to ST, and produced.  He was assigned to OKC and had a fantastic start to the season.
After his first 13 games, with 56 PA/40 AB, Hunter was batting .400/.554/.775/1.329, 3 doubles, 4 HR, 15 BB, 11 K.  He had an unsustainable BAbip of .462.  He was expected to cool off, but what he did was to go ice cold.  In his next 11 games, with 43 PA/38 AB, Hunter has accumulated a batting line of .184/.279/.290/.569, 1 double, 1 HR, 5 BB, 12 K.  His BAbip over those 11 games was .240, which would indicate that he was hitting into some bad luck.
For the season, with 99 PA/78 AB, Hunter is batting .295/.434/.539/.973, 4 doubles, 5 HR, 20 BB, 23 K, and a BAbip of .353.  That BAbip is still a bit high, and well over what his BAbip has been, but not out of the realm.  The OPS is undoubtedly high as both OBP and SLG are probably not sustainable.
Last year at the baseball age of 25, Hunter batted .238/.331/.466/.797, BAbip at .278, combined at AA and AAA.
At the same age as Hunter was last year, a ML backup catcher batted .315/.389/.480/.869 in AAA.  The next year that catcher was in MLB for most of the year.  That catcher…Austin Barnes.
The point is, some out there want to take a 13 game stretch at the beginning of a season and let that translate into what that player will do over a full season.  Thus the call to bring up Feduccia and move Smith to 3B/LF.  Pitchers like the way Smith calls a game, and his receiving skills are getting better every year.  His blocking skills are also getting better.  He went from 9 PB in 2021, to 4 last year, to 1 thus far this year.  His career fielding % is .997.  His SB/CS are not good, but that is more on the pitcher than on Smith (or Barnes).  Smith's pop time is 1.93, good for 12th in MLB.  His exchange is 0.66, good for 6th in MLB.  His arm is 81.8 or 23rd in MLB.  Those metrics should indicate that the SB/CS are more of a product of the inability of the pitcher to hold runners.  Smith may not be an elite defensive catcher, but he is still a very good one.  No reason to move.
Hunter Feduccia will become a decent to good MLB backup catcher.  Good backup catchers seem to have a long shelf life in MLB. His longevity will largely depend on his catching skills.  His catching production numbers are improving every year.  His CS rate is 23.8%.  Only 1 PB and 1 error this year, compared to 10 PB and 10 errors in 2019.  Last year, Hunter's CS rate was 12.4% (13 out of 105), 0 errors and 5 PB. I do not know his pop time, exchange, or arm metrics to compare.
I have been in Austin Barnes' corner all along, and as long as the Dodgers are winning, and are doing so because of pitching, I will continue to back Barnes.  Especially since the LAD pitchers love to throw to him (and the Mexico pitchers at the WBC).  We all know that Clayton Kershaw prefers to pitch to Barnes.  Last year that was not as much of an issue because Smith could slide over to DH in those games.  This year it is more of an issue because the Dodgers have JDM in that full-time DH role.
But I too am frustrated with Austin's excruciatingly painful to watch offensive AB's.  I am sure that it is as painful for Barnes as it is for the fans.  But his primary function is to call games for pitchers. We all know how Clayton Kershaw feels with Austin.  The Dodgers do not get to the 2020 WS without winning Games 6.  Walker Buehler ran into trouble in the 2nd inning allowing 3 consecutive singles to load the bases.  Barnes went out to talk with Buehler, and from that point on, he let Barnes dictate the game.  He proceeded to strike out Austin Riley and Nick Markakis, and then get Cristian Pache to hit a 6-3 ground out and got out of the inning.  Buehler finished 6.0 shutout innings on 7 hits, 0 BB, and 6 K and after the game gave credit to Barnes.
This year for Clayton Kershaw:
With Barnes – 6 G, 39.0 IP, 9 R, 7 ER, 25 H, 3 BB, 45 K, 5 HR – 1.62 ERA, 0.718 WHIP
With Smith – 2 G, 10.2 IP, 7 R, 6 ER, 12 H, 7 BB, 11 K, 2 HR – 5.06 ERA, 1.78 WHIP
Coincidence?  Maybe.  Too small sample size?  Sure.  But it does seem to show that Kershaw is very comfortable with Barnes.  Barnes knows Kershaw.  They work very well together.  BTW, Clayton has gone out of his way to state that he does like pitching to Smith.  But the innate relationship between Clayton and Austin is very prevalent.
A few years back, some of the same people that were calling for Smith to move so that Keibert Ruiz can become the catcher. There is very little comparison between the two bats (Smith and Ruiz), but Smith is also the superior catcher defensively.
Pop Time:
Will Smith – 1.93 (12th)
Austin Barnes – 2.00 (34th)
Keibert Ruiz – 2.03 (44th)
Exchange:
Austin Barnes – 0.64 (3rd)
Will Smith – 0.66 (6th)
Keibert Ruiz – 0.72 (27th)
Arm:
Will Smith – 81.8 (23rd)
Keibert Ruiz – 77.3 (46th)
Austin Barnes – 75.4 (51st)
Blocking Above Average:
Will Smith – 1 (23rd)
Austin Barnes – 0 (34th)
Keibert Ruiz – (-2) (56th)
Diego Cartaya is the next in line for the regular catching spot.  Some have even called on him to get the call now.  Diego first started playing professional baseball in 2019.  Since then he has appeared in 196 games, 880 PA, and 739 AB.  Since many of those PA and AB occurred as a DH, his innings behind the plate have been limited to 972.
His career batting metrics – .263/.372/.488/.860
The biggest jump in MiLB is to AA.  Thus far in Diego's inaugural season in AA, in 91 PA and 78 AB, his batting line is – .205/.297/.372/.669.  His numbers will improve, but he is a long way from being ready to become the MLB regular catcher for LAD.
For now, I am very comfortable with Will Smith as the primary catcher and Austin Barnes as his backup (and Clayton Kershaw caddy).  I see no reason to change.  If the team begins to go on to a sustained losing streak, that opinion could change.
It appears that AF knew who the best catcher was between Smith and Ruiz.  I will let him decide who it should be going forward.