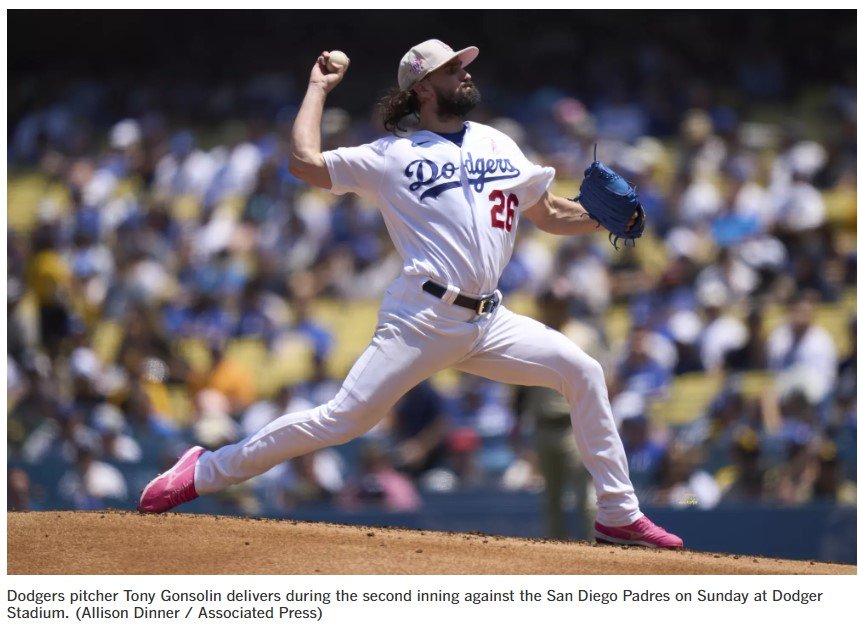 The Dodgers were victorious on Mother's Day.  It was a little more somber knowing that Clayton Kershaw's mother passed away on Saturday morning. Ellen Kershaw broke the news at a dedication of a Dodgers Dreamfield  in Inglewood.  Clayton was not at the dedication as his mother, Marianne, passed that morning.
"Clayton grew up with a baseball in his hand ready to play a game in a sandlot or on a ballfield just like this one on a moment's notice," Ellen Kershaw said on Saturday. "One person in particular cultivated that love in Clayton, his dear momma Marianne, who moved mountains to get him to baseball practice and games. She sat front row cheering him on — not so subtly — and kept score in a book to keep her nerves at bay. 

So today we dedicate this field to his mom who passed and went to be with the Lord this morning. She experienced no greater joy than watching her son grow into the man, the philanthropist, the father, and the ballplayer that he is today.
With the win on Sunday, the Dodgers have now completed 25% of their season.   The Dodgers now have the best record in the NL, 0.5 game ahead of Atlanta.  That also translates into the 3rd best record in MLB, behind Tampa Bay and Baltimore.
With the win, LAD swept San Diego and have now won 5 consecutive games against the Padres.  That is also five games since San Diego put a picture of Clayton Kershaw crying after San Diego's lone win.  Karma is a b****.
The Dodgers have now won 5 series in a row, and have swept three consecutive home series.  They have won 13 out of 15.
Of the 41 games played:
3 or less run scored – 15 games played – Record is 3-12
Between 4-7 runs scored – 14 games played – Record 12-2
8 or more runs scored – 12 games played – Record 11-1
Of the last 15 games, the 2 losses were when the team scored 2 and 3 runs.  The team is pretty automatic when they score 4 or more runs.  I think different people can come to different conclusions on that.  For me, if the Dodgers score 4 or more runs they are 23-3, just about automatic.  And the bullpen is getting stronger and stronger.
While the Dodgers had only 4 hits of their own, they were timely.  All four hits were in two innings.  In the 3rd, Miggy Rojas led off with a double, and Mookie crushes a one-out 2 run HR.  In the 6th, Freddie singles for the 3rd hit, and with 2 outs, Max drew a walk.  Brent Honeywell relieved Ryan Weathers, and on the 1st pitch, Miguel Vargas doubled in both Freddie and Max.
Meanwhile Tony Gonsolin was effective if not efficient.  On Sunday, he was able to get thru 5.0 innings.  85 pitches (59 strikes) in 5.0 IP is an average of 17 pitches per inning. He is still a tremendous pitcher pitching with traffic.  He only faced 2 runners on base one time.
Yency Almonte, Victor Gonzalez, Brusdar Graterol, and Justin Bruihl were brilliant in relief.  VGon is looking more and more like the 2020 version.  His velo is up and the movement is excellent.  I wonder if there was anything behind Shelby Miller and Phil Bickford have not pitched since the bullpen game against Milwaukee.  Maybe they are being saved just in case Noah Syndergaard only last an inning against Minnesota.
While LAD was sweeping San Diego, Arizona was winning 3 of 4 at home against San Francisco.  It does not look like Arizona is going away, and we all know that San Diego is not as bad as they have played of late.  While the Dodgers are hosting a 1st place Minnesota team, Arizona is facing NL East last place Oakland and San Diego is hosting NL Central last place KC.
With the .634 winning percentage, the Dodgers are now on a 103 win season.  Currently they are 5.5 games ahead of Philadelphia for the final WC spot.
How does a lineup struggle with the second worst BA in MLB with these 7 hitters?:
Fernando Tatis Jr.
Manny Machado
Juan Soto (he scares me every time he is in the box)
Xander Bogaerts
Jake Cronenworth
Nelson Cruz
Ha-Seong Kim
I know that it is the offense of the Padres that is suffering at the moment, and that the pitching is outperforming the offense.  San Diego does not have enough starting pitching, but have 5 shortstops…Xander Bogaerts, Ha-Seong Kim, Manny Machado, Fernando Tatis, Jr., and Jake Cronenworth.  Did they really need to overspend on Bogaerts, or would they have been better looking at starting pitching?  In the long run?
The Dodgers were rumored to be interested in Aaron Judge and Trea Turner.  The skeptic in me thinks that the exuberance in their offers for Judge, Turner, and Bogaerts was more to keep them away from LAD.  Did San Diego pay too much attention to what they thought AF/BG were considering?  Or did they really want Bogaerts.  He certainly does not hurt the team, but wouldn't starting pitching have been a better use of funds?
I still believe that AF was over-reacting to rumors involving San Diego and NYM when he signed Trevor Bauer.
IMO, teams should look at what makes them better, and not worry about what other teams are doing.  I know easier said than done.  I feel the same way about trades.  Look at how the trade helps the team this year.  If a rental trade helps the team in the playoffs, but the prospects lost help the trading team in the future, so be it.  The trade is going to cost.  That is a given.  Josiah Gray and Keibert Ruiz are core members of the Nationals.  The Nationals were not going to win with Scherzer and Turner, but Gray and Ruiz will help them in the future.  The Dodgers have more catching and more pitching to make up for the loss.  I trust AF to determine what prospects can best be traded.
Now is not the time to let up.   The Twins will be formidable, but the Dodgers are the best team in the NL, and they are playing at home.