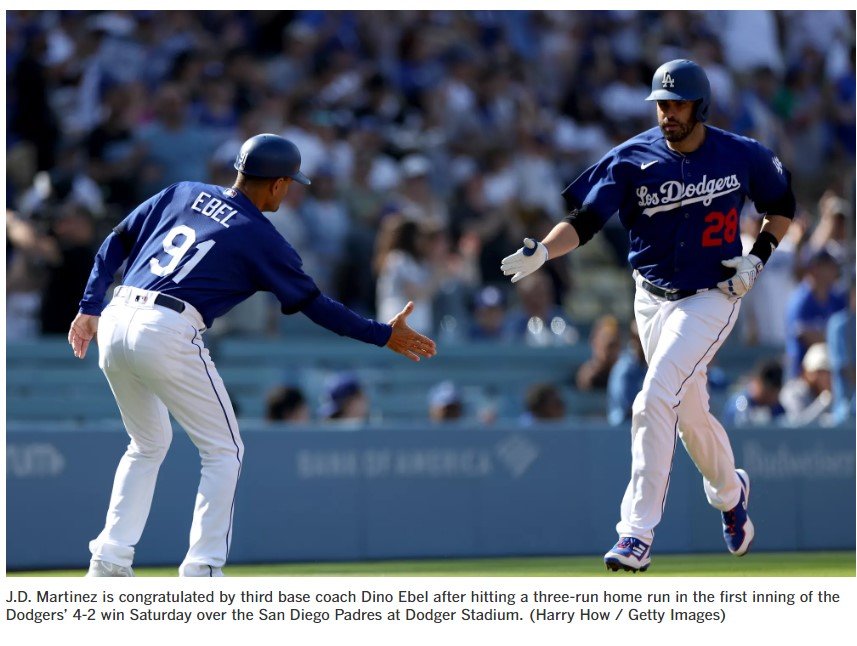 Game 2 LAD vs San Diego
I was not able to watch the game.  I chose my grandson's soccer game over the Dodgers v Padres.  As it turns out, Julio Urías pitched a masterful game.  He allowed a pair of solo HRs, one a monster shot by Juan Soto in the 1st (I actually saw that one as I was leaving the house).  The other by Ha-Seong Kim.  Both were with 2 outs.
After the 2nd, Urías allowed a Juan Soto single, and 2 Padres reached on LAD errors.  Urías did not have his swing and miss pitch in the game, which probably allowed him to finish 7 strong innings by pitching to soft contact (except the HRs).  He was pounding the zone all game.  He did not walk any SD batters.  He threw 86 pitches and 64 for strikes (74.4%).
The big blow was a JD Martinez 3-run HR off Joe Musgrove in the 1st inning with 2 out.  Will Smith had a run scoring single after a Freddie Freeman double.
One thing that winning teams so is they answer back when the other teams score. Last night the Dodgers went back-to-back after the Padres scored 2, tonight, JD Martinez put up a 3-spot in response to Juan Soto's solo shot in the top of the 1st. #dodgers pic.twitter.com/0aeKeS3m7I

— Dodgers Daily (@dodger_daily) May 13, 2023
One of the noticeable differences was how Urías and the two relievers kept Fernando Tatis Jr. and Manny Machado off the bases.  They went 0-8.  They were not on base when Soto could do (and did) his damage. OTOH, Mookie and Freddie were 3-6 with a pair of doubles and a pair of walks.
Julio Urias with a brutal three-pitch sequence against Fernando Tatis Jr. pic.twitter.com/rzC7Czb1wF

— Chad Moriyama (@ChadMoriyama) May 14, 2023
After Urías left after 7 innings, Evan Phillips shut down San Diego in the 8th, leaving the save for Brusdar Graterol.  As I have said on a number of occasions, it is going to be hard for Graterol to claim the closer role as he does not miss bats.  You want the closer to come in and just shove it.  On Saturday's game, Graterol had 7 swings and just 1 whiff.  It is not as if Graterol is getting beat up.  The Bogaerts infield single was bang bang, and if it had gone the other way, the game would have ended.
Instead Nelson Cruz singled and with runners on 1st and 2nd and 2 outs, Doc called on lefty Caleb Ferguson to get LHH Jake Cronenworth.  Ferguson struck out Cronenworth on a cutter that faded out of the zone.  Ferguson is becoming a lockdown in the pen.  In his last 12 games, 11.0 IP, Ferguson has not allowed a run.  6 hits, 2 BB, 2 HBP, and 14 K.  Ferguson will get more save opportunities.
Close it out, Caleb. pic.twitter.com/56RsgAaV8O

— Los Angeles Dodgers (@Dodgers) May 14, 2023
The Dodgers have now won 5 straight series, 4 straight over San Diego, and 12 of the last 14 games.  They have a chance to sweep when Tony Gonsolin goes against LHP Ryan Weathers.  Weathers who pitched well before being optioned in April.  He was just recalled before Sunday's game.  I guess Melvin wanted another LHP to go against LAD.
I have another soccer game on Sunday.  Maybe we will get the same results in the Dodger game.
MiLB Game Summary Report
 OKC Dodgers 2 – Round Rock Express (Texas) 1
On a night after Matt Andriese  and two relievers pitched a 2-hit shutout, Robbie Erlin and 3 relievers pitched a 1-run 4-hit victory. Tyler Cyr, Andrew Jackson, and Nick Robertson completed 4 hitless/scoreless innings.  Erlin allowed a solo HR for the sole Express run.
Hunter Feduccia and Ryan Ward each had a pair of hits and scored a run. In the 2nd, Feduccia singled and Ward doubled him to 3rd.  Feduccia scored on a Yonny Hernandez ground out, and Ward scored on a Steven Duggar single.
This was OKC's 5th straight victory over Round Rock.
Tulsa Drillers 8 – Springfield Cardinals 3
After a 1 hour and 26 minute rain delay Saturday night, the Tulsa Drillers and Springfield Cardinals began game five of their six-game series at ONEOK Field. Once the game began, the Drillers made the most of the time they had by gaining an 8-3 lead before the game was completed early due to more rain.
The result gave Tulsa their fifth consecutive win as the Drillers have won five straight games in back-to-back series. Tulsa is also 10-1 during its current, two-week home stand and remains in first place in the Texas League North Division with a one-game lead over the Arkansas Travelers.
Tulsa scored the game's first run in the second, an inning that began with a double from Diego Cartaya. Jose Ramos followed by executing the Drillers first sacrifice bunt of the season to move Cartaya to third base, and Eddys Leonard plated Cartaya on his groundout to give Tulsa a 1-0 lead.
Drillers starting pitcher Kyle Hurt was very effective on Saturday as he pitched three strong innings. Eight of the nine outs Hurt recorded were strikeouts, including the final seven.
Springfield evened the score in the fourth inning against reliever Alec Gamboa when Arquimedes Gamboa drove in Jacob Buchberger with a single.
Tulsa used its biggest inning of the season to gain an 8-1 advantage in the bottom of the fourth. After three consecutive walks loaded the bases, Tulsa used a single, a double and a triple to score five runs. Jonny DeLuca plated two more with his tenth home of the season.
Great Lakes Loons 6 – Lake County Captains (Cleveland) 5
The Loons scored single runs in the 2nd and 5th.  Taylor Young walked, stole 2nd and 3rd, and was balked home in the 2nd, and Griffin Lockwood-Powell hit a solo HR (3) in the 5th.
Ben Casparius pitched 5.0 scoreless innings.  He allowed 2 hits and 2 BBs with 6 Ks.  He is now 4-0 with a 2.43 ERA (7 starts and 33.1 IP).
Great Lakes increased the score to 5-0 in the 8th on 3 singles and 2 walks.  After one run scored on a bases loaded BB to Alex Freeland, Taylor Young then banged a 2-run single.
They then had to hold on as Lake County scored 4 in the bottom of the 8th off Jack Dreyer and Aldry Acosta.
In the 9th, Dalton Rushing doubled (7) home Austin Gauthier who reached on a fielding error that proved to be the deciding run.  Lake County scored another in the 9th on a walk and pair of singles off Acosta, before Acosta got the final out on a line drive to LF.
Rancho Cucamonga Quakes 7 – Stockton Ports (A's) 5
Thayron Liranzo hit his second game-winning home run of the home stand, as the Quakes rallied from behind on Saturday night, defeating the Stockton Ports.
Down 5-4, Chris Newell opened the seventh with a bunt down the third-base line, then rode home on a mammoth homer from Liranzo that went 417 feet down the right-field line. The homer for Liranzo came off Stockton reliever Carlos Guarate (0-3) and gives him a team-leading eight bombs on the year.
The Quakes added another in the seventh, as Nick Biddison singled and later raced home on a Dayton Dooney RBI single, capping the scoring at 7-5.
The eighth inning saw a run come off the board for Stockton, as a two-out error looked like it allowed Stockton's Bjay Cooke to score from second, making it 7-6. Manager John Shoemaker came out of the dugout to appeal though and after Liranzo threw down to third, it was ruled that Cooke missed the bag and the inning was over without any damage done.
Rancho reliever Livan Reinoso, who benefited from the overturned call in the eighth, faced just three batters in the ninth, earning his first save of the year.
Reliever Christian Romero (3-0) worked 3.2 innings of scoreless relief for the win.
Rayne Doncon had two hits and also slugged a home run for the Quakes, his sixth of the year.