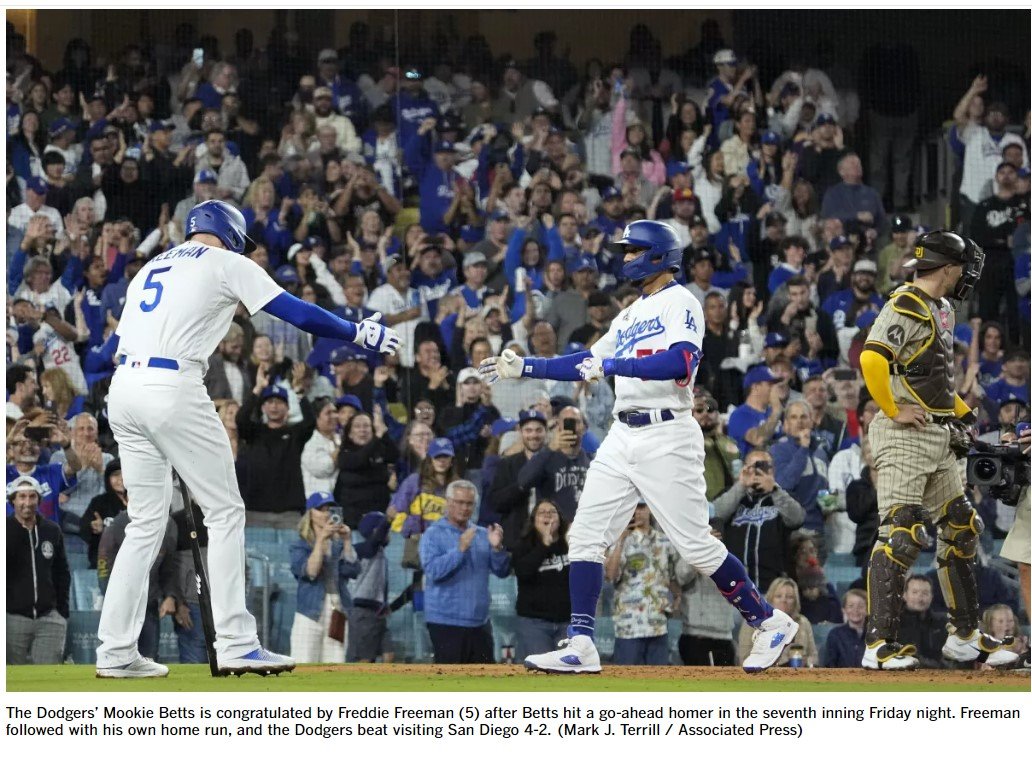 Dustin May throttled San Diego for 6.2 innings.  Then Xander Bogaerts smoked a double to dead center that Trayce Thompson made a good play and throw to 2B, but Bogaerts made it in safely.  He walked Matt Carpenter after Dustin thought he had him struck out.  K zone says it was on the line.  Bob Melvin made a strategic move to pinch run Rougned Odor for Carpenter.  Orel said it was a smart move, but it was really a no-brainer.  It turned out to be an impact move as Ha-Seong Kim doubled down the left field line and Odor raced home from 1st just beating the throw at the plate.
May had thrown only 66 pitches thru 6 IP, and was breezing.  He was pounding the strike zone all night.  I have zero problem with Doc leaving May in to face Kim.  It was his game.  With Soto on 3rd in the 5th, he got Kim to ground out to Miguel Rojas to keep Soto stranded at 3rd.  Kim beat him this time, give Kim credit.  As Dontrelle would say…"The other guys drive expensive cars too."  I know I am in the minority, but I like Dontrelle.
Then the bullpen took over from there.  Caleb Ferguson struck out Trent Grisham on three pitches to end the 8th.
With the Dodgers back up 4-2 in the 8th, Nelson Cruz, PH for Brett Sullivan,  and Fernando Tatis singled.  Cruz  moved to 3rd.  Ferguson struck out Jake Cronenworth, and everything was set up for RHRP Evan Phillips to face RHH Manny Machado.  The hope was that Phillips would induce Machado to hit the ball on the ground for a potential DP.
Blake Snell was his usual tough competitor against the Dodgers.  Chris Taylor who sees Snell better than any other Dodger doubled of him.  But Snell buckled down and got Muncy on a ground ball, moving CT3 to 3rd.  Miguel Vargas got the count to 3-0, but ended striking out on the 8th pitch from Snell.   Snell got Rojas to end the threat.
In the 3rd, Snell unbelievably walked Trayce Thompson on 4 pitches.  Mookie followed with a walk of his own.  They both scored when Freddie doubled in the right-center gap.  Will Smith hit a bloop single to center and the Dodgers had runners on the corners with nobody out.  Snell struck out JDM on three pitches that were borderline at best.  May did not get the borderline against Carpenter, but Snell got 3 on JDM.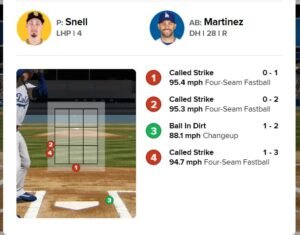 Snell settled down and sat the Dodgers down fairly easily the next three innings.  He walked Will Smith and gave up a single to JDM, but that was all.
After the Padres tied it up in the top of the 7th inning, Snell was out and another lefty came in.  LHRP Tim Hill came in to relief.  Hill got Thompson to ground out, and then last weekend's hero came to the plate.  On a 3-1 pitch, Mookie hit a sinker that did not move over the left field wall for the lead.  Last weekend, Mookie homered off LHRP Josh Hader, and Friday he homered off LHRP Tim Hill.  But wait there is more.  Freddie, who had already doubled home to two in the 3rd, followed Mookie's solo blast with a solo shot of his own.
That set up the Ferguson and Phillips piggyback shut down inning.  Phillips came back in the 9th to try for a 5 out save (13 pitches). When his sweeper is working, he is unhittable.  He owned Bogaerts in that 9th inning AB as well as Kim.  The bullpen was awesome again.  With Ferguson back from paternity leave, they have everyone back.
The Dodgers have now beaten San Diego three consecutive games, and all three games have been nailbiters.  Great starting pitching, great relief pitching, and clutch hitting for the Dodgers, and off good LHP.  I hope Snell loses all of his games, but it sure would be nice to have him pitch against the Dodgers as he does against other teams.  Other teams seem to hit him better.
The Dodgers were 2-8 with runners in scoring position, and 2 of the 4 runs were a direct result of HRs.
Saturday is a rematch of Sunday's game – Julio Urías v Joe Musgrove.  Win this one and win the series.
05-12-2023 MiLB Summary Report
OKC Dodgers 6 – Round Rock Express (Texas)  0 
Matt Andriese pitched a brilliant 2-hit shutout 6.0 innings.  This was by far his best effort with the Dodgers.  He is starting to string together some good outings.
OKC pitched a 2-hit shutout.  Mark Washington pitched 2.0 perfect innings with a K, and Alex Vesia pitched a scoreless 9th with a K.
OKC was shutout themselves until the 6th.  Drew Avans opened the inning with a single that was followed by a Michael Busch BB.  Luke Williams forced Busch at 2nd.  Steven Duggar singled to score Avans.  That was followed by Mann who singled home Williams.  Justin Yurchak reached on an error and Duggar scored.  The 4th run was plated by a Patrick Mazeika single.  Yurchak was out at home to end the inning.
A walk and a pair of singles scored 1 in the 8th.  And a 1-out single, HBP, and BB to load the bases.  Luke Williams hit a sac fly to finish the scoring.
OKC did not have an XBH.
Steven Duggar – 3-5, 1 run, 1 RBI
Devin Mann – 2-4, 1 run, 2 RBI
Tulsa Drillers 10 – Springfield Cardinals 
With Landon Knack on the bump looking to continue his dominance, he allowed a run in the 1st on a single, SB, and a 2-out single.
The Drillers got the run back in the bottom of the 1st.  With one out, Jorbit Vivas singled and moved to 3rd on a double by Andy Pages.  Imanol Vargas and Diego Cartaya drew back to back walks to force in the tying run.
The Drillers broke it open in the 2nd with 5.  Carson Taylor led off with a HR.  With one out, Jonny DeLuca drew a BB.  After the 2nd out, Andy Pages singled, Imanol Vargas had a run scoring single, and Diego Cartaya slugged a 3-run HR.
The Drillers scored another in the 4th, after a BB and a pair of singles, again with Imanol Vargas getting the run scoring single.
Knack was rolling along thru 5 innings.  He allowed a couple of hits and a HBP, but he did not walk a batter.  He did get 4 Ks.  His ERA dropped to 1.55 on the year.
Tanner Dodson, Ben Harris, and Trevor Bettencourt each pitched a scoreless innings (6th-8th).
The bats continued to produce in the 8th.  Taylor drew a walk and moved to third on a Brandon Lewis double.  Taylor scored on a ground out, and Lewis scored on a triple by Andy Pages.  Pages crossed home on still another Imanol Vargas RBI single, his 3rd of the game.
The Cardinals scored 4 in the 9th off Bettencourt and Jack Little.  Only two were earned.
The Drillers have now won 4 straight against the Cardinals, and have won 9 of their last 10 games.
Andy Pages – 3-4, 1 BB, 2 runs, 1 RBI, double (12), triple (1)
Imanol Vargas – 3-4, 1 BB, 1 run, 3 RBI,
Carson Taylor – 2-3, 1BB, 2 runs, 1 RBI, HR (2)
Jorbit Vivas – 2-5, 1 run, 1 RBI
Diego Cartaya – 1-3, 2 BB, 1 run, 4 RBI, HR (3)
Great Lakes Loons 8 – Lake County Captains (Cleveland) 4 – 10 innings
Great Lakes struck first in the 3rd inning.  Jake Vogel reached via E4 and stole 2B.  Surprisingly this was Vogel's 1st SB. Frank Rodriguez singled and moved Vogel to 3rd.  Austin Gauthier continued to dominate A+ pitching and double Vogel home.  Dalton Rushing singled Rodriguez home and Gauthier moved up to 3rd.  Then Rushing and Gauthier pulled off a double steal  of 2nd and home respectively.
Ronan Kopp started for GL and pitched effectively in the first two innings.  In the 3rd, Kopp issued a pair of walks, and a single brought home the Captains first run.  Kopp is still not stretching out as if he were considered a starting candidate.
Robbie Peto pitched flawlessly for the first two innings he pitched.  The Captains scored 3 in the 7th (Peto's 3rd inning).They ran out of more runs by having runners thrown out at the plate and at 2nd base.  However, they did take a 4-3 lead into the 8th.
In the 8th, the Loons got a single by Damon Keith, a BB to Kyle Freeland, and run scoring single to Taylor Young.
While Christian Suarez and Antonio Knowles were shutting down the Lake County bats, the Loons put up 4 in the 10th.  With Dalton Rushing starting on 2nd, Damon Keith and Alex Freeland singled with Rushing scoring and Keith ending up at 3rd.  Taylor Young got a sac fly.  Griffin Lockwood-Powell then unloaded with a 2-run HR and the Loons had a 4 run lead.
With a runner on 2nd, Knowles walked the first batter, but then retired the side with a pair of Ks.
Austin Gauthier – 2-5, 1 run, 1 RBI, double (8)
Damon Keith – 2-5, 2 runs
Griffin Lockwood-Powell – 2-5, 1 run, 2 RBI, double (6), HR (2)
Rancho Cucamonga Quakes 11 – Stockton Ports (A's) 1
After playing three straight one-run games in their series with Stockton, the Quakes enjoyed a good old-fashioned blowout on Friday night, hammering the Ports by a final of 11-1.
Jose Izarra led off the game with a home run and finished a triple shy of the cycle, as the Quakes never looked back, scoring five in the first inning against Stockton starter Yehizon Sanchez (0-5) to set the tone in front of nearly 4,000 fans.
Rancho starter Payton Martin used just 25 pitches over two scoreless innings, while Chris Campos nabbed his team-leading fifth win of the year, as he allowed just one run over 3.2 innings in relief.
Nick Biddison and Jorge Puerta both chipped in with three RBIs each, as the Quakes have now won three of four in the series and can clinch another series victory with a win in either of the two remaining games.
The Quakes (23-9) will send Peter Heubeck (0-2) to the mound on Saturday night, as he'll take on Stockton lefty James Gonzalez (0-3) at 6:30pm.